Family
Compassion is an awareness you become,
rather than something you do on occasion. – Gregg Braden


Our families are wonderful people.  Some of them are also people who are victims of the myths and untruths taught by many religious institutions.  Those beliefs left our immediate family members unable to share in the joy of our wedding celebration in 2004.  We know there are many families like ours who continue to wrestle with their understanding, and we reach out to all in hopes that, together, we can illuminate our paths. 
The reality, however, is that without our families, we would never have met one another and therefore, we would not be married! Because we are grateful in that respect, we had Rev. Sue Stackhouse share the following as part of our spiritual ceremony on July 31, 2004:
Maya Angelou transcends differences in both people and situations.  A poem she wrote was given to Dotti by her mother for her and Roby's home.  Though Dotti's mother is not here, Dotti and Roby want to honor her spirit by having me share this poem with you. As well, though Roby's Mom and Dad are not here, Roby and Dotti want this to be in honor of them as well.  Without the mirror their families have held, Roby and Dotti would never have awakened to who they truly are, would have never felt the call to stand with Soulforce to confront the spiritual violence in many denominations, and therefore would have never met Mary Lou and Bob Wallner (below), who introduced them.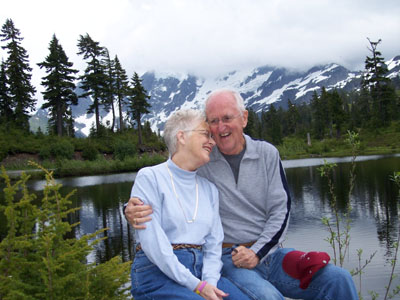 Mary Lou and Bob, whose lesbian daughter, Anna, committed suicide, are disappointed they can't be here this week-end; however, they are at the Evangelicals Concerned Conference for gay, lesbian, bisexual and transgender Christians and allies, where they are  presenting a workshop for family members who are not gay, but their loved one is. 
The bottom line is that without these experiences in their lives, Roby and Dotti would have never met.  Thus they thank their families for the impact they have and for the gifts they have bestowed upon them.
                                                                                                     
Read below about the journeys of Dotti and Roby
Roby & Family (coming soon!)
In the lives of many gay, lesbian, bisexual, transgender, intersex, queer, questioning and ally persons, we often find that "family" consists of the unique and authentic connections we develop when our family of origin is unable to accept the whole of who we are.  We honor all of our family members, no matter where they are in their journey. 

As well, our spiritual advisors are part of our family.  We appreciate everyone! 
Our Spiritual Advisors for our journey Gay Into Straight America