Rylee's Picture Album


Rylee's 3rd birth
day         

Roby and Rylee

Rylee in the snow!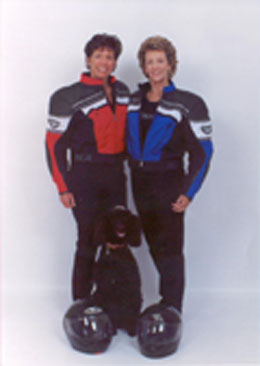 Ok. so my Mamas are in the picture too.
I don't know what that photographer was thinking by putting me
directly in front of their black pants!  People!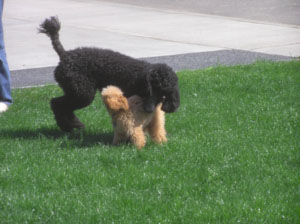 Rylee and her boyfriend, Sami, a five pound poodle in our neighborhood.

(Yep, Rylee is heterosexual!  Can you believe it, coming from two lesbian mamas?) (: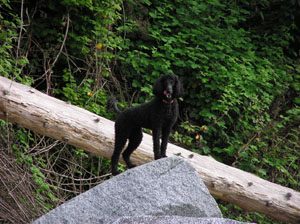 Rylee playing "Rock Doggie" where she is queen!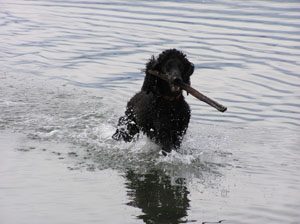 Rylee swimming at the beach five minutes from our home.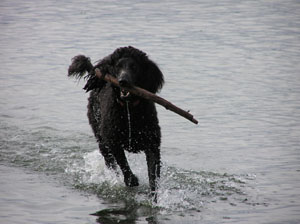 Rylee with her stick!

 
 

 

 

Rylee caught in the act of one of her favorite activites...chasing the birds at the beach!






At Pride Parade/Festivities in Seattle, we saw this beautiful poodle (and her mother)!  Rylee was sooooo disappointed she wasn't there so they could meet.  This picture will have to suffice!  Now, Rylee Joy wants a rainbow collar!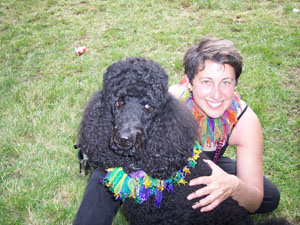 This apricot poodle is one Rylee met when she got her hair cut in Chelan, WA.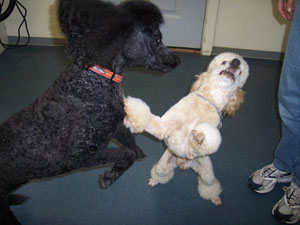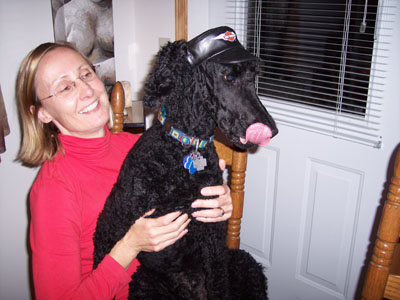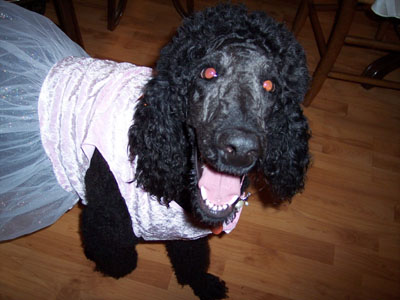 Rylee's  new friend, Basil.  Rylee is good about sharing and let Basil wear her Harley hat!
                                                                                          Rylee's new friend, Phi Phi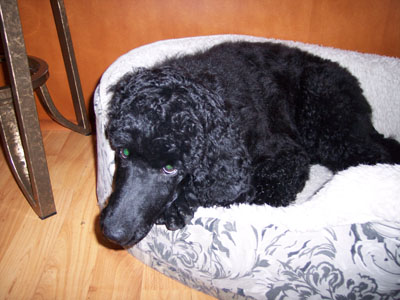 Rylee's half brother, Ruff
Rylee's going away party with her poodle friends:
(L-R) Rylee, Phi Phi, Basil, and Ruff (who cares about the names of those humans!)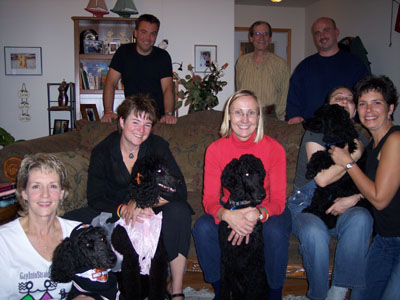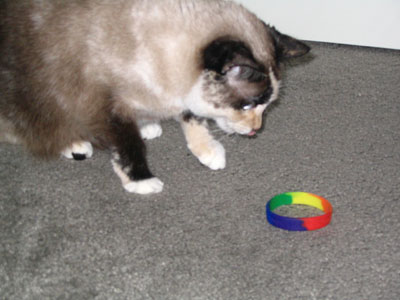 Stevie Nicks says, "I want that band on my wrist!"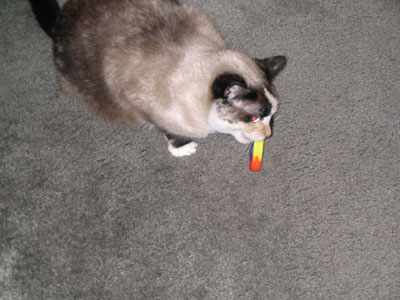 Got it!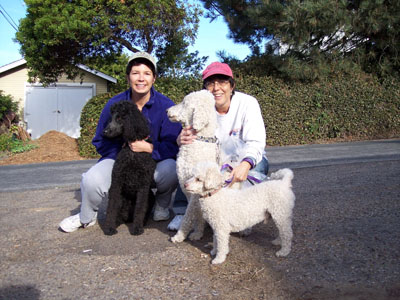 Roby and Rylee Joy, with new friends, Carol, Molly & Jamie in Carlsbad, CA.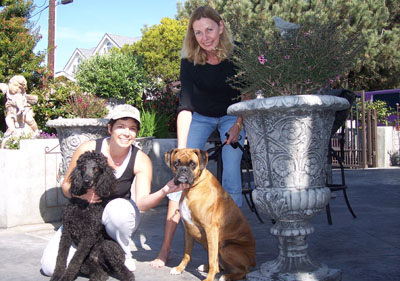 Rylee Joy and Roby with new friends, Elaine and Gracie.  Elaine's husband, Guy, wasn't home for the picture. New friends for all of us in Carlsbad, CA.  Elaine said we were welcome anytime!

Gracie, Michelle's cat, & Rylee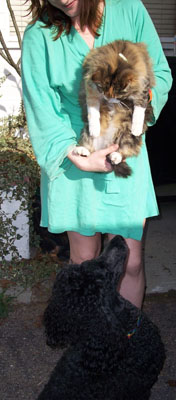 Crackers in York, PA
Sophie & Mabel in Kalamazoo, Michigan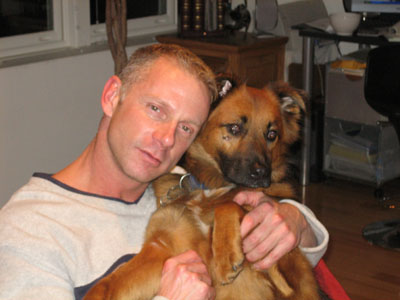 Stephen (Jody Huckaby's partner...Jody is Executive Director of PFLAG) and their dog, Buddy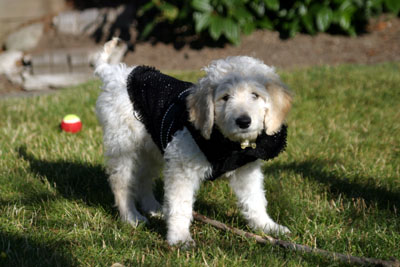 Putter was suppposed to be a girl, and thus we bought her a dress.  Since Putter turned out to be a boy, I suppose you could say she is cross-dressing.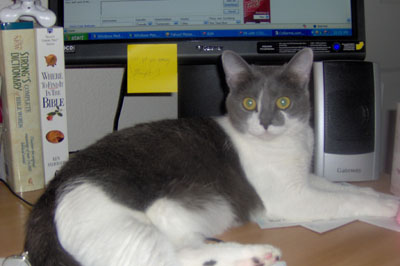 Princess...Katrina's kitty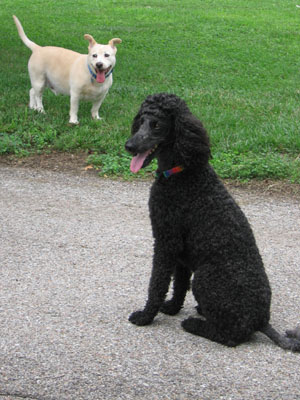 Rylee Joy & Thomas, the child of Carrie & Susie in Omaha, Nebraska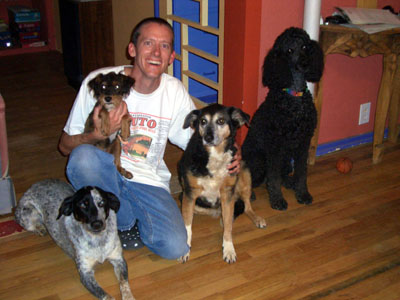 Tyler with Rylee Joy, and her new friends, Lexie, Luchia, & Ruth Ann, all from Silver City, New Mexico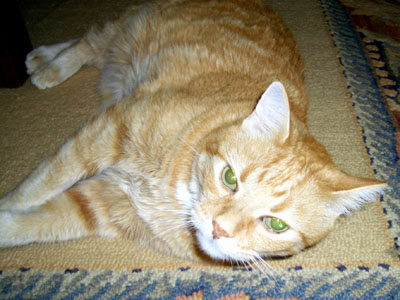 Sunshine, the child of Richard and Marc, in Phoenix, Arizona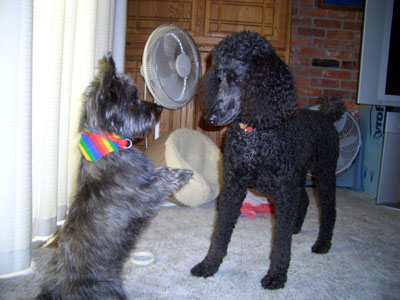 Zora so fell in love with Rylee!  Zora went to the beauty parlor, and the groomer didn't even know that Rylee has two moms, and put a rainbow scarf on Zora.  So perfect!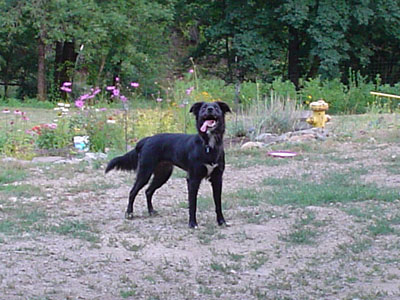 Betsy in Medford, Oregon