You can't hate someone whose story you know.
Dare to know the story of those who are different.
"The tiniest story in your life can deeply touch another. You cannot know the effect your story might have."--Sark
Every journey begins with a bold move, and every bold move is a journey. 
That is how this journey began, and it continues today with bold moves taking us to a deeper journey.   For us, there is nothing more important that moving toward undefended intimacy with one another, WHATEVER IT TAKES!  Circumstances are not always the ones we might choose, but we know that we can choose our response to circumstances. We choose love because it releases us into freedom, while fear blocks and holds us in bondage.  To take things personally halts our spiritual journey.
Roby and I both have experienced what we would call spiritual tsunamis at different times in our lives.  Those times have cracked our hearts wide open to reveal the truth of who we are, pulling us into deeper spiritual relationship with God.  Our recent experiences in Colorado Springs, for various reasons, have allowed us to experience both a personal and relationship tsunami.  Never comfortable, these tsunamis have given us the opportunity to connect authentically with one another beyond our wildest imagination.  We are moving to new levels of undefended intimacy as we deal with the aftermath of hurtful situations, using them as a means of creating new relationship building blocks.  Designing a new foundation where the old has been flattened and destroyed brings new awareness.  The pain of situations can bring us closer to our own essence as individuals, and in our partnership. 

Great insight comes from Mata Amritanandamayi, "Mother of immortal bliss," better known as Amma, the hugging saint, mystic and philanthropist from India.  She is an oddity in a traditional Hindu culture, since it is rare for a single woman to touch strangers, much less distribute such intimate personal blessings and distribute millions of dollars from her charities. Click here and visit her website. 
Thousands from all walks of life and religions line up for hours just to receive a hug from Amma as she tours the United States.  No questions asked. One lesson offered:  Open your heart to the world. This is her message to our world, as she invites people in.  When asked by a reporter if she has a message for Americans, she replied,

"We have to regain our original faces rather than wearing masks…We go more and more after the external world and we miss the inner self." 

Hers is a message that is more simple than complicated.  Unlike Dr. Dobson, there are no full page ads and no Focus on the Family to make sure that we don't have marriage equality.   Unlike Dr. Dobson, there are no Love Won Out conferences to make sure that our friends and/or families understand that they are not to attend our marriage ceremonies.  If a simple woman and daughter of a lower-caste fisherman in India can understand the simplicity of a spiritual message, bringing light and love to each person she encounters, why does Dr. Dobson find that so difficult?

Last year we began a tradition of dancing together--one song a night.  Now we have chosen to simply sit facing one another for five minutes each morning, looking into one another's eyes without saying anything.  It provides an emotional and spiritual experience as we hold our gaze with one another.

The Supreme Court issued its decision this week, banning marriage equality in Washington.   Do we wish that the decision were different?  You bet!  We were prepared to take that leap and say, "Third time's a charm!"  We were legally married in Portland, Oregon on March 7, 2004.  Bernie Turner, a Baptist minister, officiated at our civil marriage.  That civil license was rescinded when the state passed a law voiding our marriage.  We cashed the $60 refund check, and celebrated that we are still married by going out for a special dinner.  The second marriage was our spiritual marriage on July 31, 2004, so we will be celebrating our 2nd anniversary next week!
Roby wanted to share her email to her mother, and her mother's kind response:
Hi Mom - We are in Colorado still - camping along the Arkansas River this week -- just getting some rest, renewal and relaxation before we head onto other speaking engagements and things.

You've probably heard the news by now... that the WA State Supreme Court has decided that we should not be treated equally, and therefore, should not and will not get the rights and protections that all other American Citizens enjoy. It is a very sad day in our lives. I said earlier, out of anger, "I hope those people who are against us are happy now!" The woman and man who own this RV park (we are in their office on their computer now) said, "Oh they aren't happy. This has nothing to do with happiness. It is about control, power and fear, and there is nothing loving about it... when there is fear, there is not love."

I think Jesus, if he were here today, would consider this a very sad day, too, because Jesus was about love and justice. Jesus had nothing to do with fear, discrimination and hateful ways. Sorry to dump on you, but I just felt the need to share this with someone, and since I want you to know me, I thought you would be the best person.

We are very, very sad, and I am very angry, but I/we will NOT lose hope that justice will be served one day, and we, too, will receive equal rights.

It's a setback, but equality that extends to us is coming. We know it. The Church and all its people better start getting themselves prepared, because it's going to happen. It's no different than when the Civil Rights Act was passed. The majority of Americans were not for Civil Rights and Equality for Black people, but the courts were ahead of the people... thank GOD!

Unfortunately, this time, the court was not, but it's going to happen one day, and it will be in my lifetime.

Hope you are well.

I love you. me
And here is Miriam's (Roby's mom) response:
Yes I was thinking of you today when I heard the ruling and knew you were going to be sad. So I just prayed for you - couldn't think of anything better to do.

And thanks for sharing your thoughts - I love you very much!!  Mom
But here's our truth…legal marriage or no legal marriage in Washington, WE ARE STILL MARRIED!  No one can deny us that.  Only we can choose to leave one another…that is the only way our marriage would no longer exist.  And that is not going to happen.  Each day, we are learning to take everything that comes into our life, and use it as a vehicle to greater intimacy. 
We love what Jett Psaris and Marlene Lyons say in their book, Undefended Love:
"When we simply remain present in the midst of our dilemma, the fire of our internal struggles softens our hard places and shapes our insight.  Our dedication to love with an unguarded heart offers us the opportunity to use problems in our relationships as avenue to the core of our being."  This applies to our entire journey this year, no matter who we encounter, and no matter what kind of relationship.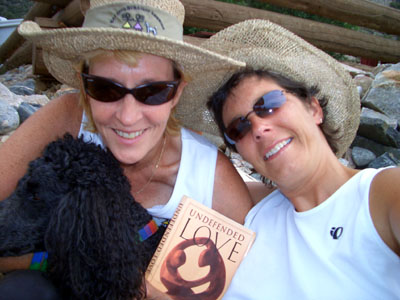 Dotti, Roby and Rylee Joy reading by the Arkansas River
With our hearts cracked wide open once again, there is no hiding. The benefit is the "aha" we experience as we crack through that glass ceiling that limits so many in relationship.  We feel fortunate for these breathtaking experiences.  It has led to us choosing the title for our book:  Two Women & A Poodle…Piercing the Veil to Undefended Intimacy.  Our book will be more than about creating a greater understanding about GLBT persons.  It will be about what it means to connect more authentically as humans, what we encounter in that process, and how we can use our everyday experiences as the fuel for piercing the veil that keeps us from connecting in this way. 

This past week has convinced us more than ever that Viktor Frankl, the renowned psychologist who found meaning in life even in a Nazi concentration camp, provides the vertical drop straight to the bottom line with his statement:

"When we are no longer able to change a situation, we are challenged to change ourselves." 

We feel this is how same gender couples who favor marriage equality must choose to respond to the situation now.  We must continue to nurture and sustain our relationships as gay and lesbian people, regardless of the legal support that we have.  Legal support will never bring people in relationship into undefended intimacy with one another.  Evidence of that is the 54% divorce rate.  Mixed gender couples have all the support systems in the world in place, and yet the majority are unable to maintain the connection that makes them want to stay married. 


Tom Minnery, Focus' vice president of public policy, noted 20 states have outlawed "same-sex marriage" (we would say "have outlawed marriage equality"), with average voter support of 70 percent.  He assumes that a majority in these cases makes it "right."   During the civil rights era, the "majority" of Americans were not in favor of passage of the Voting Rights Act of 1965.  Did that make it wrong?  Would the majority today agree that it was wrong?  By this type of thinking, one would have to consider denying marriage to mixed gender couples since the majority are failing.
The Voting Rights Act passed in August of 1965 is considered to be the most successful piece of civil rights legislation ever adopted by Congress. It states that no person could be denied the right to vote on account of race or color.  The "majority" who disagreed with its passage were furious as the Civil Rights ideology began to spread throughout the country.  And yes, like with the resistance of marriage equality for gay and lesbian couples today, they used Biblical scriptures to support their stance and arguments. 
We continue to "Learn from History" regarding our own personal growth.  We encourage all of us to "Learn from History" in this situation as well.


Dotti:  I often think of Jesus, Dr. King, Gandhi, Mandela and others when I experience the opportunity that our hearts being cracked open provides.  The gap between our head and our hearts shortens, allowing us to feel deeply in ways that we have never before felt.  It allows us to do for one another what Jesus taught through example was possible…to hold a space of love for one another, so that we might be transformed through our crucifying moments.  It allows our ego to die to itself, so that we can hold a mirror of love, magnifying the essence of each person we encounter.  Without recent people, situations, and experiences, this would not have been possible.  We thank those we have encountered along our journey for showing us who we are not, so that we can awaken to who we are.  Awakening supports us in creating undefended intimacy in our relationship, as well as in our relationships with others.


Jean and Jack Hodges welcomed us to Boulder, Colorado when we spoke at PFLAG there.  The openness and genuine manner of PFLAG folks never ceases to amaze us.  This was no exception.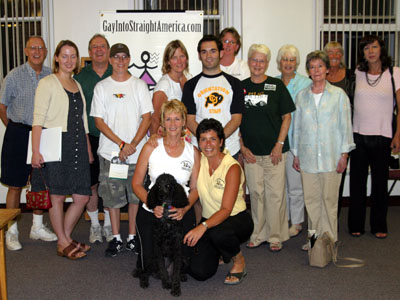 PFLAG Boulder

The Boulder Daily Camera had an article on July 21.  The reporter, Aimee, called to do the interview by phone when her busy schedule meant she had to cancel meeting us in person at Jean and Jack's.  She called Jean the next day to say she was disappointed that the article was shorter because they cut the allotted space she thought she would have.  But we were fine because it gave two key pieces of information...our website and the website for Soulforce.  That will allow people to contact us.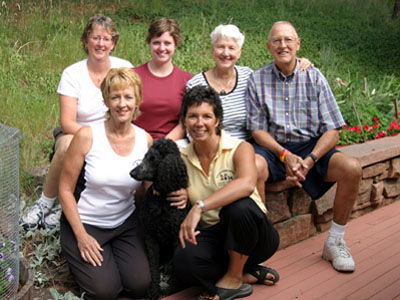 (L-R) Back Row:  Janelle, Jessica, Jean & Jack
Dotti, Rylee Joy, & Roby
Janelle and Jessica drove us in their rental car to Boulder
Jean fixed sour dough pancakes for us on the deck the next morning.  What a gracious host and hostess they were.  Jean and Jack have a gay son, Ben, who lives in Denver.


Walking with Soulforce in Colorado Springs provided another opportunity for people to come together and claim their wholeness.  Though not a direct action, but a celebration, the situation provided benefits.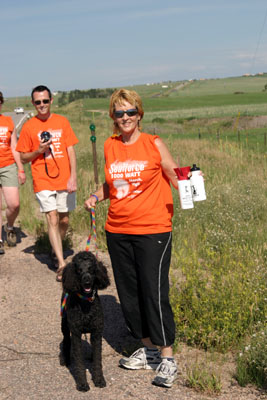 Rylee Joy & Dotti on the walk...Rylee made it ALMOST the entire way before we decided it was just too hot and put her in the Soulforce bus, where 8 year old Adam watched her for us.
Thank you James Dobson!  If not for you, most of these gay, lesbian, bisexual, and transgender persons who gathered would never have met one another.  Meeting with other Soulforcees continues our own internal healing, transforming us as we stand united against religion-based oppression.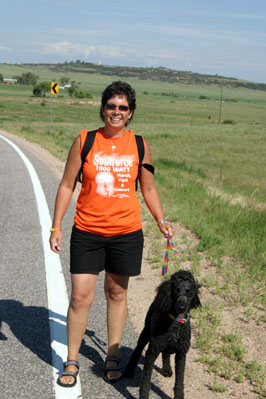 Roby & Rylee
Visit the Soulforce website to click on links and see pictures from the Soulforce event. (we walked on Thursday).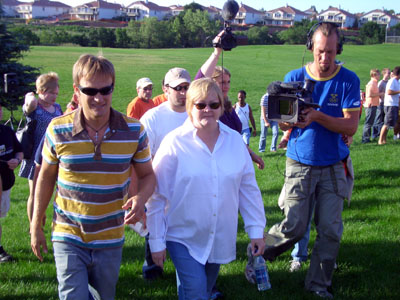 Actor Chad Allen and Judy Shepard (mother of Matthew Shepard)
Leading the way as we walk to concert in front of Focus on the Family
It was great to meet new people, such as Kathi Sherrill and Pam Buss Sherrill, who married in Canada and live in Medford, Oregon.  We will visit them as we head to Kalamath, WA, to speak on September 10 and 11.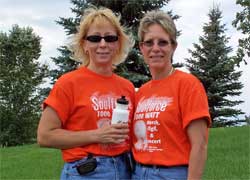 (L-R) Pam & Kathi
Dotti:  It was also great to see old friends such as Mary Lou and Bob Wallner, who introduced us. Having lost their lesbian daughter to suicide, and knowing that the teachings of the church, which they then taught their daughter, contributed to the tragic situation, they now revel in joy that they introduced us and we got married.  So do I!  I will forever be grateful to them.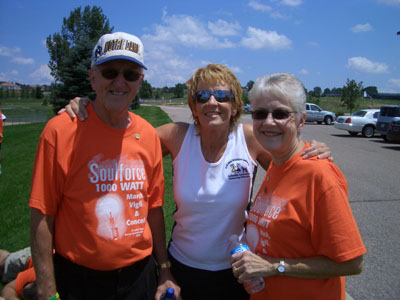 (L-R) Bob, Dotti & Mary Lou
Visit their updated and new website and learn about the great work they are doing through their TEACH Project, To Educate About the Consequences of Homophobia.  Also check out their book, The Slow Miracle of Transformation.  Mary Lou & Bob introduced us to Karen & Anne when we spoke in Arkansas, and they joined with us at a Soulforce vigil for the first time.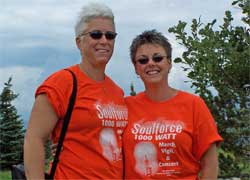 (L-R) Karen & Anne
We also connected with long time friend, Jimmy Creech.  We stayed with Jimmy and his wife, Chris, when we were in North Carolina.  He introduced us to Mitchell Gold, who hired Jimmy as Executive Director for Faith in America.  Mitchell has done so much to support many organizations who are committed to eradicating the religious-based oppression again gay, lesbian, bisexual and transgender persons.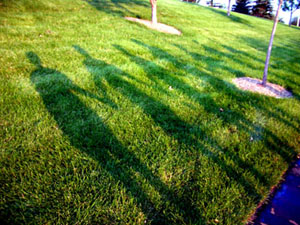 Soulforce Vigil Shadows...
they continue to cast an influencial and empowered shadow on our lives,
and we are forever grateful

We granted several interviews to documentary filmmakers who were there.  One, called Beyond Belief, has the potential to be great! Jim and Elaina are the two people who were filming.  Click here to visit their website Walking the Edge. With documentaries, one never knows whether or not they will use anything you have said.  That remains true in this case.  Jim, however, did tell me that of all the people he had interviewed, we were speaking with the clearest voice, truest to what their documentary is about.  I think that is because this film and our journey are expressing the same core elements. The great part about the interview with Lisa Darden, whose full-length documentary about Christianity and Homosexuality, called "For Such as Time as This," is that she interviewed us along with Lars Clausen, who was the catalyst for our journey.  That is the first time we three have been interviewed together.  It was great to see Lars and spend some time together, since we had not spent time together since last June just before he left on his journey Straight Into Gay America.   Lars had his recently released book with him.  Visit his website, get his "page-a-day" excerpt of his book and purchase his book!  We just received our copy while in Colorado Springs.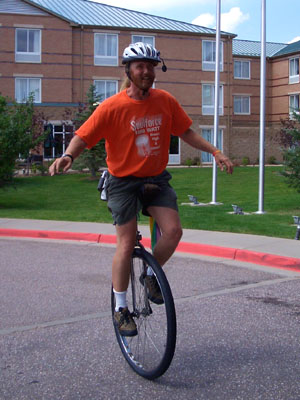 Lars Clausen on his unicycle
Roby and I, once again this year, went inside Focus on the Family, taking the tour, meeting new people and greeting old friends from last year.  Josh was our tour guide this year.  Unfortunately, Betty, our tour guide from last year was not there.  We left our card with a note.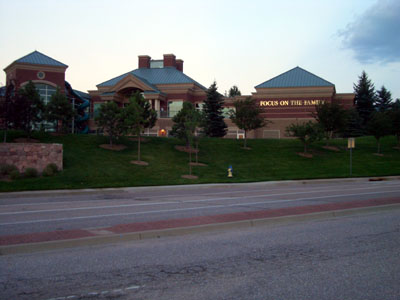 Focus on the Family Headquarters
As we finished our tour, Dotti looked up and her eyes locked with a man leaning against the front desk in the entrance.  We both smiled and nodded.  Dotti said, "Good to see you again."  Den Patterson replied, "You can't get enough of us, can you?"  She laughed.  Roby came over and said, "Den, it's nice to see you, but we really hope we can stop coming here."  Den replied, "I don't think that is going to happen."  Though we briefly talked with Den last year, as well as greeted him at the Love Won Out Conference in Seattle last June, we had never had the opportunity for engaging in a deeper conversation. Click here to read synopsis of our experience of the Love Won Out Conference.


Dotti asked Den about his family.  He shared that his oldest son had died in a car accident years ago when he was 14.  Den was in critical condition for some time.  It was a head-on collision by a drunk driver.  Dotti shared that her nephew, Andy, was killed in an accident (hit by a train) when he was 15.  This sad commonality, discovered while engaging with one another, allowed us to connect in a new way.  It was as if we truly saw one another, connected through our humanity rather than through the separateness of one Focus on the Family employee versus two lesbians.


After our tour, we headed to the Welcome Center.  As we entered, a woman named Diane greeted us.  We asked her if she knows a woman who works at the entrance who once lived in Bellingham, WA.  We explain that we cannot recall her name.  (Dotti meant to look back in our notes to help us recall her name, but forgot).  She says she has been there for 17 years and cannot recall anyone who is from Bellingham. 
We then considerd watching the movie we saw last year.  Upon asking if it has been updated since that time, and receiving the answer "no," we decided not to watch it again; however, there is a TV monitor in the hallway, showing Dr. Dobson when he was a guest on Larry King Live.  He once again states (as he has many times) that gay people have 300-1000 sexual partners.  We cannot fathom that.  None of our friends have done that, and we have never met anyone like that.  We would call such a situation, if it exists, an anomaly.  
Before leaving the bookstore, Roby was milling around in the hallway.  Apparently she looked like she needed help because a Focus on the Family person walked up to her and said, "Can I help you?"  Roby exclaimed, "Oh, we met you last year and were asking Diane about you earlier."  The woman immediately recognized Roby at that point, sharing that she and her family had traveled to back to Bellingham, WA, last summer.  She said that seeing how beautiful it is reminds her to ask herself why she ever left!  And her name?  Diane!  We affectionately named them Diane #1 (2005) and Diane #2 (2006).  Dotti then joined the two.  As we stood there, Diane #2 walked up. 

As the four of us now stood talking, we shared with both of them about our journey.  We asked if they would like to have a business card.  They replied "yes," and Dotti rushed out to the car to quickly grab the cards.  When Dotti returned, Roby was finishing thanking both Diane's for their kindness that we experienced, not only from them, but from others at Focus on the Family.  This is the value of moving beyond caricatures of one another to experience one another's essence and connect authentically.  Roby also told both Diane's, how scared she had been to consider walking through the front doors of Focus on the Family last year.  Diane #2 replied, "I am so sorry that you were so scared."  She asked, "Why?  Dr. Dobson is a really nice man." 

Roby: I realize Dr. Dobson is probably a very nice man, but he is very misinformed about who we are, and that misinformation is killing people and destroying families.   The erroneous information he shares, saying that we are sick and sinful, that we have 300-1,000 sexual partners, that our relationship with God is impaired, that we aren't fit to parent, that we can have relationships, but that we can't be a "family," and that we can't be married, is not simply unfair, but harmful. 
Though I was scared last year, I knew I had to walk through those doors in order to continue my healing.  It was like confronting my abusers.  (The teachings of James Dobson led to my contemplating suicide in 2001). It was a pleasant surprise to experience kindness and warmth from individuals inside the doors of Focus on the Family, this year as well as last, even after sharing my truth.  Simultaneously, I experienced the opposite outside the doors of Focus of the Family, from the public teachings of James Dobson to the speakers and information at the Love Won Out conference I attended last June. 

As Dotti returned with the business cards, both Diane's extended their hand to accept them.  Dotti tells both that it saddens her to hear James Dobson reciting "statistics" of 300-1,000 sexual partners for each gay person on Larry King Live, as if that is valid and accurate.  She says, "If James Dobson said, 'I personally once met an individual, who said they had 300-1,000 sexual partners,' I could possibly believe that person could exist; however, a blanket statement that is inaccurate and has no valid data to support it, is simply irresponsible coming from a person like James Dobson, who claims to be a Christian and a person of faith."

Our truth is that we can't help but like the people we encounter at Focus on the Family.  The sad part is the untruth they believe about us because of Dr. Dobson's teachings.  Meeting us face to face has to impact that.  We know that meeting them face to face affects us. 

We also saw Den at the concert on Saturday night.  We walked up to the front entrance of Focus on the Family to greet him where he stood with other Focus officials.  Den walked out to meet us as we warmly shook hands.  He stated that he had, indeed, given our card to Melissa.  A friend, Jessica, recently wrote that when there is lying, secrecy, and general human interpretations, we hear different stories.  Is that the root of the differences between how Focus on the Family and Soulforce view one another?  If it is, we need to consider coming together, cracking our hearts wide open, and being available for what might be possible if love is the mirror through which we see one another.  Love allows every lie and every secret to be dissolved instantaneously.  That is the nature of miracles where love paves the way. 
Some aspects of the newspaper account in the Colorado Springs Metro about Soulforce were as inaccurate as some of the statements about us from Dr. Dobson.  For example, the article quoted Focus on the Family officials who said, "Soulforce did not ask for a dialogue and in turn, Focus did not attempt to interject itself into the festivities." Perhaps that is true for this year. Perhaps the reason they didn't request it this year (if that indeed is what happened) is that Soulforce has sent 10 letters since 2003 requesting dialogue with Focus on the Family. They will not agree to dialogue.

One truth is that, as stated above, when we went inside Focus on the Family this year, we gave our business card to Den Patterson, who said he would give it to Melissa Fryrear (an ex-gay who is listed as a gender issues analyst), telling her that we would like to dialogue.  We said, "We are the safest people you could bring in to dialogue with." If there is anyone who understands their thinking and where they are coming from, it is us.  We were brought up with the teachings that Focus on the Family, through James Dobson, is espousing.

Leaving Colorado Springs behind, we headed to Canon City (pronounced Canyon), where we had already made reservations at Sweetwater River Ranch on the Arkansas River near the Royal Gorge.  Their tag line is escape…relax…renew.  It was exactly what we were wanting.  Two wonderful people, Mark & Marcia Rowland, are the owners.  Dotti discovered that Mark also owns Peak Performance Training Systems and is a consultant & trainer, so they have enjoyed talking with one another.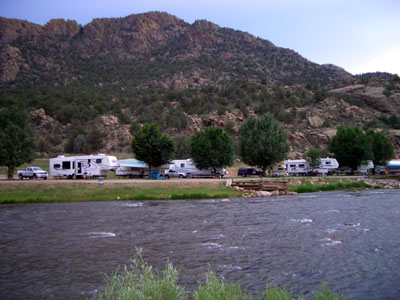 View from looking back across the Arkansas River (after we crossed the swinging bridge).
You can barely see our little Scotty among the big RV's.  This is like "Where's Waldo," except you are saying, "Where's Scotty."  Look just below the third tree from the left and you will barely see our purple suburban with our Scotty in front of it.
We think our small Scotty looks right at home among the big RV's! (:  Our recent time at home in Blaine, WA, turned out not to be one of "vacation" after all.  Staining the fence around our home became a priority before we left, and when we had to leave earlier than planned in an attempt to attend my uncle's funeral, we decided that sitting by the river, reading, writing, journaling and just "being" made the most sense before Dotti has to be in Trinidad on August 1.  She will observe another surgery for male-to-female sexual/genital reassignment.  This time she will be with
Dr. Marci Bowers
, the only transsexual surgeon currently offering this surgery. 
The moment we arrived at Sweetwater River Ranch, 30 miles west of Canon City, we knew we had come to the right place.  We have a riverfront spot, so what we hear most is the healing music of the flowing river.  We visualize the river washing away pain and disappointment, so that we can continue moving to empowerment and true undefended intimacy.  The moving water reminds us of the motion of our lives, swirling.  The river is healing.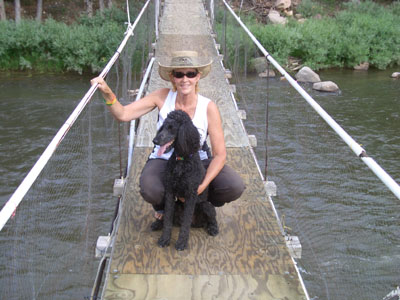 Dotti & Rylee Joy on the swinging bridge

In fact, we had barely taken one step out of our suburban the first day, when a lady from the RV next door came up to Dotti and said, "I love your signs and what you all are doing!"  She introduced herself as Tonya, saying that she and her husband, Gary (from Texas) had been here for about two months.  We have had some great conversations with Tonya.  After a couple of days, we offered her a rainbow wristband which she immediately donned, saying "I will never take it off."  We told her what we tell each and every person, "Wearing this wristband is simply a commitment to creating authentic connections and having deeper conversations in whatever way that works for you."   Later that day, she was back outside without her wristband.  She said her husband forced her to remove it.  She then replied, "I put it my special cigar box and I am keeping it forever."  We knew she had been threatened by her husband.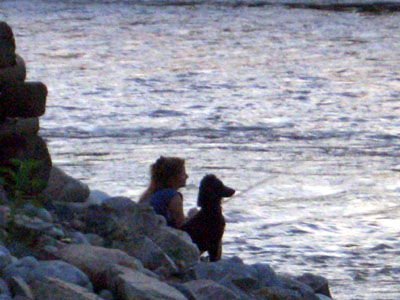 Tonya says Rylee followed her down to the river and provided comfort for her loneliness.  Rylee Joy is truly a healer.  She has worked wonders with Tonya, as well as the two of us this week. Tonya has asked to receive the first copy of our book, and we have agreed to her wish.

Later that evening, she joined us around the fire, though her husband refused to join us.  A big step for a frightened woman, living in a relationship based on fear.  She said she was going home to Texas and telling everyone she knew about us.  
Around the fire, we all shared from the depths of our soul.  She told us about growing up in the World Wide Church of God, and how she no longer desired to be a part of organized religion. It took a while but she finally told us that one of the men of the church told her while she was studying for her baptism training, that if she didn't go ahead and finish her assignments, she would have to leave the church.  She was tired of being controlled by the church.  She left before he could send her on her way.  She took her hand and pointed to her heart, saying, "God is right in here."  How come she gets it and understands the simplicity of God's existence while others make it complicated and attempt to keep God in a box of judgment, rules, and rigidity?   Fear blocks…love releases.  We felt love continue to release us all into a sense of freedom, connecting authentically with a woman we had only recently met. In different and unique ways, we all were illuminated by the glowing embers of the fire.

Later, we met the neighbors on the other side…Bob and Janice.  After that, a gentleman named Robert approached us saying, "I'm family too."  Robert is also from Texas.  He was there with his 18 year old daughter and ex mother and father in law.  I guess Focus on the Family isn't the only place that has "ex" people.

One day, we sat by the rocks with one another, Rylee Joy by our side, and talked about what baptism meant in the church we were brought up in.  Roby said she was told that baptism was symbolic of the transformation of what has happened on the inside, of dying to oneself, being cleansed, and coming out of the water renewed in Christ.  Dotti noted that it was different for her because she was sprinkled with water as a baby, having been brought up Presbyterian.  In other words, baptism had little meaning in that sense.


We shared about how many of those values which Roby mentioned, such as dying to oneself (the ego) and being renewed and transformed, are ones we really resonate with and appreciate.  They are empowering values we believe anyone can choose on a daily basis, whether they are Christian or not.  We then took water from the river and sprinkled ourselves and Rylee Joy, pledging renewed commitment to one another, our journey and life.  Sprinkling finally has a meaning for Dotti.


We don't normally have electricity since we are usually staying in a Wal-Mart parking lot.  This means we are careful about conserving the battery charge.  Now we can keep our computers plugged in, attach our mini speakers, and listen to CD's.  Dotti immediately played Anne Murray.  We always love swing dancing to her songs, but that night, other songs really spoke to us.  Over The Rainbow reminded us that it's true that dreams really do come true.  We feel that our dream of moving to a new level of relationship has happened this week, and we are grateful.  Whatever it takes!