You can't hate someone whose story you know.
Dare to know the story of those who are different.
"The tiniest story in your life can deeply touch another. You cannot know the effect your story might have."--Sark
It is time for all PFLAG follks to celebrate!  Rachel Reim, the daughter of Robert and Kathy Reim, (Kathy is Washington state PFLAG coordinator), married Tammy Ledbetter! Click here to email Kathy and Robert your best wishes!  There are so few who know how to celebrate the sanctity of same gender marriages that this is an opportunity for Kathy and Robert Reim to receive your support.   You will also find out what happened when the local newspaper, The Skagit Valley Herald, refused to include the wedding announcement of Rachel and Tammy.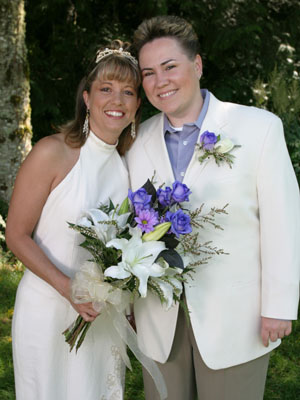 (L-R ) Tammy, Rachel & Dotti
We will leave our home in Blaine, WA (where we have spent a few days) next week, and journey through part of Oregon, Utah, and Wyoming as we head toward Colorado Springs.  On Thursday, July 20, we will walk in the 1000 Watt Walk with Soulforce.  As you know, part of being in Colorado Springs is to allow James Dobson, Focus on the Family, and others to learn more about our families and our family values.
In the evening of July 20, we will speak at PFLAG in Boulder, Colorado.  Click here for time/location, and please tell you friends who live in that area!  We will share more at the end of this newsletter about our upcoming travels, as we embark on the last 3 months of our year long journey, Gay Into Straight America.
Over the last few days, we have experienced some of the most authentic family values we have ever encountered.  They were truly unforgettable and inspiring moments, with Gay Into Straight America experiencing a first!  We were honored and privileged to be a part of the July 4 wedding of Rachel Reim and Tammy Ledbetter.  This wedding epitomized what "family" truly means.  Roby was the photographer, while Dotti officiated her first wedding.  Rachel is the daughter of Robert and Kathy Reim (Kathy is the Washington state coordinator for PFLAG).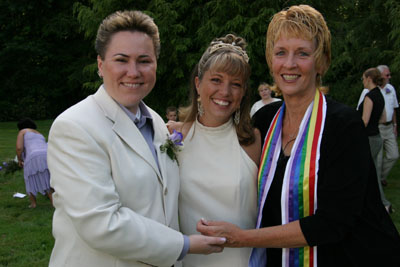 (L-R ) Tammy, Rachel & Dotti
We traveled to Sedro-Woolley on Monday, July 3, for the rehearsal dinner at the home of Kathy and Robert Reim, a spectacular setting for a wedding.  We are at a loss for words to describe the deeper essence of connectedness experienced by all with these families.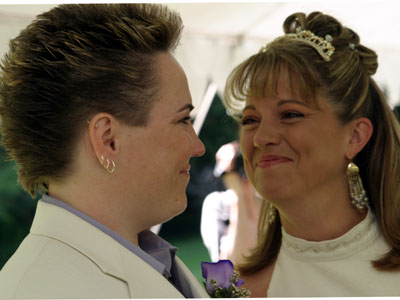 (L-R ) Tammy & Rachel
Much of Tammy's and Rachel's extended families had never met one another, and yet they came together to celebrate this wedding, mixing and mingling with ease. 
(L-R ) Tammy & her Dad, Gary, during rehearsal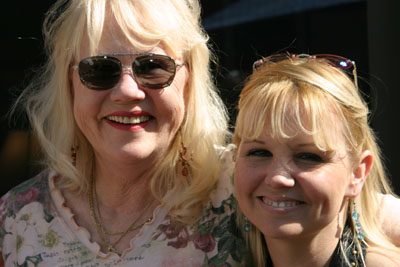 (L-R ) Tammy's Mom, Carol, and her sister, Peggy
People came from various places.  Shelly, one of their dear friends, flew up from California, and another couple traveled from Las Vegas with their two young children.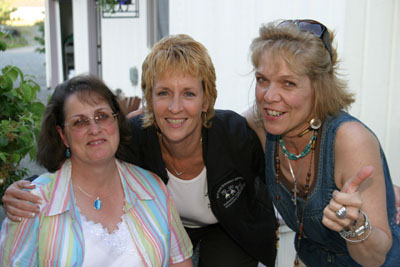 (L-R ) Rachel's Aunt Debbie, Dotti & Shelly
We are all '53 babies!
We both felt the love in the room at the rehearsal dinner and wedding, with people getting to know one another better, celebrating and dancing the night away at the reception.  It took us back to our wedding, where we felt that same "love connection."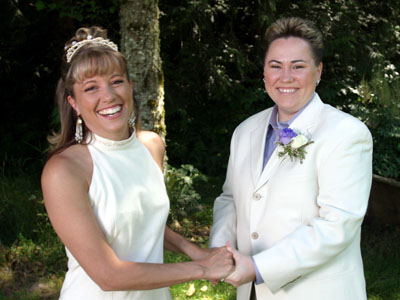 (L-R ) Rachel and Tammy absolutely glowed!
The difference between our wedding and their wedding is that their families (on both sides) fully participated, celebrating their wedding, while ours did not choose that route.  Our family consisted of three first cousins and their spouses, and two second cousins from Roby' side of the family (for their presence, we were very touched). Roby's mom and dad, who live only 30 minutes from where our wedding took place, refused to attend, as did Dotti's mother.  
Like our wedding, theirs ran the gamut from kids to older people, from singles to married couples, both mixed gender and same gender ones. We were speechless and emotional as we witnessed this celebration from their families, and we were touched us in ways we will always remember.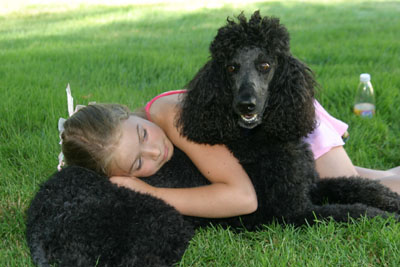 Rylee Joy was a little disappointed that she wasn't asked to be "flower girl."  Spending time with her friend, Lauren, one of "The Kids" who wrote the beautiful letters to us when we left on our journey, helped ease Rylee Joy's pain!  Rylee stayed with Lauren, Riley, Auntie Karen & Uncle Kirk Ghio while The Mama's were in the Northeast for three weeks.  When Rylee came home, she was very sad, as she really missed the family and her girlfriend Phi Phi (also a black standard poodle), so she was ecstatic to see them at the wedding rehearsal! 
Roby's commitment to sharing her authentic self with her Mom is a testament to how this approach can impact another's growth and acceptance.  For a woman who finally uttered the word "wedding," in reference to ours, only in the heat of pain at the Love Won Out Conference last year, Miriam continued to say "wedding" when she and Roby spoke about us going to Sedro Woolley for Rachel and Tammy's.  That is a huge step in authentic communication.
The one disappointment in the wedding plans happened a couple of weeks before the wedding.  Kathy Reim agreed to allow us to share with you an email that was sent to friends after the Skagit Valley Herald refused to run the marriage announcment of Rachel and Tammy. Click here to read the anguished thoughts of a mother, and her determination to speak out on behalf of Rachel and Tammy.
Isn't it interesting that the only solution was to the above situation was to purchase an ad in the newspaper, which turned out to cost $222 in the end result.  Click here to see it! It will run in the Sunday 's issue. The newspaper would not include the announcement for "no charge" because marriage for same gender couples is not "legal" in Washington, and yet they will willingly accept money from gay people to support their newspaper.  Mariana Stevenson, an advertising consultant with the paper, was very helpful in at least offering a solution to the problem that was encountered.   We know that Kathy and Robert, and Rachel and Tammy extend their thanks to her.  Roby said that Mariana shared that she is bringing up her two children to accept & honor all people, free from discrimination.  We hope this situation serves as a teaching tool to continue on this journey with her children.  You can contact Mariana Stevenson for your advertising needs.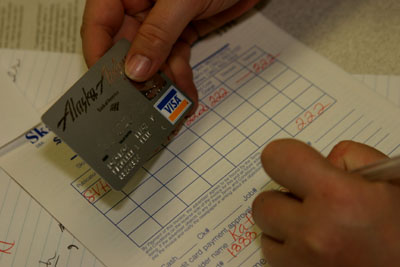 An invoice and a credit card to purchase an ad did what the Skagit Valley Herald was unable to freely do as they do for others...
celebrate the wedding of Rachel and Tammy Reim-Ledbetter.
The Skagit Valley Herald, consists of people who, like most people in our country (including our own GLBT community) and allies, need to be educated.  We feel that if we are to move forward in securing marriage equality, we must fully understand the ramifications of the two part system of marriage:
The civil license, extending legal rights and protections. 

The spiritual marriage which, for people who choose to participate, is the most important aspect.
We must embrace the opportunity that one half of the marriage equation offers, unafraid to claim the use of the word marriage. We must reclaim the word marriage, emphasizing its true meaning, rather than waiting for others to give us legal rights before we are willing to use the word.  We must not have the word marriage hijacked by those who are enacting laws saying only "one man/one woman" is a valid marriage.  We devalue what our relationships represent when we water them down and call them "commitment ceremonies," as if to demonstrate our own discomfort in calling them "marriages" until we have the half of "marriage" that allows us the legal civil license.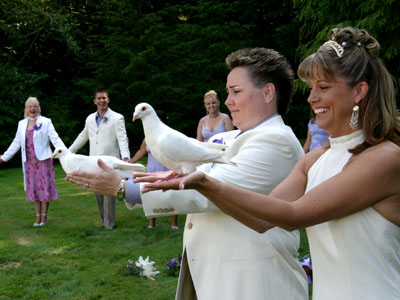 (L-R ) Tammy & Rachel
This was the dove release at the end of their ceremony, signifying the sanctity and spiritual marriage union of these two individuals. 
Karen Ghio with Lauril's Loft provided the dove release.
Because half of the marriage equation is not available to those of us in same gender relationships, it does not mean that we are not "married" when we have our spiritual marriage ceremony.  Likewise, if someone has a spiritual marriage, but chooses not to have the legal license, it does not mean they are not married.  It simply means they are not entitled to the legal rights and protections. In some states, however, the mere fact of living together (whether or not there has been a spiritual marriage) creates a legal marriage after a certain number of years.
The dictionary "gets it." Why don't we?
mar·riage   n.
The legal union of a man and woman as husband and wife.
The state of being married; wedlock.
A common-law marriage.
A union between two persons having the customary but usually not the legal force of marriage: a same-sex marriage.

A wedding.
The Skagit Valley Herald denied the sanctity of the spiritual marriage of Rachel and Tammy, dismissing it as if it meant nothing.  Kathy and Robert, being the supportive parents they are, were not content to let that situation go unnoticed.  We should all be so fortunate to have family support like this from our parents! 
Roby sent Kathy's email to her mom as soon as she received it.  Her parents, Miriam and Bob, previously met Kathy and Robert at a get together at our home on July 4 of last year!  Dotti is also mailing a copy to her Mom.  We suggest that you consider doing the same.  This situation can provide a window of opportunity for authentic connection and deeper conversation, the commitment of wearing our rainbow wristbands!

The most important aspect that we can speak of is the SANCTITY of marriage, and that is represented by the spiritual marriage.   One guy who is "getting it" is Robert Minor.  His most recent newsletter through the Fairness Project says it all. 
"There is an established legal history in this country that state governments license religious leaders. In fact, the only civil benefit of such government licensure is that ministers, rabbis, priests, and other state-approved leaders can then perform marriages for the government.
Most marriage ceremonies are performed in churches and by clergy, and many pro-marriage-equality clergy would love to be able to perform them for the many LGBT people who'd prefer to get married in a religious setting.
The language of marriage as "sacred" invokes religious images. Fighting those images is difficult. We need a new way to use them to express progressive values.
Berkley linguist George Lakoff in Don't Think of an Elephant (2004) recommends we use the idea of sanctity, even if it's not religious, when we speak of marriage equality. "Sanctity is a higher value than economic fairness," he advises. "Talking about benefits is beside the point when the sanctity of marriage is in dispute. Talk sanctity first." Click here to read the rest of his newsletter.  We look forward to visiting with Bob when we are in Kansas City, MO. 
We were not able to watch nor record the KOMO News on Tuesday, but fortunately, our friend, Janelle Thomas, sent us the link so that you can view it.  Click here to see that TV interview by KOMO. We acknowledge KOMO for covering this situation.  For that, we are appreciative. They are part of the group, however, that needs educating!  Why?  Rachel and Tammy were GETTING MARRIED and having a WEDDING, not a commitment ceremony.  It is true that they were denied one-half of the marriage equation, with that being the civil marriage license which offers legal rights and protections.  But it does not negate that they chose to claim and experience an equal half of the marriage equation:  the spiritual marriage and wedding ceremony.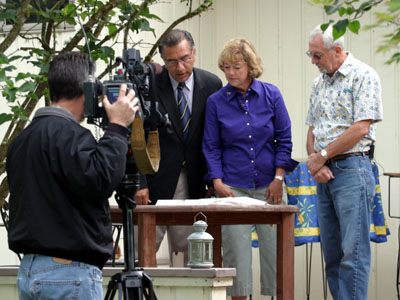 (L-R ) John (KOMO reporter), Kathy & Robert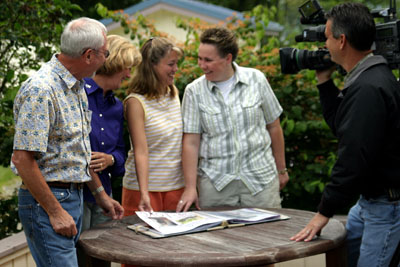 Robert, Kathy, Rachel & Tammy during KOMO taping
Roby didn't miss ANYTHING!

Something else happened in this scenario.  KOMO contacted the Skagit Valley Herald.  The assistant editor hung up on the John, the reporter from KOMO (something he says has never happened in his career, especially from another media source).  The assistant editor then sent an email of apology, but ended it by again insulting John.  That led to John letting Ken Schram (also with KOMO) know about the incident.  Ken has a new program where he gives a "Schrammie" to people/businesses that are offensive to others.  We were able to see that piece on TV, as Roby's Dad, Bob, was home on July 5 and recorded it for us. Thanks again to Janelle for sending us the link so that you can view it. Click here to see Ken Schram awarding a "Schrammie" to the Skagit Valley Herald.
We have to admit, however, that we wish that Ken didn't take such a negative approach to educating people.  It seems that our society often enjoys "skewering" others when we catch them doing something we find inapprorpriate.  In order to "bridge the divide of polarization," we feel that a different approach could bring better results.  Sometimes, it is all in the way in which we communicate.  Confronting others regarding discrimination is important.  We feel that doing it in a loving and non-violent way (non-violence of fist, tongue and heart) is essential in creating change.  That is our commitment.
As difficult as this situation was, it also provided another opportunity to educate people about the discrimination that gay and lesbian couples face in their journey to legitimize their relationships.  We feel sad that couples, who are making commitments to one another, receive so little support from society.  Strong family units create a stronger society for all people.  Attempts to diminish them empowers no one.
Not only did Kathy and Robert go the extra mile in this situation, Rachel and Tammy also did, agreeing to take time out on their special wedding day, to speak with the reporter from KOMO News.  For their efforts, we are naming Robert and Kathy Reim, and Rachel and Tammy Reim-Ledbetter our newest Stand UP Speak OUT Wind Changer honorees.  They are everyday people, doing what they can, where they are, to change our society for the better!  They represent the best of what Helen Keller spoke, when she said, "I am only one.  But still I am one.  I cannot do everything.  But I can do something.  I will not refuse to do the something I can do."  That is what these four individuals did.  They took personal responsibility and chose to do the something they could do.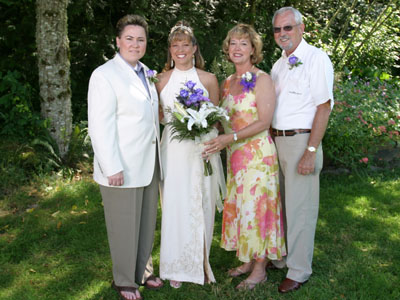 (L-R ) Tammy, Rachel, Kathy & Robert
 
Back to our travel plans for Gay Into Straight America...

On Friday, July 21, we plan to once again, go inside Focus on the Family, greeting and talking with people we met last year.  We will be sharing our family and family values with those at Focus on the Family who still feel our family unit is not a valid one.  It is another opportunity for us to bridge the divide of polarization.  Our experience last year convinced us that their fear has been learned at some point in their life, and is reinforced in them by James Dobson and Focus on the Family.  Meeting face to face gave us great hope; it demystifies who we are, and vice versa.  It calls upon each of us to quit painting stereotypical caricatures of one another.  It works both ways. They are genuine people, but people who are genuinely misinformed about us.  This is our opportunity to put a personal face to "those gay people," and to treat them with dignity.
During our Focus on the Family tour last year, our tour guide, Betty, asked if we would like to speak with someone while we were on campus.  We replied, "Yes, we would like to speak with Melissa Fryear."  (Melissa is the Director of their ex-gay ministry and listed as their "gender issues specialist")  Betty left and came back to say that Melissa and her team were in Seattle preparing for "Love Won Out," but Melissa's administrative assistant, Cindy, would be right out to speak with us. 
Part of our conversation went like this…
Dotti:  "Cindy, we would appreciate if you would deliver a message to Melissa for us.  We would like you to tell her that we are very happy for her and we honor her and celebrate who she is.  
 
In the newspaper, Melissa stated, 'We love homosexuals, we just want to give them options.'"  
 
"Cindy, we would like for Focus on the Family to know that we are one of those options.  Just as Melissa chose what was best for her, let people know that people of faith like us exist and that we have stable, committed relationships.  We are one of the options." 
 
At this point, Cindy continued, saying that Melissa had to get out of that "lifestyle," because she hadn't been able to find a relationship like ours. (Wouldn't Dr. Dobson faint if he knew she had acknowledged our relationship?).  I continued by telling her that our progressive values of love, compassion and commitment are traditional American family values.   We then spoke to her about the term "lifestyle," and offered that in our letter to Dr. Dobson, we shared that if we were to have the opportunity to sit and talk with Dr. Dobson, we would probably discover that we have a similar lifestyle. Why?  Our similar lifestyle is that we are people of faith, married, and in a monogamous and committed relationship.  Click here to read how the word "lifestyle" has been co-opted by other to denigrate our GLBT community.
Click here to read the entire synopsis of our tour of Focus on the Family last year.
Also, click here for our e-postcards, where you can send your friends one of us and Betty (our Focus on the Family tour guide), encouraging them to follow our journey as we head to Colorado Springs.  Remember, there are two ways you can choose to support us!
#1 – Contribute to GISA so that we can continue the last leg of our journey, heading to Colorado Springs in our purple suburban, pulling our Scotty trailer, to walk in the 1000 Watt Walk with Soulforce. Click here to support.
#2 – Contribute to Soulforce, through sponsoring us on the walk. Click on this link.
If everyone on this list gave just $5 or $10, your support could make a huge difference!
During our visit to Focus on the Family, we hope to meet with Elizabeth Bourquin.   Dotti contacted FOTF after listening to Drs. Les and Leslie Parrot on the FOTF radio show.  She recognized that these two relationship experts were quoting the research of Dr. John Gottman, who also conducted a 12 year study on gay couples.  Dotti inquired as to why FOTF would support people referring to Gottman's research in one area, and deny its validity in another.  Sharing that she had attended their Love Won Out Conference in Seattle, Dotti further suggested that they consider utilizing Gottman's research at those conferences, since it offers another side of understanding versus the one FOTF presents.  Click here to read about that. 
Following is the response received from Elizabeth Bourquin.
"Thank you for writing to Focus on the Family.  It is a privilege to respond on behalf of our staff.
We appreciate your willingness to contact us following our April 17 broadcast with Drs. Les and Leslie Parrott, 'How to Fight Fair.' You are correct in pointing out that our guests referred to the renowned research of Dr. John Gottman in connection with his study of conflict in marriage.  However, that is not to say that we endorse the work of The Gottman Institute as a whole.  The comments stemmed from the personal investigation of our guests and were not meant to be construed as blanket approval on the part of Focus on the Family for the entirety of Dr. Gottman's work. 
With reference to our Love Won Out conferences, it is important to understand that we have not set out to refute Dr. Gottman's findings in order to deny the fact that some same-sex couples encounter satisfying relationships.  In our view, the fact that men and women can experience some contentment or happiness apart from God's design and ultimate plan for humanity does not negate the standard He has set forth.  In other words, what "is" does not necessarily mean what 'ought to be.'  As such, we have sought to offer hope through the testimonies of those who have 'been there' so that we might demonstrate the possibility of change for individuals who desire to align themselves with biblical truth by seeking a way out of homosexuality. 
Again, thanks for writing and allowing us an opportunity to address your questions.  We trust this reply has been helpful.  God bless!"
Dotti emailed her back, acknowleding her for her comments (which were much less condemning than comments often heard from Dobson):
Hi Elizabeth,
 
Thank you for writing back. Your comments were refreshing.   I wanted to get a better sense of where you all were coming from.  I will be in Colorado Springs during July, and plan to come by Focus on the Family Headquarters.  Would it be possible to meet?  I anticipate the date being July 24.
 
Again, I appreciate your taking the time to offer your feedback.  Also, I met Melissa Fryear at the conference in Seattle.  Would it be possible to get her email so I could contact her?
 
Blessings, Dotti Berry
Dotti has not heard back from Elizabeth at this time.  She will follow up again, requesting to speak when we visit.  Before our visit, Dotti will phone Focus on the Family and attempt to set up a meeting with Elizabeth, as well as with Melissa, if we have not yet received another reply from them. 
 

Life is an adventure…enjoy the ride!

From the real and true adventures of two women and a poodle,
Changing the world…one person at a time.

The light in us honors the light in you,
Dotti, Roby & Rylee Joy