You can't hate someone whose story you know.
Dare to know the story of those who are different.

"The tiniest story in your life can deeply touch another. You cannot know the effect your story might have."--Sark
Many of you have mentioned that you want to contact various media regarding our journey.  We realize that it takes a village, compiled of individuals with their "I am one" efforts, to create a shift in attitudes. We appreciate your desire to want to publicize our journey, which is really about all of us, not just "Dotti and Roby."  As we have said in the past, each of you is on the journey with us as you do what you can where you are.
In light of your requests, we want to give you a seed to plant that can come to fruition if we have many people distributing it.  It is possible for us to create a tipping point, if you utilize the info we are supplying you, as well as send it to your email list.  Please "cut and paste" what is in bold below, and send to any media you feel might be interested.  Feel free to share with local newspapers if we are speaking in your area, as well as regional and national media, whether that be newspaper, TV, radio, internet, or other.  We also feel that the weekly updates of our journey could be interesting to have on other online sources, such as The Advocate, Curve Magazine, and www.365.com. 
GayIntoStraightAmerica...Halfway through their year-long journey, two women and a poodle, Dotti Berry, Robynne Sapp, and Rylee Joy, continue their mission to transform themselves and our world, one person at a time.  Their intention is to engage hearts and minds, create authentic connections and dissolve differences that separate us as they interact with people who are "wrestling" with their understanding of gay, lesbian, bisexual, transgender, queer and questioning persons.  They are also speaking with people who want to engage in deeper conversations, and discover how to become  Stand UP Speak OUT Wind Changers.  
Click here for current press release.       
Click here for News Updates that contain all of their past newsletters throughout their journey since it began September 11, 2005.  Newsletters are sent out each Thursday, and may be subscribed to by going to their website, www.GayIntoStraightAmerica.com and clicking on "Join our Newsletter."
Media Requests Welcome.  Click below for some recent media.
Click here to read the article from the Global Gazette on March 14, 2006
Click here to read the article from the Louisville Courier-Journal on Feb. 20, 2006 
 Click here for interview on Fox News, Louisville, KY on Feb. 20 
Click  here  for interview on Channel 36 (ABC) Lexington, KY on Feb. 20, 2006  
Click here for Press Room  (contains all other media, pictures and bios for Dotti Berry and Robynne Sapp) 
OK, the above "media piece" is what you can send, creating more awareness about our journey.  Go for it!  Many thanks for those who embrace doing this.
Additionally, if any of you know of any websites or local papers that might want to have a column written by "Two Women & a Poodle," please have them contact us.  There are also articles Dotti has written that can be shared.
 
Speaking of media, Beth Derenne of KOPN in Columbia, Missouri is doing another radio interview with us…this one is for the "halfway mark" and is live at 7 p.m. (Central Time) on KOPN. Beth also wrote and said, "It will also be available for your download as a podcast from the new KOPN website!"  If you missed it live, but want to hear it, click here to go to their KOPN website, click on podcasts, and click on "Women's Issues."  Or click on this link and copy the link from the browser's address bar into your Podcast player.  If you have any trouble, go back to previous directions!  Don't miss it!!!


There are also various other ways in which you can participate.  First and foremost is by Standing UP and Speaking OUT...Dare to become a Stand UP Speak OUT Wind Changer.  That automatically engages you in the process of our journey. For other ways in which you can participate and support our journey, consider the following. You can contribute financially, through in-kind gifts, and with your talents.  Just choose one! (:


This past week has been one of varied experiences with friends from diverse backgrounds.  Before leaving the Pacific School of Religion, where we will return on May 11 (speaking at their Lavender Lunch at 12:30 p.m.), we continued to have connections with many people, stopped by the site of a purple suburban with a Scotty trailer sitting smack in the middle of campus.

Person after person…connection after connection. Following are just a few of the wonderful folks we engaged in conversation...Greg & his daughter, Emma; Raffie, a transgender person; Rebecca; Eric; Michael. Add Ger and Sonya to that group.  Although you can't see Sonya's arm, there are now two people wearing our GISA rainbow wristbands in Ireland!  Check out this pic!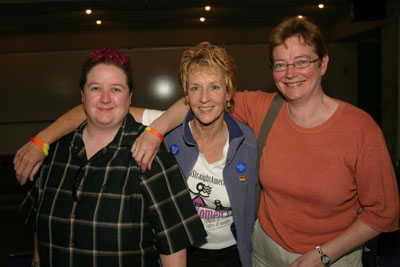 (L-R) Sonya, Dotti, and Ger
Rainbow wristbands keep going international!  Why not have yours?
click here if you want one!
We continued on our journey to the home of Heidi & James Green. You have heard us often talk about them, as well as about Jamison's book, Becoming a Visible Man.  Not only are they incredible individuals, they are one of the most dynamic couples we know.  Rylee Joy had a wonderful time playing with Cody and Hannah.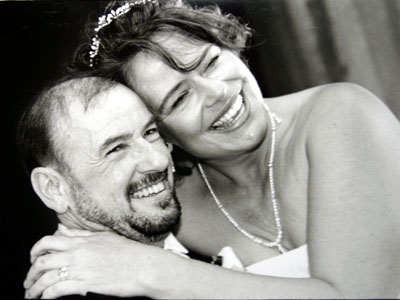 James & Heidi
from their Wedding Day (photo by JenMolander.com)
Though James had to fly out Friday morning to give a talk in Kalamazoo, Michigan, Heidi graciously spent Friday with us, taking us hiking and then to the Golden Gate Bridge.  We ended the evening catching the show of Zoie, a comedian friend of hers.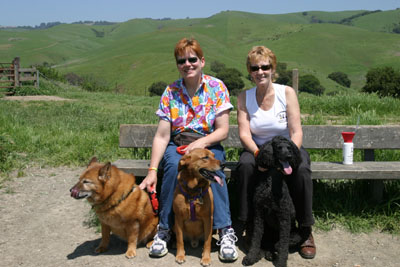 Heidi & Dotti...resting after hiking to the top!
(L-R) Hannah, Cody & Rylee Joy
From there we headed to the home of Regina Stoops and Diane Berry, a committed couple for 16 years.  Regina is the "Catholic comedian," whose humor kept Dotti in stitches at WOW 2000, the "Welcome our Witness" conference of 1200 people from welcoming and affirming churches from around the United States.  Regina's website is www.GLBTcoach.com/comedy. Regina's humor connects with a wide range of audiences and has led to event performances as diverse as Catholic Diocese Fundraisers, Teacher's Workshops, Gay and Lesbian Film Festivals and Corporate Retreats.  With Diane "bearing the babies" and working the corporate scene, and Regina being the "stay at home" mom, the funniest thing that she has experienced lately is when Jack pooped in the tub. Regina's explanation of this event, however, led Dotti to suggest that she should start doing podcasts for GLBT parents, offering both humor and expertise.
No, Diane Berry is not Dotti Berry's cousin or sister, though Dotti would gladly claim her as either one.  Regina and Diane have two beautiful children, Ryan (3 years old) and Jack (18 months).  They also have another baby on the way!  This child is due in July. What can we say…being Catholic, they don't believe in birth control! (: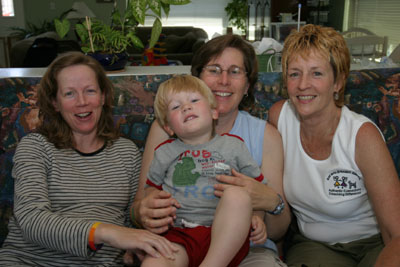 (L-R) Diane, Regina (holding Ryan) & Dotti
Seriously, the donor is a magnificent man named Roy.  He and his partner, Tim, who got married in San Francisco and have been a couple for 12 years, came over for dinner on Saturday evening.  We only wish that George Bush (yes, our president) and James Dobson could have been there for dinner.  They would have been inspired by this nurturing family, and then insisted on naming them head of a new government panel to help others create healthy families.  We only wish that all children could be so fortunate to have so many healthy female and male influences on their lives.  How do you spell integrity? RDRT…Regina,Diane,Roy,Tim.  That is how they live their lives, and that is why they are impacting these children in a positive way.

(L-R) Diane, Regina, Ryan, Tim, Jack & Roy
Dotti:  I feel about this family the way I do about the transgender couple families.  I learn from all of them what it means to be in genuine and authentic relationship.  I know that many mixed gender (heterosexual) couples could also learn from them.  I continue to share at our speaking engagements that it is both transgender, as well as gay and lesbian couples, who can share and express the vision of a new way of negotiating and creating authentic and empowered relationship, leading to healing for many mixed gender couples who are experiencing difficulty.  The model for relationship has shifted, but many mixed gender couples have not embraced the changes that are necessary for supporting authentic relationship in our society today.  The effects of that are evidenced by the 54% divorce rate in our country.  
We are sooooooooo impressed by this blended family that we are naming them our newest Stand UP Speak OUT Wind Changer honorees.   Indeed, each of them is changing our world for the better for all families, including traditional ones, impacting all families in ways that cannot be denied.  In this day and age, when couples are splitting up and children are split apart, this group of people is modeling a new and empowered way of being "family."  To help you better understand this family, we need to tell you that Roy agreed to give up any "legal rights" to the children.  But, a piece of paper cannot make a person care for a child, and the lack of one cannot make a person not care for a child.  Roy and Tim are committed to Ryan and Jack because they choose to be.  Regina and Diane encourage Roy's and Tim's participation in their family because they know Roy and Tim to be people of impeccable integrity.  What better influences would you want on your children?  These four individuals are joined through their mutual respect for one another and their love for these children, as well as through their spiritual beliefs through their Catholic Church.  Like Deb and Bill LeMay, Father Bob, and Jamie & Jeremy at their Catholic parish in Chaska, MN, RDRT are making a difference in their Catholic parish in Pleasanton, CA.  Indeed, it is people everywhere who will save our religious institutions from extinction, inviting them to become places that include and celebrate all people.  Click here if you haven't read about our other Wind Changer honorees, and click here if you want to nominate someone.
On Sunday, we took Bunco and Rylee Joy to the park.  Rylee made many new friends this week!  We then left Regina's and Diane's home, hooking up our GPS.  It guided us to I-580 to pick up I-5 toward Los Angeles. On our right as we headed out of town was Mitchell Katz winery.   It was such a beautiful sunny day, and the tables outside were inviting.  We thought, "Why not have a wine tasting?"  If you have been reading our newsletters from the very beginning, you know that some of our most interesting connections with everyday people have happened at a winery.  We also know that the "attractor factor" is going to be working to the max when we enter a winery.  This day was no exception.  Kim approached us and asked if we would like to participate in a wine tasting, handing us a list of the wines being tasted.  Our first question is always, "How much does it cost?"  "There is no charge," she said.  Our decision was made!  "Yes!"  (:  When you are on a budget, it is a very important question!  Sometimes, it can be "no charge" as it was at Mitchell Katz winery, or it can be anywhere from $2-$5 a person.   When it is $2, we would probably still say "yes."  If it is $5, we would probably say, "No, thanks."

Kim had a dynamic smile with twinkling eyes to match.  She had barely poured the first tasting when she asked if we were with a GSA (Gay/Straight Alliance) group.  She noticed the embroidered shirts we wore, saying "Gay Into Straight America" with our little "two women and a poodle"  logo and "Authentic Connections…Dissolving Differences" beneath the logo.  We replied, "No."  She then asked more about our shirts, and we shared the basics about our journey.  She was so excited, saying that she is an English teacher at Livermore High School.  She could hardly contain her excitement when she told about a student (president of the GSA club where she teaches) rushing to her classroom to tell her that he had come out in a speech to the school.  We asked her if she would like to have one of our business cards.  She nodded affirmatively. 

Roby then had to go back to the car to get her glasses.  Dotti asked her to get some rainbow wristbands and a few cards.  When Roby returned, Kim was behind the counter talking to Gale, telling her about our journey.  We could hear that Gale was also excited about Gay Into Straight America.  Before we left, we gave them business cards and rainbow wristbands, sharing what we always tell people…"Wearing these wristbands is a commitment to creating authentic connections and having deeper conversations, in whatever way that works for you in your life."  They both accepted, thrilled with them, and immediately donning them on their wrist. 

Gale asked where we lived, and upon hearing that we were from Washington, excitedly told us that she and her husband had purchased 5 acres on Orcas Island, and would be building a home and moving there in 2007.   We also gave Kim a rainbow wristband to give her student.  She couldn't wait to see him and tell him about our journey.  These two heterosexual allies once again confirmed for us that the majority of people in our country are interested in equality and justice for all people.  Once again, we realize that a minority of people in our country are holding hostage our GLBT community by making us fearful of being authentic with the majority of people, the movable middle, the ones who are willing to learn about people's differences and who are willing to dissolve differences that separate us.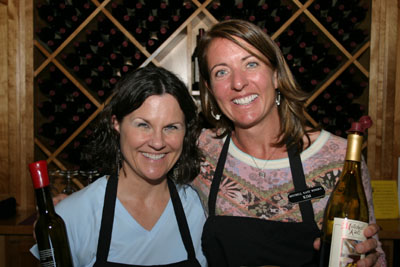 (L-R) Gale & Kim
When we began this journey, we said that in addition to specific events and speaking engagements, much of our journey would consist of day-to-day interactions, as we travel and create authentic connections with people.  We called it the "attractor factor," sharing that it happens "easily and naturally" as we remain open to attracting those who are wrestling with their understanding about GLBT persons, or those who are wrestling about being a GLBT person and fully accepting their authentic self, or those who are willing to be a part of creating change in our world through being an ally.
Initially we gave two examples on our website of people we had encountered.


Click here for an example of a person wrestling with their own understanding of GLBT persons.
Click here for an example of a person wrestling with acceptance of living fully as their authentic self.
We will now use Kim and Gale on our website (using the story above).  It will say,
"Click here for an example of a person/s willing to be a part of creating change in our world through standing up and speaking out as an ally." Their story represents that of many we have encountered.  

The PFLAG NW Conference continues to stick in our minds. We were part of a panel that included two other women.
One woman on the panel was Gail Shibley. In 1991, Gail made history as Oregon's first openly gay or lesbian legislator, serving six years in the Oregon House of Representatives where she represented central portions of Portland and Multnomah county.  What really impressed us was how Gail was able to be vulnerable and share in the moment some difficulties she is experiencing.  The title of the panel was Celebrating Unseen Hearts/Habits of Lesbians.  She admitted that she was not in a celebratory mood and that she was not feeling extremely empowered. Coming from a woman who has achieved much success, this "owning" of and being "present" to her feelings, modeled for us the importance of being real and authentic.  That was a tremendous gift that she offered to us and the participants.


The other lady on the panel was also an amazing woman.  Chelsia Rice had qualifications unique from anyone else on the panel. She is a second-generation queer.  She is also coordinator for the Portland COLAGE (organization for children of lesbian, gay, bisexual and transgender parents) chapter and publisher of the ezine/blog Wobbly Little Legs, which incorporates the experience of Children of GLBT families and resources.  
 
We were fortunate that Kathy Kiefer, who has agreed to help with filming our documentary, was there in place of Nan Macy, who is in charge of creating it.  Nan was unable to attend the conference, but just spent three days with us in LA this week.  Nan and our friend, Loren Dokke, flew in together.  Loren helped out with logistics with Nan, helping each step of the way. 

We had a blast having both of them with us for a few days.  Our first "filming opportunity" was our meeting with Abbe Land, the Mayor or West Hollywood.  Actually, the council has just rotated their city council, and rather than serving as mayor, Abbe is now a Council Member.  We relish each opportunity to speak with a public official.  Like Mayor Tom Potter of Portland, Abbe is a great supporter for equality and justice for all people, regardless of sexual orientation or gender identity/expression…or any difference.  She emphatically spoke about bringing all people together.  This is the essence of our journey.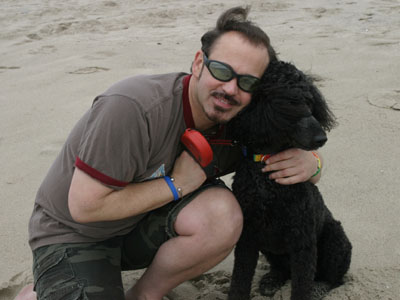 Uncle Loren with Rylee Joy
notice the rainbow wristband on his arm around Rylee...
click here if you want one!
Nan also did some "6 months into Gay Into Straight America journey" interviews, capturing our thoughts, feelings, and insights.  She asked thought-provoking questions, which invariably led to the shedding of some tears as we recalled various experiences.  Nan's gift of filming this documentary cannot be underestimated.  The time and energy she is putting into the filming, not to mention the hours she will spend putting it together is a gift we could never repay.  All we can do is graciously accept her generosity and say "Thank you from the bottom of our heart!"  The continued efforts of our GISA team, along with the support of everyday people, is making our journey possible.  We continue to feel humbled by your support!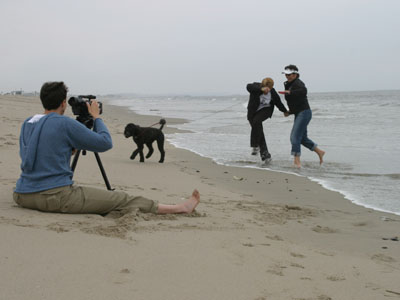 Fun in the the surf at Santa Monica Beach as Nan films!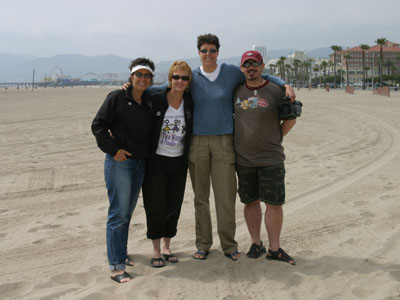 (L-R) Roby, Dotti, Nan & Loren
Back to Kathy Kiefer.  She is also an incredible supporter.  Her contributions to our journey cannot be overstated.  She is taking some of the footage from the PFLAG NW Conference, and creating a short 10 minute video which we will use on our website, as well as in a press release/email to media outlets, corporations and other organizations to alert them about retaining us for speaking engagements and facilitating workshops. This is going to be a great tool for us.  As soon as Kathy finishes editing that, and we have it uploaded on our website, we will include the link in our newsletter. 


Speaking of great families…We just got an email from Karen Ghio that her website is live and ready for viewing.  Karen's kids are Lauren & Riley, the two whose story is on our website under "The Kids."  They help Karen in their family business, called Lauril's Loft (taken from their names, Lauren & Riley).  They do dove releases for weddings, memorials or other special events.  They have offered to do it for us for our 3rd wedding, when Washington creates marriage equality to include same gender couples.  Don't miss their new website, www.laurilsloft.com
More about families.  The Berry-Sapp family will be part of the "Soulforce 1000 Watt March." Rylee Joy will be marching with us in her first-ever Soulforce event!   You can sponsor us, with the money going to Soulforce, by clicking here.

Click here to read an article about U.S. religious groups that are putting their support behind seeking the ban on same-sex marriage, an upcoming issue to be voted on June 4 in the Senate.

The truth in the title of Bob's Minor's upcoming book, When Religion is an Addiction, is revealed when we read the above article. Marriage equality should be a non-issue, particularly when bigger issues are more important, as Joe Solmonese (president of the Human Rights Campaign) reminds us, saying, "Supporters of the marriage amendment are out of touch."  

This sounds similar to what the nuns from St. Mary's told us about the Pope when we talked with them back in November.  Granted, we weren't talking about the marriage amendment, but we did ask, "What do you think about the Pope." They replied, "He's out of touch."  Remember, we don't make this up…we just report our experiences! 

It seems that some individuals, particularly those who are attempting to control and manipulate people in their thinking as a way of excluding others, are out of touch with equality and justice for people.
Joe Solmonese continued, "We have a war raging in Iraq, we have a Gulf Coast that needs to be rebuilt, we have an economy barely hanging on," he said, "The last thing America wants is this Republican-controlled Congress spending time writing discrimination into the Constitution."

Wayne Besen just wrote a article, The Right's New Legalism.  He discusses the newest tactics that this minority is using to hold the majority hostage through fear.  All we can say is "RESIST!"  Click here and check out the article.  Give them the opportunity to shift their attitudes by sharing our authentic selves.  It is the best tool we have for defeating this amendment to our constitution!

Between now and June 4 is a very important time for all of us to be "active!"  June 4 is when senators will vote on the Federal Marriage Amendment. There are two specific ways you can help. PFLAG just released a press release, emphasizing this theme, "All I Want for Mother's Day is a NO Vote on the Federal Marriage Amendment."  Click here for the full text and what you can do!

Additionally, the Human Rights Campaign is busy getting out the word, saying, "In five weeks, the United States Senate will decide whether or not to make gay, lesbian, bisexual and transgender Americans second-class citizens in our nation's Constitution.  Where do your Senators stand?"  Click here to read more about how you can make a difference in the vote of our senators on June 4.  Also, there are many allied groups that are standing with us.  Click here for a list.

Think this isn't a big issue for some?  Think again. We still say that it is the minority who is putting fear into us.  They are holding many of us hostage through fear, causing many to choose silence over sharing their authentic self.
 
One of those fearful ones issued a death threat against a Minnesota senator who is opponent of ban on gay marriage.   Click here to read more about that.

Coming soon!  The Great American Road-Cast, podcasting the true adventures of Two Women and a Poodle on their year long journey, Gay Into Straight America.  Having a small window of time between now and when we next speak, we are staying in an RV park!  Can you believe it?  We have only stayed in an RV park one other time on our journey. Wal-Mart has been more in line with our "budget!"  Our motto has been,  "Free" is better than paying for an RV park!  Our commitment for this week-end is to learn how to podcast! 

We only discovered the RV park when we had to re-calculate on our GPS due to missing a turn.  Our intention was to sleep at the Wal-Mart, but the gas to drive there would pay for one night at the RV park.  Additionally, we also were at a critical point of needing to find a sewer station, and were in the process of searching for one.  We already knew that would entail traveling and more gas.  We looked at one another and made an executive decision, pulling in and securing a spot where we could handle all of our concerns. 

When we arrived at #13, our neighbor turned out to be Mike.  He was very helpful, and gave us a hose extension to use and hook up to the dump station at our site. That meant taking parts off the other hose, and adding others. Mike quickly dug in to see what spare parts he had with his rig.  We were coveting his Yamaha motorcycle sitting at the back of his camper attached to his truck.  Mike said that we serendipitously stumbled upon the ONLY RV park in Los Angeles. How wonderful is that? Especially on the beach!  As has been our experience throughout our journey, when we are unattached to a specific outcome, good things happen.  That includes meeting Mike, who we discovered is a committed Christian (his own words), attending a United Methodist Church at his home in northern California.  Mike has been spending the week working in LA for ten years, and driving home on week-ends. For five years, he has been staying at this RV park on the beach.  His wife was feeling sorry for him, until she visited one week and experienced his "home away from home."  He is no longer receiving sympathy for having a "beach front" place away from home during the week! 


Next week's activities?  We are meeting with Toni Atkins, mayor of San Diego...speaking at PFLAG Long Beach...and speaking at the Pacific School of Religion. Life is an adventure…enjoy the ride!
From the real and true adventures of two women and a poodle, Changing the world…one person at a time.

The light in us honors the light in you,
Dotti, Roby & Rylee Joy