You can't hate someone whose story you know. Dare to know the story of those who are different.
"The tiniest story in your life can deeply touch another.  You cannot know the effect your story might have."  --Sark
Having traveled through Kentucky this last week, speaking at PFLAG Louisville, we know more than ever how the above sayings ring true!  We have AMAZING stories for you again this week!
We would like to dedicate this newsletter to our wonderful friend, Simone, who is now recovering from her surgery in Thailand.  You read about her in our last newsletter. Remember, we refer to it as GAS (Gender Affirmation Surgery) for its affirmation of the person.  Simone's partner, Barb, just wrote with an update, saying,

"Simone and I have gotten to view her new female anatomy. And oh my God, it's absolutely amazing and beautiful.  Dr. Kamol (surgeon) is an artist.  It's incredible what that man can do.  He's a miracle worker is all I can say.  He brings a great joy to so many Transwowen. And Simone was all smiles and then started crying with happiness.  It was so wonderful to see her so happy and sure of herself.  I am still in awe and have only the greatest respect for her.  I only wish that I can live up to her strength and courage as her partner."

Dotti:
I have been with three different people with three different doctors around the world during male-to-female surgery.  I can personally say that the joy and peace on the faces of these wonderful transwomen after surgery when they first "wake up" is simply indescribable. Yet, here I am, attempting to do that!  It is as if they have come home to themselves, integrating into a wholeness they have only imagined. 
If you would like to email a note of support, please click here
.
Having included other stories/information about the transgender community, we also honor those transgender persons who have not had surgery and/or do not choose to have surgery.  I remind people that whether a person has/has not had surgery, each individual is every bit the woman or man they know themselves to be.  Additionally, the transgender community consists of others, such as crossdressers, not just transsexuals, as well as many who are on the spectrum of gender identity and gender expression. This incredible community has given me more joy than I can ever express. 
I look forward to being at
IFGE (International Foundation for Gender Education)
 in Philadelphia April 5-8, as well as at
Esprit in Port Angeles. May 14-21
.  Here's a great pic of Simone (in glasses) and Barb, from last year's
Esprit Conference
. If we are open to discovery, we find that we all have a lot we can learn.  I say, "Isn't that exciting?"
On Thursday, February 23, you will be able to hear part of Dotti's and Roby's story on NPR station WLRN, 91.3 in Miami, Florida.  Click here to listen online to this 4 minute segment at 5:45 p.m., taken from their 40 minute Story Corps session they did on February 1, 2006 while in Miami.
Click here and view some great videos, as well as our recent interviews.  Speaking of videos, for those of you who are interested in movies that touch your heart and soul, Spiritual Cinema, for a special limited time, is offering four meaningful, thought-provoking, and inspirational FREE movies! (you pay only shipping and handling). Click here if you are interested!
Pam Cole from the website, The L Word, is doing an article about our journey for her website.  Pam, a native of Atlanta, Georgia, also recently wrote an editorial called "The Passing of Leadership" about the death of Coretta Scott King.  Click here to read.
This past week continued to be one of engagement…with people and life.

 

We were privileged to speak at PFLAG Louisville, after spending a few days in Lexington, Kentucky where Dotti lived for 22 years.

While in Lexington, we had lunch with Rev. Dr. Lisa Davison, who officiated at our spiritual ceremony on July 31, 2004.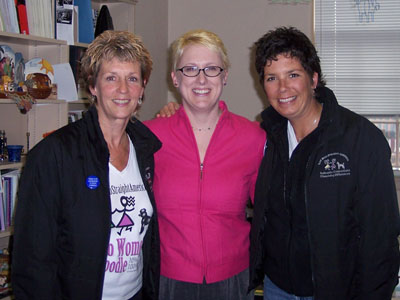 She invited us to her course "Women in the First Testament."  Although we woke up to snow in Lexington on Saturday, it would have taken much more than a couple inches of snow to keep us from venturing out to attend her course.  We are only sorry that we missed the first of this 3 part series, and aren't in town for the third part.  Folks, it just doesn't get much better than learning from Lisa if you are seeking to engage in questions about biblical scriptures, and its relevance to our daily lives.  Lisa is a brilliant Bible Scholar (Professor of Old Testament) and always has something profound to say, teach and write.  Click here to read her writing on "What the Bible Does and Doesn't Say About Homosexuality."  Lunch afterwards provided a special delight with the opportunity to also spend time with her husband, Michael, before our interview with ABC Channel 36  (Click here to view).
The next day, we received an email that said, "My name is Allen Lind.  I had the pleasure of meeting you today at Lisa's session at Lexington Theological Seminary.  I don't believe it was a coincidence that we were seated at the same table."  Allen was both gracious and inquiring about our journey, and we appreciate the overall support he extended. WHAM!  One myth shot down.  People who are welcoming and affirming to GLBT persons can be spiritual and/or religious.
Our 83 year old friend, Jean Stewart, informed us that she had just seen Brokeback Mountain for the second time, and thought it was fabulous!  BAM! Another myth shot down!  People of a certain age can evolve and grow in their thinking and understanding about GLBT persons.
Dotti and Jean were in Soulforce Lexington together.  Think of Jean next time you feel that you can't share your truth with your mother who is only 70…or 75…or 80+.  Bottom line?  In our experience, we have not found age to be a barrier to evolution in one's thinking and understanding.  Young, or wise and of a certain age, each person is different.  Consider that using someone's age as an excuse for not being truthful is your own internal fear.  Hint:  It's not about your mother…it's about you!  Dare to embrace your opportunity for sharing your authentic self with those you love!   
Speaking of myths, Dotti's article for February, "Debunking Ten Myths about GLBT that don't Empower Us" will be in next week's newsletter.
While in Lexington, we received great hospitality at the home of Jamie McDaniel and Chris Noble (in US flag shorts).  Thanks guys!!!  Jamie also recorded the Channel 36 interview and got it uploaded to google videos so that we provide a link for you to view.  What would we do without the "techie" guys!  Jamie also went with us to visit Jean Stewart.  I don't know who was more excited about Jamie's new love, Chris,…Jean or Jamie!!! It is so wonderful to have people of any age celebrate love, especially the love we have for our partners.
We arrived in Louisville, KY Saturday night and were warmly welcomed by our host family (PFLAG Parents), Debbie & Gary Tragesser. Their friend, Ernie, also joined us for dinner. Gary, a brilliant cook, impressed us with a delicious chicken & pasta dish before treating us to a decadent chocolate martini.  We got such royal treatment at the Tragessor home that we thought about moving in! (: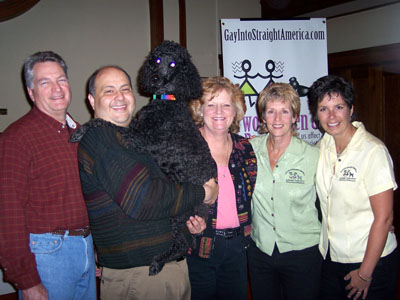 Gary, Ernie, Rylee Joy, Debbie, Dotti & Roby
Sunday morning, Debbie & Gary's daughter, Cara, and her husband, Gavin and girls, Grace and Claire, all came over for brunch.  We then, headed into Louisville for the PFLAG meeting, where Debbie and Gary are on the Board.  Before the meeting, however, FOX News came to interview us.  Stay tuned… The Fox News Interview will be online very soon.  We will share that in our next newsletter.
PFLAG parents simply never cease to amaze us with their genuine hospitality and celebration of who we are.  As we work on bridging the divide of understanding, it is often a study in contrasts with one side acting as if having a gay child is the worst thing that has ever happened in their lives, and the other side acting as if having a gay child is the best thing that has ever happened in their lives.  We hope that those who are celebrating their gay child will realize the importance of sharing their lives and engaging with those who are most often present in their inner circle of friends and family.  If we each do that, we won't have to wish that "every gay person would turn purple."  We can dare to do our own work by sharing our authentic selves, and empowering ourselves in the process!

Here's an interesting "tidbit."  In an article in USA Today on February 9, 2006, "Workplace romance no longer gets the kiss-off," one point stuck out to us.  Ferrzaai, author of the 2005 book Never Eat Alone, doesn't advocate dating at the office, but says any such relationship should be honest and open to avoid creating distrust among co-workers. "If you're hiding it, it may be that it's inappropriate," he says.  How does this possibly apply to our GLBT community in terms of lack of honesty and openness possibly creating distrust with people? Although being GLBT is not inappropriate, is there any correlation to the "hiding" perhaps being inappropriate and creating distrust?  Just food for thought…

Thought…If we recognize that demonizing others (no matter which angle you are coming from) occurs when we fail to face the deeper fear, hurt and anger within ourselves, we can choose a different course that really does make a difference.  Wearing our rainbow wristbands are a commitment to creating authentic connections and having deeper conversations.  Click here to purchase!
One of the most wonderful aspects of this journey is that we meet so many wonderful PFLAG parents and can connect folks from different chapters after meeting them.
Carol Cardonic, President of PFLAG, did a wonderful job of putting together a great group for our talk.  Her passion for what she is doing is obvious.  Before our talk, Fox News in Louisville did an interview with us.  You will be able to view it in our next newsletter, and it will also be on our website. 
Katya Cengel, a reporter with the Louisville Courier-Journal, did our first interview from "inside the Scotty!" Great article.  Click here to read.  If you enjoy it as much as we did, email her (email is in article), and let her know.  When media provides accurate portrayal of who we are and what we are doing, we find it is great to acknowledge them.
Media coverage through newspaper, radio and TV make things happen. It creates awareness about Gay Into Straight America, and inspires people to contact us. 
In addition to spending Monday and Tuesday working (Dotti was coaching and working with her online clients), we also answered emails and calls from folks.  One call led to an important meeting for us.  Deb Dillon is President of Muses Products, which offers software that contains 152 documents specifically created for unmarried partners (which most of us are since MA is the only state with marriage equality for both same gender and mixed gender couples).  These documents will allow each of us to more fully share our daily live with our partner in a legally protected manner.  This is the most comprehensive program we have ever seen.  During lunch with Deb, she surprised us with a generous donation, as well as an offer to give $5 from every purchase that happens when people enter our promotion code 10000. 
Please check out this fabulous "new on the market" product.  Not only will it benefit  you, it will also help support our journey.  Remember to enter "10000" as the promotional code when you go to Deb's website. 
Click here to read more about this software that contains 152 documents specifically created for unmarried partners so that they can more fully share in their daily lives together.
Carol Cardonic, President of PFLAG Louisville, shared her thoughts about our Louisville talk:
"It was such a thrill to have Dotti, Robynne & precious poodle, Rylee Joy present their program, 'Two Women and a Poodle' at our Feb. 19th Louisville, KY PFLAG meeting. Their willingness to share the recollections of their journey across America touched the hearts and minds of all those in attendance.  Their humor, honesty & openness brought both tears & laughter to the audience. Of course, Rylee Joy, their precious poodle, caused some folks to want to run to the nearest dog shelter and adopt a dog!!    All Louisville PFLAG members & guests were so appreciative of Dotti & Robynne making the journey to Louisville to present their program and we will never forget them. They are in the hearts of Louisville PFLAGers  I would encourage anyone, anywhere to do their best to make contact with Dotti & Robynne and invite them to their town to speak. Things will never be the same after their visit!!  Dotti & Roby...thank YOU both so much & stay safe!
Love, Carol"
In addition to spending Monday working, catching up on emails, and writing, spent the evening enjoying a wonderful home-cooked meal with our good friends, Patti, Alise, Peg & Tami in Louisville.  Patti and Roby met in 2000 at a Clinical Research Investigator's Meeting in Montreal, and have remained close friends ever since.  We are so grateful for Patti, as she was a catalyst to Roby's freedom and was instrumental in her coming out process, not to mention the reason Roby paid a visit to Kentucky in December 2001, which is when she met Dotti!  Thank you, Patti… you hold a special place in our hearts! Also, Patti has generously agreed to host a fund raiser "get to know 2 Women and a Poodle" event at her home in Louisville on Friday, March 3, as we head back down south to Nashville after speaking in Kalamazoo, Michigan.  If you are interested in attending, please click her to email her and she will send you an Evite that gives all the details.  If you are unable to attend, but want to contribute to our journey (as well as see some of the cutest dog pics you have ever seen), click here.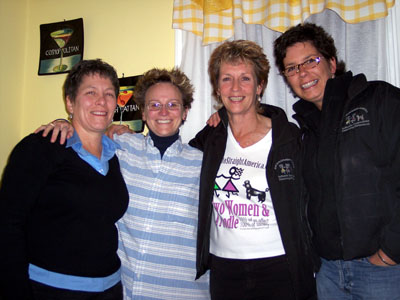 Patti, Alise, Dotti & Roby
We had lunch in Indianapolis with Philip Gulley and Jim Mulholland, authors of several books.  The ones they wrote together are "If Grace is True," and "If God Is Love." Click here for a review and/or to purchase.  Roby read both books out loud to Dotti.  You may remember in our last newsletter about our story of reading in If Grace is True while at Koinonia before we spoke that night, only to read the very paragraph in the book where they mention Clarence Jordan, the founder of Koinonia Community in the 1940's.  Click here if you missed that newsletter!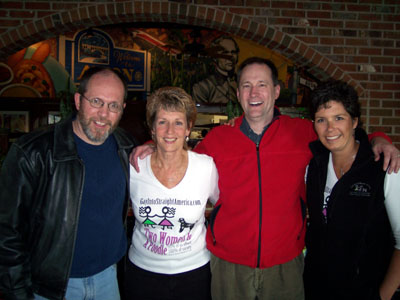 Jim, Dotti, Phil & Roby
Are you ever having such a good time that you hate to leave?
That's how we felt!  What joyous energy these guys have!
Jim & Phil are our newest Stand UP Speak OUT Wind Changer Honorees
To say that these two books have impacted our lives would be an understatement. For Roby, they provided nothing short of a lifeline in her Spiritual Tsunami.  Yes, she found solid ground through the writings of two Quaker ministers, saying,
"Over the past several years, I have been 'wrestling"'with my faith, spirituality, and the teachings I had been brought up with.  Remember, wrestling implies movement, and that is often a good thing. Interestingly enough, my 'coming out of the closet' coincided with coming to some new understandings about my faith. 
Questioning wasn't encouraged in my experience as a young person in the church.  Questioning meant doubting God and/or the Scriptures.  I started questioning back in 1988-89, while attending Torchbearer Bible School in Sweden.  I haven't stopped questioning, but I no longer fear the questions or the lack of answers.  I once said to Dotti, "You seem to really know what you believe, and be comfortable with that."  She replied, "Not necessarily… I have just become comfortable with my discomfort in not having all the answers to my questions."
As we shared stories with one another, we discovered that Phil's brother, Ken, has been with his partner, David, for 17 years.  After Phil & Jim treated us to lunch, we all paraded out to the trailer, since they wanted to meet Rylee, and see our traveling digs.  Phil said that his 10 year-old son, Sam, is so intrigued by our journey, especially since they are currently reading, Travels with Charley by John Steinbeck - A book about traveling the back roads of America with his Standard Poodle!  Sam, you're welcome to join us on the road!  Rylee would LOVE a traveling companion to play with!
Before going our separate ways, Phil said that he and Jim have a special fund with which they support people and causes they believe in.  He continued, "You mentioned that you are doing this journey without being attached to a specific outcome, or attachment to a certain time frame, and that as long as the money lasts, you'll stay on the road.  Jim and I really believe in what you are doing, so whenever you get to a point where you need some money, call us, and we'll cut you a check for $1,000."  WOW!  Thank you, Phil & Jim for your generosity and kindness!  We are overwhelmed with gratitude.  We appreciate what you are doing to touch lives, to make a difference in the world, and to make freedom, justice and equality a reality for ALL people.  
Click here to read the "rest of the story" on how Roby's "spiritual tsunami" has impacted her life.
Also, click here to listen to Rev. Candace Chellew-Hodges' podcast interviews with these ministers, as well as her interview with Roby about our journey before we visited Columbia, South Carolina.
From our website,
"We plan to reach out to people who don't have a foundation for understanding transgender persons."  How does that impact our journey?  Keep reading…
After recently visiting Koinonia Community, we received this note from Ann, the hospitality director who had invited us.
"Hi Dotti & Roby,
I am enjoying getting your e-newsletters now. I just read the article about Koinonia, it's great! I thought you would like to know about a few additions to our website... spurred by our conversation last week... go to our website and you will see a line near the bottom of our main page with our updated statement of inclusivity... yay!... and you will also see a link to an article about your visit here in the news box. We would like to put a link to the part of your newsletter that describes your trip here on our website, is that OK?"
Of course, we said, "YES!"  And it was heart-warming to see that they had added "gender identity and gender expression" to their inclusivity statement.  We have no doubt that if Clarence Jordan were alive today, he would be welcoming, affirming and celebrating GLBT persons, knowing that a Bible used to demonize is as inexcusable today as it was in the 1940's when he brought diverse races together to work, play and worship together.  Clarence worked on undoing whatever prejudice he could. 
To realize the impact of prejudice, click here to read Rev. Roger L. Ray's article "Unlearning Prejudice." (from Disciples World; Volume 4, Issue 7/September, 2005) Rev. Ray is Senior pastor of National Avenue Christian Church (Disciples of Christ) in Springfield, Missouri.
Click here to read an article in USA Today, titled "Parton pleas for tolerance." Peter Cooper writes, "Her ability to identify with outcasts helped her to an Oscar nomination for Travelin' Thru, a song she wrote for the movie Transamerica. The main character is a pre-operative transsexual (played by Felicity Huffman) traveling the country with his son."  We finally get to see it tonight in Indianapolis.
Dolly says, "Having a big gay following, I get hate mail and threats," she says. "Some people are blind or ignorant, and you can't be that prejudiced and hateful and go through this world and still be happy. One thing about this movie is that I think art can change minds. It's all right to be who you are." 

Dolly, you are our newest Stand UP Speak OUT Wind Changer honoree!  Click here to see other honorees. Notice that whether you are a celebrity, or an ordinary, everyday person, YOU can Stand UP and Speak OUT to make a difference! 
Engaging with people constantly reminds us that we are all connected, and reminds us that we want to share with you the following:
ONE HUMAN FAMILY is the official philosophy of Key West. It means we believe all people everywhere are entitled at birth to equal rights, dignity and respect; and lives that are free from prejudice, discrimination, harassment or violence. Check out their website.


If you recall, we spoke at a GSA Club at Southridge High School in Beaverton, Oregon, back in October.  At that time "The Laramie Project" had just been shelved, with a committee of students and teachers to review that action taken by the school. The deep hurt that pulling the play caused to students, staff and parents in their school and community, created a situation that was used to spark dialogue, fostering a greater understanding. With a diverse group of people making lemonade out of lemons, perhaps a deeper lesson has been learned. 
And now?  Mark your calendars - "The Laramie Project" will be onstage at Southridge High School in Beaverton, Oregon on Friday and Saturday nights, May 26th and 27th, with a Saturday matinee on May 27th.
"The saving of our world from pending doom will come, not through the complacent adjustment of the conforming majority, but through the creative maladjustment of a nonconforming minority." (Strength to Love, p.27)
May we all be as creative and nonconforming as this committed group of teachers, students and community friends, who dared to stand up and speak out to make a difference.  Become inspired through actions of others and act inspired in spite of fear.  Click here for Ten Empowering Steps!
The light in us honors the light in you,
Two Women & a Poodle