You can't hate someone whose story you know.
Dare to know the story of those who are different.


"The tiniest story in your life can deeply touch another. You cannot know the effect your story might have."--Sark
Yes, the question has come up, "How many miles have you driven, traveling the country in your purple suburban?"
Drumroll….30,000! 
Eight months, and 30,000 miles later, we rolled into our home area of Bellingham, WA, having been invited to speak at PRIDE this past week-end.
What a warm and welcoming reception we had!  Thanks to our friends, Diana, Diane, Cathy, and Ronna for putting together a wonderful event! On Saturday evening, close to 50 people first mingled, and then cozied up to one another in the Bellingham Food Co-Op presentation room, as we spoke for over an hour and answered questions.  Folks were then treated to a beautiful slide show of pictures from our journey, with music by Lucie Blue Tremblay, which Roby put together.  Great job sweetheart!  This event brought together a unique and diverse group of people, both GLBT persons, as well as allies in our community.  Some came because they read the article in the Bellingham Herald.  Click here to read.  Thanks to Mary Gallagher (reporter) and Phil (photographer) for covering our journey.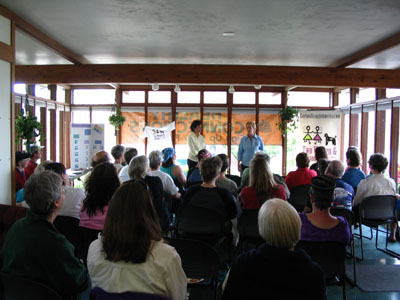 Thanks to Ronna Biggs for shooting this pic while we were speaking!
Cat Tail Photography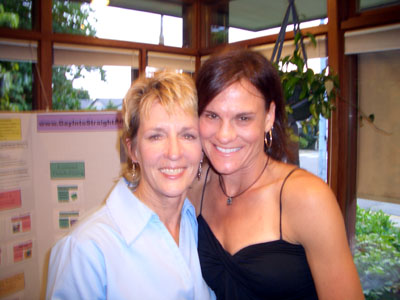 Great pic Roby!  (L-R) Dotti & Sonja at our Saturday night event ...
Ok, gals ... call me.  She's single, goregous, and a beautiful spirit!
Thanks, Sonja, for driving up from Seattle, WA.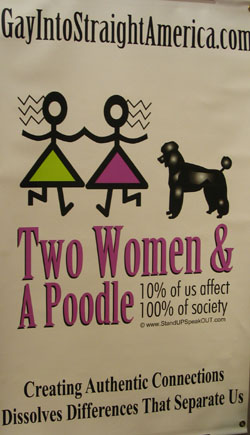 Great pic of our banner by Ronna Biggs! Cat Tail Photography  
On Sunday, we had a table at the PRIDE festival, and had the opportunity to address the crowd for about 15 minutes.  Thanks to Cathy Siebert and the wonderful group of people with the Pride Committee for putting together such a great event!
It was fun to have our friends, Rachel and Tammy, with us for the week-end.  They are getting married July 4, with Dotti officiating and Roby doing the wedding photography.  It's truly an honor to have the opportunity to participate in their wedding.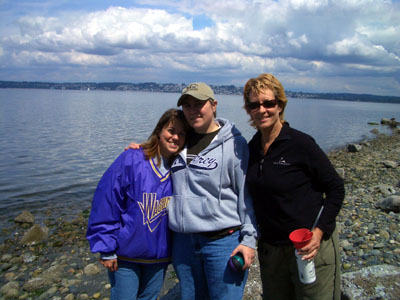 (L-R) Rachel, Tammy & Dotti at "our" beach in Blaine, WA
Dotti: Sunday morning, before proceeding to the Pride Festival, we took Tammy and Rachel to "our" beach near our home. I was reminded of the beauty of our area as we walked the beach and let Rylee Joy run free.  We met a woman named Lisa, who we discovered is good friends with one of our friends, Lynda Stewart!  Another authentic connection created in the course of our day.  Lisa was staying with her husband at Semiahmoo Resort, where we had our spiritual wedding.  When Lisa told us that, we told her we were married in the Victoria Room at the resort. That led to learning more about her and discovering her connection to Lynda, with her then learning about our journey.  Lisa walked away sporting her rainbow wristband.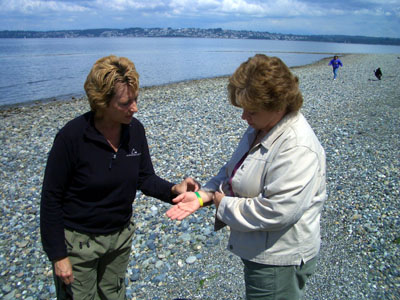 (L-R) Dotti after having asked Lisa if she would like to have a rainbow wristband.  When she replied, "Yes," Dotti gave it to her and said,
"When you wear this, you are making a commitment to creating authentic connections and having deeper conversations, however that works for you in your life. We don't tell you how to think, or what to think, but we do encourage you to think and have conversations."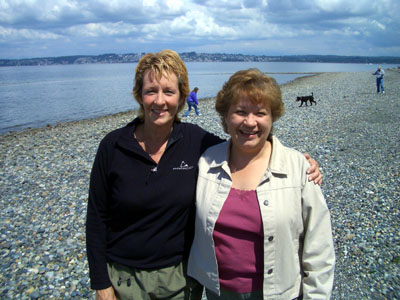 (L-R) Dotti & Lisa
Talking about our wedding took me back in time to 2004, when we stood on the beach together as Roby shot some beautiful pictures, creating the front of our wedding invitation when we had our ceremony at Semiahmoo.  The following is not the one used on our invitation, but it is one of my favorites.  We call it "Courage."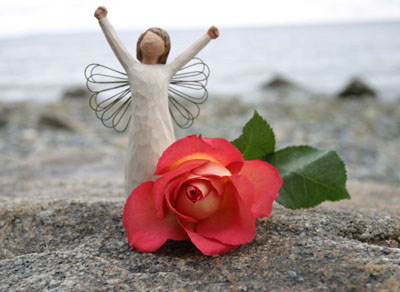 Courage
It reminds me of one of my favorite quotes:
And the day came when the risk to remain tight in the bud
was more painful than the risk it took to blossom ~ Anais Nin
I often think of it as the theme for GLBT persons who finally decide to be the gift that they are, and live an authentic life.  I love the essence of courage.  This saying is on the home page of my website Awakening2Life, as well as part of our "Sayings for the Spirit and Soul" on our GISA website.

Ironically, that saying was the beginning of another great article, Blossoming: Three Transgender Women, that came out this past week in Bellingham.  One of these three dynamic women is Michele, who along with her spouse, Janis, gifted us with our purple suburban. Click here to read that story. 
Dotti:  Flying on Alaska Airlines to Washington D.C. to speak at Sodexho, I sat by the most amazing woman.  Gloria, a beautiful African American woman, whom I would guess to be about my age, was traveling from Anchorage, where she formerly resided.  Long story about how we ended up sitting by one another when our seats were not originally next to one another.  Suffice it to say that we sat there like two old friends, as if we were catching up on life together after having been apart for a while.  She shared her Pentecostal background with me, having grown up with a Pentecostal minister father in Louisiana.   Recently divorced, she is moving forward, excited about her future.
Authentic connections continue to remind me…
You don't change one another's mind…you touch one another's heart.  That's what Gloria and I did for one another, as she shared things with me, and then said, "I can't believe I'm sharing this with you!" and we both giggled like old school chums.  Did Glorida accept a rainbow wristband?  No.  In fact, she said, "Since we are being honest, I honestly wouldn't wear it."  Her lifestyle (more flamboyant & dressy than my Two Women and a Poodle t-shirt) caused me to chuckle as I thought about her wearing that wristband with her dressed up clothes.  And it didn't matter whether or not she took the rainbow wristband I offered.  The authentic connection was what mattered most.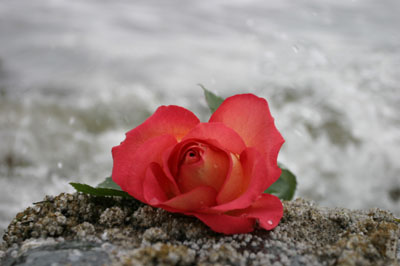 Splashing Rose ... opening up to life & others
There are some weeks when we aren't sure how we will manage to get our newsletter out in time for the PFLAG Weekly Alert, which comes out on Thursday, as well as preparing our newsletter for our website subscribers.  Whether it is seeking an internet connection in the middle of an area where none exists, or not having electricity and sitting in the car with the motor running (not good use of gas) while hooked up to the converter in the cigarette lighter, or finishing a speaking engagement, various situations arise that make us wonder whether we will hit our deadlines!  This week is a busy one with us speaking at Sodexho on Wednesday and final preparations for that opportunity.  Yet, here we are again, making it happen as we sit in the lobby of the Marriott hotel.  I must say this is one of the more comfortable situations we have found ourselves.  This allows us to finish our update for the PFLAG Weekly alert, and then finalize our newsletter for you, our GISA subscribers, after our meeting with Sodexho.
Good news from our home state of Washington!  Equal Rights Washington reminds us that there were two Civil Rights Milestones this week!
On Wednesday, the state of Washington had its long-awaited anti-discrimination law go into effect, protecting all people from discrimination based on sexual orientation or gender identity.
 
Referendum 65 failed to qualify for the ballot. Once again, our community has great reason to celebrate. ERW thanked all who worked so hard over the last 30 years to pass this bill, and to all who came together to defend it.

The second Civil Rights Milestone was that legislators, led by President Bush's encouragement, were unable to get enough votes to write discrimination into our constitution!   Yes, there was victory in defeating the Federal Marriage Amendment!
PFLAG said, "Thank You for Making Your Voices Heard!"
HRC called it, "A Resounding Defeat of Discrimination in the Senate."
As we mentioned, we have driven 30,000 miles, and are still counting as we continue the last few months of our journey, which is scheduled to last through the end of September.   We flew into Washington D.C. yesterday to speak at the corporate headquarters of Sodexho in Gaithersburg, Maryland, on June 8. We will share the journey of Gay Into Straight America before presenting a workshop afterwards. 

The Sodexho PRIDE group has lots for which to feel proud.  PRIDE stands for People Respecting Individuality, Diversity, and Equality.  Denise Ammaccapane, who is Senior Director of Training Corporate Services, has done an outstanding job as PRIDE Chairperson.  It is remarkable what this group has accomplished in a short two years.  They are very dedicated, and we had the opportunity to have dinner with 3 of their PRIDE committee, Denise, Joe & Lou, on Wednesday evening. 
We wish to thank Jean Marie and Jude Medeiros, for creating connections for us!  When we were in DC meeting with the National PFLAG folks, Jean Marie Navetta (media director of PFLAG), after hearing some of our stories, told her partner, Jude, about us.  Jude is a District Manager at Sodexho.  She promptly gave our information to Denise, who then made it happen.  Thanks to all of you!  Check out Jude and Jean Marie in the June issue of The Advocate Magazine!
On June 8, our day with Sodexho made us realize what it is like when people really enjoy working for a corporation. We were honored to meet a dynamic group of individuals, who work together as a team.  There are many names we could mention, but two in particular stand out.  Rohini Anand, Senior Vice President and Chief Diversity Officer, as well as Peri Bridger, Senior Vice President and Chief Human Resources Officer, were both in attendance.  That is COMMITMENT! 
In an afternnoon meeting, we met with representatives from Sodeho, in addition to those from AOL and Freddie Mac.  Gracie, Julie Hawkins (Assistant Project Manager, Diversity Operations with AOL), Matthew Randall (AOL Media Networks), and David Barkley (Director Industry Standards & Practices at Freddie Mac) were some of those in attendance, with Julie and David having attending our workshop earlier in the day.  It is exciting that several corporations are willing to come together and utilize resources, working together for diversity inclusive of GLBT persons.  That's PRIDE!
The day ended with a group from Sodexho treating us to dinner and more engaging converation.  Thanks Peri!  Peri lives in Atlanta, so she and Dotti enjoying talking about their Atlanta connections.
Congratulations to the people involved with Sodexho PRIDE, as well as Sodexho for having the vision to recognize the importance of this group of individuals.  Next week, we will travel to Allentown, PA, where we will once again share about our journey with that Sodexho group and present a workshop.  We will include pictures from both Sodexho workshops in next week's newsletter. 
A lady named Robin Goldberg, Director of Creative Services at Sodexho approached us afterwards, saying that she wants to tell her sister about us, and that perhaps she can encourage her to do an article.  Her sister was supposed to have come to the workshop with her, but had a flight delay. Robin invited us to visit her booth at the Pride Festival in Washington D.C. Who is her sister?  None other than Frances Stevens, founder and publisher of Curve Magazine. Click here to read more about the 15th anniversary in 2005 of this best selling lesbian magazine .  This article says, "Spotting the gaping hole in lesbian publishing, founder and publisher Frances Stevens, now 37, started Curve (then known as Deneuve) in 1990 by maxing out all her credit cards, saving every extra penny from her three jobs and convincing a few worthy women to volunteer their free time."  What an inspring and empowering story!

We had intended to head back to Washington on June 19, to take a vacation for a couple of weeks at home.  We know, most people go away for vacation, but we are sure you can understand why we are taking ours at home! For that reason, we had not scheduled any speaking engagements during that time.  When several of the Sodexho folks invited us to be in New York with them for the Pride Parade & festivities, as well as taking a dinner cruise on Spirit Cruise Lines on the week-end of the 24th, how could we say no? (:
Speaking of Spirit Cruise Lines, the connections continue!  As we mentioned in a news update, we were in Herndon, VA about 7 weeks ago, staying with our dear friends, Mary & Allen DeLaney.  Roby became friends with Mary & Al when they lived in Bellingham, before moving back to the east coast several years ago.  Just a few weeks ago, Roby wrote to Mary asking if we could stay with them again, since Sodexho was bringing us in to speak and do a workshop.  Mary promptly wrote back and said, "My sister is the CEO of Spirit Cruise Lines, which is owned by Sodexho!"  Long story-short, both Mary and her sister, Lorna, who lives in Virginia Beach, graced us with their presence at our talk at Sodexho.  As well, David Sinclair, General Manager at Spirit Cruises, was in attendance.  He asked us to join them on a cruise in New York during PRIDE on June 24.

Thank you for your support and love, Mary, Al, Eileen & Lorna.  (Eileen is Mary & Al's lovely daughter, who is about the sweetest, most congenial young lady you'll ever meet!)
Our only disappointment about this leg of the journey is that this is the first time we have spoken without Rylee Joy being with us!  Before we even began our presentation at Sodexho today, about five people in attendance approached us and said, "Where's the Poodle?  I came to see the Poodle!" :)  We told you SHE'S THE DEAL! :)  Rylee probably isn't missing us at all!  She is having fun, running and chasing birds, at the farm of Auntie Karen & Uncle Kirk Ghio.
On Saturday, we will go to the Pride Parade in Washington D.C., (a first for us), before traveling to Winchester, VA on Sunday evening to speak to their PFLAG group.  If you know people in that area, send them this "Events" link and have them join us.
We received an email from our friend, Babs, in Atlanta.  She and her husband, Jerry, are wonderful PFLAG parents.  Babs is always standing up and speaking out for us.  Read the piece she wrote.

This pic  below is a reminder that this journey continues to be about being present and staying awake … staying conscious to life.  Yes, "Waking Life."  That is what creating authentic connections does for us.  If you have never seen that movie, rent it!

Speaking of movies…Stephen Simon, one of the originators of "Spiritual Cinema,"
gave great feedback on the movie, AN INCONVENIENT TRUTH.
He says, AN INCONVENIENT TRUTH is one of the most fascinating and mind-blowing powerful films I have ever seen in my life. In fact, I believe that its message, coupled with the incredibly inspiring and uplifting way that it sees our humanity, makes the film perhaps the most important movie any of us may ever experience.  Click here to read the rest, and let's check out this film.  Another movie I can't wait to see if The Peaceful Warrior, from the book of the same title.  It happens to be one of my all time favorite books by Dan Millman. 
Some of our links from last week's newsletter were broken.  If you click onto them before I repaired them, I am again including them this week. 
Here's another one: For the latest information on the Soulforce 1000 Watt March, Vigil, and Concert, click here.
Here's one last paragraph that contained a broken link:  As you take pride, and share the gift that you are, even with those who you feel will possibly reject you due to religious teachings, we want to offer you some additional websites to share with them. Faith in America is one we have mentioned previously; however, we want to draw your attention to a particular link.  In this video, you will meet Brent Childers, who resides in the Cajah Mountain community in western North Carolina, and  serves as creative director for Faith In America Inc.'s ad campaign.  The ads are geared toward people like himself, or rather who he was two years ago, an anti-gay man whose beliefs have since changed.  Click on this link to see the ads that Brent has developed.
Life is an adventure…enjoy the ride!
From the real and true adventures of two women and a poodle, Changing the world…one person at a time.

The light in us honors the light in you,
Dotti, Roby & Rylee Joy
Help keep Gay Into Straight America on the road!  What we need is for every person who receives our newsletter to consider giving $20-$100, or more if you are able.  Consider giving a set amount on a monthly basis. Click here to email us what amount you choose, along with what day you want us to bill you, and you will receive a monthly notice through Pay Pal.   Forward this newsletter to your friends, letting them know about our website. They can click on this link to read any of our past weekly newsletters if they want to know more about our journey.  We encourage you and/or your friends to donate through our Levels of Giving program, through our Support Raising eBoard, or through Rylee Joy's Support Board.  You and/or your friends can also click here to purchase some of our t-shirts, caps, or rainbow wristbands!  Yes, caps are now available! 

Please ask people to click on our blog.   We have an updated look.  It is cleaner and sleeker.  You can actually go to our website and click on the "BLOG" icon any time you have feedback. When you have comments you want to share about our newsletter, or other ideas, we would like to request that you "blog those comments" rather than emailing them to us.  That allows your comments to be shared with our readers and supporters. That will also get our blog more active, which in turn will draw in more people who can learn about our journey.