You can't hate someone whose story you know.
Dare to know the story of those who are different.

"The tiniest story in your life can deeply touch another.
You cannot know the effect your story might have."--Sark
In this newsletter Update:
Rylee Joy...pictures of her working on her swim and golf strokes
Creating & Attracting Love in our lives...the home stretch of our journey 
Mel White's newly released book, Religion Gone Bad, and a mother's letter
"What's next?" people keep asking us.  Lots! Click here for details of our schedule as we head to PFLAG Cathlamet, WA to speak on Sept. 10 and PFLAG Longview, WA on September 11, the day we officially began our journey in 2005
"Talk About It"...HRC's 18th Annual National Coming Out Day in October
New in the News...Chuck Smith, founder of the Jesus People and the Calvary Chapel movement, and his son, Chuck Smith, Jr., don't see eye to eye about homosexuality and the Bible.
*************************************************************
Rylee Joy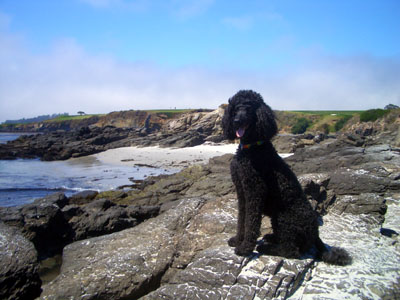 Rylee Joy, just before she sprinted up to Pebble Beach Golf course in Carmel, CA
(not really...but she was heading that way!)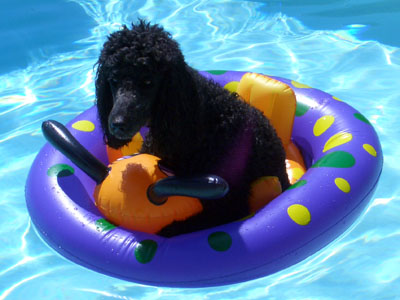 Rylee Joy, safely going out in a float, before getting brave and going in the water.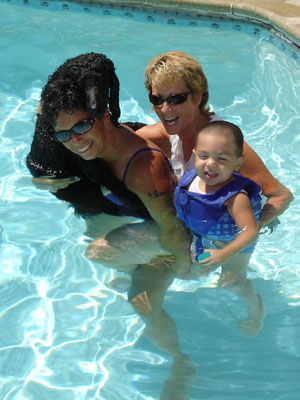 Ok, so Rylee Joy is holding on for dear life as we swim with Matthew.
 We do have a "mini movie" of her swimming, but can't post it in our newsletter.  Email us if you want to see it!
Hey, nobody said we couldn't have fun!
*************************************************************
Creating & Attracting Love in our lives...the home stretch of our journey 
Helen Hayes said, "The story of love is not important-what is important is that one is capable of love.  It is perhaps the only glimpse we are permitted of eternity." 
This brings us to a question..."How do we use each day as an opportunity to create and attract love into our lives, living out our capability in authentic ways?"
We believe that Helen Hayes' quote reminds us that words ring hollow without substance beneath them.  Living out the words, rather than having a story about them, allow the words to propel us to a greater depth and understanding.
Similar to what Helen Hayes' quote calls us to do, Dotti, recently officiated at the wedding of Tammy and Rachel Riem-Ledbetter, offered these words for her hopes and dreams for them as a couple, encouraging them to freely live out their capacity to love.
My hope is that you will embrace this day, understanding that within each of you is an inner core of goodness -- a place of love, joy, peace, and intimacy.
My dream is that you will use your relationship to help you learn how to access and express this authentic center of your being, becoming more of who you are, instead of someone you are supposed to be.
My hope is that you will realize that through relationship, you have the opportunity to dissolve emotional differences that could separate you, with your relationship  becoming a transparent vehicle through which your Essential Self can be cultivated and expressed.
My dream is that you will understand that this ceremony is a symbol of your marriage commitment, but it is not to be mistaken for your commitment.
The analogy I would offer is that if you go to a restaurant, look at a menu, and then proceed to eat the menu rather than ordering your meal, your dining experience will be rather hollow.  Why?  You will not have engaged all of your senses through the seeing, smelling, and tasting of the actual meal that offers nutrition and sustenance.
In other words, only the two of you can live out the commitment that your marriage ceremony represents.   
My hope and dream, Rachel & Tammy, is that you realize that this ceremony is only the beginning of a lifelong journey of offering the gift of who you are to one another.  Sharing your senses, opening your heart, taking risks, being transparent with one another, and learning to live with undefended love can daily lead to a deepening of intimacy. 
Our main commitment we spoke to one another at our wedding was this:
I, Dotti/Roby, come to you with an open heart.  I vow to create change in the world through the expression of our love.  Click here to read what we spoke to attendees and the vows we expressed.
During our second anniversary on July 31, 2006, we again watched our wedding video and were reminded of the importance of the words we spoke, and their ability to propel us into more authentic connection, or to ring hollow.  The ceremony itself does not give life to these words.  Living out these words in action is what gives life and meaning to them, causing them to ring true.
When we married, we had no idea that we would take this year long journey.  As we look back and read again the words we spoke, we experience our wedding vows being lived out in our journey. 
Roby: Dotti's birthday gave me an opportunity to live out more fully my wedding vows, renewing my commitment to expressing and sharing my open heart with her, and creating change in the world through the expression of our love.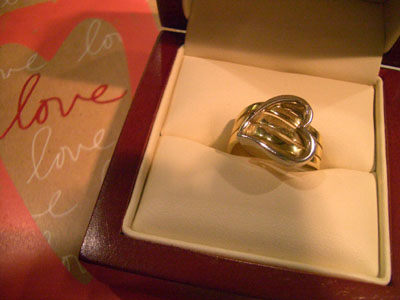 A beautiful card and a beautiful ring, sealing a commitment worth keeping
I wanted to do something really special for Dotti's birthday.  The one thing that kept coming to me was that I needed to find some sort of gift symbolizing an Open Heart.  I started searching the web for a piece of jewelry with an open heart, but found nothing.  I was determined to find just the right Open Heart gift for my Sweetheart. 
One day, while in Scottsdale, I went out to the trailer to get something, only to find it listing to one side.  I walked around the Scotty, and discovered a flat tire.  Drat.  I jacked it up, removed the tire, and off I went to get it fixed.  There was a Costco nearby Donna Rose's condo, so that was my first choice for the repair.  While the tire was being fixed, I looked around at Costco, which always has nice pieces of jewelry at reasonable prices. I proceeded directly to the jewelry counter.  After walking around the entire showcase, and seeing nothing that fit the description I had in my mind of an Open Heart, I came upon one last ring… and to my utter delight, it said, "Open Heart Ring!"  It was exactly what I was looking for!  I knew Dotti would love it, too, and I could hardly contain my excitement.
I surprised even myself that I was able to wait about a week before giving Dotti the ring.  I wanted to give it to her at just the right time, with the perfect setting.   The right time came last Friday night at the home of Robin & Donna.  That's right, I couldn't wait until her birthday! They helped me create the perfect romantic setting out by the pool, with tiki torches lit, a crackling fire in the pit, and light jazz playing in the background. 
At one point, the subject of Dotti's birthday came up in conversation with Robin & Donna, and Dotti proceeded to say, "I told Roby, all I want for my birthday is an Open Heart!"  I looked at Donna (who knew what the gift was), winked, and mouthed, "Open Heart!"  I then got up, changed the music to "Could I have this dance…for the rest of my life," by Anne Murray, and invited Dotti to dance with me.  After the dance, I asked Dotti to close her eyes, and I put the ring box in her hand.  She opened it, and with tears flowing down her cheeks (and mine), she said, "It's an Open Heart!"  She could hardly believe it when I told her that the actual name of the ring is really "Open Heart Ring."  We hugged, cried tears of joy, and I said, "Dotti, I promise you an Open Heart to receive your love and to give you love." 
The next day, we drove past another Costco (in the Long Beach area), so we stopped to see if they had the Open Heart ring that we could photograph in the showcase, showing the tag that read, "Open Heart Ring."  They didn't have the ring, which made us even more grateful for just the perfect circumstances… a flat tire, a trip to Costco, and a beautiful Open Heart ring to symbolize my open heart for Dotti. 
At the time of this writing, (Thursday, 1:15 a.m.), there is one day left until Dotti's actual birthday (Sept. 8th).  On that day, she'll get to be Queen for the day with a massage from me, a USA Today, and all the love and nurturing she can take!  As I gaze at her from across the table at the Flying J Travel Plaza near Redding, California, I see she is wearing her Open Heart Ring.  She looks down at it every once in awhile, and looks up at me with a soft smile and eyes that say, "I love my open heart… and I love your open heart." 
We keep mentioning Donna & Robin.  Perhaps you remember them from a past newsletter.  They are two new friends we met on our journey while in California in May.  They invited us to spend Labor Day week-end with them as we headed up the west coast for speaking engagements and into the home stretch of our journey.  They also wanted to see our wedding video, so we watched it again! 
Not only did Robin and Donna offer a relaxing and hospitable respite, they had a pool!  And, they have Miko, one of Rylee's best friends!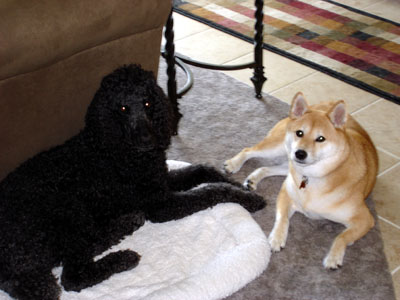 Rylee Joy (on Miko's bed) and Miko...Miko was as hospitable as Donna & Robin!
We had a wonderful time helping Rylee Joy become more comfortable swimming, as well as playing with Donna and Robin and their nephews, Matthew and Marcus and Justin.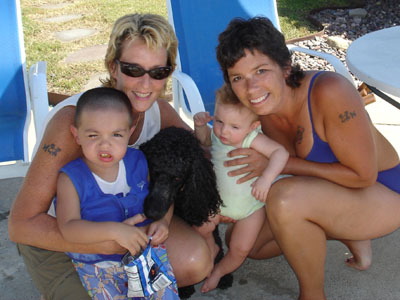 (L-R) Matthew, Dotti, Rylee Joy, Marcus & Roby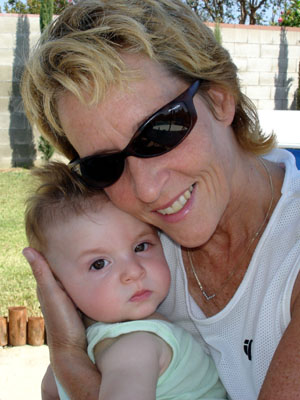 Dotti & Marcus
Donna (formerly Pentecostal) and Robin (formerly Jehovah's Witness), have overcome the effects of toxic religion, yet hung onto the good aspects of their past religion, helping to make them the remarkable people they are. They just celebrated their 10-year anniversary. We asked them,
"What is the secret to your relationship?" 
This is a question we have asked many people in long term relationships, sharing their answers in our newsletters.  Their replies?
Donna..."Duck Tape"
Robin..."Humor"
Ok, it is good that Robin has a sense of humor when Donna says "Duck Tape!"  Seriously, Robin also said that their strengths and weaknesses are opposite, balancing them out.  They said having basic values that are similar is a plus, and that compatibility cannot be underestimated.  Having been in an abusive marriage before meeting Donna, Robin says that no one should ever remain in an abusive relationship, whether that is physical, emotional, or spiritual abuse.  Good advice!
During our visit, we interviewed them for a future "roadcast" about the integration of spirituality and sexuality, and its impact on their lives.  Stay tuned for that!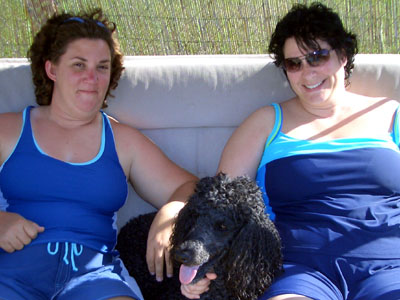 (L-R) Donna, Rylee Joy, & Robin
Click here to read newsletter telling about our intial meeting of Donna & Robin.  Click here to read the following week's newsletter after we met them to learn how they surprised us, as well as some of their comments.  Robin has been on quite a journey since we met in May, reading about 15 books about the Jehovah's Witness religion and its roots.  She realized that in her "leaving" the religion, she had tossed the baby out with the bath water.  Robin is on a journey to rediscover what she feels and believes about God.  Isn't that a journey many of us take as we evolve in our spiritual journey?
Rev. Dr. Lisa Davison,
professor of First Testament at Lexington Theological Seminary, was one of two ministers who officiated at our wedding.  She just wrote to let us know that the
Religious Coalition for Washington
will again bring her to Washington during October to do colloquies for Marriage Equality/WA.  She flies to Yakima on Oct 25th, doing programs in the Tri-Cities (26th) and Spokane (27th-28th).  She will then fly in for programs in Seattle on the 29th, and in Everett 30th. 
Click on this link for more information
.  Lisa is author of
Preaching the Women of the Bible
(
Chalice Press
1-800-366-3383)
Lisa's prophetic words to us at our wedding have often sustained us:
Relationship has been compared to a journey by sea, and this is an appropriate description.  Together you chart a course and set sail for the future you choose for yourselves.  There is nothing quite like the feeling when the sails catch the wind and the seas are calm.  It will seem as if there is nothing that can stop you from reaching your destinations.  However, in sailing, as in life, there are those times when the wind seems to have disappeared.  The sails hang limp and your progress comes to a standstill.  During those times when it seems as if everything is working against you and you will never move forward again, it is the commitment to your relationship that will help your weather setbacks.  Together you will ride out the storms and together you will find the winds again, and your journey will continue.  Just because you have to change your course, does not mean that the journey must end.  In marriage you are not promising to lose yourselves, but rather you are pledging to bring out the best in each other, to be authentic to who you are.  Each of you brings unique gifts to enhance your relationship.

 

Dotti and Roby, cherish and respect the memories of your individual past, as you create a new life together. I offer to you a few lines of the lyrics from a song at the end of the musical "Les Miserable." These words express an understanding of human love that reminds us of our being made in God's image. 

"Take my love, for love is everlasting.  And remember the truth that once was spoken, 'To love another person is to see the face of God.' "

May it be so for the two of you.
With one another, we do see the face of God.  We recognize that relationship happens easily and naturally when we let go of fear, and trust this process of which Lisa spoke.  Through our evolution as a couple, we are constantly reminded that it is our commitment that allows our journey together to continue through any setbacks.  In light of this yearlong experience, that we did not know we would be taking when we married on July 31, 2004, it is ironic that Lisa reminded us that we were "pledging to bring out the best in each other, to be authentic to who you are."  Being authentic is a personal journey, as well as the core essence of our yearlong journey with others.  Again, Lisa expresses a prophetic voice.
*************************************************************
A Special Message from Mel White
Great News! After 12 years of writing and research I have finally finished Religion Gone Bad: Hidden Dangers from the Christian Right. On September 5, 2006, I begin a month long, nationwide tour introducing Religion Gone Bad to the general public. I hope and pray that this sequel to Stranger at the Gate will sound a clear warning (just before the November elections) that the rise of fundamentalist Christianity is a threat not just to LGBT people but to all Americans.

Click here for my book tour schedule on the web. I'm hoping that you will seriously consider joining me at an event near you and/or invite your friends and family who do live near by to spend that evening with me. I'm also hoping you will buy a copy of Religion Gone Bad for your own use or buy extras to donate to friends and family or to use as gifts. Here's why.
The media only notice a book when a crowd gathers at the book signing events or when a book makes a bestseller list. Word of mouth is everything. When you get a copy and talk about it, word spreads.
I've spent the last fifteen years monitoring the Christian fundamentalist's rise to power in church and state alike. I wrote Religion Gone Bad with the growing realization that LGBT people our friends and families could lose this "culture war" they are waging against us and lose it in a big way.
If, however, we realize the danger in time there is a real possibility that we will stop fundamentalist efforts to turn the US into a de facto theocracy ruled entirely "by righteous men." Truth and justice can triumph over untruth and oppression but only if we take our stand. I am convinced that Religion Gone Bad could be a real help in mobilizing our community to that task.
Dobson, Robertson, Falwell, Kennedy, LaHaye, Schlafly, Hagee, Bauer, Perkins...you name your favorite fundamentalist and I can guarantee you that he or she is using his or her powerful media empire to recruit millions of American voters and to raise tens of millions of donor dollars to see us demeaned, dehumanized, deprived of our civil rights, driven back into our closets or worse. We must sound the alert!
Julie Wilson's Open Letter to her church about Faith and Homsexuality relative to her gay son, Jarod. 
*************************************************************
"What's next?" people keep asking us.
Well, click here for a sneak preview of how our home page will change after our last "official" speaking engagement on September 20.  This is still in process, but we want you, the people who subscribe to our newsletter, to be the first to understand about our plans for the future.
We are currently working with a coach in Canada, doing a class called "On Air Publicity" to put together a media campaign to take our message to corporations through radio interviews, as well as to distribute our "roadcasts" which will continue.  We have lots of ideas along those lines.
As we left Glendora, CA and headed north, we took the scenic route up Highway 101.  Carmel, CA had an off-leash dog beach and we stopped and let Rylee Joy romp and play.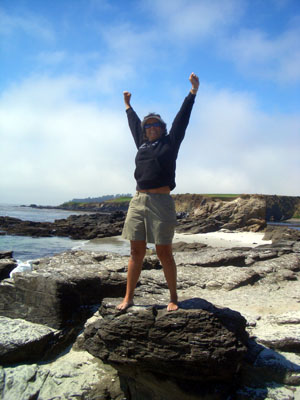 Well, OK, Roby played too!  It's as if she is saying,
"Freedom feels great!"
We met a lady, Vervene, who was sitting on a rock.  We had a nice conversation with her, and shared about our journey.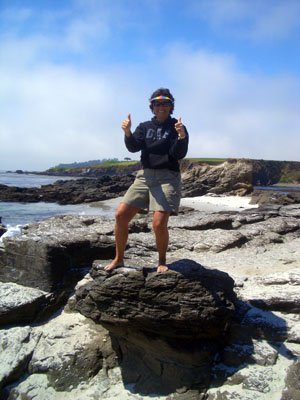 When we speak, Roby shares that we often get gestures from people along our journey.  Roby is giving the "thumbs up" gesture we receive, as they honk and then often email us.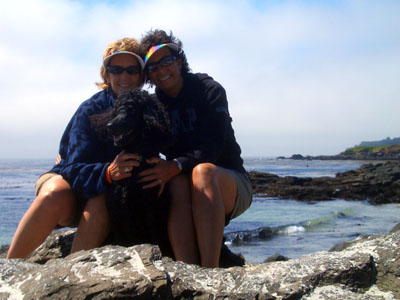 Our family portrait with Pebble Beach Golf Course in the background
We are headed to Medford, Oregon, where we will spend two days with friends Kathi and Pam Buss Sherrill, who we met in Colorado Springs with Soulforce in July.  Great ladies! We will celebrate Dotti's 53rd birthday with them, before heading on to Portland on Saturday and celebrating her birthday again with her former player, Jody Runge, who played basketball for her at the University of Kentucky.  We will also celebrate with several transgender friends, Marci, Nicole, and Renee, all who attended our wedding.
Then, it is onto PFLAG chapters in Cathlamet and Longview, WA on September 10 and September 11 to speak.  Click here for details! Email and tell friends in the area so they can join us!
*************************************************************
'Talk About It' on the 18th Annual National Coming Out Day
The theme for National Coming Out Day, Oct. 11th, 2006, will be "Talk About It." The theme is to encourage gay, lesbian, bisexual and transgender Americans, as well as straight allies, to talk openly and honestly about their lives and the issues that GLBT Americans face under law.

When you 'Talk About It' with the people in your life, you begin to change minds one at a time, and that's the most lasting kind of change.

 

 
For the past 18 years, the Human Rights Campaign Coming Out Project has encouraged the GLBT community and straight supportive people to talk openly and honestly about their lives at home, at work and in their communities.
HRC is now offering free Coming Out Action Kits, that include resources on coming out and living openly – including:
HRC's newly released Coming Out Guide

HRC's newly released Guide to Living Openly in Your Place of Worship

Coming Out Day posters, balloons and stickers
Click here to order your Coming Out Action Kit!
(kits will begin to ship during the middle of September, and will arrive in advance of NCOD – October 11th)
On Oct. 11, thousands of gay, lesbian, bisexual and transgender people and allies celebrate National Coming Out Day by holding workshops, speak-outs, rallies and other kinds of events all aimed at showing the public that GLBT people are everywhere.
Visit the web address below to tell your friends about this.

 Tell-a-friend!
HAVE A SPEAK-OUT IN YOUR HOMETOWN TO SHOW THAT GLBT ARE EVERYWHERE!
Click below to find out "how."
*************************************************************
New in the News
Father, Son & Holy Rift
For Pastor Chuck Smith, the big issues are undebatable. For Chuck Smith Jr., also a pastor, it's not so crystal clear. Something had to give.
From his pulpit in Santa Ana, Chuck Smith's voice thunders with certainty. He denounces homosexuality as a "perverted lifestyle," finds divine wrath in earthquakes and the Sept. 11 terrorist attacks, and promises imminent Armageddon in a deep, sure voice.

If his message is grim, the founder of the Jesus People and the Calvary Chapel movement bears the ruddy good cheer of a 79-year-old believer who insists he has never known a day's doubt or despair.


From the pulpit of Capo Beach Calvary, 25 miles south of his father's church, Chuck Smith Jr.'s voice trembles with vulnerability and grapples with ambiguity. Without a trace of fire and brimstone, he speaks of Christianity as a "conversation" rather than a dogma, plumbs such TV shows as "The Simpsons" for messages, and aims to reach "generations of the post-modern age" that distrust blind faith and ironclad authority.
Richard Giles: International Authority in Technology, the Internet, New Media, and Marketing, reminds us that "Blogging is all about authentic conversations. Those two words almost completely encapsulate the idea."  That is why blogging is an important part of our journey.  Richard continues:
The public is so used to corporate speak and messages washed by PR or marketing that it's so refreshing to hear someone speak like they are human. It's not to say that blogs are correct, but at least the voice of person who writes has the opportunity to shine, and they can be as opinionated as they want. That provides authenticity. 
Journalism, in general, is traditionally one-way. A major media company tells us what they want us to hear. Now the message might be unbiased or biased, but there has been little opportunity for feedback. Blogs, on the other hand, provide a mechanism for almost immediate feedback. If you look around the blogoshere you'll find people agreeing, disagreeing, or starting their own conversation. It's a wonderful community; like hundreds of beer halls around the world.
The words of Judith Hoch Wray are music to our ears: "Hear a new proverb, especially for those in the LGBT community: 'Personal integrity is to be chosen rather than a good name, and more to be valued than great riches. The rich and the poor, the gay and the non-gay, have this in common: God is the maker of us all.'"
"Same-sex marriage is surely a civil right," says Sheryl McCarthy, a freelance writer and columnist for Newsday on Long Island, NY, a member of USA TODAY'S board contributors, and an African-American. In this synopsis, she acknowledges, 
"Many blacks oppose such unions for religious reasons, but bigotry is bigotry, even if it's cloaked in faith.  Blacks should know this better than most."  A synopsis...African-Americans are overwhelmingly Christians, and many of us believe that the Bible condemns homosexuality. Beyond that, even suggesting that the struggle of gays and lesbians for the right to marry is similar to our own civil rights struggle is often perceived as an insult.

Nonetheless, the main argument used against same-sex marriage is that the Bible says it's wrong. We point to the Scriptures, to the story of Adam and Eve (and the absence of Adam and Steve), to the retribution inflicted on the sinners of Sodom and Gomorrah, and to depictions of male-on-male sex in Leviticus and Romans as being so perverse that it warranted death.

I asked the Rev. James Forbes, pastor of The Riverside Church in New York. Forbes is black, and his diverse congregation has gone on record as supporting same-sex marriages -- and all other families that are based on the principles of love and justice. Forbes says acceptance might increase as African-Americans become more aware of scientific evidence that suggests sexual orientation is innate -- and not a choice.
Congratulations to Roberto J. Mata who we met in Florida at PFLAG Tampa.
WatermarkOnline, Florida's Distinctive Gay & Lesbian Publication, looked at the most influential people in the GLBT community, turning the spotlight to those up-and-comers who are each making an impact in their respective fields. They decided to look at those who are 35 and under who inspire others to make change in a sometimes difficult world. 
Part of what Roberto is doing is hosting a TV show called Voice of Pride.
It is the mission of Voice Of Pride to create an enhanced sense of community by advancing the civic, cultural, spiritual and educational interests of Gay, Lesbian, Bisexual, Transgender and Straight people. The community's access to television is a logical extension of First Amendment Rights to the most widely used and powerful communications technology of our day. With community access television, local GLBT people learn to "speak for themselves" through programs we produce for community access television. 

 
Click here to read more about what WatermarkOnline says about Roberto!

From the real and true adventures of two women and a poodle,
on a one-year mission to transform ourselves and the world,
one person at a time!
Life is an adventure…enjoy the ride!
The light in us honors the light in you, Dotti, Roby  & Rylee Joy