This week's newsletter is brought to you by the star of the journey, Rylee Joy, bringing more people together every day!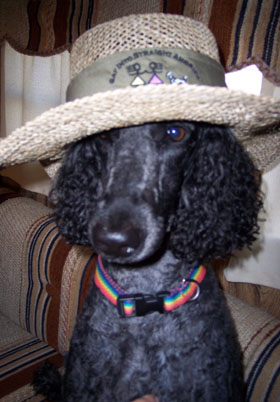 She wanted to show off her hat! 
A simple idea...a clear story.  We hope that you are grasping the POWER OF ONE from our journey, Gay Into Straight America.  With imagination, we can each be inspired, act with clarity, and have a breakthrough.  It may entail experiencing a breakdown of some of the very foundations we have long cherished, but history shows that it usually takes down a breakdown to have a breakthrough.  Now is our time to get back to the basics of what is really important…embracing our diversity, rather than allowing our differences to separate us. 
Where are you going?  What are you doing?  How are you BEING? Is life more than a pursuit of some-THING?  Is life one of engagement and being present?
Starbucks has a series of cups called "The Way I See It."  #61 says,
"Imagine we are all the same.  Imagine we agree about politics, religion, and morality.  Imagine we like the same types of music, art, food and coffee.  Imagine we all look alike.  Sounds boring?  Differences need not divide us.  Embrace diversity.  Dignity is everyone's right."
By Bill Brummel…Documentary filmmaker.  His programs focus on human rights issues.
The state of Washington last week took a step forward in embracing diversity, rather than allowing our differences to separate us. 
For those of you who are not from Washington, you may not have heard about the GREAT NEWS!  The following was released from HRC and Equal rights Washington.
VICTORY! 
Washington State Senate Passes HB 2661 and ensures fairness for GLBT people in the state of Washington!
After more than 30 years in the state legislature, Washington's anti-discrimination bill, HB 2661, was passed by a historic 25-23 vote and sent to the governor to sign into law. The Governor is supportive of this legislation and has indicated she will sign the bill.
The culmination of 30 years effort ensures simple fairness for gay, lesbian, bisexual and transgender Washingtonians.  No one should be fired from their job or denied a place to live simply because of who they are.
In the two weeks before the vote, HRC members made over 2,000 phone calls and sent over 4,000 emails into Senate offices in support of the bill.
Friends, this is a great example of people standing up and speaking out, allowing us all to celebrate this success of further equality for people.
Click on this link to read article
In fact, State Senator Bill Finkbeiner (R-WA), in casting the deciding vote in favor of this civil rights law, said, "We don't choose who we love. The heart chooses who we will love.  And I don't believe that it is right for us to say that it's acceptable to discriminate against people because of that."
For "taking action," we are honoring him as this week's Stand UP Speak OUT Wind Changer.  We will be sending him some rainbow wristbands and a framed certificate.
On January 9, 2006 , before the final voting, Finkbeiner, a Republican, released the following statement:

"I want to take this opportunity to let you know that I plan to vote for House Bill 2661 this year.
There are two strong reasons that have swayed me to support House Bill 2661 for the 2006 state legislative session. First of all, I've had a number of conversations over the past year that have led me to more fully understand the level of discrimination against gays and lesbians, and I now find it is both appropriate and necessary for the state to make it clear that this is not acceptable.
Secondly, I believe that, unfortunately, this issue has become a political football used by both parties. This bill failed year after year, even in years when Democrats have held strong majorities, because it motivates some party activists on both sides. And the issue has become one of many 'wedge' issues used to split our communities and divide us. Real people are affected by this issue: our friends, our co-workers, our family members, our neighbors. I don't agree with the politicization of people's personal lives and I think it is time to move on."
So, THANK YOU Bill for your boldness in standing up and speaking out!  Friends, notice that he said, "I've had a number of conversations over the past year that have led me to more fully understand..."  Having conversations with people in our daily lives is essential to a shift in people's understanding.  "Getting to know" GLBT people changes people's understanding and views.  That is the one consistent statement that we hear over and over each and every day as we engage with people.  For instance, on Sunday, we attended
You may remember that Rev. Ken Hutcherson worked against the passage of this bill.  Click here to read the article, False Prophet...How Reverend Ken Hutcherson Launched a Nonexistent Boycott.  If we are committed to leaving no person behind, the question now becomes, "How do we reach out to Rev. Hutcherson?"  Click here to email us your ideas!
Before this historic vote, we called Senator Dale Brandland's office on Monday, January 23, which was Lobby Day 2006 for GLBT issues in Olympia, Washington.  We talked with Bunny, his administrative assistant, reminding her that we had been there for the past two years on Lobby Day.  She remembered us. We shared that we would not be able to attend this year, and told her about our journey, Gay Into Straight America. We asked her to let Senator Brandland know that we are in favor or HB2661.  We also sent Senator Brandland an email, reminding him that we wrote a letter last year after Lobby Day, requesting a time to meet for lunch/dinner, and requesting that again.  Bunny wished us well on our journey, and said that she would let him know our vote.  She wished us safe travels.  We are glad we did our part.
What a great week we've had!  The fun, adventure and connection with wonderful people never ceases! 
We loved our time in Jupiter Beach earlier in the month, so we decided to return there and spend a couple of days on our way to Miami.  This time, we spent two nights at an RV Park.  As you know, we usually utilize the free parking lot of a Walmart.  Although it was a luxury to hook up to electrical & sewer, and have an endless supply of fresh water, sleep wasn't so luxurious.  There was quite possibly the loudest, most obnoxious, most frequent running train about a hundred yards from our Scotty, and that's no exaggeration!  It was literally like this: Sleep peacefully for 30 minutes, get awakened by the screaming monster, take some deep cleansing breaths to try and slow the racing heart, fall back asleep for a peaceful 30 minutes, wake up, sleep, wake up… and so on.  But hey, at least we had a comfortable bed and a roof over our heads!  Many nights, when we make up our little Scotty bed, we say out loud, "We are so fortunate.  Think of all the people in our country who would give anything just to have a warm, dry bed."  And then we say a little prayer for those less fortunate.  
This time on the beach we met Clifford, a white Standard Poodle, and his "Mom," Carol Armon.  Carol is a Counselor and lives just outside of Philadelphia.  Dotti had a great time connecting with Carol and loving on Clifford!  It's amazing how Standard Poodles have some very similar, innate behaviors.  Clifford acted just like Rylee in a white fur coat! 
We also met Bailey, a cute little white pooch from a far-away country.  He was hilarious, chasing, being chased, fetching, and digging in the sand with Rylee.  His "Mom" was Linda, who is a business owner in the Northeast who spends three months a year in Jupiter Beach.   
At one point, while letting Rylee Joy run on the beach, a guy came down from the street, and made his way toward us.  When he reached us, he said, "So here are the Two Women & the Poodle."  He extended his hand and introduced himself as James.  James just moved to Jupiter, and he is gay.  He noticed the signs on our Suburban up on the street, and felt compelled to come down onto the beach to find us.  He encouraged us on our journey. 
When we had gone back to the car and the Scotty, a really sweet & friendly lady named Karen Johnson stopped… because of who else, but Rylee Joy!  She noticed our signs and asked about our journey.  What a delightful person she was!  She hugged us and said that she so supports who we are and what we are doing.  Karen is a realtor in West Palm Beach.  Karen said, "I really want to follow your journey!"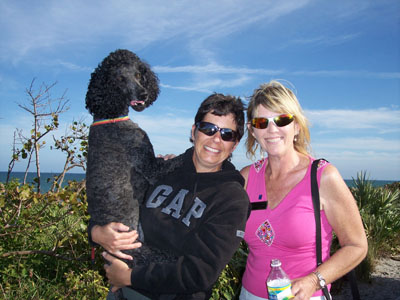 Rylee, Roby and Karen
When we got to Pompano Beach, we discovered that dogs are not allowed on the beaches here.  We decided that we needed to go to the toy-store and buy ourselves a fake doggie to pull along on a leash when we visit the beaches here.  Why?  Because people connect when there is a dog!  It's true.  When you have a dog, it gives people a "reason" to stop, and as you stand there letting your dogs sniff each other, conversations begin.  When you don't have a dog, it feels kind of funny to approach someone walking along the beach and say, "Hi, do you want to talk?"  So… if anyone finds the perfect FAKE black Standard Poodle that we can take on the beach in Florida, do let us know!  We can't just take "any" dog with us…after-all, it is "Two Women & A POODLE!"  (:
Since all of the RV parks in the Pompano Beach/Ft. Lauderdale area are filled with FEMA people and displaced families from the hurricane in October, there are no campsites to be had.  One campground we found to empty and fill our tanks said they have 43 displaced families living there in trailers.  We did, however, find the Super Wal-Mart, where, interestingly enough, there are signs indicating "no overnight parking," but there were more RV's here than at any other we've been to across the country!  We found a nice place to park and that's where we've called "home" for five nights. 
We have a nice neighbor, from Mobile, AL, who has been down here for three months working on post-hurricane insurance claims for Allstate.  Another guy, Jim, saw our WA license plate, and came up for a chat. He told us that he is one year cancer free (Non-Hodgkins Lymphoma) and he spent 4 months at Fred Hutchison Cancer Center in Seattle for treatment that saved his life.  Jim and his wife, have been down here for several months, and park their Road Trek Class B RV at Wal-Mart for the duration. 
On Saturday, we did a little sightseeing, and ended up in Lauderdale-By-The Sea (aka "LBS").  We stopped at Arubas to share a burger, and enjoyed good conversation with our table neighbors, Sam, Marilyn and Diane.  Sam enjoys retired life in LBS.  He ordered some coconut shrimp and said he couldn't eat all of them, so he promptly took two for himself then passed the remaining four over to us.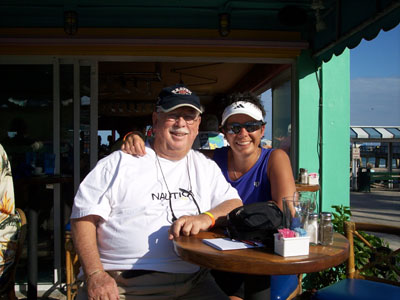 Sam & Roby
Marilyn and Diane are partners and live in Provincetown, Mass.  Marilyn is the Deputy Chief of the Rescue Squad in P-Town.  She's the only female to have held that position in 103 years!  She is very familiar with Fantasia Fair, a transgender conference Dotti presents at each year.  Diane is a Hospice Nurse. 
While driving back from the beach on Saturday, we went right past Coral Ridge Presbyterian Church.  This is the church of Rev. D. James Kennedy.  We have both heard him speak on TV and radio and have read some of his work.  Interestingly enough, D. James Kennedy is the most prominent anti-gay Presbyterian minister in America.  We made a point to attend the Sunday morning service to hear him preach.  Although we were interested to hear him preach, we were more interested in meeting people… "engaging hearts & minds, creating authentic connections and dissolving the differences that separate us."   The wonderful surprise was the awesome music program they have at the church...we thoroughly enjoyed that!
After the service, we made our way to the fellowship hall for coffee and cookies.  There, we met Luke & Melissa.  Luke owns a roofing business and is here in Florida helping to re-build from the hurricanes.  Melissa is living at home in Nebraska, but came down for the weekend to celebrate their 3-year wedding anniversary.  We had a great time conversing with Luke and Missy.  Luke told us that his favorite cousin was a gay man who died of AIDS in the 80's.  Luke said that he was devastated and felt betrayed when he found out about his cousin's homosexuality.  Luke admitted that he has felt fear and judgment about gay people most of his life, and only since he's had the opportunity to get to know other gay people in the past few years, has he started coming to a new understanding, and have less fear and judgment.  He said, "Hey… I'm a lot better than I used to be!"  We acknowledged Luke for his honesty and for the progress he's made in his life in terms of coming to really understand Jesus' message of love and acceptance of all people. 
We were delighted to receive the following email from Luke & Missy:  "JUST WANTED TO SAY HI ....REMEMBER US FROM CORAL RIDGE ....GOOD LUCK IN YOUR JOURNEY...LUKE & MISSY"
On the way to dinner Saturday evening while driving on Hwy. 1 in Ft. Lauderdale/Pompano Beach, the driver of a city bus pulled up beside us at a traffic signal.  He waved for us to open our window.  When Dotti did so, he said, "What are you doing?"  Dotti briefly told him, "Traveling around the country making connections and dissolving differences that separate us!"  He said "Awesome!  Have I read about you?"  We replied, "Possibly."  He said, "In the Advocate?" Dotti said, no, that was our friend, Lars Clausen.  His journey is Straight Into Gay America."  He nodded.  Dotti then said, "You may have read about us in the HRC Magazine." He said, "Oh yes."  The light turned green and as traffic was speeding up, Dotti leaned out her window and said, "Check out our website!"  He said, "I will, and… Good for you gals! And gave us the thumbs up sign."
We continued on to meet Sunshine and her husband, Greg, who treated us to a wonderful dinner at The Fisheries in Ft. Lauderdale. We had such a great evening. At one point, Greg donned a rainbow wristband.  Shortly after putting it around his wrist, he went to visit the men's room.  He came back saying, "You won't believe what just happened… I haven't had this band on for more than 15 minutes, and I've already had an opportunity to say something about it!"  Standing at the urinal, this guy says, "Hey, what's that wristband represent?"  Greg said, "I'm standing up for gay rights!"  Way to go, Greg!  You're an awesome ally!   Sunshine is the daughter of our friend, Karen, in Seattle.  Karen, Joe & Sunshine were neighbors with Dotti's folks in Franklin, GA.  Karen, a caterer, gave us a special wedding gift...a special dinner the night before our wedding. Sunshine flew in from Florida and assisted her.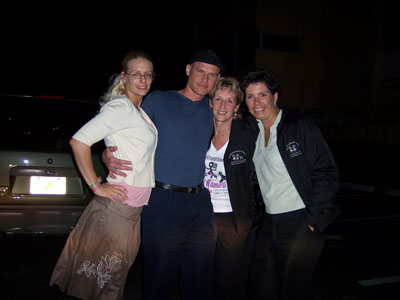 Sunshine, Grey, Dotti and Roby
oops … you can see Sunshine's band, but Greg's is hidden on his arm behind Dotti
On Sunday, after church, we met Sunshine and her friend/neighbor, Cliffette.  The four of us walked around The Riverwalk in Ft. Lauderdale, and enjoyed an afternoon of stimulating conversation, laughter and fun. 
Dotti, Sunshine, and Cliffette
One day, while playing on the beach at Lauderdale-By-The Sea, our Suburban, parked in a lot, it was noticed by Staci.  The next morning, we received the following email:
Hello Ladies,
Well, I work in Lauderdale by the Sea.  Today, Jan. 28 I saw your SUV.... I must say that the magnet on the side caught my attention and I came right home to look up your site.... Awesome!  What an incredible journey you are on... I wanted to "cheer" you on and wish you the most wonderful adventure.   If you are still in the area next week, give a call, I would love to meet all three of you...
Have a great weekend.
Staci
We called Staci, and Monday night, she treated us to one of her favorite restaurants in Lauderdale-By-The Sea, called Village Grill.   We also met Andrea, and the four of us had a delightful evening talking and sharing together.   We felt so touched by Staci's email, and so appreciate it when people make an effort to contact us and encourage us along in this journey.  Thanks, again, Staci!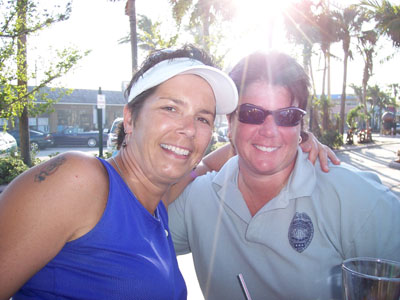 Roby & Staci
Staci is a dog-lover.  When she heard that we were unable to find a healthy pet food store for Rylee's food, she went online and made calls to find out where we could find it. 
This week, we had to spend time getting tires and windows fixed.  The new trailer tire (replaced when we had our blowout at 1 in the morning outside Birmingham, Alabama) continued to lose air.  We also noticed that our other trailer tire looked as if it was close to having a blowout, so we found a tire shop and had one fixed and the other one replaced.  The next morning, we awoke and went outside, only to discover that the new tire was flat. Back to the tire shop we went!  Apparently, the reason that both new tires were losing air in that when we replaced them, the "rust" that has been stuck in the valve and was keeping the air in the tires, pulled away and the seal was broken.  They repaired them with some "goo" for the time being, but told us that if thley continue to lose air now that we will have to purchase new rims. 
After that was fixed, the next day we concentrated on replacing the glass in the back window that had broken when the handle bars of the bike broke through it a couple of months ago.  We had "ducktaped" the window!  We went to the local Lowe's store, where Roby waited in line for about 30 minutes, only to discover that same thing that we found at three other Lowe's we had stopped at along our route...their glass cutter was broken.  Finally, we found a picture frame shop, had the glass cut, and Roby replaced it.  That girl is sure handy!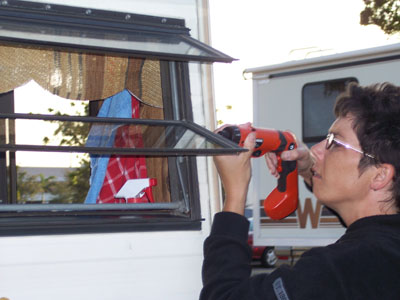 Roby is in her element which she is taking care of the Scotty!
The weather has been very windy and cloudy.  Yesterday, there was a downpour.  OK, nothing like the rain that Washington has been getting this winter. We have stayed inside working all week, so when the sun broke through today, we headed outdoors during the afternoon after working this morning.  We were hungry, so we went to the beach to split a burger.  We looked over and saw Staci giving a ticket (she's in law enforcement with the city of LBS).  Roby called her and said, "We're watching you!"  Staci came over to where we were, chatted just a few moments, and said, "I'll be right back, I have to visit the ladies room."  Our waiter returned before Staci did, and when we pulled out our money to pay, he said, "There's a nice lady in uniform inside there who has taken care of your bill."   Thanks, Staci!  Once off duty, Staci came back to the deck of Aruba, and we enjoyed the rest of the afternoon together with a couple of other new friends, Sam (who shared his shrimp with us the other day) and Xavier.  When we left, both Sam and Xavier had on rainbow wristbands.
Later in the evening, Staci came to where we were working at Panera Bread, so we could meet King Octane, her Rough Coated Jack Russell Terrier.  Rylee and Octane had a blast romping together in the grass outside Panera Bread!  Dotti missed out dog romp, as she had two coaching sessions with clients.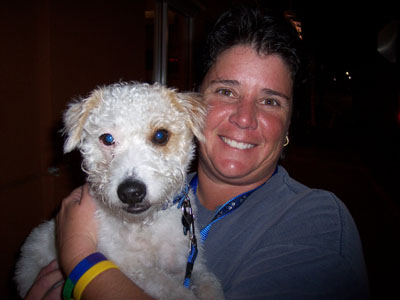 Staci & Octane
Having the need for some internet access near to where we were staying one day, we decided to stop at Starbucks.  Pricilla, the barista at Starbucks, stopped by our table out on the patio as she was ending her shift, and said, "I noticed your Suburban… what exactly are you doing?"  She was inspired by our mission.  She hung around a bit and we had a nice conversation about the local gay community, about work, life, relationships and dogs!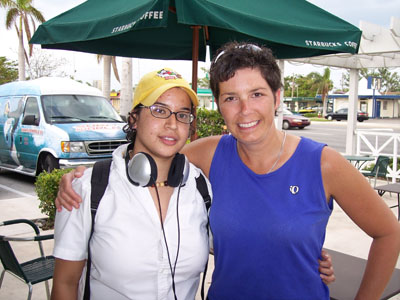 Priscilla & Roby
I was diligently working on the newsletter a couple of days at Starbucks through purchasing T-mobile wireless.  On the second day, I noticed the same guy nearby and simply asked, "Are you working hard today?"  That lead to a conversation, with me meeting Rob.  I asked him if he was from the area, and he replied "Yes, but I moved from Kentucky."  Well, having living in Kentucky for 22 years, that was all it took!  We were off to the races like two horses at the Derby! I discovered that  he played basketball at the University of Louisville at the same time I coached at the University of Kentucky. He asked me what we were doing, and I shared about our journey.  He mentioned that he had to call the Attorney General and file a complaint because he kept getting unsolicited calls about the marriage amendment in Florida.  He said, "Not only am I on the 'Do not call' national register, but I don't agree with them."
We have experienced ranges in weather from 1 degree to 80 degrees on our journey!  It will soon be time to get our jackets out again!  When we speak in Columbia, SC on Feb. 12, we will assist the pastors in doing a couples blessing at the end of speaking at their Sunday service.  They always do this on the Sunday closet to Valentine's Day.  If you know of people in the Columbia area, encourage them to attend.  Click here for location/time. And speaking of Valentine's Day…
Get engaged locally in the fight to end discrimination in marriage during the 9th Annual Freedom to Marry Week (co-sponsored by Don't Amend)--February 12th-18th, 2006.  Click here to find out more about it!

In October of 2004, Evan Wolfson, who wrote Why Marriage Matters, gave the Lavender Law keynote address in Minneapolis, addressing the nation's LGBT lawyers and allies, and laid out the vision of how we are winning, with strategic lessons on how to cope with defeats and, where necessary, "lose forward" to victory. Click here to download the pdf.
Following is information about two important talks that may be of interest to you.
On September 21, 2005, debating equal rights for same-sex couples at the University of Wisconsin, Madison, Glenn Stanton of Focus on the Family and Evan Wolfson of Freedom to Marry agreed that marriage matters. A proposed marriage amendment is due to arrive in the Wisconsin legislature and many have the question of why marriage matters on their minds. Debating the importance of marriage and ending discrimination in marriage to same-sex couples, Wolfson and Stanton debated the important issue in front of a packed amphitheater.
Click to hear what they discussed. Visit the Freedom to Marry Podcast for a better audio experience and more audio files
At Stanford University on April 20, 2005, Evan Wolfson and Traditional Values Coalition leader, Lou Sheldon, engaged in dialogue over ending the exclusion of same-sex couples from marriage. Click to listen to this engaging discussion.
A growing number of theologians agree that the Bible has been misused to discriminate against GLBT persons in much the same way that it was used to discriminate against women and people of color.  Click here to see a list of some theologians you can contact if you want to ask questions regarding the Bible and Homosexuality. These ministers are our spiritual advisors for our journey, Gay Into Straight America.  We appreciate each one!
Over and out for this one!  It has been challenging in that the pictures had to be "resized and redone" about 4 times for each one because they kept coming up as an "X" with no image showing.  Hey, sometimes you just have to move on! (:
Until next week!
The light in us honors the light in you!
Dotti, Roby & Rylee Joy