You can't hate someone whose story you know.
Dare to know the story of those who are different.


"The tiniest story in your life can deeply touch another. You cannot know the effect your story might have."--Sark
What a busy and energizing week! Lots of pics to share! We have been fortunate to have a "home base" while we are here in the Washington D.C. area.  It is the home of Mary, Allen & Eileen DeLaney, and we truly do feel at home!  We got to meet Eileen's boyfriend, Mark, on this trip.  They are wonderfully supportive allies.  In fact, Mary attended our Sodexho presentation last week, and Eileen and her friend, Cici, met us at the Pride Festival in Washington D.C. this past week-end, a first for them.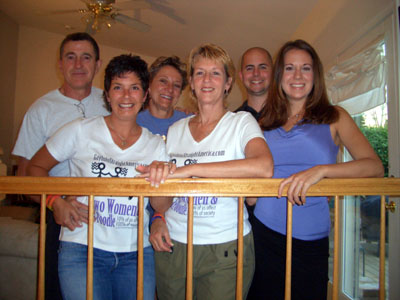 (L-R Back Row) Al, Mary, & Mark (Eileen's boyfriend)
(L-R Front Row) Roby, Dotti, & Eileen
Our plans to fly home on June 19, taking a vacation after this east coast swing, suddenly shifted.  Vacationing at home...what a novel idea!  We met David Sinclair, general manager for Spirit Cruises (owned by Sodexho), before we began our workshop last Thursday at their company headquarters.  He made an offer we could not refuse!  He asked us to join Sodexho in New York for PRIDE, where the PRIDE group will be treated to an evening NYC cruise.  With that taking place on June 24, and the parade on June 25, we will then fly home on June 26.
We had the opportunity to walk in the Pride Parade in Washington D.C. this past week-end, half of it with Sodexho, and half of it with PFLAG. 


PFLAG local chapters joined the national PFLAG organization in the parade
Last year, Sodexho had nine people walk with them.  This year, they more than doubled that number, with many allies joining the parade.   Mixed gender couples, same gender couples, and single folks brought their children.  What a sight it was to behold!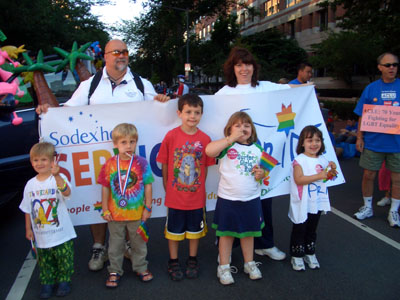 The kids inspire us!
Sodexho is a great company that offers partner benefits to GLBT persons.  What most companies come to realize, however, is that benefits are like laws.  Although they create equality and justice for GLBT persons, but they are only part of the equation.  Benefits, like laws, don't change hearts & minds.  People do!  In a corporation, as in society, you must touch the hearts of ALL people, including GLBT ones, in order to promote diversity inclusive of GLBT employees.  Expanding one's vision allows a corporation to continue to transform its corporate culture and create a climate where GLBT employees feel comfortable in utilizing their benefits, unafraid of any potential repercussions regarding their career path.  It is not entirely up to the corporation. They are only part of the equation.  The GLBT employees, similar to the GLBT community within society, are the other half of that equation.  Living authentically helps put faces to the issue of inclusion. You can't hate a person whose story you know. Sodexho, with their PRIDE group, is a company on a mission with a vision to continue to transform their culture at all levels of diversity!  Congratulations to them.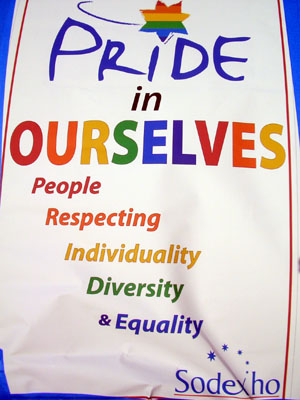 The workshop after our talk about our journey included an exercise utilizing Diversity Beans™. They are intended to help people look at the stereotyping and judging of people that happens based upon sexual orientation or gender variance.  The exercise allows people to experience having unmet expectations, since these jelly beans don't often taste as one would expect them to.  Perceptions are altered as stereotypes are dismantled, using the different bean colors to represent gay, lesbian, bisexual, transgender, queer and questioning persons.  
Stereotyping is a way of thinking (learned human behavior).

Prejudice is a way of feeling.

Discriminating is a way of behaving.

Oppressing is systematic subjugating of others,

 

leading to internalized oppression.
Click here to see the cards that come with Diversity Beans.  IMPACT Communications offers Consulting, Training, Coaching & Education Products.  Contact us if you are interested in having us facilitate training for your organization.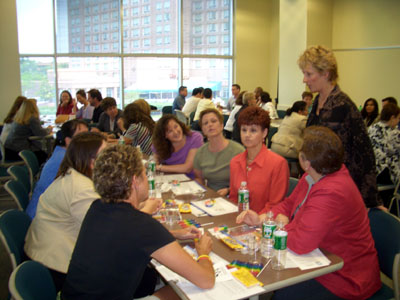 Some people at the training at Sodexho headquarters in Gaithersburg, MD
Denise and Jude had a blast throwing candy and handing out rainbow flags and Sodexho T-shirts to the parade crowd!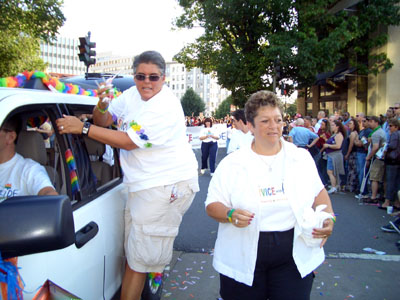 (L-R)  Sodexho folks Jude  Medeiros  & Denise Ammaccapane
Dotti & Roby at Pride Parade in Washington D.C.
PFLAG, having touched countless numbers of lives, receives the loudest applause along the parade route, as parents walk with their signs.  It's touching to see the tears of gratitude streaming down the faces of GLBT people as PFLAG walks by proudly holding up their signs. 
We will never give up hope that our mothers
may one day stand with a sign like this!
One of our favorite signs!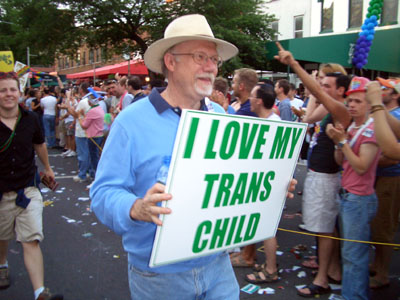 This father "gets" what it means to celebrate their child!
One gay man ran out to greet his mother...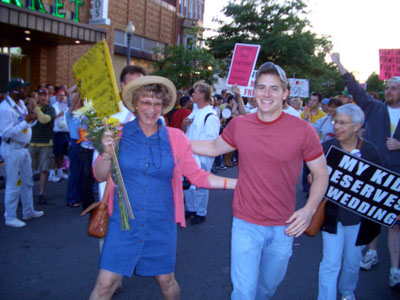 The joy on their faces cannot be denied!
Some people run out to shake their hand or hug their neck or kiss them on the cheek!  They love the attention!  Who can blame them?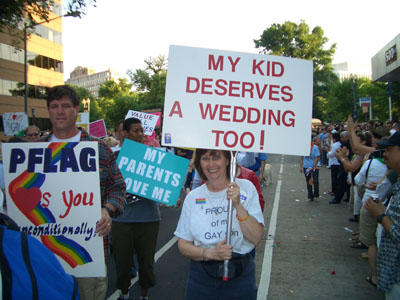 These three signs say it all!
The PFLAG group included people from local chapters around Washington D.C., as well as folks from the national office.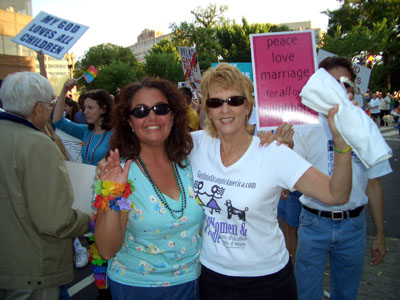 Jean-Marie Navetta (of PFLAG National) and Dotti
After the parade, we headed to dinner with some of our new friends.  Across the street from the restaurant was HRC headquarters.  We asked a person walking along the street to snap a picture of us.
On Sunday evening of Pride week-end, we traveled to Stephens City, Virginia, about an hour and a half outside of Washington D.C., to speak at their local PFLAG Chapter.  What a wonderful group of folks!  They videotaped our talk, since their president, Rhona Collins, was out of the country.  Her daughter, Erin, was in attendance and we enjoyed speaking with her afterwards.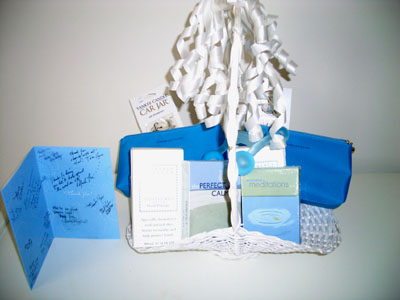 In addition to an honorarium, the PFLAG group gave us a beautiful card
and gift basket...what a gracious and interesting group of people!
After that PFLAG talk, we returned to the home of Julie Hawkins and Karen "KD" Davis. Both are with AOL. Julie is in the office of Diversity and Inclusion, and is interested in having us speak at AOL.  We had visited them earlier in the day before our talk, and they insisted on preparing a "rib on the grill" dinner afterwards, offering a place to stay the night.  When KD attended the workshop at Sodexho, the first thing she asked was "Where's the poodle?"  Ok, we had to admit that we were, unfortunately, "poodleless."  They have five toy poodles!  What a sight that was.  Unfortunately, our camera had lost it battery power.  We are still waiting on that cord!  We will get a picture from them for the future.
We received several emails from people the next day, saying how much they enjoyed our talk.  One gentleman, about 45 years old, told us that he had almost not attended, and how glad he was that he had. 
On Monday evening, Don & Melinda Kohn (Don is PFLAG President in Allentown, PA)
invited us to attend a function sponsored by GLOW Business Resource Group.  It is the GLBT group at Pennsylvania Power and Light.  This event was to celebrate the start of Pride Week in the Lehigh Valley in Pennsylvania, and was held at Cedar Crest College in Allentown, PA.  This year's theme is Acceptance Through Education.  In that light, this event featured HRC President, Joe Solmonese.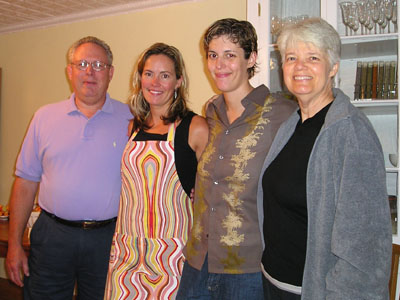 (L-R) Don, Sarah, Sally & Melinda
Sally is their daughter and Sarah is her partner...they live in New York
We had the pleasure of talking with Joe afterwards.  Dotti and he continued talking about the question she asked, "When are the national organizations going to start asking as much of our GLBT community as we are asking of other groups?"  Joe agrees that it is necessary, and that our community has a great opportunity to empower ourselves, if only we seize the day!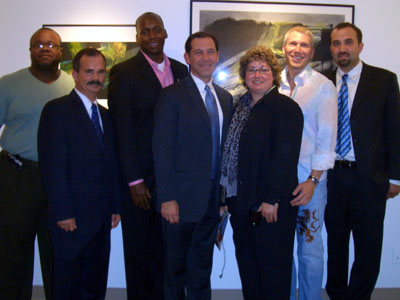 Donna Cruciani and others with GLOW at
Pennsylvania Power & Light are doing great work!
Donna spoke and  introduced Joe Solmonese and Sultan Shakir with HRC
We also had the opportunity to meet Sultan Shakir, one of their regional field directors.  His energy, conveyed through his speaking, is infectious.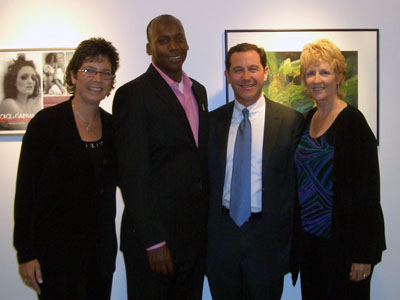 (L-R) Roby, Sultan Shakir, Joe Solmonese, and Dotti
BIG NEWS for HRC!  Press Release: Thursday, June 8, 2006

WASHINGTON — The Human Rights Campaign and XM Satellite Radio today announced the launch of a new, live talk show hosted by Human Rights Campaign President Joe Solmonese. The Agenda with Joe Solmonese will include a mix of politics, entertainment and cultural news and views through interviews with newsmakers and celebrities, and listener call-ins. The Agenda will premiere July 17, exclusively on XM.

What does the name "The Agenda" mean?
"The gay agenda" is often used to malign our community with images of fire and brimstone. But The Agenda will showcase the real agenda of gay, lesbian, bisexual and transgender Americans which is living full, complete and open lives. The Agenda is fun. The Agenda is political. The Agenda is provocative. The Agenda is family. The Agenda is universal.
Every week, The Agenda will mix current events with lifestyle topics and feature audience interaction through live listener calls.

Having discovered this press release after we talked with Joe, we sent him an email, offering to be on the show, since info on the website says, "Future broadcasts will include national and local community leaders who are fighting for equality on the front lines."  If you would like to hear us interviewed on The Agenda, click here to contact HRC.  Tell them that you have heard us speak, and/or why you think they should interview "Two Women and a Poodle on a year long journey, Gay Into Straight America."

"The Agenda with Joe Solmonese" will premiere on Monday, July 17, on XM LIVE (XM channel 200) in its regular weekly timeslot from 6-8 p.m. Eastern Time, with additional encore broadcasts airing throughout the week. Coinciding with the Gay Games in Chicago, the debut episode of "The Agenda" will feature live coverage of the games, as well as a look at being GLBT in the Windy City.  Don't miss it!

On Tuesday, we had another great speaking and training workshop opportunity with Sodexho, this time at their facility in Allentown, PA.  Once again, to alleviate people's disappointment at Rylee Joy not being with us, we offered people the opportunity to "opt out."  Fortunately, everyone stayed! 

We arrived the night before this Sodexho presentation, traveling 4 hours from Washington D.C., arriving at the home of Don and Melinda just in time to attend the GLOW sponsored event with Joe Solmonese.  We haven't worn "regular clothes" in so long, it seemed almost awkward initially.  Having worn business attire to present at Sodexho, we continued that trend for this event. 

Melinda and Don offered us the use of their guest cottage.  What a comfy little retreat!  They took care of us, preparing breakfast, bringing in pizza for dinner one night, showing us their chickens that have free roam of the yard, and giving us a tour of the multiple car garage with restored cars and trucks.

On Tuesday evening, we spoke at a gathering sponsored by Roberta and Harold Kreider, and held at their Mennonite church in Perkasie, PA.   Dotti first met them in 1999 at a week-end event to celebrate being GLBTA (yes, allies too!) at Central Baptist Church in Philadelphia.  Dotti and Harold were in the same small group, and she was stunned to hear the story of this man, a retired Mennonite minister, who was 75 at the time.  Harold simply replied, "Wait till you meet my wife, Roberta."  That was the beginning of a dear friendship. At that time, Roberta (who recently turned 80), had just published her first book, From Wounded Hearts.  To read more, click here. This book includes Over 50 people of faith who have written their very personal stories, including lesbian, gay, bisexual, and transgender people and their non-gay family members and friends.
On Wednesday, we spent the afternoon with Roberta and Harold, and then shared dinner together.  What amazing people!  At the event on Tuesday, Harold chuckled, "If you would have told me this would be my life ten years ago, I wouldn't have believed you!"  At that event, we shared with the group that Roberta and Harold are our newest Stand UP Speak OUT Wind Changers.  Here's a pic of them wearing their "Two Women and a Poodle" t-shirts.
Click here to view their website
that Dotti developed and maintains.
Roberta grew up under the doctrine that homosexuality, while rarely discussed at all, was considered to be an awful and exceedingly terrible sin.  The idea that homosexuals could be active caring Christians that walked in God's love was never an issue for her until tragically her dear brother contracted AIDS, and came out to Roberta shortly before his death.
With this confrontation came a mighty journey for Roberta.  In her attempt to understand her brother and his life, she searched, questioned, and eventually, throughly examining her own personal relationship with God, found the voices of the gay, lesbian, bisexual, and transgender believers ready to be heard.  From her "Fifteen Reason Why I Changed My Mind", and her willingness to hear EVERYONE's story, came her initial book, From Wounded Hearts.  She has since compiled and edited two more books.  One of those is Together in Love…Faith Stories of Gay, Lesbian, Bisexual and Transgender Couples.

Another is The Cost of Truth…Faith Stories of Mennonites & Brethren Leaders and Those Who Might Have Been.

Check out Roberta's "Fifteen Reasons Why I Changed My Mind."  When people ask us if we find that older people don't want to change, we always break down those stereotypes by talking about Roberta and Harold, as well as Dorothy Angell (now 83), who started PFLAG in Columbia, Missouri at the age of 79.  Indeed, our youth today are not going to have to "unlearn" some of the stereotypes that many in older generations learned, but the fact that all stereotypes are learned is the key.  If they were learned, they can be unlearned.  Roberta, Harold and Dorothy are living examples of that.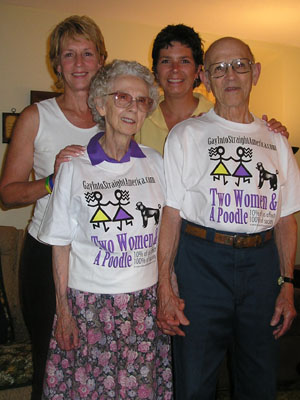 Dotti & Roby with Roberta & Harold
This is a great time during PRIDE month to celebrate Diversity Inc's Top 10 companies for GLBT employees
To ascertain this Top 10, they examined questions in our survey relating to GLBT issues, including recruitment, domestic-partner and work/life benefits, employee-resource groups and supplier diversity. They also factored in the Human Rights Campaign's Corporate Equality Index as well as a thorough review of each company's Web site to evaluate its stated commitment, through words and images, to the GLBT community.
Click here to read about those Top 10 Companies. 
You will remember Jennifer Schumaker was a recent Stand UP Speak OUT Wind Changer honoree.  It reminds us that people are doing amazing things all across our country.  While on the website for PFLAG Phoenix, Arizona, where we will speak in August, we came across the link to a group called CrossWalk America. 
Change the Face of Christianity in America
If you could change the face of Christianity in America, what would be different about it?  Would it be more compassionate?  More in touch with everyday life?  More justice-oriented?  Would the kind of Christianity you embrace include Jesus' authentic welcoming of diverse people and viewpoints? 
CrossWalk America is part of an emerging Christian movement-one that joyously embraces the love of God, neighbor and self (Jesus' core values).  We stand for:
• Openness to other faiths
• Care for the earth and its ecosystems
• Valuing artistic expression in its all its forms
• Authentic inclusiveness of all people-including God's lesbian/gay/bisexual/transgender (lgbt) community
• Opposing the commingling of Church and State
Honestly, how many times do you see a group speak the fourth point as shared above, particularly one coming from a Christian movement?  Sounds like an organization that is standing up and speaking out, and making a difference in our world.  Thank you CrossWalk America!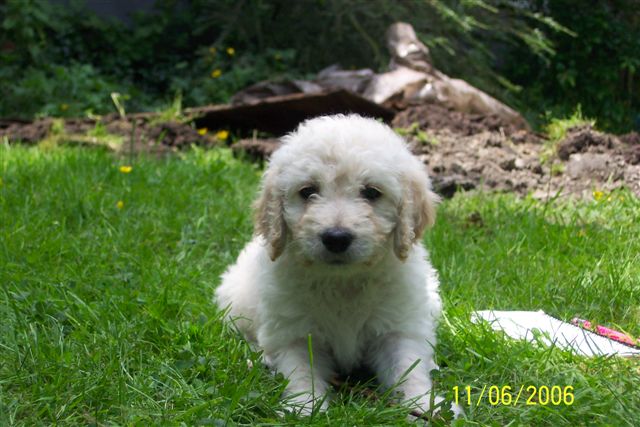 Karma, a Goldendoodle, is one of Rylee Joy's new friends!
Life is an adventure…enjoy the ride!
From the real and true adventures of two women and a poodle,
Changing the world…one person at a time.

The light in us honors the light in you,
Dotti, Roby & Rylee Joy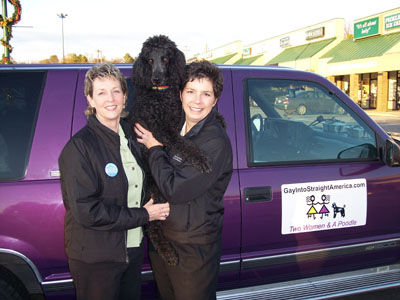 Help keep Gay Into Straight America on the road!  What we need is for every person who receives our newsletter to consider giving $20-$100, or more if you are able.  Consider giving a set amount on a monthly basis. Click here to email us what amount you choose, along with what day you want us to bill you, and you will receive a monthly notice through Pay Pal.   Forward this newsletter to your friends, letting them know about our website. They can click on this link to read any of our past weekly newsletters if they want to know more about our journey.  We encourage you and/or your friends to donate through our Levels of Giving program, through our Support Raising eBoard, or through Rylee Joy's Support Board.  You and/or your friends can also click here to purchase some of our t-shirts, caps, or rainbow wristbands!  Yes, caps are now available! 

Please ask people to click on our blog.   We have an updated look.  It is cleaner and sleeker.  You can actually go to our website and click on the "BLOG" icon any time you have feedback. When you have comments you want to share about our newsletter, or other ideas, we would like to request that you "blog those comments" rather than emailing them to us.  That allows your comments to be shared with our readers and supporters. That will also get our blog more active, which in turn will draw in more people who can learn about our journey.