You can't hate someone whose story you know.
Dare to know the story of those who are different.

"The tiniest story in your life can deeply touch another.
You cannot know the effect your story might have."--Sark
As we wind down to the official ending of our year long journey, we realize that our updated tag line is going to need to change and read...
From the real and true adventures of two women and a poodle, on a LIFE-LONG journey to transform ourselves and the world, one person at a time!
In this newsletter Update:
Celebration of Dotti's birthday -- Medford & Portland, Oregon
PFLAG Cathlamet and PFLAG Longview, WA
Dotti, Roby & Rylee Joy...homeward bound...connections keep happening
Support on our journey...led to publishing of our first "roadcast" 
Resources on our website
Rylee Joy's newest friends...a little bigger than her!
*************************************************************

Celebrating Dotti's 53rd birthday
Pam & Kathi Buss Sherrill are two delightful women we feel blessed to call "friends."  We met while in Colorado Springs for the Soulforce 1000 Watt Walk at Focus on the Family in July.  We accepted their invitation to visit their home in Rogue River, (near Medford, Oregon).  We were on our way back home from California.  Pam & Kathi are real estate agents & professional window cleaners, who live in an amazing underground home which they built.   
Roby: I mentioned in last week's news update that for Dotti's 53rd birthday that she would be treated to a massage, a USA Today, and all the nurturing and love she could handle.  Well, she got two out of three... I couldn't find a USA Today on her birthday.  She enjoyed a relaxing day being loved and celebrated, finished off with being treated (by Pam & Kathi) to an incredible birthday dinner at one of their favorite restaurants in Medford.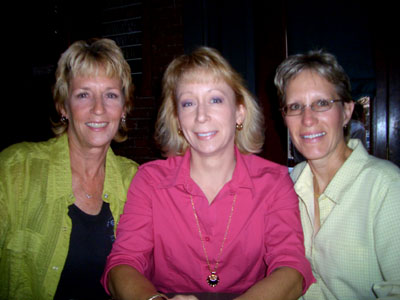 (L-R) Dotti, Pam and Kathi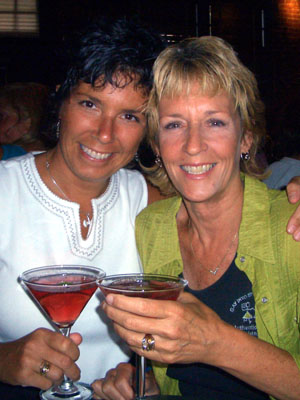 A birthday toast!
Rylee Joy and Betsy had a delightful time playing frisbee, ball, tug-o-war, and squirrel hunting.  Betsy is a sweet, lovable Border Collie, who brings lots of joy to her people, and to us. Rylee thought she was pretty fast until she met Betsy!  Betsy is like a speeding bullet going after her frisbee!  Besides Betsy, Rylee also fell in love with Pam & Kathi, who treated her like a queen.  I think the love and adoration was mutual.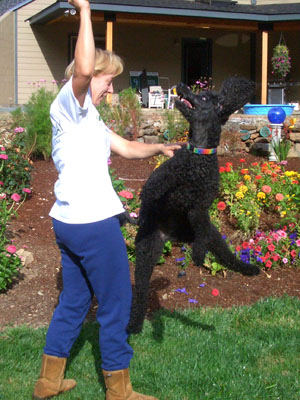 Pam with Rylee...jumping for joy! No wonder her name is Rylee Joy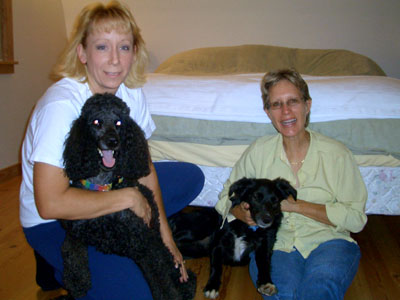 (L-R) Pam holding Rylee Joy; Kathi holding Betsy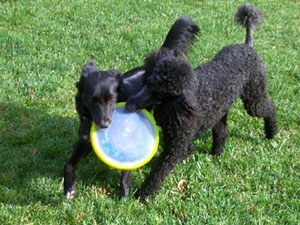 Betsy and Rylee played so well together, bringing the frisbee to Pam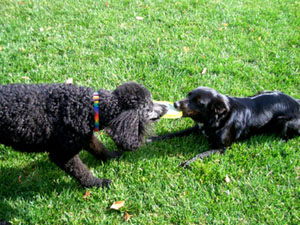 Ok, so here's the truth.  The other picture was a fluke.  This is what they really did.  They played great together, but EACH wanted to be the one to retreive the frisbee and bring to Pam!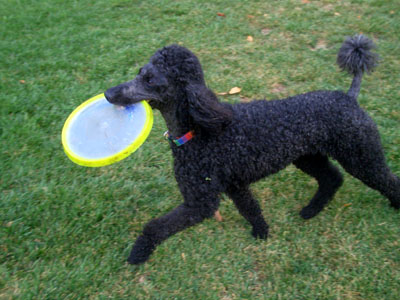 Betsy was so fast that Rylee didn't end up holding the frisbee by herself very often.  This, however, was one proud moment for her!
Continuing north, we stopped in Portland to see our friend, Jody Runge, who used to play basketball for Dotti when she coached at Kentucky.  After eight years of coaching women's basketball at the University of Oregon, and taking the program to new levels, Jody is as successful as ever, now owning a B&B in Portland, called "The Painted Lady."  Check it out and consider a stay in her delightful home!  Not only is she a magnificent hostess, she cooks a great breakfast!  Jody has been very supportive, celebrating with us at dinner at Ruth Lukschu's home after we were legally married in Portland on March 7, 2004.  As we have said previously, just because Portland changed its law about legal married for same gender couples doesn't mean we changed our minds about marriage.  Our spiritual marriage is every bit as important, and is still a marriage.
Whenever we are in Portland, we try not to miss out on a visit with our good friends, Marcie/Mark and Nicole.  We met Marcie/Mark and Nicole some years ago at Esprit (transgender conference in Port Angeles).  They honored us by coming to our July 31st (2004) wedding, and they were two of the prettiest girls there! :)  Marcie/Mark has been a wonderful financial support to us on our GISA Journey. We appreciate their friendship. Thank you ladies!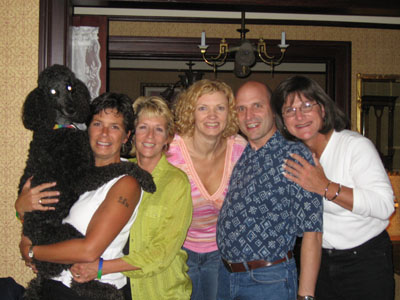 We enjoyed a nice dinner out in Portland with Jody, Mark & Nicole
While at Jody's B&B, we met a wonderful family who was in town for a wedding.  Some of them were from Wyoming, and some were from Colorado Springs.  Dotti initially met one of the ladies on the front porch, and Roby first met Esther, the Grandmother, while in the front yard with Rylee.  Esther asked questions, so Roby proceeded to tell her about our GISA journey, and our marriage.  Esther, a lovely woman in her eighties, said, "Well, I think what you are doing is just wonderful, and I don't understand why some people want to deny you the right to be legally married!"  When we were eating the delicious breakfast Jody made, Esther came back into the house and said to Dotti, "Well, I met your gal!"  Esther didn't leave the dining room before coming over to each of us and giving us a hug and saying, "I love you girls!"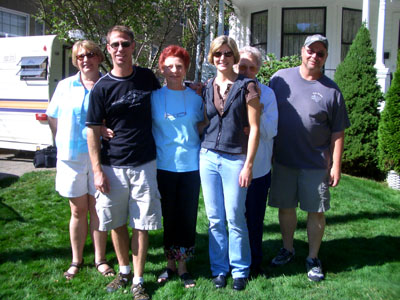 Unfortunately one adult, who Dotti had given her rainbow wristband to, and all the kids had already put on their seat belts and were buckled into the car when we decided to get a family picture.  Esther is behind Trish, the woman near the middle with sunglasses (we know her name because she gave us her email)
After breakfast, as we were outside getting ready to leave, we started talking with a couple of family members who asked (after seeing our rig), "What are you gals doing?"  We ended up having the most wonderful conversation with this loving family who attends a United Church of Christ Church (UCC) and who made sure we understood that they welcome, love and celebrate GLBT people in their family and in their congregation.  As we said our goodbyes, one of the ladies, while walking to their car, said, "Take care, be safe on your journey, and... we love you!"  We felt like we had been given a gift that afternoon... the gift of love, acceptance, honor, understanding, and the gift of being celebrated.   
Those are the treasures of this journey...everyday interactions with everyday people. 
*************************************************************
Speaking to PFLAG chapters Cathlamet & Lonview, WA...
Have you ever heard of Cathlamet, WA?  Although Roby was born & raised on the coast of Washington, she didn't know this little jewel existed.  She says, "I think I got Kalamath, Kalama mixed up with Cathlamet, and really didn't know where any of them were!"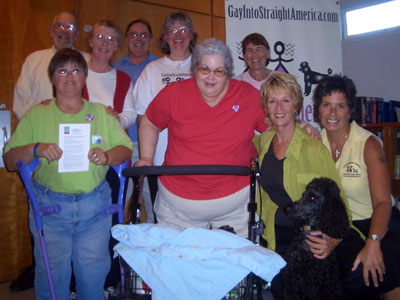 PFLAG Cathlamet

 
There's never a PFLAG chapter meeting we don't enjoy, and these two were no exception.  We always feel so inspired and energized after having spent time with our wonderful PFLAG parents and allies.  We honor all you parents, relatives & friends who make a conscious choice to not only accept your GLBT loved one, but to CELEBRATE them!  We feel celebrated in your presence, and we feel honored and blessed to have been a part of your group.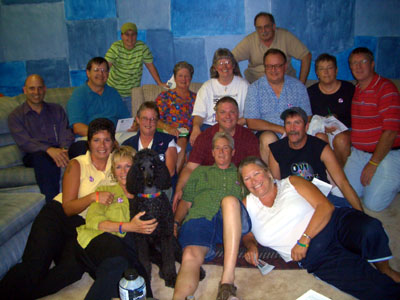 PFLAG Longview


We were hosted by PFLAG parents MaryAnn and Rick Nelson.  They have been doubly blessed by having both a gay son, Jake, and a lesbian daughter, Betsy.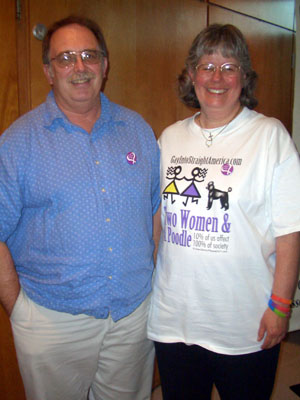 Rick & MaryAnn Nelson.
This good Lutheran wore her "Two Women & a Poodle" T-shirt to church
Rick is publisher of the local weekly newspaper, The Wahkiakum County Eagle, a family owned business since the 60's. 
The following quote reminds us of an editorial Rick recently wrote:
"Real knowledge is to know the extent of one's ignorance." Confucius 
In the opinion piece, Rick wrote about "ignorance," noting that "the meaning of words changes over time. In French, the word 'ignorant' means unaware, uneducated or uninformed; in English, 'ignorant' has a stronger connotatioin of being stupid or mentally deficient." 
In the opinion editorial, he said "It is difficult to break free of ignorance and grasp something different from what we know to be the norm because it's what we've always experience or have been told. Such is the case of gay marriage, or as I prefer to call it, marriage equality."
Great, Rick! We like calling it marriage equality too!
Phil Gulley, a Quaker minister, gets it too.   He was talking about a couple he was marrying whose church had refused to do so.  He said,
"But I've been thinking this week about that church not marrying that young couple.  Been thinking about how religions set up these barriers, carefully defining whom God blesses and whom God doesn't, drawing their circles of belonging so small, stipulating whom God can be present with and whom God can't.  Why is it that so many religions start with the premise that God is for our group, but not for yours, God is in me, but not in you?

I like that feisty, lovely, little poem by Edwin Markham.

He drew a circle that shut me out—
Heretic, rebel, a thing to flout.
But love and I had the wit to win:
We drew a circle that took him in.

Friends, may that be our creed, so we might go cheerfully out into all the world, letting the God in us speak to the God in others."
We like to believe that when we are ignorant about any issue, most people, (including us) are ignorant in the "French" way.  At times, we are simply unaware or uninformed.  Regarding a greater understanding of our GLBT community and marriage equality, this "unaware and/or uniformed" group constitutes the largest number of people we have met all around the country.  We call them the "movable middle."  Our travels overwhelmingly confirm that they will move to a greater understanding if we allow them to get to know us as people.  When that happens, WE THE PEOPLE will again be able to form a more perfect union, one that insists on equality and justice for all in our country and our world.
Dotti:  Roby and I feel that this Confucius quote helps us understand that we continue to gain "real knowledge" each and every day as we become aware of our own ignorance.  This applies personally and with life situations.
As we read through the letters to the editor in response to Rick's editorial, some positive and some negative, we feel inspired to write our own.  Stay tuned for that in our next newsletter.
Rick gave us an old, newspaper chronicling a hundred years of Cathlamet history from 1846-1946.  One article in particular interested us.  It was written on February 14, 1896, and told people about the "Art of Kissing."  Some tips are sufficient to share, even in our culture.  Though written for mixed gender couples, with the article making comments as silly as, "The gentleman should be a little the taller," (hey, what about short guys?), it nonetheless offers good insight for ANYONE who wants to develop their skills in the art of kissing.  So, don't hurry as you read the next few words!  (:
"The lips meet, the eyes close, the heart opens, the soul rides the storm, trouble and sorrow of life.  In this supreme moment don't be in a hurry.  Heaven opens before you.  The world shoots from under your feet as a meteor flashes across the evening sky.  Don't be in a hurry.  The nerves dance before the just created altar of love as zephyrs dance with the dew-trimmed flowers.  The heart forgets its bitterness.  And the art of kissing is learned."
Free internet service was hard to find in Cathlamet, so we drove 7 miles to Skamokawa. We were able to sit on a deck and work, while looking out at the water.  Now, that's our "lifestyle!" (: And the best part was that Rylee was able to be with us.  As usual, she was the "connector," with person after person coming over to say hello.  Amanda worked at this little hotel and cafe.  She had seen our vehicle and asked about our journey.  Two men dropped by at one point, and we met John and Jim, one of whom was from Long Island and the other one was from Maryland.  The conversation turned to our journey, as they asked what we were doing in the area.  John mentioned that he has a gay nephew.  Both were like most of the "movable middle" we meet.  They really don't have a issue with who we are, and want equality and justice.  But like the sign on the car reminds us...we have to get involved because the world is run by those who show up.  The movable middle has to begin showing up and making a difference.
*************************************************************
 
Homeward bound...

As we crossed the Washington line, we snapped this picture, excited as we make our way home.
 
It seemed strange to think back to when we left on our journey, wondering "what" the journey would entail!"  The unknown had called to us.  Today, our everyday existence on the road seems as natural as breathing. 
As we got close to Seattle and felt the coolness in the air, as well as saw Mt. Hood, we felt even closer to "home."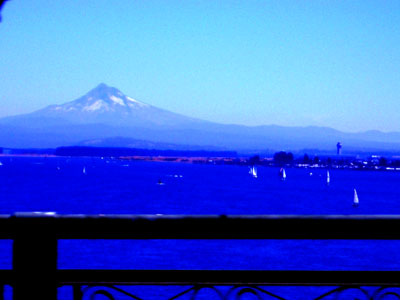 Mt. Hood
The icing on the cake, however, was when we arrived at Judy Osborne's in West Seattle on Tuesday.  Judy, our dear friend, welcomed us with hugs, kisses, love and a cold Beck's beer for Roby.  Judy and Roby have a little ritual that whenever they get together, no matter what time it is (they try to wait til after noon!) they enjoy a Beck's together.  Judy delighted us with a delicious salmon dinner and great conversation late into the night out on her deck.  Rylee and Judy's sweet little black peanut, Goddess (black toy poodle) played a little, but Rylee hasn't been feeling well (diarrhea).  Nevertheless, we enjoyed playing and cuddling with the little bundle of joy!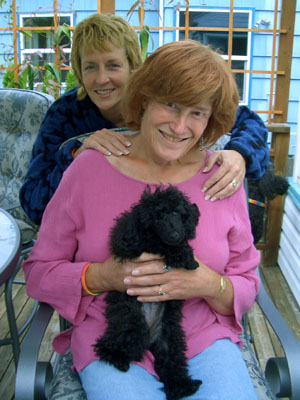 Dotti, Judy and Goddess
Connections keep happening, even at Northshore Veterinary Hospital in Bellingham, WA, where we took Rylee because she was sick.  At one point, Roby took Rylee from the exam room out to go potty.  To our delight, there was a 12-week old Apricot Standard Poodle puppy in the waiting room.   When Roby brought Rylee back inside, the guy with the poodle said to his woman friend, "That's Rylee."  Roby thought that maybe he just heard her say, "Come, Rylee," and didn't think anymore about it.  After Rylee's appointment, we were at the front desk paying, when all of a sudden, that same guy (John) and gal came out with their poodle, and said, "Hi ladies... we also have a black standard poodle!  I've seen your website, and I love what you are doing!"  We were surprised by his comment, thinking maybe he had a laptop with him, and after seeing our rig in the parking lot, he went online then and there to check us out.  He proceeded to explain that back in July he saw our Suburban in the Lowe's parking lot.  He went home that day and got on our website. That's how he knew who Rylee was! It suddenly struck Roby, as she remembers that day, buying stain for our fence, and noticing a truck in the Lowe's lot with a black standard poodle inside!  That was John's truck and poodle!  We met again, only this time at Northshore Veterinary Hospital!   As we were leaving, John said, "Thanks for what you are doing." Thanks, John, for your kind words of support and encouragement!  Many thanks to our favorite vet, Colleen Coyne, who took good care of Rylee Joy.  
Now, you all know how connections happen in our lives.  Well, there's more! The connection with John wasn't the ONLY one at the vet! Let us explain...
On May 12-14, 2005, the Willows Inn (owned by Riley and Judy) and located on the sunset side of Lummi Island in Washington, offered us a respite as we basked in the afternoon sun on the patio.  Our journals and papers were spread before us as we planned our journey, Gay Into Straight America. 
In our initial "stories of connecting threads" section of our website, you can read that we wrote the following regarding one lady we met there that week-end:
Stephanie Van Valkenburgh (Cone was maiden name), works at the Willows Inn Cafe.  She has a 2 year old child and is married to Brendan.  Originally from Anchorage, Alaska, she shares that she grew up Baptist, listening to Dobson and Bob Larson throughout her growing up years.  Both, she says, gave her bad impressions of GLBT people.  Now, she feels very accepting of GLBT people and has several friends who are gay.  She can't understand why people don't accept one another, but admits that the teachings of her youth were very anti-gay and originally impacted her.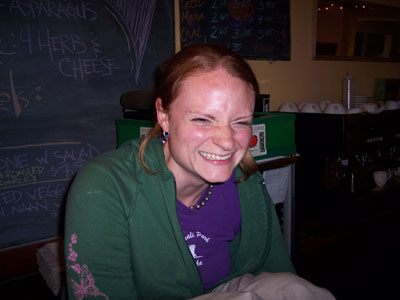 Lots has changed for Stephanie.  She is now working at Northshore Veterinary Hospital!  That isn't all that has changed.  She informed us that she was going through a divorce.  Dotti immediately said, "I am sorry to hear that."  To which Stephanie replied, "No, it's good."  So we were glad to hear that she, and her 3 1/2 year old daughter, are doing OK.  Later, in the exam room, she let us know that she has a new person in her life...a woman.  We just let her know that we are happy for her, as long as she is happy, no matter who is in her life.
Our final stop before getting home to Blaine, Wa, was dinner in Bellingham with our dear friends, Cathy & Ronna.  They have been a rock for us during this journey in so many ways.  We feel so blessed to have such wonderful friends, and we are excited about being back home to enjoy those friendships in close proximity, rather than from a distance while on the road. 
 
Walking into our home is a feeling we can't describe...just the smell evokes warm feelings of the past.  In other ways, it feels like a fresh beginning.  The fact that we are sitting in our own dining room, in our own home in Birch Bay, (Blaine) Washington, writing this week's news update feels surreal.  We savor the memories of this past year--one of the most amazing years of our lives--and yet, we delight in coming home. 
Our journey isn't over yet, however.  We head east of the mountains on Sunday, and speak in Spokane & Wenatchee, before offically ending our yearlong journey on September 20th, speaking at a  bookstore in Chelan, the hometown of Lars Clausen, the Lutheran minister whose journey, Straight Into Gay America, inspired our journey. 

Lars sent out the following about our upcoming talk in Chelan.
Chelan Gay Equality Evening

I admit: I felt strange writing my LGBT equal rights books in a town where LGBT presence is invisible. September 20th is a day not just for our learning, but to help bring the invisible to light. We may never know the difference our presence makes.
Click here for the complete story. 
*************************************************************
 
Support on our journey ...

One thing we have learned on this journey is how to graciously receive and allow others to support and help us.  This past week was no exception.  Wayne of www.WorldsofWayne.com, who recently did a podcast interview about our journey, came to our rescue by giving us the "one last piece" needed to start publishing our podcasts. 
Wayne, all we can say is "What would we have done without you??"  Wayne helped us understand how to get set up through www.Libsyn.com.
Click for the podcast with Donna Rose.  

We went back and added the podcast link into the original newsletter where we said that it was completed (but unpublished). 
Our friend, Tommy, passed along support with loving words on September 11, a day that Dotti will never forget.  She was in Thailand with Judy Osborne, who five years ago was having her gender reassignment surgery. Tommy's friend, Toni, sent the following and he shared it with us.
On this day of heightened choice...as a loved and precious part of my
circle of experience... I invite you to consciously choose LOVE in its
infinite forms and subtleties today, to balance the 9/11 legacy with
the truth of our heritage beyond the illusion that we are separate...
beyond tolerance, beyond witnessing, to BEing the love that we are.

Know that I hold you in my heart with loving gratitude for all that
you are and do, and for the many ways that you make our world a
symphony of divine possibility.

May peace, joy, and love be yours today, and all-ways!

Namaste
Toni
During our talk on September 11 in Longview, we passed out "Remember Love" buttons that we had received from Ruth, who we met in Silver City, New Mexico.
Ruth shared the story of how she came up with a heart-ribbon design and the words, "Remember Love," the essence of what needs to be remembered to move forward from September 11, 2001.  She had buttons made, as well as some globe paperweights with "Remember Love" inscribed on the top.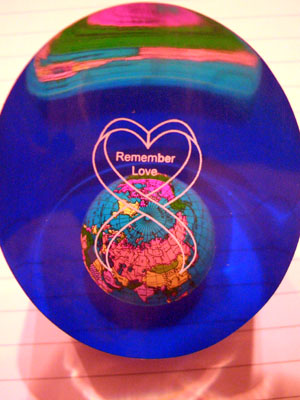 Remember Love...
Wouldn't that change everything in this present moment? 
So, in light of the power of love, we leave you with these famous quotes.

"Love is the triumph of imagination over intelligence." 
H.L. Mencken
"Tis better to have loved and lost than never to have loved at all."
Alfred Lord Tenneyson
"To love another person is to help them love God."
Soren Kierkegaard
"Blessed is the influence of one true, loving human soul on another."
George Eliot
*************************************************************
 
Resources?

As we have traveled around the country, numerous people have remarked about what a great resource our website is. 
Here's a couple of links that you might find useful:

Videos (one on Human Sexual Orientation, as well as Soulforce ones)
Take the Soulforce journey to non-violence
Training2Tranform for Corporations
*************************************************************
Rylee Joy's newest friends...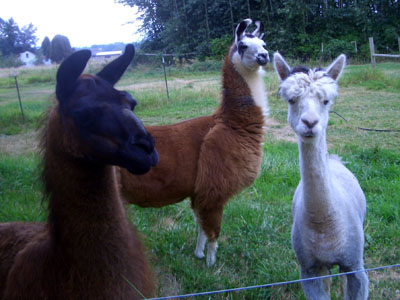 (L-R) Tell and Chris (llamas) & Levi (the smaller one, an alpaca)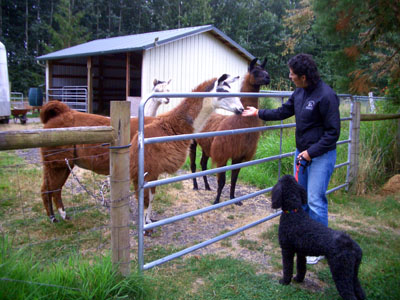 Roby helping Rylee Joy feel comfortable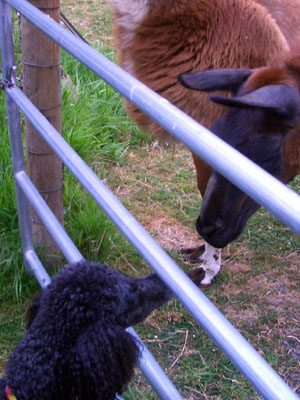 Rylee...making friends with Tell
From the real and true adventures of two women and a poodle,
on a one-year mission to transform ourselves and the world,
one person at a time!
Life is an adventure…enjoy the ride!
The light in us honors the light in you, Dotti, Roby  & Rylee Joy