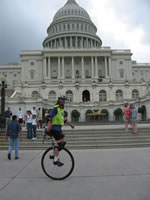 You can't hate someone whose story you know.
Dare to know the story of those who are different.


"The tiniest story in your life can deeply touch another. You cannot know the effect your story might have."--Sark

Thank You to Straight Into Gay America:
The ending of PRIDE month gives us the opportunity to once again say "Thanks" to Lars Clausen, whose journey, Straight into Gay America, was the final catalyst for propelling us on our journey.   This is an important time for Lars, as the official release of his book from that journey will be on July 18, in Colorado Springs, as we join him, Mel White, Gary Nixon, Judy Shepard, and others at the Soulforce event. We will be once again confronting Dr. James Dobson and Focus on the Family, reiterating that religious-based discrimination against GLBT persons is unacceptable.
Straight Into Gay America Book Giveaway:
Last summer straight ally pastor Lars Clausen unicycled 1,000 miles for LGBT Equal Rights.  This summer he's giving his book away for free, all 352 pages, delivered to your email box, one page every day. This is a great opportunity for all of us who care about Equal Rights. Lars has already done all the unicycling and now his book is finished.  The journey of spreading the message about Equal Rights continues.  Lars is making our job easy.  Sign up right here.
It's true. Lars really is giving away his book to people who sign up for "A-Page-A-Day."  We subscribed immediately.  After reading the first four days, however, we knew we had to have our own copy and purchased his book.  Sign up for "A-Page-A-Day," read about his journey, and visit Straight Into Gay America. 
Once you've seen, please join us in telling others. 
PFLAG Executive Director Jody Huckaby says Straight Into Gay America is "nothing less than a sacred journey...a bridge across the divide between straight and gay."  Mel White of Soulforce says this book will bring our churches and our nation another step closer to the day of Equal Rights."
Send to a Friend:
Click Send To A Friend at the bottom of this message, add a note of your own, type in up to 25 email addresses at a time, and hit submit.  This is easy. Thank you for taking a few moments of your time to build a wave for equal rights.

PRIDE CONTINUES!  We were driving along from Ocean City, NJ, back to Washington D.C. and Roby sang one bar from Lee Greenwood's song, "I'm Proud to be an American," except for one small change.  She sang, "I'm proud to be a Lesbian."  So Dotti said, "Hey, let's write some words."  So, here they are!  We are going to sing loudly at PRIDE in New York this week-end! 
I'm proud to be a lesbian because at least I know I'm me
And I won't forget what it's like not to be living free
So, let's just stand up in confidence
And claim our destiny
Cause there ain't no doubt that I love myself
Celebrate our victory.
Soulforce is gathering thousands of people for a nonviolent direct action on July 22, 2006 (from the Soulforce website) Actor and activist Chad Allen and Judy Shepard, executive director of the Matthew Shepard Foundation, will lead the march to Focus on the Family, and Broadway Star Billy Porter will perform his amazing and powerful evening concert of jazz, rhythm, and blues in front of Dobson's complex. Lifting our voices in word and song, we will gather to show the public the loving and vibrant spirit of our community and peacefully call all fair-minded Americans to resist injustice. Throughout history, fundamentalists have misused religion to discriminate against people of color, women, and interracial families. Now, gays and lesbians are the target of their oppression. Together, we must peacefully demand that America learn from history and end religion based discrimination.  You don't have to be a person of faith to accept that this discrimination is harming people in our society, and separating us from one another.  Click here for more details.

We stood with Soulforce last year, and we will be there again this year.  We are delighted that our new friends, Janelle & Jessica, from Everett, WA will be walking in the 1,000 Watt Walk with us as a part of our family!  This will be their first Soulforce Action, and we've promised them a life-changing experience!  It has been a joy to watch these two women embark on their own journey of discovery, & celebration of who they are.  We wrote about them in previous newsletters -- Janelle "found" us on the internet and started writing to us.  She is a graduate of Dordt College in Souix Center, Iowa, so she and Roby share a lot in common, with their Christian Reformed Church background and experience. 
Click here to read about our various experiences with James Dobson and Focus on the Family.  We remained an extra day last year in order to meet people at the FOTF headquarters and share our story.  We will do the same thing again this year.  Hopefully, we will be able to see Betty, our tour guide from last year.  We have a picture with Betty as one of our e-postcards.  Before PRIDE ends this month, click here and send an e-postcard to your entire email list.  It will help people connect with our Gay Into Straight America journey!  There is also a picture with Lars Clausen, as well as a picture of Rylee Joy, and a picture of our purple suburban.  Don't miss this opportunity to be a wind changer!  Below is a message you could send to make it EASY for you.  
Again, click here and send an e-postcard, and share you own words or this message:
Hi – June is PRIDE month for gay, lesbian, bisexual and transgender persons. More than that, however, it is an opportunity for all of us to do what these two women and a poodle are encouraging us to do. BECOME Stand UP Speak OUT WIND CHANGERS! That means engaging hearts and minds, creating authentic connections, and dissolving differences that separate us. Won't you join me in making this commitment?

Here are three actions you can take:

You can send your own e-postcard to your entire email list.
You can click on "Join our Newsletter" and follow the adventures of two women and a poodle.
You can click on "Take the Stand UP Speak OUT Challenge" and "Become A Wind Changer" under "Take Action" section on their homepage.

Let's transform ourselves and others in the process!
Thanks to each of you who take the time to send an e-postcards with this message.  It can help us reach thousands!  Though there is a minority that continues to be stuck in their understanding, casting them (out of their choice) into the "uninformable" category, they are still a minority.  They are not growing.  They are the same people, over and over again, and yet they are committed.  We have to be more committed to justice and equality for our community, and for society as a whole.
We can feel the waves rolling in a new way. Can you?  That is our experience as we travel throughout the country.  Outside of the minority that is in the "uninformable" group, the beach is forever changing because of the new waves rolling in.  Ministers, older (and wiser) people, young people, politicians, and even our own GLBT, intersex, queer and questioning, and ally community is beginning to understand the important and critical role we play in creating change in our society.  It begins with a commitment…SILENT NO MORE!  We cannot continue to support what we despise (oppression) through our silence. 
This trip east has been a wonderful experience of meeting new people and making authentic connections.  Tonight we will have dinner with Jody Huckaby, Executive Director of PFLAG, before heading to New York tomorrow to spend PRIDE week-end with Sodexho friends.  Here are some of the pictures from our Sodexho training workshops. Click here and visit their website. They are an amazing company, who is ranked #14 in the Top 50 Companies for 2006 by Diversity Inc. magazine.  They are also ranked # 6 in the Top 10 for people with disabilities, and #7 in the Top 10 for Executive Women.  They are worth checking out.  Although a very successful company, but an unknown name to many, their name recognition will be positively impacted by their recent alignment with Magic Johnson. Following are pictures we just received from our time with Sodexho.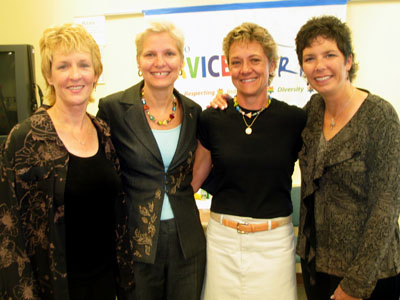 (L-R ) Dotti, Lorna Donatone (President of Spirit Cruises...owned by Sodexho)
Mary DeLaney (Lorna's sister...she and husband, Al, are friends who have offered their home to us ), & Roby
People from the GLBT groups at AOL and Freddie Mac were also in attendance at the Sodexho workshop at their headquarters in Gaithersburg, Maryland.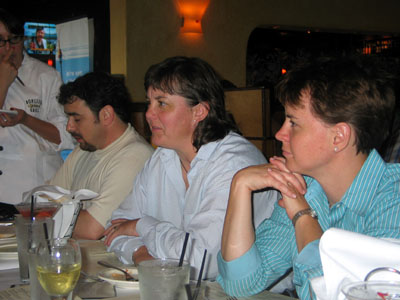 (L-R ) Joe Caramanica (Sodexho), Karen "KD" Davis, & Julie Hawkins of AOL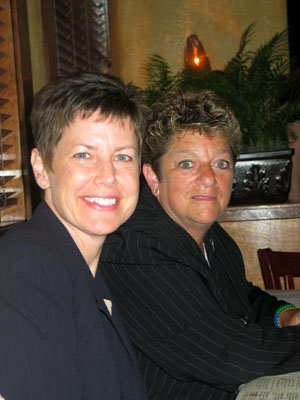 Afterwards, we enjoyed dinner with folks from Sodexho
(L-R ) Peri Bridger (Senior Vice President & Chief Human Resources Officer)
Denise Ammaccapane (Sr. Director, Training Corporate Services and Chair/PRIDE at Sodexho)
In the afternoon at Sodexho, we had the opportunity to join a group of GLBT reprentatives from Sodexho, AOL, and Freddie Mac.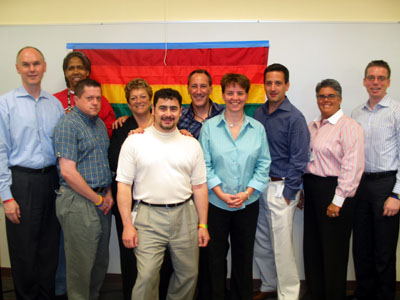 Representatives from GLBT Pride Groups at Sodexho, AOL & Freddie Mac



After our last newsletter, we heard from Lucile Wheatley.  You may recall that we had lunch with Lucile in Laguna, CA.  She emailed and said, "Don't forget to count us with your octogenarians--well actually Mel is 91 (non-octogenarian?)  but I'm 89.  We've been there since the beginnings of PFLAG, etc." Lucile



An octogenarian is a person between 80 and 90 years of age.  Considering that, Roberta and Harold Kreider, and also Dorothy Angell (from last week's newsletter) qualify. Indeed, Melvin Wheatley, Lucile's husband, is "non-octogenarian" since he is 91. We just love these amazing wise people we continue to meet. 

We wrote back to Lucile, saying,

"Oh, girlfriend, you are going to be mentioned again NEXT newsletter!  Wait till you see it.  We were saving some of you to mention in the next newsletter because we just spent a most DELIGHTFUL AND AMAZING evening with 98 year old Eva and our friend, Sue Schantz (who is not octogenarian)!! We spoke at Sue's church, Haddonfield United Methodist, a couple of months ago.  Your ears MUST have been ringing as we have talked about you several times in the last couple of days, and tonight, we told your whole story to Eva, who grew up going to Haddonfield United Methodist Church in NJ!  We were in Ocean City at her place on the bay tonight. You and she would just ADORE one another!  We told her all about you wearing your rainbow beads and shirt when we had lunch.  We hope you saw the picture of yourself in the newsletter after our lunch in Laguna. 

Give our best to Mel.  Eva could hardly believe the story about Mel and how he was tried by the church for heresy for being inclusive of GLBT persons!  It still amazes us how you all were so supportive of your son from the very beginning.  Anyway, Eva's pic will be in the next newsletter, as well as yours again! 

Hope all is well ... We are looking forward to seeing Judith and Carol next month in Colorado when we do the 1000 Watt Walk with Soulforce.

Love, dotti and roby"

 

If you didn't read about Lucile in a previous newsletter, here she is again!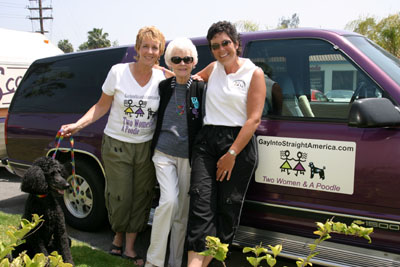 (L-R ) Rylee Joy, Dotti, Lucile, & Roby
In that newsletter, we said, "We hope that we are living as dynamically and fully at the age of 89 as is Lucille.  What an engaging woman!  Her husband, Melvin, is not in good health and is at a wonderful care facility where only six people are cared for at a time.  Melvin stirred the fires in the United Methodist Church as a bishop.  He was brought to church trial on 'heresy charges,' in 1982 for speaking out for inclusion of gay persons in the church.  Lucile reminded us that his words are carried on many of the PFLAG brochures.  We are going to give you the gist of those comments, since we may not have it exactly correct.  Lucile, please accept our paraphrasing of what you shared.

We may not have been wise enough to ask for a gay child, but thank God, we were wise enough to accept the gift when it was given to us.  
– Melvin Wheatley

What would we do without people in the church like Melvin & Lucile Wheatley? They paved the way for the inclusion of our GLBT community today.  Thanks from the bottom of our hearts to both of them!  Next time, someone you know says they are 'too old' to come to a new understanding, tell them about Melvin and Lucile Wheatley, Eva Gilmour, Dorothy Angell, Robert & Harold Kreider.  We have not found age, or any other difference, to be a barrier to favoring equality and justice for all people.

All we can say to our allies in their 80's, 90's and above...YOU ROCK!
Ok, meet Eva!  At age 98, Eva Gilmour inspires us! We want to be like Dorothy, Roberta, Harold, Lucile, Melvin, and Eva when we grow up!
Sporting her rainbow wristband, she gives a "thumbs up."
Roby: Eva Gilmour is a delightful lady who may just be the wisest woman I've ever met. Eva lives on the farm in Cherry Hill, NJ that she and her late husband, John developed back in the early 1900's. Now, nearly 98 years old, she enjoys weekends and summers in her beach home on the Jersey Shore, which is where we met her.

Eva's advice for longevity? "Keep moving!" Eva spent most of her life working hard on the farm, and she continues to stay active by walking everyday. In addition, Eva plays bridge with her friends and attends church at the United Methodist Church, where we spoke in Haddonfield, New Jersey.
We also met her son, Bob, and daughter-in-law, Barbara Gilmour.  They came after church on Sunday.  That led us to asking where they attend.  They replied that it an independent Pentacostal church.  It is at this point when many people clam up, stereotype people, and become less than authentic when sharing information about themselves (if they are GLBT or even ally).  They make assumptions about others related to what they have heard/been taught about Pentacostal people and their acceptance of GLBT persons.  We didn't about Barbara and Bob, and we move forward with the belief that they felt the same about us at the end of our conversation. 

Barbara inquired further regarding what we are doing when Sue told them that we are on a year long journey.  We didn't respond any differently than when we talk with anyone else. The conversation flowed easilly and naturally, leading her to share that her daughter is friends with a lesbian couple who have a child.  The engaging conversation continued with Sue sharing that her brother's daughter is lesbian, to which Barbara replied, "Really?  I didn't know that."  Well, Sue, although she has known this family since she was a little girl, didn't realize that her daughter had lesbian friends.  See what we learn when we don't censor our conversations?  This is always a good lesson for us to remember.
We also discovered that Barbara has a passion for kids!  She has a project called "Tanner's Manners" with a "Be a 'Cool Kind Kid'" theme.  Dotti went to her home next door to Eva's and looked at her curriculum, coming back saying, "What an awesome project!"  It has already won several major awards.  Click here to check out her website.  And let her know if you, or anyone you know, would be interested in promoting her project inside schools! 
The importance of wearing your rainbow wristband?  They start conversations.  When Dotti was getting some rainbow wristbands out of the trunk to give Sue and Eva, a man in his car yelled out, "Can I have one of those rainbow wristbands?" That led to a conversation and him asking if he could have two. 

As we mentioned, Sue Schantz brought us in to Haddonfield to speak at her UMC a couple of months ago.  (Click here if you missed that newsletter). Sue is a wonderful lesbian woman who is active in her church and helping create a better understanding about who we are by being her authentic self at church. They displayed trust in her by having us speak. When we were invited back to the east coast by Sodexho, we promptly called Sue, who then invited us to a weekend at the Jersey Shore with her and Eva. Sue has known Eva since she was a child, and they share a special love and bond that is evident to all.
We love how they celebrate us in Ocean City with rainbow beach umbrellas! (:

Eva, though 98 years old, spent Saturday afternoon with us on the beach, after having walked the boardwalk with us the night before.  We all stayed up until after midnight talking like school girls, learning about Eva, with her asking questions about our journey.  We told her that if we could bottle her energy and sell it, we would be millionaires!  Below, are Dotti, Sue and Eva.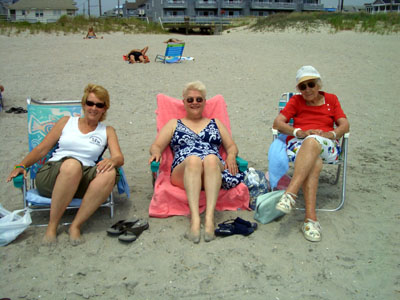 When asked how she came to accept gay, lesbian, bisexual and transgender people, Eva replied, "I love people for who they are, and I judge people by their character, not by their sexual orientation or gender identity. Tell me, how do you feel about me as a heterosexual?" Roby replied, "Well, Eva, I don't quite understand, but I love you because you are a very kind, loving and compassionate woman." She said, "Well OK, why can't that work both ways?" We all smiled.

Eva seemed to be quite perplexed by our stories of people not celebrating us, especially those who call themselves Christians. She said, "I just don't get it! How can people who call themselves Christians not accept, celebrate, and honor you and your relationship? That's not what Jesus was all about. He was about loving thy neighbor."

The more stories we shared with Eva, about many of our religious leaders, religious institutions and our families being non-accepting and non-welcoming of us as lesbians, the more appalled Eva became. So you see, we have not found age to be a barrier to understanding and embracing GLBT people! We do not deny that people of age were brought up in a very different era -- an era where most GLBT people were hidden--where society at large, and religious institutions did not accept homosexuality, and where many people really believed that homosexuality was a sin and a sickness that could be and should be treated and cured. (I know, as I write that, some are asking, "Has anything changed?") However, we know many people in their 70's, 80's and 90's who embrace us, and stand on the front lines with us for justice and equality. No one is ever too old to learn and grow. The question is, "Are you willing to embark on a journey of discovery, and are you willing and ready to shift and grow?"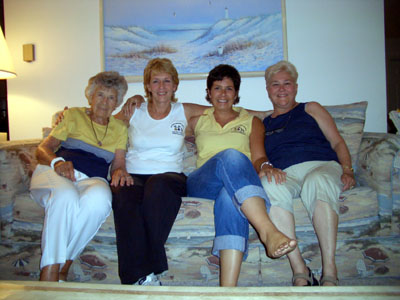 (L-R ) Eva, Dotti, Roby & Sue
While in Ocean City, NJ, we attended the Sunday a.m. church service at The Ocean City Tabernacle.  They have a neat concept for church... there is no membership, nor is there a full time pastor or staff--each week they bring in different prominent speakers. Coming soon to the Tabernacle are Gloria Gaither, Guy Doud and Tony Campolo, to name a few.
Dr. William Willimon, the Bishop of the North Alabama Conference of the United Methodist Church was the speaker for the day. We had the opportunity (actually, we MADE the opportunity) to speak with Dr. Willimon after the service, and Dotti was able to share her UMC experience with him (of being denied membership because she is lesbian). Dr. Willimon responded with stating he does not agree with disallowing GLBT people church membership.


In the evening, we were delighted by a concert of the Coral Ambassadors -- the youth choir of Coral Ridge Presbyterian Church in Ft. Lauderdale, FL. When we were in Florida in February, we drove past Coral Ridge Church, and having heard Dr. D. James Kennedy speak on numerous occasions via TV and radio, we wanted to attend their church service. We wrote about that in a previous newsletter. D. James Kennedy is well-known in mainline Christian church circles as being very unwelcoming to GLBT people, which is one reason we wanted to go... to be a loving presence and to put a face to "those gay people."
What so impressed us, however, was the music! It was heavenly. Long story-short...Our friend Sue Schantz is close friends with the Coral Ridge music directors, Lisa & John Wilson, who served at Sue's UMC in Haddonfield for many years. We had the honor of meeting them, and enjoyed an amazing concert. In addition, we sent a personal letter to D. James Kennedy with Lisa Wilson to hand deliver. Click here to read that letter. We hope to get a response, and will let you know when we do.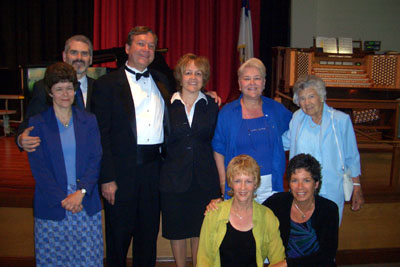 (L-R ) The first couple is the music director (at Tabernacle) and his wife.  Next is John and his wife, Lisa, the music directors at Coral Ridge Presbyterian, Sue Schantz & Eva Gilmour with us
Our first accident on the journey: Roby completely closed the electric car window on Dotti's finger last Friday at the beach. It was horrible, and very excruciating. Dotti was in tears and nearly fainted from the pain, and Roby was in tears because she felt so badly. The finger has healed nicely, with only a light shade of purple left, which is pretty good after only a few days. We treated her aggressively within minutes of the injury, so aside from the color and some residual tenderness, all is well.
Two Protestant denominations show support for gays
Episcopals and Presbyterians vote in favor of gays and lesbians at national sessions.


Both the Episcopal Church and the Presbyterian Church voted on Tuesday in favor of a role for gays and lesbians in their faith communities. Click here to read the details.


We must keep learning …Thie following situation happened last November.
In a ruling announced Oct. 31, the Judicial Council supported the Rev. Ed Johnson of South Hill (Va.) United Methodist Church in his decision not to allow a gay man to join his congregation. The man was a choir member and had been meeting with Johnson about transferring membership from another denomination.

Johnson was placed on a yearlong involuntary leave of absence by fellow pastors during the clergy session of the Virginia Annual (regional) Conference last June. The Judicial Council upheld Johnson's action, citing the authority given to clergy by the church's Book of Discipline. The court ordered that the pastor be reinstated to his previous status.

The ripple effect of the court's decision was felt immediately in Lake Junaluska, where the Council of Bishops is holding its weeklong fall meeting. The council spent at least four hours in closed session working on a statement responding to the ruling.

"With the Social Principles of the United Methodist Church, we affirm 'that God's grace is available to all, and we will seek to live together in Christian community,'" the bishops said, quoting from the Social Principles in the Book of Discipline. "'We implore families and churches not to reject or condemn lesbian and gay members and friends. We commit ourselves to be in ministry for and with all persons.'
Click here to read more.


Dotti: I feel sad and angry when I read something like this.  Why? I filed a complaint, when I was denied membership in 2000 in the UMC, in hopes that this would never happen to another person in the UMC.  When are we going to learn?  The UM church has lost 2 million members.
Churches are building new facilities, with no money committed to being more welcoming, so that they can fill the pews.  Why not start with people who have repeatedly been rejected.  I am not saying that people have to go to church.  What I am saying is that those who want to go should be welcomed.  Church denominations that are part of a pattern of discrimination should bend over backwards to make sure that people who have been routinely "cast out" are specifically welcomed. 

Following is the email I sent Dr. Willimon, bishop of the North Alabama Conference of the United Methodist Church, and former chaplain and professor at Duke Universitiy, who we mentioned spoke at Ocean City Tabernacle this past Sunday.  He said he was interested in reading my complaint.
Hi Dr. Willimon,


I wanted to email you and give you the link for reading the complaint that I filed "for" (not against) the United Methodist Church in February of 2000.  I first approached my pastor, Rev. David Thomas, at the end of 1999 about joining Centenary United Methodist Church in Lexington, KY.  Here is the link to read what I filed


As I told you when we spoke, I filed this complaint in 2000 in hopes that this situation would never again occur in the UM church.  I feel very sad that it did happen again in Virginia in 2005.  I feel sad for the church body and for the individuals, both the gay man and the pastor.  Rev. Ed Johnson is a victim of the misinformation that has been allowed to continue within the UM church and in our society. The gay man is a victim of the misinformation as well, for it caused the pastor to take this action.  It tells me that the environment is still not safe for GLBT people, and this grieves my soul.


My situation did not receive the publicity that this case in Virginia did.  In fact, in many ways it was covered up, with many not wanting me to speak about it.  Like all situations in the church which are not empowering God's people, however, it should be brought to light, so that it can be examined and looked at closely in order to create a more loving church body and society. 



You can reach me at 360-305-0909 or dotti@GayIntoStraightAmerica.com if you would like to talk with me further, or if you have any questions.


Namaste, Dotti Berry
In honor of all United Methodists who continue to work toward social justice, we are naming Grammy award-winner, Emily Saliers of the Indigo Girls, and her father Don E. Saliers of Candler School of Theology at Emory University in Atlanta, as our newest Stand UP Speak OUT Wind Changers. 
 
The Indigo Girls (Emily Sailers is on the right)
© 2006 Indigo Girls. All rights reserved.

A United Methodist minister, Saliers composes choral church music and serves as organist/choirmaster for Emory's University worship community.

Saliers and his daughter Emily, a member of the Grammy award-winning Indigo Girls, collaborated in writing A Song to Sing, A Life to Live: Reflections on Music as Spiritual Practice (2005).

Emily and Don were the keynote speakers at the United Methodist Women's Assembly 2006 in Anaheim, California, where close to 10,000 United Methodist women gathered.  Some threatened not to attend because Emily is lesbian.  Though there was a slight furor among some, Emily and Don persevered and spoke.
Dotti says she is excited because they are from Atlanta, her place of birth, and the town where she lived for 27 years. Emily and Don collaborated on a book entitled, A Song to Sing, a Life to Live (Jossey-Bass, 2004).  Click here to go to our list of recommended books where you can click on the Amazon logo and order.
They are making a difference where we need to be...inside religious institutions that are still wrestling with their understanding regarding GLBT persons, and where relgious-based oppression is still acceptable to some people.
What have we learned during our journey of Gay Into Straight America?  Sharing our thoughts is our gift during PRIDE month to our GLBT, intersex, queer, and questioning and ally community.
Fear is a call for love. People desire to connect at the deepest level, and yet people are often afraid to risk reaching across differences to connect with one another.  More than anything, the majority of people in our country desire equality and justice for all people. 
The vocal and well-financed minority, who do not want this, have held our community hostage.  It is time to break the silence, and share our lives, our authentic selves, with the movable middle. Whenever we are triggered, it reflects us, not them.  It is time to quit enabling dysfunction within our own community by being complicit in our own imprisonment through our silence. Life is about chiseling away the armor we have grown, creating a false illusion of safety, to reveal the beauty within. It is time to ask as much of ourselves as we ask of others.  The gift that we are must be shared if we are to move forward.  It will both heal us and empower us.  Will you join us?
Life is an adventure…enjoy the ride!

From the real and true adventures of two women and a poodle,
Changing the world…one person at a time.

The light in us honors the light in you,
Dotti, Roby & Rylee Joy