We hope you had an enjoyable Holiday Season.  We enjoyed time with friends, made some good memories, and read and wrote. PFLAG Atlanta continued to reach out to us! Dotti worked on a column, the first in a series of 12 monthly columns for 2006, that she is going to share with folks. Click here to read, Stand UP Speak OUT: We are the Solution. 
Dotti: This holiday season was a time of mixed emotions for me.  There were some waves of sadness that came at different times, as I reconciled being in Atlanta, and yet not able to share it as we had planned with my family. Click here to read what happened if you missed our last newsletter.  Unattached to a specific outcome for the holidays, I was glad that I allowed myself to "experience" my feelings, and then moved forward with celebrating, renewing my spirit and understanding at a deeper level the nature of "family" that Roby and I are choosing to create.  I am more convinced than ever that the interconnectedness of all of us, regardless of the labels we must shift through to create this wholeness, provides tremendous oppportunity.  The greatest "strain" is often felt just before there is a breakthrough to a new level.  I was grateful that my friend, Anne Adkins, wrote and eloquently shared of that continuing possibility.  I accept that seeing the "uninformable" as informed, the "broken" as healed, the "hateful" as calling for love, and the "spiteful" as reaching out in wholeness, is the connecting thread contained within each of us.  Our insistence on fixating upon differences that separate us creates an illusion of control that is delusional. 
We were so graciously and warmly welcomed into open arms by others, and it felt good to know that we have a right to choose to spend time with those with whom we feel empowered, and with those we can empower as well.  There is an energy created from choices that say "I value who I am and choose to spend time with people who honor and respect me."
On Christmas Eve, we attended the MCC in Athens, Georgia with Lib, Randy and Will Rumfelt.  Lib is co-president of PFLAG Atlanta.  We appreciated the warm welcome of their minister and her partner.  Lib and Randy are currently the only heterosexual couple at the church, having left their United Methodist church to find a place of worship where they and their son could be welcomed and affirmed.  They drive about an hour to participate in their church home.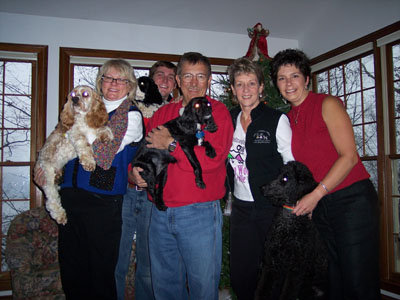 Lib, Will, Randy, Dotti & Roby with dogs CJ, Whitney, Guinness, and Rylee Joy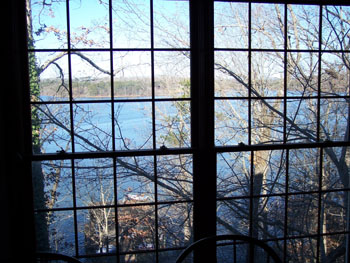 The beautiful Rumfelt home overlooking Lake Lanier
On Christmas morning, we attended Unitarian Universalist Church of Atlanta.  Thanks Babs & Jerry (PFLAG parents) for the invitation.  The Unitarian church is well known for being open and inclusive.  What we realized, however, is that even within our churches normally recognized as being inclusive, there is still opportunity for creating a greater understanding.  During the service, the minister specifically welcomed "all," citing the regular list of people who are normally welcomed in church, but also included gay and straight.  There was no mention, however, of a specific welcome for those regarding gender identity and gender expression.  We only point this out to help people understand the importance of including this wonderful and unique community of transgender persons.  Since many religious institutions have been notorious for their exclusion and condemnation of the transgender community, it is important to specifically let them hear from the pulpit that they are welcome.  Since several transgender persons sat in the congregation that morning, we feel certain that the minister and UUCA will want to better understand the importance of a specific welcome for people of all gender identities and gender expression when they give their specific welcome.  In mentioning our concern to Babs, she wholeheartedly recognized what we were saying and encouraged us to contact their minister.  We find that people in the UUC church (in general) are more than willing to hear feedback on how they can be more inclusive.  This is simply one example for a church denomination that is committed to inclusivity.
Babs and Jerry also invited us to stay at the church dinner after the service.  There were five of us who had attended together, which left one seat available at our table.  A woman named Margaret joined us.  As we sat at opposite end of the table, Roby had the opportunity to engage, Margaret in conversation.  Although inclusive in theory, Margaret had no understanding of why marriage equality would be important for gay and lesbian persons.  In sharing about our journey, Roby explained to her some of the ramifications of not being able to legally marry.  Like many people in our society, Margaret was shocked when Roby explained to her that there are around 1200 rights and protections that we are denied while heterosexuals receive.  Margaret specifically had questions about transsexual persons.  She said, "I can understand your relationship, and I don't have a problem with that.  What I can't understand is why someone living for so many years as one gender would want to 'change.' "  Roby patiently explained the "why."  She shared with Margaret that people are not suddenly attempting to "change."  In most cases, they have always known themselves to be the gender with which they identify. 
After church and lunch, Karen, Dotti and Roby went to the movies!  Roby says, "I have never been to a movie on Christmas Day!"  Dotti and her former partner, Barb, had established this tradition in their family.  The theater was packed.  Maybe it's a southern thing, like grits. 
Our friend, Karen gifted us with a night in a hotel in Atlanta on Christmas night so that we wouldn't have to bring our Scotty into the city, or drive back up to Gainesville.  (Thanks, Karen!)  We had some good times (including 2-steppin') with Karen, a Spanish Teacher, who is Standing UP and Speaking OUT about justice and equality for GLBT people.
Lessons from the Abominable Snowman:  On Christmas Day, while driving in the car, we were listening to Christmas music and sharing our favorite Christmas TV specials. Roby's favorite is "Santa Claus Is Comin' To Town."  Roby:  "What I love the most about this show is how, when he is loved and treated with respect, the mean & angry Abominable Snowman 'melts' and shifts into a loving creature.  That's exactly what can happen and does happen when we love and respect each other, even those who seem so icy and unlovable on the outside."
We've been so fortunate to have a wonderful home base during the Holidays, especially with the computer problems that we've encountered.  Lib Rumfelt (co-president of PFLAG Atlanta) and her husband, Randy, offered us the use of their beautiful home on Lake Lanier (an hour north of Atlanta). They were heading to their beach home in SC, and handed us the keys and said, "Enjoy a week of R & R."  We have followed their request, and feel very rested and relaxed.  We've enjoyed sleeping late, going for walks, reading together, playing pool and sitting out on the double-decker dock enjoying the beautiful view.  We especially enjoyed cooking on the really nice grill out on the deck, overlooking the lake. 
There's nothing like looking around and seeing magazines and books that appeal to us.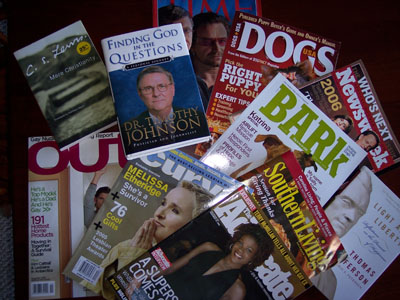 Check out the diversity we found!
One great book we found was Gay & Healthy in a Sick Society, by Dr. Robert Minor.  Dotti finished it and felt she had found a kindred spirit!  She was particularly interested in it as she had recently emailed with Robert, who will also be a speaker at the PFLAG Northwest Regional Conference in April, 2006, in Portland.  She had contacted him after being at Southern Comfort and having to miss his conference, the 2005 Fairness Project Summit, Strengthening the Bond: Progressive Values, Gay Rights and The Faith Community. Click here to visit his website, or here to read his article, When Religion is an Addiction.
In speaking about families in the above book, Dr. Minor says, "We'll have to give up attempts to change them.  We'll need to set our own boundaries for what is acceptable and unacceptable behavior for our parents if they expect to be around us.  And if we feel guilty when we do this, we'll need therapy and supportive groups of realistic peers.  The healthiest families are often not families of origin.  They are the families we create.  They include people who love us unconditionally, who listen to us closely, and who share themselves fully.  These people not only care about us, but they also accept those we love.  We have every right to create these families.  We have the right to invite whomever we want to join us to celebrate those holidays we choose to celebrate in the manner we choose to do so.  We have the right not to act upon the objections that our families of origin raise as they try to bring us back into their agenda when we begin to live our lives on our own terms for us.  The world may call this selfish, but that is a useless message meant to stop anyone from creating their own happiness.  Those who label us selfish are not those who are listening to us deeply.  They are listening to the messages of their own dysfunctional families.  It's the season to create our own holiday traditions.  It's the season to stop measuring our worth by how successful we are at fixing our families of origin, or by how much they accept us.  And even though they may accept us, are there others who have chosen us to love and who we this holiday season freely choose to love?  Our liberation must inclue freedom to create relationships that nurture us, stretch us, and give us our own reasons to celebrate Thanksgiving."  And yes, he could have just as easily been writing about Christmas, the one we just celebrated. 
We have definitely lived "the life of RYLEE" this week!  Speaking of Rylee, she has really enjoyed "hunting" for squirrels here at the lake.  It's been really nice to be able to let her run and play in freedom, since we are down a long driveway and the road is not too close.  In addition, we should add that Rylee, after having some weight loss and health concerns in November, is healthy, eating well and has even gained some weight! 
Lars Clausen wrote in a recent email that he remembers while he was on his Straight Into Gay America journey, "Waking up in the same bed three days in a row feels like home."  Being on the road is fun, exciting and interesting, but being settled, even if for just a week, feels oh so nice.  After all, when we're not on the road, nothing can break down! (Except for computers, that is!)  Thanks to all the breakdowns of our vehicle, RV and now computer, we are grateful for opportunities to trust, grow, practice humbly receiving gifts from friends, and practice patience, not to mention, make new friends at Best Buy!
We're on this journey together!  It has become so clear to us, after several months on the road that this journey is about ALL of us standing up and speaking out.  We, as individuals, cannot talk to every single person in the world.  But we, as individuals, can make a difference by standing up and speaking out to even one person in one situation. 
Below is a note that we recently from a friend.  This is a great example of what each of us can do in our everyday lives to make a difference and touch lives!
"Roby and Dotti,
I love getting your e-mails and hearing about your adventures, I must cry every time I read them. I am either crying because you two have had some troubles and I just feel your pain.  I also cry when I hear about the connections that you have made on your journey and it brings great joy to my heart to hear the progress you have made.  I am so proud to be one of your friends.
After this last newsletter you sent the one about Dotti's mom, of course I cried as I read it. Then in the next paragraph you wrote:
" I have not asked my Mom to be homosexual. On the other hand, Roby and I are encouraged to be heterosexual (that which we are not) everyday, by somebody in some situation."
That one sentence really struck a cord with me. It was like a light went off in my head. As you two know my husband David and I support you in every which way we can.  We may not be able to help you financially, but we do make our beliefs known to anyone that either might ask, or if they make a comment about 'those gays.'  Anyway, my point is the one sentence gave me one more way to make my point to anyone who just doesn't understand.
I just wanted to let you know that even though you two are not here in Washington your journey is still being done here with all your friends.
Love and forever your friend and supporter,
Michelle Willoughby"
When we wrote to Michelle and asked if we might use her words, she replied, "yes" and added,  "By the way my rainbow bracelet split in two because of so much wear and tear. As soon as I get paid I am going to get a few more. Jordan wants one of her own… we fought over it a lot. She is such a good kid. I asked if she knew what it meant? She said 'yes mom is it about same sex couples like your friends and I support it.' I tell you that made me one proud mom."
Since our last newsletter we also heard from Kerry Pacer's Dad, Bill Pacer.  He said, "Glad you were able to spend time with Kerry, Lindsay and Savannah. Just want to make you aware that Kerry's Dad is very supportive too. With so many gay/lesbian children fearing honesty, I believe it is important that people know that even though Savannah and I are divorced, we are unified in our support of Kerry.  You can also note that I am advising all my friends to keep their "Kerry for President" t-shirts. I think we will use them again. And those conservatives cannot accuse our Kerry of cowardice and they cannot claim she is unclear with her beliefs and values.  I look forward to following your trek. Sounds fantastic; wish I could join you."
Barefoot Bill Pacer
"A devoted Christian husband, father and teacher waltzing through the daily gift of life."
Bill, you are so right!  Savannah, Kerry and Lindsay spoke so highly of your acceptance.  Thanks for reminding us, as in our haste with getting out our last newsletter, we failed to mention what a supportive parent you are as well!  As we tell everyone, you have joined us on our journey, Gay Into Straight America, when you stand up and speak out right where you are!
When we were in Littlerock, AR, speaking at New Beginnings Church, we met Anne.  Anne is a lesbian, and has 4 grown boys, all of whom have ostracized her.  Dotti always ends our talks with a challenge.  She said, "If you have family or friends you would like for us to meet, give them a call and ask them to do so."  Anne, at the time of the challenge, thought to herself, "There's no way I could ask my parents to meet with Dotti and Roby."  Anne hadn't spoken to her folks in several months, and hasn't returned "home" to Woodbury, GA in a couple of years. 
The next morning, Anne woke up and felt God nudging her to call her parents.  She did.  To her pleasant surprise, Pat & Marshall (Buddy) agreed to meet and have lunch with us.  Anne emailed us, shared the news, and said, "Pat & Marshall are expecting your call."  Dotti called and set our lunch date in Woodbury, Georgia for noon on December 26th. 
After greeting Pat at the door with a bouquet of flowers, we spent the first hour just engaging with Pat & Marshall (Buddy), asking about their family and their church.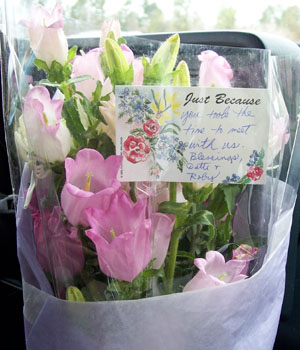 Buddy, Pat, Dotti & Roby
During lunch (Pat made some delicious soup and cornbread), Dotti said, "I know Anne mentioned that we are on a yearlong journey, but don't know how much you know about it…"  Pat said, "Anne did tell us that you are on a yearlong journey and she met you when you spoke at her church."  Dotti went on to explain what our journey is all about… engaging hearts & minds, creating authentic connections, and in the process, dissolving differences that separate us. 
We were with Pat & Buddy for about three and a half enjoyable hours.  We shared stories, we laughed together, we cried together, and we made an authentic connection with these delightful parents who do love their daughter, but who really struggle with, and cannot accept the fact that their daughter is lesbian.  It pains us to witness this type of division in families.  Dotti asked, "What would a relationship with your daughter look like if you could envision it?"  They really couldn't articulate a response. 
Dotti went on to say, "I respect that you have convictions and beliefs, but your beliefs are keeping you from a relationship with your daughter… are you OK with that?"
We had very interesting dialogue and sharing with Pat & Buddy, and in the end, we agreed to disagree regarding our understanding of the Bible & Homosexuality. "We are open to learning.  We just haven't found anything yet to convince us that the Bible doesn't condemn homosexuality."   I told them that I had resources that could possibly help them, written by a professor of Old Testament at Lexington Theological Seminary, but explained that I never leave anything unless someone wants it.  Before we left, Pat said she would like to have the materials, and so I went out to the car and got Rev. Dr. Lisa Davison's "What the Bible Says/Doesn't Say about Homosexuality."
After our visit with Pat & Buddy, we went to Warm Springs to see FDR's Little White House.  Betty, who was selling tickets at the museum, noticed our jackets and asked us what we were doing.  When we told her about our mission, she said, "Thank you, thank you, thank you!  Good luck down here."  We shared for a few minutes about our journey and told her that we had been in the area to have lunch with the parents of a lesbian friend.
While walking through the FDR museum, a man, probably in his 70's, also noticed our jackets and asked what we were about.  When we told him, he said, "I salute you for what you are doing."  We thanked him, and walked away feeling supported.  Surprises abound wherever we go.  Busting the myths.
On our way back up to Gainesville, we stopped at Dotti's family's country home in Franklin, Georgia.  Dotti goes there occasionally to help her mom whack weeds and brush and keep things in good repair, but she has not been "allowed" to come to Franklin with the family since she came out to them many years ago.  Dotti wanted to share this place with Roby since we were in the area.  Since we did not have the gate keys, we had to park the Suburban and crawl underneath the gate, then walk up the gravel road about ¼ mile up to the house.  We walked around and Dotti shared stories of the times she did get to visit, with one time in particular in her mind where she stood across the bushes from her Dad as they picked berries and said to her dad, "I am gay."    The sun went down while we were up there, so our walk back to the Suburban was by moonlight.  Can you just imagine two women and a poodle crawling under fences, getting muddy, and wandering around in the dark?  Yep, we love living on the edge.
On December 29th, with birthday money, Roby did something she's been contemplating for fifteen years.  To celebrate and commemorate her 40th birthday and the experience of this year, she got a tattoo.  The general design and concept was created by Roby, and made into beautiful artwork by Travis, the only known gay tattoo artist in Atlanta.  (We didn't know this previously.)  Travis is an artist at Sacred Heart in Little 5 Points (Atlanta).  Roby wanted a tattoo to represent who she is, whom she loves, and what she stands for: Spirituality, femininity, compassion, love, playfulness, fun, the celebration of diversity, Dotti and Rylee Joy.  The "dot" at the top represents Dotti.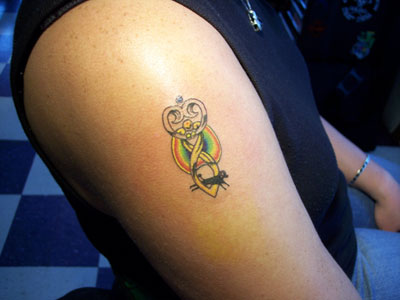 Roby & Travis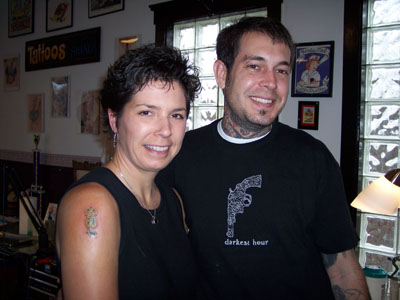 We rang in the New Year at Seven Stages Theater in Atlanta.  Before the show (poetry reading and acting performances), we enjoyed a nice Italian dinner with friends, Turner and Carson.  Turner is a F-M transgender performance artist, and he performed an act in the show.  Dotti initially met Turner when he performed at Southern Comfort, the transgender convention in Atlanta this past fall.  Carson is an actress and a dancer in Raleigh, NC.  Carson and Turner were best friends in high school.  Turner performs all over the country.  Contact him or visit his website.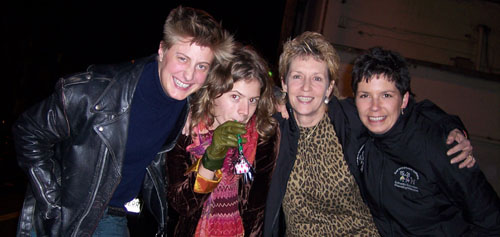 Turner, Carson, Dotti & Roby (hey, how about my hair color that Roby did?)
We spent New Year's Eve night at Will's (Lib & Randy's son) condo in Mid-Town (Atlanta).  On New Year's Day we visited Underground Atlanta (where Dotti used to have carts, selling sportswear).  She wanted to see people who had worked with her when she and Barbara (former partner) owned their business.  Although Auterror, (who now owns the carts and was only 20 when she began working with them), had just left, Dotti was able to talk to Auterro's mother who was working at one of the carts.  She then spoke to Auterror by phone, as well as to Crystal, her daughter, who is now in 6th grade. Auterror told Dotti, "When people ask me why I am so motivated, I tell them I worked for two great women when I was young." 
After playing "tourist," and before heading back up to Gainesville, we went to Dotti's mom's house to take her some flowers, and to pick up our mail.  Unfortunately, she was not home.  We have not seen Dotti's mom since December 19th, the day we left.  Dotti called her on Christmas, but had to leave a message, and has spoken with her mom two other times. Dotti says, "The easy thing to do would be to walk away from my family, but I am committed to staying in touch with my mom because I believe that her presence in my life continues to offer a mirror for healing...and vice versa." 
For 2006, Gay Into Straight America has grown.  It is Two Women and a Poodle PLUS Michael, Ben, Robert, Rhiad, Clay, Brian, Stephanie, Abe, and Ian – The Geek Squad from Best Buy in Duluth, GA.  We figured that we have spent so much time with various Geek Squad agents from coast to coast regarding our computer issues, that we will add some of our favorite ones to our journey!
As we write this newsletter, CNN continues to cover the Mine Tragedy in W. Virginia.  It is a sad day for many people in our country, and our hearts go out to the people who lost friends and family in this horrible mining accident. 
On a more positive note, we just received an exciting email from Mary Gallagher, reporter at The Bellingham Herald.  Mary covered our civil marriage in Portland in March 2004 and the annulment of our marriage in April 2005.  Her email read:
Hi Roby and Dotti - This is Mary Gallagher from the Bellingham Herald. I hope your traveling is going well. I understand you're in Florida this month! I'm writing because, as you're probably aware, the State Supreme Court is expected to rule soon on same-sex marriage, possibly as soon as tomorrow, January 5th. Would either of you be available tomorrow to talk with me? I'll be writing a story when the ruling comes down. If the announcement is made before I hear from either of you, I might just call you on your cell phones.
Happy travels!
Mary
Our friend, Loren Dokke, flight attendant with Alaska Airlines, offered to fly us home anytime we needed to, so we had been hoping to be in a city where Alaska flies when the marriage equality ruling came down.  We are on a list with Lambda Legal, to be of the first 20 couples in Washington to legally marry.  Unfortunately, Alaska does not fly into Atlanta, and unfortunately, we don't have the finances to buy quick flights home.  We've already had two weddings, and we can't wait for the third (and last) when we get back to Washington State! 
After a delay of several days, we are  now off to Florida where we will speak at PFLAG Tampa on Tuesday, January 10, our first engagement of the year! 
Remember, use the normal "New Year's Resolutions" routine in a different way this year.   Use it as a time to write down "Ten Ways I WILL Stand UP and Speak OUT" in order to create greater justice and equality for ALL people.  If you want to impact our society, claim your "empowerment" now! 
Gay Into Straight America
Engaging Hearts & Minds, Creating Authentic Connections,
& Dissolving Differences that Separate US 
  

From the adventures of two women and a poodle,

Dotti, Roby & Rylee Joy