You can't hate someone whose story you know.
Dare to know the story of those who are different.

"The tiniest story in your life can deeply touch another. You cannot know the effect your story might have."--Sark
Authentic connections come full circle in amazing ways.  It was this time last year that we attended Esprit Conference, just after having decided to take our year long journey, Gay Into Straight America.  We will be sharing more about our time here in Port Angeles in next week's newsletter.  Suffice it to say, this community is a precious gift to us.  Each individual with whom we engage teaches us how much more alike we are, than different.  Isn't that the essence of our journey, and what is available through engaging hearts and minds and creating authentic connections?
A little more than a year ago on Monday, May 9, 2005, we sat at one of our favorite restaurants, Stephani's at Birch Bay, five minutes from our home.  We read the blog of Lars Clausen after reading about him in The Advocate Magazine.  We were mesmerized by his story, and his plans for his journey, Straight Into Gay America.  Looking into one another's eyes, tears streaming down our cheeks, the moment was a catalyst, propelling us on our own journey, Gay Into Straight America.  Click here for full story. 
We met Mary Brady on Saturday, May 14, 2005, at the Willows Inn on Lummi Island.  We used this get-away week-end donated by our friend, Shelly Varner, as our initial planning session for our year-long journey.  Although we technicallly set our journey to kick off September 11, 2005, there is no doubt that it began on May 9, and continued that week-end, as we began sharing our "Connecting Threads" theory. Click here for the initial stories that began to support our theory, before we ever left home.
Our Connecting Threads theory says that 10% of us affect 100%" of society. Our question to each new person we meet is this:  Do you know a gay, lesbian, bisexual, transgender, queer, questioning, or intersex person?  Without exception, every single person we have met has said, "Yes."  At the same time, these connections (representing us) are like the elephant in the living room.  We act as if remaining hidden and silent will translate into "People won't know we exist, and we won't have to risk revealing our authentic selves and risk rejection." In the meantime, people continue to crash into us, injuring all of us, driving wedges between families and friends.  We are all bloodied with our "family secrets."
Our desire is to bring light to us, these beautiful connecting threads, and reiterate our motto "Leave no person behind," so that people's awareness is elevated about the necessity of equal protections and rights for all Americans. 
On May 14, 2006, we received the following email. 

Hi Dotti and Roby,
I met the two of you on Lummi Island last May at the Willows Inn!.  I enjoyed meeting you so much and am convinced that the World works in mysterious ways.  At that time we spoke about my father, Jim Brady, who is a Lutheran Minister in SW Ohio in regards to your "thread" theory.  I have been having the craziest life right now and this morning over coffee with my brother was brought back to the two of you.  In the past month I have had a baby (a beautiful little girl named Averi Sinclair), was married (in a small ceremony performed by the Rev. Judith Laxer, a pagan and a lesbian and our self-proclaimed "family preistess".   One of the witnesses was my very old and dear friend Adam, newly out and proud!), and am in the process of moving to Portland for my husband's job.  On my wedding day, my father was in a single car accident which left him in a coma at St. Mary's Hospital in Huntington, WV.  My sister and my mother (divorced since 1978) are there with him and my brother and I stayed here in Seattle for now.  My brother was searching for something online regarding my father this morning and came across your website.  Wonderful!!  On this extremely hard first Mother's Day for me, my day was brightened by the memory of meeting the two of you and of what an inspirational and beautiful love and passion that you share for each other and for the cause.  Thank you and many blessings!  Mary Brady
Note: Below is what we wrote for our "Stories of Connecting Threads," when we first met Mary Brady on May 14, 2005.  You can click here to read other stories on our website. 
Mary Brady, who lives on Lummi Island.  Her dad, Jim Brady, a Lutheran minister and an ally, lives in Pomeroy, Ohio.  She has several gay/lesbian friends.  She has a gay cousin who lives in Philly and just lost his partner to heart disease. Mary definitely has an open and compassionate heart for GLBT!
(L-R) Roby Sapp, Stephanie, Dotti Berry, Mary. Jan is on ground)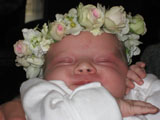 Mary's Baby, Averi Sinclair
Speaking of Lars Clausen, Chapter 3 of his new book, Straight Into Gay America, is available at no cost by clicking here, where you can download it. As well, visit his website Straight Into Gay America, containing lots of new information, plus the cover of the book.  The e-book publication date is June 1.  The paper version is available July 15th.  You can pre-order the e-book and the paper back version.  PFLAG's own Jody Huckaby has written the foreword to the book.  Lars says, "I'm delighted and honored."
Old connections...new connections.
We have been in communication back and forth with Donna & Robin.  You might recall that they were our "neighbors in the hood" at the RV park in LA, and they surprised us by showing up at the PFLAG Long Beach meeting, their first one ever!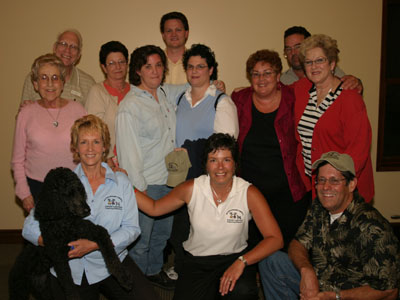 Donna has her arm around Robin (in blue) who has a
"Two Women & a Poodle" cap in her hand
Here's some feedback from Donna & Robin:
Dotti & Roby,

We were so glad for the opportunity to hear you two speak at the Long Beach PGLAG meeting last week. As we mentioned, in our (almost) 10 years together, we had never been to a PFLAG meeting. We thought that since you two would be speaking, what a perfect opportunity to try a meeting!
 
We were inspired by the stories you both shared from your journey to this point. Hearing your talk has sparked many lengthy discussions between us - on many things including religion, equality and your belief in the goodness of Americans. You have also made us think more intensely about being honest with who we are (with others and ourselves) to show others that we are truly good human beings, no less deserving of equality. 
 
One specific point you made was about our community wanting others (politicians, etc.) to put themselves on the line, to get us equality, yet we often don't put ourselves in those same positions. You really made us conscious of the point that we shouldn't ask others to do more than we ourselves are willing to do.
 
One other thing that Robin and I really appreciated was your method of presentation. We were happy that your goal was to present information and share your experiences  in a peaceful manner while at the same time respecting other views. We appreciated that neither of you try to force others to believe or accept your positions. You simply present it,  and the audience can choose to accept what you have to say, or not.
 
Your journey has been amazing, and we are glad we were able to hear you speak about it!!!!  We look forward to following the rest of your journey and maybe hearing you  speak at another PFLAG meeting!!!
 
Donna & Robin
Glendora, CA
We say back to them, "Donna & Robin, we are blessed that you are on the journey with us!  You have chosen to be a part of our journey by beginning to stand up and speak out, making a difference right where you are!  THANK YOU!"

Their response is a big part of how people continue to join us on this journey.  They are becoming Stand UP Speak OUT Wind Changers!

We "limped" back to Washington, having left California for the second time on our trip, heading to Port Angeles, WA, where Dotti is presenting at Esprit and Roby is offering portraits for the gals.
We first noticed some car symptoms as we came through Wyoming, as we headed to Portland for the NW PFLAG conference a couple of weeks ago.  Coming through the Siskiyou mountains from Portland to California, we again noticed loss of power going up hills. 
A change then happened, and we began having overheating issues.  Stops to two different mechanics on Saturday revealed that we have a plugged exhaust.  Our catalytic converter is melted, and we need a new one.  The problem?  The first mechanic couldn't do the work, said we shouldn't drive the car to Washington through the mountains, and sent us to Midas.  The problem?  Midas couldn't get the part in until Tuesday (it was Saturday this last week when we found out), and we had to be at Esprit Conference in Port Angeles on Sunday evening. The Midas mechanic said that we could drive the car if we would "baby" it, and make lots of stops, watching the gauges, so that it would not overheat.  We rarely use the air conditioner.  Two reasons.  One is to save on gas. The other is so that we don't overheat the car.  So, we are in 90+ degree heat, and "glistening" as we say in the South, where Dotti was reared. 
Before leaving, we had a day of relaxation with wonderful friends, Kathryn & Lauren, and James & Heidi.  That we could get all of our schedules together for a day was a miracle in itself!  We toured the wine country of Napa, where Roby and I have never visited.  We enjoyed a picnic at one of the local wineries.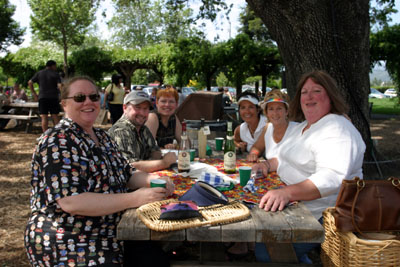 (Left side of table, front to back) Lauren, James & Heidi
(Right side of table, front to back) Kathryn, Dotti & Roby
We just received good news from California after leaving. Antigay activists in California have for the second time this year failed to qualify an initiative banning same-sex marriage for the statewide ballot.  Click here to read.

When we met Donna and Robin recently in California (you read about them in the last newsletter, as well as this one), they had a recent Advocate magazine.  After spending the day talking about religious upbringing…ours and theirs, Donna asked if we would like to read an article.  Dotti first read it and then told Roby about it.  Roby then read it.  It really caught our attention.  The article was Part 2 of a two part series about a young gay man named Nathan Christoffersen.  We wanted to wait until we had Part I before sharing that story.  In the meantime, we came across a piece written about Nathan by Chris Jarvis, who knew Nathan only a short time.  Nonetheless, Nathan had a major impact on Chris.  Click here to read.
Chris discovered what we have discovered as we travel.  You don't have to know a person for a long time to be impacted by them.  Our experiences remind us of that.
 
The two part series in The Advocate is a must read! 
Click here for Part I.  
Click here for Part II.
The Advocate March 28 article begins as follows:

At dawn on December 16, 28-year-old gay activist Nathan Christoffersen died mysteriously on the stoop of his parents' house in rural Madera, Calif. In Nathan's obituary, his family requested donations to an "ex-gay" group; at his funeral, a parade of speakers talked about Nathan's "struggles" and "conflicts" but never mentioned that he was gay.

Molly McKay, one of Nathan's several gay and lesbian friends who attended the funeral, complained, "It felt like people were mourning a life that had been led the wrong way." Nathan's fundamentalist Christian dad, Al, offered a different perspective. "Look," he told The Advocate, "I don't have a problem with gay people. I believe in my heart that God loves everybody." He added, "I'm sorry that people were upset by the funeral. Nobody knows the pain that we feel. We wanted to honor our son for whom we knew him to be."

Al Christoffersen is now exploring new ways to honor his son's life—in all respects. He's talking about helping young gay people overcome stigma. He's hoping to meet with Nathan's gay friends. Al has become part of what some gay religious advocates call "the movable middle": Christians who are somewhere along the bridge to full acceptance.

One of the reasons this article from March 28 interested us was because of the comments which seemed to indicate people, such as Al & Molly, are "thinking" about reaching across to bridge the divide between one another.  

The Advocate article goes on to say,

"Al Christoffersen is not only hoping to speak to McKay and Scott about their upset over the funeral, he seems ready to accept the work that they are doing. 'If they get their agenda done, great,' he says. 'I'm glad.'

Says McKay: "If there's nothing more than you have a common love for a human being, that's where hope lives. It terrifies me to think of picking up the phone and calling Al. But maybe I owe it him. Maybe I owe it to Nathan. We've got to be willing to take that leap of faith and reach out and say, 'I loved Nathan too.' "

What would we like to say to either Al or Molly if they were to read our newsletter? 

"We hope that one of you calls the other sooner, not later.  Since both of you loved Nathan, doesn't that make you want to run, not walk, to embrace one another? As Nathan's death reminds each of us, we never know our time, and sometimes it is much shorter than we, or our friends and family, would have chosen.  We urge one of you to call the other, if you have not done so already, remembering that 'You cannot hate someone whose story you know.'

We feel certain that you both might discover and enjoy some common ground if you were to meet face-to-face. Be a bridge…don't just talk about it.  It is easy to love those who love us.  The real transformative opportunity it to love those who are in fear about who we are.  Reaching out across the divide transforms both persons in the process.  Although being 'first' is an American phenomenon that is not always a positive, this might be one time when it can truly pay off.  As Nike would say, 'Just do it!'  The light in us honors the light in both of you." 

In the Advocate article, Al was quoted as saying, "I might start a thing called the Nathan Foundation," he says. "I'm really sick of the way people treat people because they are different. I know a number of kids who are into the arts, and they are constantly picked on. These kids need to know that it's OK to be who they are." He carefully avoids saying the word "gay" until prompted: Doesn't he mean gay kids? Yes, he says, "probably the biggest share of the people who would come to us would be gay."

Al and Barbara have take one of the most important steps.  They have publicly spoken their intention. We encourage them to move forward. It sounds like a magnificent idea!  Perhaps it will have the impact on their lives that reaching out to the gay community has had on Mary Lou & Bob Wallner, evangelical Christians who lost their lesbian daughter to suicide.  We have talked about them often since they introduced us, and hold a warm spot in our hearts.  Their website tells about their journey, as well as about Mary Lou's book, The Slow Miracle of Transformation, and their non-profit TEACH(To Educate About the Consequences of Homophobia).
It was in that same Advocate issue that we read an update about Rosie & Kelli O'Donnell and their business, R Family Cruises.  Click here for that article.
They, along with their business partner, Gregg Kaminsky, have made a big impact for families of GLBT persons. Thank you!  We have named Rosie and Kelli, along with Gregg, and his partner, Dan as our most recent Stand UP Speak OUT Wind Changer honorees.  We are sending them T-shirts and Caps.  After all, real men wear "two women and a poodle" gear!   After all, real men wear "two women and a poodle" gear!  Click here to purchase yours.  Rainbow wristbands are also available! 
Their recent HBO documentary film, All Aboard! is a touching documentary that brings a host of interesting issues to the fore, including the challenges of queer parenting and the value of acceptance and belonging.

For more on All Aboard! visit: http://www.hbo.com

Since we are talking about the Advocate, click here to read about the Equality Riders!   They were on the cover of The Advocate, May 9, edition.  What an impact these young  people had on people, having just completed their 51 day tour.  For updates on their journey, click here.  The Equality Ride was also mentioned in the March 28, 2006, edition in the article on Nathan. 
Remember us saying that you don't have to know someone a long time for them to have an impact on you.  That is how we feel about Jeannie.  We only spent about 30 minutes together when she  drove up beside us and inquired about our Scotty trailer.  She said,
"Dear Dotti and Roby,
I want you to know how much I truly enjoyed meeting both of you and Rylee in the parking lot of Cocoa's on May 10.  It's amazing how a small question about a travel trailer lead to what I will consider a true friendship. 
I looked into your website and am very impressed with what you two are doing.  You are women of substance, integrity, intelligence and love and are excellent representatives in what you are conveying to all you meet. 
Thank you for taking the time to show me your trailer, but much more than that, thank you for sharing yourselves and your mission of love and acceptance in this life.  I wish you safe travels and much success in your very important endeavors.
Many, many blessings upon you both,
Jeannine "J"
Ps.  I love my bracelet.  It will always be special to me."
Thank you Jeannine.  You will always be special to us! 
It reminds us of a picture at Kathryn's and Lauren's that says,
Friendship is born at the moment one person says to another: "What? You too!  I thought I was the only one."  C.S. Lewis
When we allow ourselves to authentically connect with one another, the words of C.S. Lewis, "What?  You too! I thought I was the only one" can apply to a lot of difference things.
It only takes a small connection to ignite a friendship.
Speaking of friends, Rylee Joy has two new friends we have wanted to share with you.  One is the transgender cat of Jean-Marie Navetta, who is with PFLAG national.   Roxy & Pey (the transgender cat).  Rylee Joy hopes to meet them one day!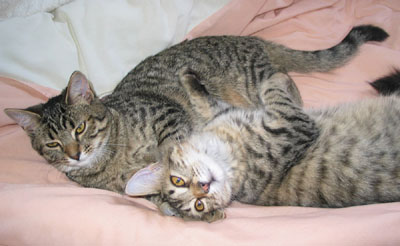 Roxy & Pye (Trans cat with white face)
The other is the new dog of our minister, Rev. Jaine, in Bellingham, WA.  She says, "My little girl's name is Lacy. She's in great health and is becoming better on the leash and with the attitudes every day. I'd say she's an 8 on a level of 1-10 for dog energy and she's a prime candidate for both obedience and agility training…but she's not hyper and she's not a barker. She just wants a job! Her intensity and focus levels are high and she 'herds' me or at least attempts to, but I have made it very clear that I am the alpha in this family!"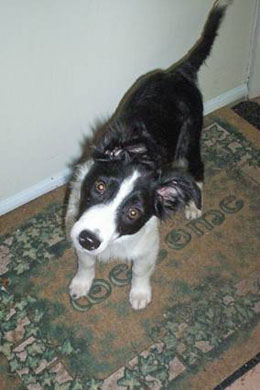 Lacy
After hanging it up for the night at a Travel plaza gas stop for trucks and RV's, "free" like Wal-Mart, we set out once again. 
Roby had not yet had her morning coffee.  We remembered a Starbucks in Ashland, Oregon, one of our favorite towns across the nation.  Before arriving, however, we decided to skip the Starbucks, and settle for plain coffee and breakfast at a local restaurant.
Though only 20,000 live there, many more visit.  Like many tourists, they learned about Ashland from the Shakespeare festival held there each summer.  We stopped and split an omelet at Brother's, a neat local hangout, where we stopped on our way from the PFLAG NW Conference to California this last time.
While in Ashland, we took a walk along a beautiful stream.  We love the sound of a flowing stream.  As we walked along on Mother's Day, we came upon an outdoor art festival.  We have enjoyed seeing beautiful things all over our country, but have not purchased for ourselves along the way. We finally made a purchase.  This sculpture commemorates our journey.  We purchased it for the incredible price of $50.  It is by Dreampool Design by artist Terry Davis (terryddavis46@yahoo.com/541-592-4401). It is called Deep Peace.  The original was in clay and then cast in a latex mold.  It was poured in garden statuary cement.  The finish is Oregon rust surfaced in iron paint with rust compound.  We like finding out the details, so that we could put an engraved plate with the sculpture when we hang it in our home.  Not only the sculpture itself, but the name Deep Peace, represents the essence of our journey.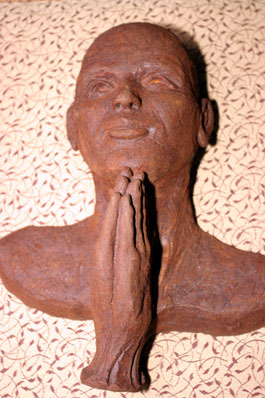 Deep Peace 
Next, we ventured out onto the sidewalks, going inside neat shops every now and then.  Allyson's of Ashland,  a kitchen/food shop caught our eyes.  Little did we know when we entered the store that an incredible connection was about to happen. 
Roby has been inspired by our friend Kathryn, who just finished chef school, and now has a dream of taking cooking lessons.  We love window shopping and then decided to go inside.  We spotted something we had wanted for a long time.  At $9.95, it was just the right price.  It is a travel pepper mill/salt shaker.  It is a welcome addition to our Scotty trailer kitchen!  Reading about all the cooking classes available through this store makes Roby wish we lived closer.
At the checkout counter, the lady who was helping us (we later discovered her name to be Diana) suggested that the propane tank level reader (which Dotti was holding in her hand) was really great to use, and very economical.  She explained how you simply boiled water and poured on this piece you attach to the tank.  It reminded us of how you test your swimming pool, where the color changes.  In this case, after pouring boiling water on it, the color changes when the tank is empty.  That led Roby to say that would be great for home, but not practical for us traveling in the trailer, as we are on a year-long journey.
That led the woman standing behind us to say, "That sounds wonderful.  That told Diana that we speak at colleges, churches, PFLAG meetings, and simply engage with people on the street on a daily basis.  The lady behind us then said, "Churches? I will be you don't get asked to speak at Baptist Churches."  We replied, "Well, we have spoken at Methodist, Presbyterian, UCC and others.  In fact, we spoke at Central Baptist Church in Philadelphia."   She said, "I am sure you don't have time to talk, but you are just the kind of people I need to talk to because I have so many questions."  We moved off to the side, where others could continue to check out.
As Richelle, and her daughter, Brittnee, stood with us, she told how they had moved from Utah about five years ago to attend a large mega church that is evangelical.  She said she was "born again," and attended Bible Study at least four times a week for 3 ½ years.  She said she began to discover that, over that time, she was becoming less loving and more judgmental.  She came to realize that no longer worked for her and has spent the last 1 ½ studying the roots of Christianity, and daring to question her understanding.
During our conversation, Diana, who was also listening to our conversation piped up, saying "I want to wear one of those bracelets, 'WWJD…What would Jesus do? ' "  We talked about the Bible saying "Jude not, lest ye be judged."  Diana said that she comes from a very conservative Christian background with several family members who are gay.  She said her family has learned to say…."Who am  I to judge?"
Before leaving, we told Richelle that we now knew why we had been delayed in our journey.  We were supposed to meet.  We always know something like that is going to happen when we have car issues, and we have to slow down.  Slowing down sometimes allows us to meet those we are supposed to meet!  Delays lead to encounters and experiences with people that are not accidents. If we are unattached to a specific outcome, we can enjoy the process and the journey.
We gave Diane and Richelle rainbow wristbands, which they immediately put on their arm, once again sharing that wearing one is "making a commitment to creating authentic connections, and having deeper conversations….in whatever way that works in your life." 
We continue to encounter amazing, "wrestling" self-identified Christians as on our journey.  As we have said previously, "wrestling" is good.  It means we are moving, shifting, and changing. It means we are ALIVE!  These people are authentic and have genuine questions with which they are wrestling.  They aren't part of the minority who  has dug in their heels to say that transgender, bisexual, lesbian and gay persons are "intrinsically disordered," or "an abomination," or "out to destroy families."  In fact, they are "wrestling" because, they say, something deep within them is churning, telling them that what they have been taught is not right.  This is a good time to say, "Hallelujah!"
If you come from a Christian background, and are "wrestling," click here for resource, a bigger list as it pertains to Christianity and homosexuality, rather the smaller recommended books list.
Another art booth had along the path by the stream has these great designs of women made out of copper, called "Cheap Women," by Sandy Balch out of Fort Klamath, Oregon.  (sanBal5@aol.com  541-980-0404).  This artist was interesting, sharing how she makes them.  They come with a choice of 5 different cards.  One is called "All-timers Gal" and is one of our favorite sayings,
"Life should NOT be a journey to the grave with the intention of arriving safely in an attractive and well preserved body, but rather to skin in sideways, chocolate in one hand, wine in the other, body thoroughly used up, totally worn out and screaming…Damn, what a ride!!!!"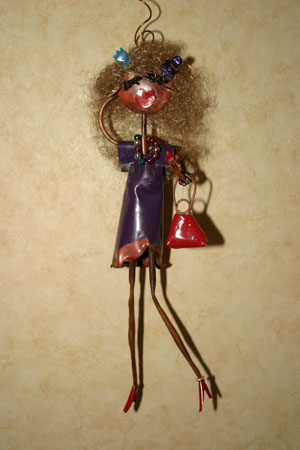 This woman has on a purple dress, rainbow necklace, and rainbow braclet, along with matching red shoes and purse.  She was the "perfect woman" to celebrate our transwoman friend, Judy Osborne, who just moved into a new home.
Why does this "All-Timers Girl" saying appeal to us? Bottom line, it represents living life to the fullest. Our motto is, "Life is an adventure. Enjoy the ride." 

Unfortunately, for many, religion has been about choking the life out of them, leaving them walking around like zombies, disconnected from themselves and others.  Toxic religion has left many less loving toward themselves and others.  Essentially, this is what Richelle shared that happened to her.  She is not alone. This is the feedback we are receiving from many people we meet.  They do NOT want to disconnect from God, or the divine energy.  Just the opposite is true.  Their desire, more than ever, is  to connect with the energy that connects all of us, and they are discovering that it means breaking away from the toxic teachings that some (not all) religious institutions are using to separate us from one another. It is about connecting directly with the life source (God to some, another name to others), as well as connecting with each other.  That life source is within each of us, which is why it feels so great to authentically connect!

True spirituality frees, rather than binds, the human soul, leaving us free to soar.
Click here to read about Stephen Parelli and Jose Ortiz. Stephen was formerly a Baptist minister.  This wonderful couple attended our spiritual wedding on July 31, 2004. This story is about two people who moved beyond living a lie.
You can also click here to "Our Story" from Steve and Jose from their website.

Robert Minor has written extensively about religion as an addition. In his April 17, 2006, E-News Update, he said,

Thank you again for all the great comments on the April 1st column, "If You Permit Big Enough Lies Long Enough...." The February 2005 column, "When Religion is an Addiction," continues to have a life of its own. After Professor Paul Meyers, a biologist and associate professor at the University of Minnesota - Morris, recommended it in mid-March on his blog, Pharyngula, it was picked up on other websites with discussions on dozens of blogs.

The vast majority found the analogy helpful in their lives, particularly for knowing how to deal with addictive religion, while a few didn't like the comparison of right-wing religion to addictions. I'm still writing the book, When Religion Is an Addiction and noticing that how we respond reflects our own personal issues with religion in the past and present and often parallels enablers. The current chapter I'm writing is entitled "When Liberals are Enablers." If you are acquainted with ALANON's work, you'll recognize what I'm writing about. The book really isn't for addicts, after all; it's for those of us who must deal with religious addicts and can easily be their "enablers."

For 20+ years, Dotti has been talking about how our GLBT community has become "enablers," playing victim rather than offering empowerment to our community, as she reminds people that we often ask more of others than we ask of ourselves.  It is a role that many disenfranchised groups play before shedding its cocoon status and moving into butterfly status.  Dotti calls it the "GLBT butterfly syndrome."   It is a necessary step for our community to take in order to be responsible for its own health, growth and evolution.  Dotti spoke about this "enabling" in our closing comments at the PFLAG NW conference.  Dotti and Robert are on the same track.  Robert, in this case, is addressing religion.  Dotti is addressing our own community.  Both groups often recoil at the possibility that we might be enabling in any way our own dysfunction.  Accepting through awareness, however, that this might be true, holds a key for our evolution and transformation, both as individuals and as a group.
We shared with Richelle that we feel she is on the right track, using the questioning process, as she evolves in her spiritual journey.  We are encountering people all over the country (and world) who are doing this.  We feel that, as a human race, we are on the verge of a spiritual breakthrough.  What an exciting time to be alive!
We continued down the sidewalk.  Next, we entered a store called Karen Alexandria Unique Jewelry. Unique is the perfect description for the jewelry.  Check it out!  We discovered that Karen has a gay son.  Since we had given away our rainbow wristbands at the kitchen shop,  we went back to the car, returning with both business cards and rainbow wristbands for Karen and her son.
Dotti:  What a great Mother's Day we had!  We can't think of a better way to celebrate our mothers (if we couldn't be with them) than thanking them for our lives, and celebrating this journey, Gay Into Straight America.  We both called our Moms, and I shared what I just wrote with my Mom.  I told her about all the neat connections we made today in Ashland, Oregon.
We didn't make it to Port Angeles on Sunday night.  With our limping suburban, Roby drove as long as she could.  When she could go no further at 12:30 a.m Monday morning, still 100 miles from Port Angeles, she pulled off an exit to rest for a moment.  There, right before our eyes, was what?  Yes, you guessed it!  A Wal-Mart!  We were so tired we weren't sure if it was a mirage!  We looked again.  It was real and we pulled in for the night.
The next morning, we were glad we had stayed.  We got a good night's rest, and the drive in to Port Angeles was spectacular.  At one point, Rylee Joy began to scratch at Roby.  Since she had already pottied (Rylee, that is), we couldn't figure out what she was saying.  Not fully understanding in the moment, we stopped, trusting the intuition of Rylee Joy.  Later, we recognized Rylee had been urging, "STOP! Don't you understand you are looking at Puget Sound for the first time in 7 months! We're home in Washington!  Get out!  Smell and breathe the air!"  We did.  Before I could get out my door, Roby was standing by my side of the car, with Rylee Joy on her leash, looking at me with tears running down her cheeks.
Roby: I  felt almost a supernatural or spiritual energy, a feeling of familiarity and comfort.  I felt an intense sense of joy, just breathing and smelling the salty air .  It feels such a part of me.  The feel, the smell, the sensation of the wind on my skin spoke as though the earth was saying, "Welcome home, Roby!"  This is the feeling I have had before, going back and visiting my old neighborhood and Copalis Community Church and sitting in the pews, or standing in the yard where I played.  There is still "me" there that connects back to that space, on  a  cellular level.  Dotti said that even the coffee smelled different brewing as she walked in the  Hoodsport Coffee, while I stood outside with Rylee Joy. 
Rylee Joy continues to be a connector.  You ought to see her walking the halls of the Red Lion Hotel in Port Angeles, where Esprit Conference is being held!  She is making friend left and right since she arrived.  Roby is the portrait photographer at Esprit this year.  Rylee patiently posed for her so that she could set the lighting correctly.  Check out Rylee's newest portrait!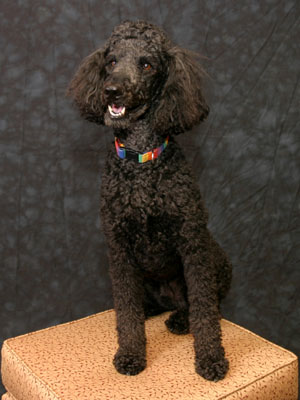 Rylee Joy posing for Mama Rob
Bill Cosby had a special message for Spelman College graduates during commencement this past weekend: Get serious about taking charge and taking risks.
Sounds like what we have been encouraging our GLBT, queer and questioning community to do!  We would like to share some of those comments from Cosby.
 
"It's no time for you to play any more," Cosby told the class of 2006. Cosby urged the class of 500 women to become entrepreneurs and to fix the problems in their communities.
"I want you to spread the word," said Cosby. "It's your time. You can't back away from it."
 
Women college graduates have no choice in the matter, he added. The continuing plight of black men makes it necessary for women of color to take charge, echoing the remarks he has made around the country urging black people to assume more responsibility for fixing the problems that plague their families and communities, The Atlanta Journal-Constitution reports. "Men as young boys are dropping out of high school, but they can memorize lyrics of very difficult rap songs and know how to braid each other's hair," he said.
Let us "borrow" the words of Bill Cosby, rephrasing them for the usefulness of our community to create a great understanding for us, intertwining his words with what we have been consistently saying throughout our journey.
"It's no time for you to play any more," say Dotti Berry & Robynne Sapp (on their year-long journey, Gay Into Straight America), addressing the GLBT, queer, questioning community and allies. "It's our time.  We can't back away from it."  Our community, including allies, has no choice in the matter, they add.  The continuing plight of transgender, intersex, queer, questioning, bisexual, lesbian, and gay persons makes it necessary for our community to assume more responsibility for fixing the problems that plague our families and communities.
We can no longer ask more of others than we ask of ourselves.  We cannot wait for society to catch up in their understanding, for they can best do it through us sharing our authentic selves with them.  That is the best antidote for homo-negative and trans-negative attitudes.  Regarding the movable middle, we know the following holds true 'You can't hate somebody whose story you know.' "
Life is an adventure…enjoy the ride!
From the real and true adventures of two women and a poodle, Changing the world…one person at a time.

The light in us honors the light in you,
Dotti, Roby & Rylee Joy