You can't hate someone whose story you know.
Dare to know the story of those who are different.
"The tiniest story in your life can deeply touch another. You cannot know the effect your story might have."--Sark
Our time at home was suddenly cut short when Dotti received a call on Monday, July 10, that her Uncle John in Kentucky had passed away on July 9.  July 10 would have been Uncle John's 94th birthday.  We immediately began making flight arrangements to attend the funeral on Wednesday.  The problem was that tickets were $1000 per person, an amount that was not in our budget. For both of us, attending the funeral was important because Uncle John and Aunt Dot are the only people in Dotti's family who allowed us to visit on the journey (and were fine with the purple suburban and the signs on the car). We are glad that we spent time with them in February.  Aunt Dot engaged with us about our journey, asking about our rainbow wristbands, as well as inquiring about the people we have met.  This is a picture that Roby took as we stood on the porch just before leaving.  I imagine it is the last picture ever taken of Uncle John. 
(L-R ) Dotti, Aunt Dot, & Uncle John
Dotti: Uncle John was one of the most loving people I have ever known.  I call him the "best thing that has ever happened to our family!"  He was so great for my aunt. They were both widowed when they married 8 years ago on Valentine's Day in Gatlinburg. While Uncle John would have been 94, Aunt Dot is 87. Amazing folks. Obviously, I was named after Aunt Dot (she is my Mom's sister).  Uncle John's adopted daughter, Cheryl Dean, is lesbian.  I wanted to finally have the opportunity to meet her.  We have never been visiting at the same time. As unfortunate as a funeral seems, it sometimes allows people to meet who never have."

Our friend Cindy, who was one of Dotti's best friends in high school and roommate in college, works for Delta.  She quickly allowed us to purchase one of her buddy passes, which allows a person to fly on standby status.  Went sprang into action like chickens with our heads cut off (not a pretty visual, but descriptive none-the-less of how we felt).  We worked on figuring out flights on Monday evening, checking lots of other options, before hearing back from Cindy Tuesday morning that we could purchase a buddy pass. 

Our friends, Janelle and Jessica, who are walking with us on the 1000 Watt Soulforce Walk in Colorado Springs next week, emailed us, saying Janelle's kids, Kendra and Tyler, were not going to be with them this past Sunday.  They said they were wondering about coming up to our area and enjoying the beach and having dinner together.  We wrote them back, and with all the bluntness we could muster, told them that we didn't have time since we had to stay committed to finishing the paint job on our fence.  We gave them one option to change that.  We said, "If you come up and help us paint for a few hours, we can take time out for dinner."  You know you have good friends when they accept your offer! If you want to read something funny, click here on Janelle's blog and read her hysterical take on painting and spending time with us! (:  As Roby told her, I laughed out loud -- it was hilarious to read...and touching, too...thanks for such warm words you wrote about us and spending time together." 

At any rate, without their help, we wouldn't have been so far along with our painting, and we wouldn't have been able to finish the fence on Monday evening, though we did paint in the dark until almost 11 p.m. This allowed us to finish the job before leaving for Uncle John's funeral.   After we officiated (Dotti) and photographed (Roby) the wedding of Rachel and Tammy Reim-Ledbetter on July 4, we thought we would have one week at our home before hitting the road again.  Our goal had been to paint our fence during the driest season in Washington.  When people on the journey have asked if it rains a lot where we live, we always reply "On, yes, 24-7!"  (:  We are protective of our little paradise in the Pacific Northwest. 
Since our entire journey, however, is about demystifying and debunking stereotypes, we are going to come clean.  The truth is that it rains as much in Chicago as it does in our area.  The stereotype that it rains all the time has kept the Pacific Northwest a well-kept secret from many folks who have never traveled here.  Now you know!

Click here for the complete schedule in Colorado Springs with Soulforce, and see when we are walking! And click here if you want to support us in the Walk!  Lars Clausen will be joining us, and signing copies of his new book, Straight Into Gay America.  If you aren't getting his free "page-a-day," click here to visit his website and sign up!
Back to the paint job...Justin, our next door neighbor, agreed to use his spray painter and finish the lattice on one part of the fence in the back.  His wife, Michelle, helped us by going online and securing the rental car so that once we landed in Kentucky, we could drive to Corbin for the funeral. Ryan and Mikaila, the children of Justin and Michelle, promised to pick the berries from our vines in the backyard.  They had been coming over each day since we had been home, and we developed a daily ritual of picking berries together.
On Tuesday, before driving to Seattle to catch the plane, we quickly prepared the Scotty for the last 3 months of our journey.  We left it at the home of Janelle & Jessica, so that we would be able to pick it up on Friday when we returned from the funeral, and begin the journey to Colorado Springs.

On our way to Seattle to catch our flight to Kentucky, Janelle called the EZ Park lot near the airport in Seattle, and secured us a spot.  Our wonderful friends, Cathy and Ronna, prepared a tasty meal of Salmon, allowing us to quickly stop on our way through Bellingham to enjoy dinner and their company.  We shook our heads, almost in disbelief, at how everyone pulled together to help us get on the road.

After all of the above, we sat at the airport, nervously anticipating whether or not we would get a spot on the flight that was to leave at 11:40 p.m. and fly during the night to Cincinnati, where we would then fly to Lexington, Kentucky, before driving the rental car and hour and a half to Corbin, Ky, for Uncle John's funeral.  One flight left five minutes later via Atlanta to Lexington.  Unfortunately, neither flight had a single seat available.  The doors closed and we looked at one another.  We called Janelle and Jessica, telling them we were on our way back to their home.  We had done all we could do to make it possible to attend Uncle John's funeral.  It's a good reminder that sometimes, all we can do is all we can do.  We called Aunt Dot the next morning to let her know we wouldn't be there.  The buddy pass, however, is good for one year and we told her that we would fly out at a later date and spend time with her.  That is when she will probably appreciate the company even more.
Janelle and Jessica were kind to offer us hospitality after we were unable to attend Uncle John's funeral.  Last night (Wednesday), they cooked dinner for us, and we finally got to meet Laurie Cox, who joined us.  Laurie and her partner, Molly, sponsored us on the Soulforce Walk.  We immediately sent them an email saying, "Do we know you?"  We discovered that it was reading what we wrote that made her decide to sponsor us. Click here and you, too, can read what we rode and decide if you want to support us in the Soulforce Walk. 

We didn't know Laurie and Molly then, but at least we have now met Laurie and know her. Unfortunately, with our crazy schedule with missing flights from the east coast and then Uncle John's funeral, and then not getting on that flight because we were stanby, we have had to change our time to meet them on several occasions.  When we were finally able to meet last night, Molly already had other plans.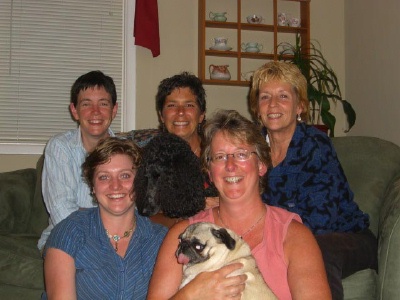 (L-R) Back row: Laurie Cox, Roby, and Dotti
(L-R) Front Row: Jessica, Rylee Joy, Janelle (holding Joey)
Last night after dinner, after discovering that Laurie is a writer, we asked her to share some of it with us.  She went to the computer and into her email account, and pulled up some stories she had just emailed.  Laurie, a member of Bent, a writing institute in Seattle, is an amazing writer, and is currently working on an anthology of stories from people who are ex ex-gay.  Laurie went to Exodus meetings for two years, but decided to live authentically nine years ago.  Email Laurie if you have an "ex ex-gay" story to share with her (or email your friends who might be ex ex-gay).

The Bent Institute was started by Tara Hardy, an amazing writer.  She did a poetry reading at the wedding of Rachel and Tammy.  She also brought her Bent Writing group to the PFLAG NW conference, where we were absolutely blown away!  We have decided that when we return, we are having these amazing performance artists share their poetry and writing at one of our dynamic house concerts.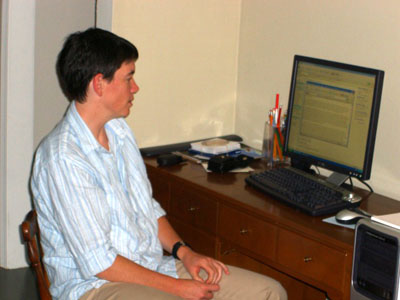 Laurie Cox
After not being able to attend Uncle John's funeral, we planned on leaving for Colorado Springs this morning.  After realizing that if we had returned on Friday, we wouldn't have been able to leave Seattle until Saturday morning, we changed our plans and decided to stay an extra day in order to spend time with Kendra, Janelle's daughter who we have met, and Tyler, her son who we have not met.  They are both coming to dinner tonight.  We feel that her children are part of the "movable middle," who can better understand who we are if they know us, and know the situations which affect our lives.  It is important that they meet and know other gay people besides Janelle and Jessica.

We previously spent an evening with Kendra, and found her to be inquisitive and open minded.  The fact remains, however, that she continues to attend a very conversative church and school, North Shore Christian Academy in Everett, WA.   The school, which is a part of the church, is the one that fired both Janelle and Jessica due to their relationship.  It is one that teaches and preaches against their mother living as her authentic self, and against her committed relationship with Jessica.

Young people like Kendra and Tyler, who come to a new understanding, can have a tremendous influence and help other kids understand.  Just as Janelle and Jessica were products of the toxic spiritual indoctrination of their church background (regarding their sexual orientation and their love for one another), so are Janelle's children.  We welcome this opportunity to spend time together, listening to them and getting to know them better.


Meet one of Rylee's newest friends, Goddess.  Believe it or not, Rylee Joy was that small at one time!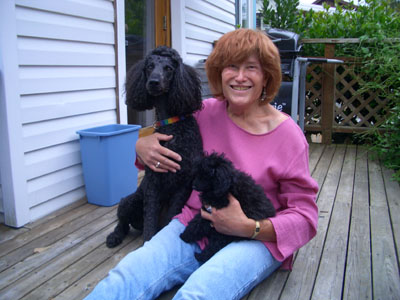 Judy (mother of Goddess) with Rylee
Be sure and read to the end of the newsletter for more pictures, as well as a picture of another new friend of Rylee's, Putter, a male golden doodle, who is cross-dressing at a young age.  We love that everyone is feeling more free to be who they are!
Here's Roby with Joey, a friend that Rylee Joy (and we) finally met in June when we first met Janelle & Jessica!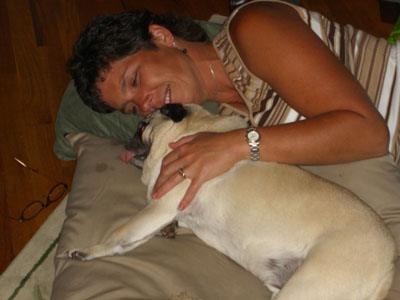 Roby & Joey (Janelle's and Jessica's dog)
Following is an update on the situation where the Skagit Valley Herald refused to publish the announcement of the wedding of Rachel and Tammy Reim-Ledbetter, but allowed them to purchase a $222 ad.  The ad is nothing short of spectacular! Click here to see it! 

If you recall, Ken Schram of KOMO News (Channel 4) awarded them a "Schrammie" for their discriminatory policy.  The Skagit Valley Herald, not happy with that, then had Don Nelson write an editorial, titled "What KOMO didn't tell you about our policy."  Click here to read that. 

Kathy Reim, a couple of days after the wedding, finally had the opportunity to spend an hour with Stedem Wood, the publisher of the Herald, relaying that they had a good conversation.  She felt very encouraged. 

Kathy wrote, "Please note the paper has invited people to write letters so those of you so inclined may want to sharpen your pencils. Local writers will be given preference. Some of us are writing letters to the editor.  His strongest defense is that the current policy reflects tradition."  So, Dotti decided to write her letter. 
Your recent editorial, in response to receiving a "Schramie," spoke about ethics; however,  I find it questionable to accept $222  for an ad celebrating the wedding of two beautiful and committed women, while denying them a free write-up in the wedding announcement section of your newspaper.  Either way, your readers see the same information.  Based on your explanation about not printing such announcements because "state law does not acknowledge same-sex marriages,"  you would have also found it unacceptable to accept money for such "illegal" activity. To say that you would "contemplate changing" the policy, if the state's definition of marriage changes, says that it is not an issue of legality.  Otherwise, you would have said, "We WILL change the policy if the state's definition of marriage changes." 

Marriage is a two part system.  One part is the civil license, extending over 1200 legal rights and protections.  One part is the spiritual marriage, which the government cannot deny to people.  Regardless of which part a person has, it is still a marriage.  To the majority of people who enter into marriage, the spiritual marriage is the most important part.   This is why hundreds often show up for it, while only two people usually show up to obtain the civil license. The ceremony of Rachel and Tammy Reim-Ledbetter was a wedding celebrating their marriage, not a "commitment ceremony."  I should know.  I officiated it.  As an ordained minister, your inconsistent application of ethics concerns me more than two women marrying.

When discrimination is pointed out,  ethical people do not first defend their actions.  They approach the situation with humility, inquiry, and a commitment to determining whether or not that might be true.  To me, there appears to be a gap between your words and your actions.  Call me. Let's bridge the divide."
We are also going to send the folks at the Skagit Valley Herald some Diversity Beans.  With one tasty bite, you can have people thinking and talking about diversity and its impact.  As well, we are going to propose that we offer corporate diversity training, also sharing our journey, Gay Into Straight America.    We believe that an event, through an invitation from the Skagit Valley Herlad and sponsored by various media groups inviting the public, would be a great way to bridge the divide in this situation.

Let's face it.  Diversity issues crop up every day.  Evidence is the situation that happened with the Skagit Valley Herald.  Indeed, the newspapers are full of stories and diversity continues to be a hot topic. Our society's diversity problems won't be solved in a day, but we can help any of you increase your effectiveness with others through a simple Diversity Bean™.  They're fun, they're cost effective, they're thought provoking, and the  options are limitless. The more you explore this product, the more uses you'll find for it.

Wherever Diversity Beans™ are, discussion is sure to follow. Don't miss your opportunity by clicking here and finding out how you can order!

Kathy included in her note that she, like we, do not feel that Ken Schram's approach is the most effective or in any way reflects the approach she would have preferred. 

She also shared that she and Robert saw the movie, "Water," a few days after the wedding.  She said, "It is an Indian film that depicts the treatment of widows in that country for thousands of years based on tradition. It is interesting that when another culture's cruelty is held up for scrutiny, we can see the insanity of that argument."
Stedem Wood's defense that their current policy reflects tradition is, in our opinion, a poor reason for continuing the policy at the Skagit Valley Herald.  If tradition were relied on throughout history for continuing a status quo situation, slavery would still exist, women would not be allowed to vote, and interracial marriage would be illegal.  As it stands, gay and lesbian couples are being denied not only marriage equality, but the right to celebrate their marriages in the free announcement section of newspapers across the country.
 
Kathy Reim also shared that they are getting congratulations from people all over the country.  So thanks to each of you who sent Kathy and Robert a note.  It's not too late!  Email Kathy and Robert Reim.  I am sure that it would mean the world to them. 
In fact, email Rachel and Tammy your congratulations as well!  After all, they are the newly married couple!  
Let Kathy, Robert, Rachel and Tammy each know how much you appreciate their willingness to have these deeper conversations, as well as taking the time to stand up and speak out.  Invariably, when people do this, they do not find that it "takes energy."  They make the amazing discovery that these actions "give energy," leaving people feeling more empowered in their lives.  Yes, they are modeling for all of us how to Become a Stand UP Speak Out Wind Changer!  As you know, they were our most recent honorees.

Washington, like other states, is more represented by a collection of small towns, though we are known for Seattle, Olympia, Tacoma, and Spokane.  Every small town has a newspaper and sometimes people sometimes confuse the newspapers.  That situation happened recently when some people contacted the Herald, serving Snohomish County, in Everett, WA, confusing them with them with Skagit Valley Herald.  Several individuals were upset with the wrong paper.  Here is a great article written by one of their reporters, Julie Muhlstein, reminding people that the Herald in Everett, Washington,  changed their policy in 1990 and that it was, and still is, the right policy.  Click here to read. 
WHY is this discussion important? This situation, as sometimes heart wrenching and time consuming as it has been for Kathy and Robert, as well as for Rachel and Tammy, has offered some opportunities.  It has given them the choice of choosing an empowered path, versus being a victim.  It has also created conversations about our lives in their community, as well as throughout the state and beyond.  This is extremely important!
 
Kathy says, "We will not be invisible."  The piece she has written be in  the Voices of the Valley Article in the Skagit Valley Herald on Saturday, July 15.  Click here to read that.
She says that the Skagit Valley Herald has invited their community to engage in a discussion of this issue and she invites people to go on-line if they are interested in seeing how it plays out.  Click on their website to voice your opinion after you read about this on Saturday, July 15! 
Matt Foreman, Executive Director of the National Gay and Lesbian Task Force, also points out why this is important, and how it can affect the everyday decisions that are now being made about our lives. 
"The reality is that most of us have never had a serious conversation about our lives with straight people close to us. (Case in point: I've been out to my parents for 26 years but I didn't ask them to actually do something — like write a legislator — until three years ago.)  People are astonished to find out that anti-gay discrimination is still legal in 33 states. They don't believe you can be denied hospital visitation or control over the remains of someone you've been with for 50 years."

Click here for Matt's complete commentary. 
Folks, this is as simple as we can say it.  We must embrace speaking about our lives each and every day, to people who are closest to us, as well as to complete strangers.  The question we GLBTA (yes, allies too), queer, and questioning people must be willing to ask ourselves is "What is stopping me?" Gaining awareness by asking that question is important, as it allows us to gives consciousness to our fears in order to consciously move past them.  
As most of you are probably aware, setbacks in two states recently occurred as top courts rule against gay marriage in New York and Georgia.  If you missed that, click here to read.
This is particularly painful for Dotti, as her family is part of that 75%  of Georgians who two years ago voted against allowing anything other than "one man and one woman" to be legally married in Georgia. 

Evan Wolfson, Executive Director, Freedom to Marry, reminds us, "The silver lining to the New York State high court's poorly argued ruling in favor of marriage discrimination is, well, that it's poorly argued. If we make our case for marriage equality directly to our fellow Americans, we'll win!"
Friends, again, that is why we are appealing to everyone in our transgender, bisexual, lesbian, gay, queer, questioning and ally community to start TODAY, committing to having more authentic and deeper conversations with those who are closest to you.  Please do not assume that they understand how the laws affect us.
What can you do?

We encourage you to refrain from using the term same-sex marriage or same gender marriage.  Referring to marriage equality for all people inclusive of gay and lesbian couples is critical.  Talking about the sanctity of marriage is also essential.  You can choose to have conversations that you have previously been too afraid to have with those who are closest to you.  Don't delay having those one minute longer!  Have them NOW!
In our newsletter around July 4, we shared the following:
With July 4th coming up next week, why not do something different?  Here's an idea.  Rather than participating in the traditional get together and party celebration, put some true meaning into Independence Day.  You can now have your own Stand UP and Speak OUT event.  Click here.  Time is short for planning, but if you make a commitment to engaging people in a conversation about the true meaning of Independence Day, that is a great start!  You could also commit to hosting a Stand UP Speak OUT event in your area during July, as your deeper commitment to Independence Day.
One person replied,
I never see or hear about events such as this. Are they here in Bellingham? I will do anything to help get marriage rights passed and the right to have my family the same as any other family. I love standing up and speaking out.
Mick
Mick, we want to remind you and others that these Stand UP Speak OUT events are happening through OUR encouragement, but this is YOUR opportunity.  It is up to each of you to put events together in your area.  Why not consider having one?  Whatever topic you choose is up to you.  Marriage equality and checking out the newspapers in your area to determine whether or not their free announcement section allows same gender couples' announcements is one idea.  So, Click here and go for it!  Gather people and discover ways to reach out and have those deeper and more authentic conversations!
Dotti recently had one person send an email about President Bush that offered some factual information; however, the tone was a negative one.  We find that people when people use this tactic,  it often takes them off task and off target.  As well, it disconnects them from discovering potential ways to utilize their energy for creating REAL change.
Dotti wrote back to the gentleman.  He responded, offering an explanation for sending the piece.  She  wrote back saying,
"I agree with you explanation.  I also believe that your target of equality and justice is a good one, but that your focus was skewed by the piece on Bush.  You just now articulated what, in my humble BS opinion, is a better focus, and what YOU just wrote would have been much more powerful.  Share THAT with your list.  (:  And keep up the good work!

I believe that the piece on Bush is one that people happily end up passing around to people, while it doesn't change anything.  It makes them laugh at Bush and refer to him as an idiot, but where's the love that connects us all?  Does it create a better understanding between all of us and empower our society when we skewer others?  I don't think so.  I believe that it distracts us from the understanding that the majority of those (GLBTA) who hate Bush remain silent in their own lives and contribute to much of what we complain about Bush.  The only difference is that we don't look at our silence as being just as detrimental as what Bush is doing.  The fact is that only 7% of us are out in all situations.  Looking at that, I know who has the power to create change, with or without Bush.  And I know that if we begin to hold ourselves and our own community of GLBTA as accountable as we hold Bush and others, we will have a better focus and hit the target! The power others have to trigger us and pull us off focus is huge.  I am merely suggesting that we not contribute to it.  Namaste, Dotti"
Ben of Ben and Jerry's ice cream is talking sense! He has developed the most simple visual for understanding the impact of our government spending, and how it can shift.  Click here to see this amazing website and what you can do!

Rylee has several new friends!  Remember Karma, whose picture we shared in a recent newsletter as one of Rylee's new friends?  Laura and Linda had planned to bring this precious little white golden doodle home at the end of June.  They already had Effie. When they went to pick up Karma, however, she just didn't bond with them.  A little male golden doodle did!  Thus, Karma stayed, and Putter went home with them.   When we heard they were going to have a little girl, we bought an outfit fitting for a queen! Here it is on Putter.    We are glad Putter feels comfortable enough with himself to wear his new dress!  Why should he wait until later in life to cross-dress?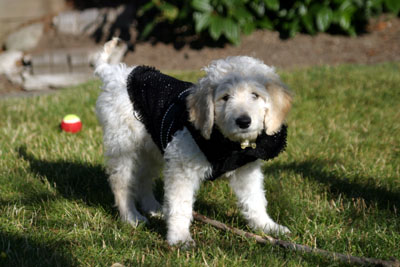 Putter in his black dress with rhinestones!

Putter, you are adorable!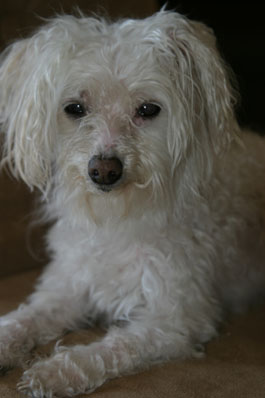 Effie is Putter's sister
Another new friend of Rylee Joy's (that we mentioned earlier in this newsletter) is Goddess.  She is a 14 week old toy black poodle. Rylee got to play with her yesterday in Seattle.  Her mother is our friend, Judy.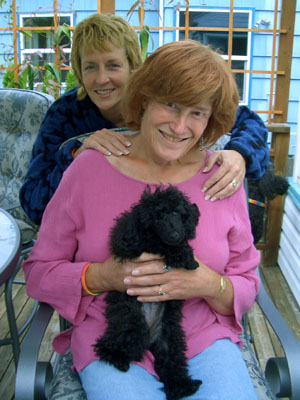 Dotti with Judy and Goddess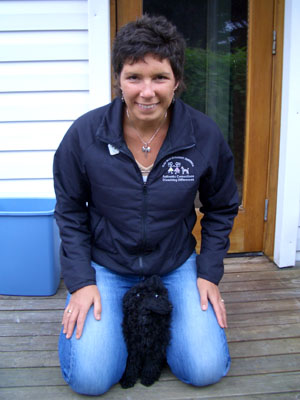 Roby & Goddess
Life is an adventure…enjoy the ride!

From the real and true adventures of two women and a poodle,
Changing the world…one person at a time.

The light in us honors the light in you,
Dotti, Roby & Rylee Joy