You can't hate someone whose story you know.
Dare to know the story of those who are different.
"The tiniest story in your life can deeply touch another.
You cannot know the effect your story might have."--Sark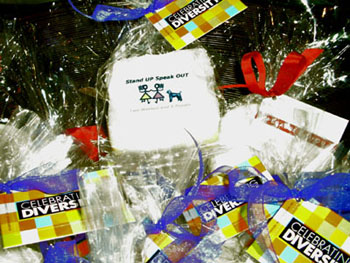 We now have our own logoed cookie from Angel Whispers Cookies
Order ones with your corporate logo!
Indeed, the times are interesting as we approach November elections. We can feel confused, frustrated, and stressed about the potential outcome. Yet nothing helps aleviate that more than simply going within, and choosing to outwardly live in authentic ways on a daily basis.  It not only affects us personally, it can create a shift for another person by truly knowing you, and impact the way they vote.  One opportunity at a time!  Try it...there is a calming effect to the process.


In this newsletter Update:
Dotti presents at Fantasia Fair, a transgender conference in Provincetown, MA. and we take in the last couple of days of Women's Week
Dotti's podcast interview with Corporate Diversity trainer, Brian McNaught
Speaking engagement in Cincinnati, Ohio
As the world turns...visiting with family in Corbin, Kentucky
Relaxing for a day in Knoxville, TN
Bob Minor continues to "get" the minor details
Home to the Pacific Northwest...a couples workshop...our gift to ourselves, and speaking on a panel at the Religious Equality Collougies and visiting with our friend, Rev. Dr. Lisa Davison, who also spoke
Reposting of podcast from the road with Lars Clausen...unknown errors discovered...has been reposted...click below
*************************************************************
The first leg after the official end of year long journey, Gay Into Straight America, begins with Dotti presenting at Fantasia Fair in Provincetown, MA
After only a week at home after the official end of our year long journey, Gay Into Straight America, we hit the road again.  Well, not really.  We hit the "friendly skies," via Delta, headed for Provincetown, MA, and then to Cincinnati, Ohio and Corbin, KY, and Knoxville, TN.
Flying standby, we made the first leg to Salt Lake City before not getting on the first flight to Boston.  We spent most of the day in the airport, before flying out that evening.  Our friend, Tracey, graciously set up a hotel room in Boston for us, before we drove to Provincetown, MA. 
On the flight into Boston, the guy who sat next to Dotti turned out to be the chief of police in LaGrange, Georgia, only 20 minutes from Franklin, where Dotti's parents own land on the lake (her Dad is deceased, but her mom still owns it).  As sometimes happens on long flights, the conversation didn't begin until descent into Boston.   Before we landed, he shared that his mother's sister, Polly, was with her partner, Laura, for 50 years.  Laura died n 1996. Polly lived to be 102.  Family values?  We think those are good ones.
He spoke of another relative who called to ask if she could bring her "friend."  They said, of course.  He said he felt sad that she felt she had to ask, but that she probably did because her parents don't accept her as lesbian.
 
Our first night in P-town was spent with Elizabeth and Amy Eylerpallitier, our friends from just east of Boston.  Elizabeth worked with Roby some years back on some clinical research studies, when Roby was at Bellingham Asthma & Allergy.  We hadn't seen each other in years, so it was a delight to spend some time together!  Elizabeth and Amy were married in Hawaii a couple of years ago, and most recently, had the privilege of marrying legally in Massachusetts!   We did an interview/conversation with them in P-town, and we'd like to share that podcast from the road with you in the near future…So come back!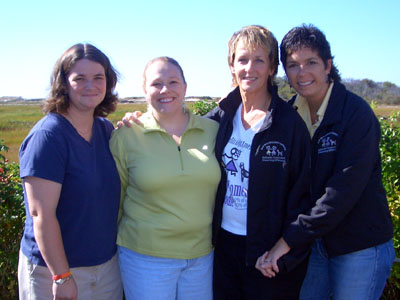 (L-R) Amy, Elizabeth, Dotti & Roby
We stayed overnight with Joann and John, PFLAG parents in Orleans, MA, just outside of P-town.  PFLAG folks are always so welcoming.  We love you!
We enjoyed two days of Women's Week, heard our dear friend, Lucie Blue Tremblay twice, spending time with her and Pat.  It has been the first chance we have had to catch up with one another since Lucie sang at our kick-off concert for our journey.
We were glad to again see our friend, Dr. Carolyn Anderson, who teaches at Mount Royal College in Canada.  She has a new children's book out.  We will send the link in our next newsletter.
At Lucie's concert on the first night, two women motioned to us as we proceeded down the center aisle at the intermission.  They had just been on our website that day, and were from Cincinnati.  Our friends, Mary and Teresa, had told them that we would be in P-town and to look for us.  They introduced themselves as Linda and Bonnie, and said they would be at our speaking engagement in Cincinati the following Friday evening.  Small world, huh?
We also attended a one-woman show by Sara Moore called "Show-Ho."  We met her when she was with a group of people at a table next to us at dinner one evening.  Hearing them mention the upcoming transgender conference, Fantasia Fair, Dotti invited them to attend the public events.  That led to conversation about our journey, and giving rainbow wristbands to the entire table.  Two great guys at the table were Thom Jones (ok, so it wasn't the singer...notice the different spelling, but he was just as good looking!) and his partner, Kevin Garbarini, Rhode Island.
Sara formerly toured as a clown with Ringling Bros. Circus for about sixteen years.  She is a talented actress, filmmaker and performance artist.  In this show, Sara tells the story of life in the circus, and being from "the island of misfit toys."  What's so remarkable about Sara is that she plays each character, using different voices, accents, facial expressions and contortions, and she does this all by memory for a full hour!  Look for Sara, or contact us if you are interested in having her come to your town for a show!  We are going to bring her to the Pacific Northwest in 2007.
Roby: From Sunday to Wednesday, we enjoyed being a part of Fantasia Fair, the oldest transgender conference in the US.  Dotti works with the significant others of the transgender, and couples.  This year she also gave a keynote, which was brilliant.  We enjoyed spending time with dear friends who we usually only get to see once a year.  We had the opportunity to do a podcast interview with Kathryn and Lauren Bode.  We visited with them in San Francisco on our journey.  They are a remarkable couple, with Kathryn having transitioned when she made a career change a couple of years ago.  They have been married for 17 years, and offer great insights on what it means for a couple who navigate gender variance.
*************************************************************
Dotti's podcast interview iwth Brian McNaught
Dotti:  Before leaving Provincetown, MA, I had the privilege and honor of interviewing Brian McNaught, called the "Godfather of Gay Sensitivity Training" by the New York Times.  As part of our Stand UP Speak OUT "Great American Roadcast" series, this podcast offers insight from a person who has been in the field of diversity training for over 30 years.  I was fortunate to have studied with Brian in 1999 at the Thornfield Sexuality Workshop, participating in a special track, "Gay Issues in the Work Place."
Brian is not only a great trainer, but a great personal communicator as well.  His essence surrounds you like a cuddly teddy bear, as he bears witness to your presence in a room.  Don't miss the podcast (click on link to left). Not only will you discover how Brian was drawn into the field through his own "outing" process, but his insights on the impact of Corporate America on society are noteworthy. (If this podcast does not show up on the link, check back...our libsyn service is having a little trouble with the posting).
(L-R) Dotti & Brian
He and his partner, Ray, have been together for 30 years.  We asked them their secret.  They replied, "Communication!" Ray jokingly added, "And he obeys me."  That brought a chuckle from Brian.  They are one couple who serve as a model and inspiration for me.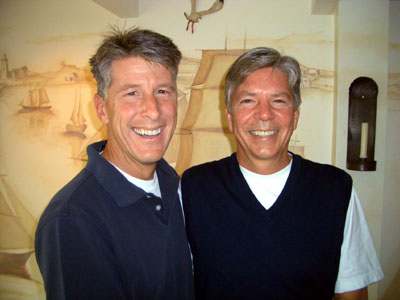 (L-R) Ray & Brian
While visiting Brian and Ray at their home, Brian asked us to sign a Lily Tomlin poster from one of her shows. He has had numerous people, who he feels have made a difference for gay, lesbian, bisexual, and transgender persons, sign it.  We were honored to have been asked and added our names at the top of the poster.
*************************************************************
Speaking in Cincinnati, Ohio
After Fantasia Fair, we flew to Cincinnati, Ohio on October 18.  Our good friends, Mary & Teresa picked us up at the airport holding a sign that said, "Two Women, No Poodle!"  It was Mary's birthday, so we went out to celebrate with sushi.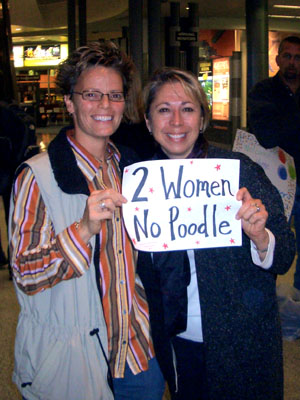 (L-R) Mary & Teresa, owners of Angel Whispers Cookies
We enjoyed a lively crowd at The Union Station in downtown Cincinnati on Friday night, Oct. 20, where we gave our "Gay Into Straight America" presentation, sponsored by Janet Hill and WomenOutFront.com.  Not only were Teresa and Mary our fabulous hostesses, but their wonderful business, Angel Whispers Cookies, made custom cookies with our logo, offering them to people who purchased one of our T-shirts.

Before leaving town, we planned for a future workshop on "Creating Authentic Lives & Empowering Relationship."  The comments from people who attended our speaking engagement were encouraging.  Person after person came up to us, personally thanking us and sharing some bit of information on how our talk impacted their lives and inspired them.  We received this note from Teresa and Mary:
Dearest Dotti and Roby,

Well, finally we make a point not to let another day pass without getting a BIG THANK YOU out to you two gals for the lovely weekend we shared.  That you spread yourselves wide-open, not only to us, but also to so many, everywhere, and almost everyday, makes us feel gifted.  

What can we say?  You two are a spark, a bright light, in this sometimes dark world we live in.  And DID YOU EVER ignite the senses around here!  We have heard from several guests from Friday night about their appreciation and praise for what you do and shared while here!  Even more, that this has spawned some kind of connection in multiple ways for Janet at Women Out Front like never before, makes you two, once again, catalysts in pure form!!  It seemed to open up dialogue, and people came out of the woodwork to express their opinions, offering to share in the load, and help bring you two back in bigger and better ways.
 
Keep on CREATING, CULTIVATNG & CELEBRATING !
 
With Love and Respect,
 
Teresa & Mary
*************************************************************
As the world turns...our time with family in Corbin, Kentucky
From Cincinnati, we headed south to Corbin Kentucky.  Mary and Teresa drove us to Lexington, where Dotti's Uncle Bill and Mother picked us up.  We decided to spend a few days with her Aunt Dot and invited her Mom, Marilu Johnson, up from Atlanta to join us.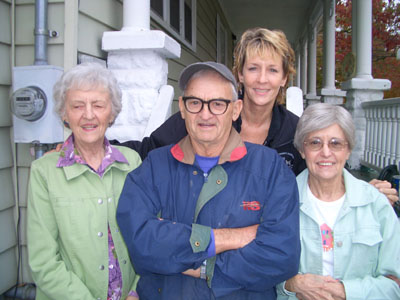 (L-R) Marilu (Dotti's Mother) Dotti, Aunt Dot, & Uncle Bill in front
We enjoyed several days with family, visiting and driving throughout the countryside looking at the stunning fall leaves throughout Kentucky.
You may recall that Dot's husband, Dotti's Uncle John, passed away in June.  We were unable to afford the flights, opting for a buddy pass from Dotti's good friend from high school and college, Cindy Hall.  Unfortunately, being on standby status was a risk we took, and there were no seats available.  We told Aunt Dot we would visit later, and our visit to the east coast provided the opportunity, allowing us to celebrate her 88th birthday that was coming up on October 29.  We showered her with yellow roses, a specially cooked meal, and a card about being a red hat lady.  Yes, she recently joined the Red Hat group in Corbin. 
Visiting the Kroger to buy groceries for the birthday meal, we were reminded how the journey continues.  Becky, the grocery clerk, asked us about our logo on our jackets.  She was excited to learn that we had recently completed our year long journey, and what it entailed.  The following day when we were there again, she called greetings to us.  We got in her line to check out and talked again.  We asked her our main question, "Do you know a bisexual, transgender, gay or lesbian person?"  She immediately replied, "Lots of my friends are gay."  We gasped!  We are even in Corbin, Kentucky…we are everywhere! (:  We told her we were in town to visit Uncle Bill and Aunt Dot.
While in Corbin, we shared pictures of our journey with Aunt Dot and Dotti's mother, explaining the "who, where, when" of each one.  Aunt Dot asks questions about our life, engaging us in conversation, and celebrating us.  We thanked her for that. 
Dotti: Mom being there to witness Aunt Dot's interest in our lives felt good.  Perhaps Aunt Dot's celebration of us will serve as a bridge for her to someday celebrate us as well.  My aunt was the only family member who allowed us to visit while on our journey.  Click here if you missed that newsletter in February.  The picture below was the last one taken of my Uncle John, who died in June. 
(L-R) Dotti, Aunt Dot & Uncle John
The night before we left Corbin, I read the July 13 newsletter where we talked about Uncle John's death and the impact his loving ways had on our family.  Click here if you missed that newsletter in July.  I then read all the wonderful email comments we received from some of you regarding his death.  We could tell Aunt Dot was truly touched by the comments, and my Mother also heard them as she sat in a nearby chair.
You may remember that my Mother (Marilu Johnson) would not allow us to stay at Christmas unless we took the signs off our vehicle.  If you missed that, you can click here to read that newsletter, and see what happened. When we were back in Atlanta in February to speak at Georgia Tech, we flew from Washington D.C., and thus were not in our purple suburban with signs.  If you missed that newsletter with us visiting my Mother, click here to see how the world continued to turn.  Before flying back to DC, we rode MARTA over to East Point, to her.  We hadn't seen her since December 19th, when we left when she said that we could stay only if we removed the signs on our car.  I have continued calling her each week.  We are committed to staying in our families lives because we may be their last opportunity to grow and move to a new understanding.  We went to Corbin to share the gift that we are, and experience the gift that they are to us.
While in Corbin, we also convinced these two sisters, my Aunt Dot and my Mother, Marilu, to sit and talk about their lives growing up together, their marriages, and what legacy they hope to leave behind.  They insisted that their words not be shared with anyone but family.  Darn…what a great podcast that would have been! (: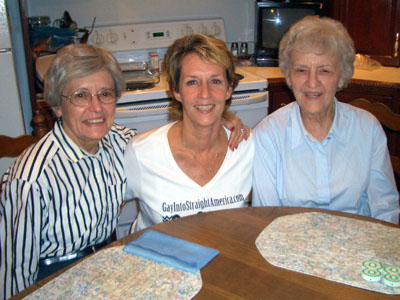 (L-R) Aunt Dot, Dotti & Marilu (Dotti's Mother)
Roby:
Seriously, Dotti had the foresight to record a conversation with her Grandmother before she died, and she loves being able to play that tape anytime, and hear her Grandmother's voice.  Having that recording allowed her introduce her Grandmother Woods, who died in 1991 at the age of 94, to me.  Without that tape, Dotti would simply be describing her Grandmother.  I have had the privilege of experiencing Dotti's Grandmother through hearing her voice and her own words about her life.
Dotti also did the interview in written form, and made copies of that and the tape for her family for Christmas that year.  There is something special about capturing another's voice for all time.  As we sat around the kitchen table, laughing and sharing stories, it was authentic connection time for us with Aunt Dot and Marilu.  We are going to do the same with my parents. We highly recommend that you consider doing this with your family.  It is a gift that folks will never forget and one that keeps on giving every time you listen.
The night before we left Corbin, we received word of the historical decision by New Jersey's courts.  They "get it" about marriage equality inclusive of lesbians and gay.  The words of New Jersey PFLAG Mom, Melinda Waldo, summarized the importance of the decision for family values in the following statement released by PFLAG National.
"As the mother of a gay son and a resident of New Jersey, I am deeply gratified by this decision to end discrimination in the rights and benefits of marriage against same-sex couples issued today in my home state.

This wise and compassionate decision by the Supreme Court of New Jersey removes a weight from families like mine which include a gay or lesbian loved one. Since our son came out to us in 1991, we have become more aware of the lack of protection for gay people in our society and the more we learned, the more our concern for our son grew. We came to realize that he and his partner need the support and affirmation of marriage as much as our three married daughters.

As someone who has been married for 46 years, the mother of four children and the grandmother of five, I wholeheartedly believe in family values. Marriage equality for gay and lesbian couples greatly benefits all of us who want to strengthen families and protect our children.

Beyond the important protections which marriage confers - hospital visitation, health coverage, pension benefits, survivor's rights, just to name of few responsibilities of marriage - this decision recognizes the right of gay people to marry the person of their choice. Implicit in this ruling is the respect for the relationships of committed, loving gay couples that they deserve. This is what I and all parents want for our children. Equal rights. No more, no less. And now we look to the state legislature to affirm our right to total equality."
*************************************************************
Relaxing in Knoxville, TN
Before heading home to the west coast on Friday, October 27, we relaxed in the home of our friends Cathy & Kelly Lloyd, overlooking a beautiful lake, in Knoxville, TN.  (Dotti and Cathy were sorority sisters in college). We had visited with them about six months into our journey.  Unfortunately, we keep showing up when the boat and jet ski are put away...last time it was winter, and this time, it is fall.  We've got to time that visit better next time!  (: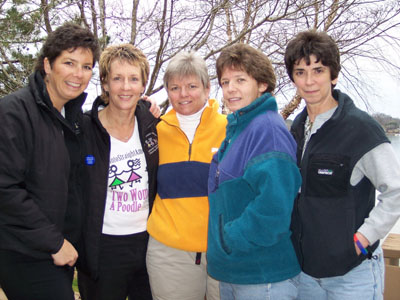 (L-R) Roby, Dotti, Cathy, Kelly & Cammi (when we visited previously)
*************************************************************
Bob Minor continues to "get" the minor details...
Click here to read his astute insights in his recent newsletter, "Sex, Power and Betrayal of 'Culture War' Profiteers." His understanding how this is truly a deeper issue of power and manipulation is on target.  He says, "It's about power that's both predatory and profitable, and about acting it out in sexual harassment. It's about the power a person can exercise in sexual ways over those below them, a power adults (even parents) have over children."
Whether the following is true remains to be seen, but at this point, the facts are that prominent evangelical leader Rev. Ted Haggard, temporarily stepped down from his pulpit while the allegation that he had a three-year relationship with a prostitute is investigated.
Haggard, the founder and senior leader of the 14,000-member New Life Church in Colorado Springs and president of the multimillion-member National Association of Evangelicals, denied the accusations raised by the prostitute on Wednesday.
Nori Rost, who runs an organization called Just Spirit, a gay and lesbian activist agency and religious-right watchdog, gave insightful comments. "The time is interesting. I would say that probably the male escort and Ted Haggard are the only ones who know the truth of what happened."
The scandal involving Haggard comes in the wake of the evangelical leader renouncing the documentary Jesus Camp, claiming it misrepresents Evangelicalism. The film contains anti-gay remarks made by Haggard during a sermon.
If the accusations prove true, we have to consider the deeper issues in our society brought up by what has transpired with Ted Haggard. These deeper issues of "not living authentically" are borne out with this chain of events.  Living authentically was the essence of our just completed year-long journey, Gay Into Straight America, and continues to be the essence of our lives in a deeper and divine way.

If these accusations are true, we feel sad for him, and all those who have been impacted. His particular situation emphasizes the deeper problem in our society of denying parts of ourself that are not bad or shameful, but that have been taught to be so by some religious teachings. Rather than being empowered with living authentically, an essential component of being human and characteristic of all major faiths, we sometimes submerge our true selves (to please others and be who/what they want us to be). Then, we find ourselves speaking one way and behaving another, exposing ourselves by flying the red flag of one who "protests too loudly" in order to navigate away from truth. Our past history reminds us that there is a "Ted Haggard" in each of us. 
Moving past the negative energy of judgment, we might look deeper to determine how our own past denials (about anything) might have contributed to the environment in our society where people such as Jim West (former mayor of Spokane who has since died), Jim McGreevey (fromer NJ governor who resigned), Mark Foley (who resigned from Congress), and Ted Haggard, were impacted by the climate we have all been a part of building each time we move further away from living as our authentic selves. How we do help those who have been impacted (on all sides), and help them to begin to heal and live authentic lives such as Jim McGreevey is now doing? True, he, like the others was "forced out," but should that be held against them? Unfortunately, the cost of internal homonegativity, still perpetuated in many ways in society, takes an inner toil against the spirit.
We might consider seeking a compassionate and forgiving stance (while still holding a person to accountability), rather than a judging stance, asking ourselves: "Have I ever had my words and actions not match?" And, "What was beneath the submersion of my authentic self?" The stuffing of our authentic self and not "speaking our truth" often leads to withdrawal of emotions, leading to numbing of self. This, in turn, often leads to inappropriate choices under the circumstances in order to feel relevant in our being. The cover-up and deception then has its own cost and consequences.
We encourage each of us to endeavor to lift up, not tear down, one another.
Click here to read the entire story.
Dotti:  Just after I wrote the above, but before sending out this newsletter, there was an Advocate update article about Ted Haggard, where the acting minister of New Life Church said that Ted admitted to some "indiscretion."  Click here to read. 
As well, following are links to the upfolding story.
Link | Video of Haggard speaking to Channel 9 in Denver | Video with voice mail allegedly left by Haggard
*************************************************************
Home to the Pacific Northwest
Both of us had colds (something we didn't have in our entire year long journey), so we were not at the top of our game once we spoke in Cincinnati, but nevertheless, we have had a lovely trip, and felt nourished by our time spent with old friends, new friends, and family. 
When we arrived in Seattle, our friend, Judy Osborne, picked us up from the airport.  We spent Saturday and Sunday, October 28 and 29, at a couples' conference, The Art & Science of Love, at the Gottman Institute.  We treated ourselves with this opportunity to go deeper into authentic connection with one another.  With only 4 lesbian couples out of hundreds of couples in attendance, we still felt welcomed, acknowledged, and celebrated.  John  Gottman and Julie Schwartz Gottman both use very inclusive language in their teaching and examples.  We will be returning to Cincinnati to offer a workshop, Creating Authentic Love & Empowering Relationship. This workshop will be for both singles and couples.  We are also working on other workshops.  Contact us if you are interested in having us present one in your area.
On Sunday, we had dinner with Rev. Dr. Lisa Davison, who was in Washington most of this past week with the Religious Equality colloquies.  When she spoke in Everett on Monday, we opened the day by sharing our story about our relationship and regarding the inability to legally marry in Washington, witih answering questions from participants at the end.   Before putting her on a plane back to Lexington, Kentucky, Dotti did a podcast interview with her to produce a two part series along with her talk from the Religious Equality speaking engagement.  We will be posting that one in a couple of weeks.
We couldn't wait to see Rylee Joy. This time on the road was tough, but, thankfully, Lynn and John (our neighbors) who have Ruff (Rylee's half brother), took great care of her.  Roby's Mom and Dad, Miriam and Bob, picked her up on the 29th and kept her until we returned on November 3.  What would we do without friends and family?   
There is never a dull moment in our lives, and we love it!
As much as we LOVE being on the road and LOVE to travel, after our year of adventure, we are really looking forward to being settled at home for awhile, gathering close to friends and family.  The journey lives on, however, since it is a new opportunity we have each day to live with integrity, compassion, forgiveness and undefended love…engaging hearts and minds, creating authentic connections and dissolving differences that separate us.  By doing just that, you, too, can change the world through the expression of YOUR love!  Won't you join us in committing to that same vow we spoke at our wedding, letting it inspire you to move forward in new ways, unattached to a specific outcome?
From the real and true adventures of two women and a poodle,
on a life-long mission to transform ourselves and the world,
one person at a time!
Life is an adventure…enjoy the ride!
The light in us honors the light in you, Dotti, Roby  & Rylee Joy