Whew!  Just when we were in the middle of our week of R & R at Daytona Beach, using our time share before it expired (R & R meaning that we weren't traveling every couple of days), we found ourselves thinking, "There won't be much to write about. "   Wrong!  (:  The opportunities to engage with people about Gay Into Straight America pop up everywhere.
At the end of our week, we returned to Apopka (outside Orlando) to pick up Rylee Joy from "Camp Kentucky" at Kentucky Blue Circle, the home of Carol and Lisa.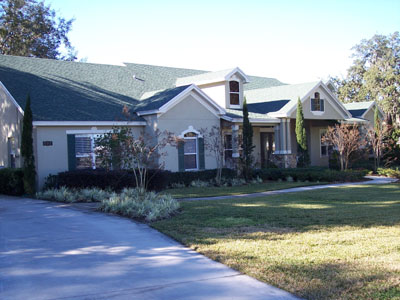 Camp Kentucky (Rylee Joy loved it here, as you can imagine!
I know, it doesn't "look" like a camp! Hey, it is the spirit of camp that counts!)
During the week, Carol sent the following to us.  What's great is to see that Rylee Joy enjoyed being with friends, Parker and Z, and also improved her writing skills while at camp! (: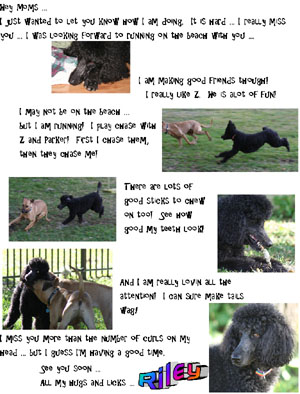 Rylee Joy writing from Camp Kentucky
Ok, so Rylee's handwriting is still a little hard to read!  We are still encouraging her! (:
With a reprise from our travel schedule, we shared some wonderful moments that happened during the first part of our week of R & R.  As the week went forward, it just got better and better!
Sarabrynn Hudgins, Secretary of Pride Alliance, a Georgia Tech gay/straight student organization, contacted us.  She is Chairperson for 2006's Day of Silence and inquired about the possibility of us speaking about our experiences and the state of gay/straight relations in America.   You might be thinking "How do they have speakers on a day of silence?"  (:
Well, part of the event, which they will hold on April 11, is an "ending the silence" rally in the late afternoon.  We hope that it works out for us to speak. To find out find more info about the national event, click here
The great thing about this day is that it provides a unique way that a person can Stand UP and Speak OUT.  Yes, a day of silence can bring attention to the rights and privileges that are currently denied to the GLBT community, and increase awareness about the issues we face.
Don't miss reading about Heather, a young woman, 17 years old, who did her senior exit project on "Adoption for Same-Gender Couples" in Florida.  Don't you just love the spirit of these young people like Heather and Sarabrynn.  Speaking of amazing young people, the group of Soulforce Equality Riders will soon be embarking on their journey, as they take a scheduled seven-week bus tour to confront numerous religious and/or military colleges that ban the enrollment of GLBT students. At each stop along the journey the members of the Equality Ride will present a powerful case for GLBT equality. The group of 30+ riders met for the first time together a couple of weeks ago, and beginning March 5, 2006, will cross the nation, visiting 19 schools from New York to Los Angeles.  Click here to read more about them.


One day, we stood on the beach and watched the spacecraft shoot into orbit, heading to Pluto.  The almost 10 year journey is 
3.7 billion miles away.  Our Gay Into Straight America journey is ONE year! Can you imagine what your "10 year" journey will look like?

 

What do you think you will be doing at the end of 10 years when this spacecraft is returning from Pluto?

 

As you look 10 years down the road, how do you think you will feel about your life?

  Imagine that trail of smoke leading to your "ten year journey."

Perhaps these are questions to contemplate, even as we are present to this moment.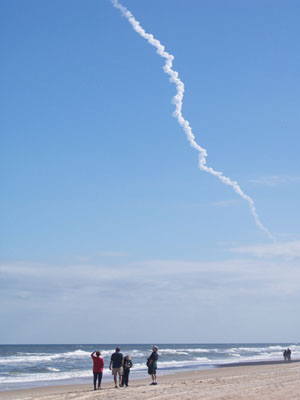 Spacecraft lifting off to Pluto!
One day, there was a knock at the door.  It was Gula, who we had met on Monday night at the Welcome Party.  When she wrote down her name, she put "face with a smile" beside her name. It aptly describes her. Soon to turn 50, Gula was a Professor of clothing design at the University in Uzbekistan (formerly Southern Russia in the Soviet Union). 
Gay Into Straight America goes to India.  (Well sort of).  A new computer issue (unable to connect to the internet via WiFi) got us on the telephone with HP one night. The technical support person was a nice man in India.  He said he lives near the Indian Ocean.  While we were on the telephone together, and he was trying to diagnose the problem, he got onto our website, and said, "Gay Into Straight America… Two Women & A Poodle… this looks interesting."  Roby said, "Yes, we're married, and we are going around the country engaging hearts & minds, creating authentic connections and dissolving differences that separate us."  He wished us well on our journey.  Our journey is about planting seeds of love… in India, as well as in the United States. 
In February 2003, Roby had a clinical research meeting at Amelia Island, Florida.  Dotti traveled with her on that trip, and we took a few extra days to visit our friends, Fran & Val (who live in Deltona), and Carol & Lisa (who live in Apopka).  One day, Fran & Val took us to New Smyrna Beach.  We walked along the beach that sunny and warm February day, and happened upon Bill Atwell.  He's hard to miss, since he often has dozens of birds sitting on him and flying around him.  Here's a picture that Roby took during that first meeting, with Bill's feeding the bird you see in the picture.  Roby titled it "Trust" and offered it as a donation for the Evergreen Aids Auction, where its framed version brought $180.  Isn't TRUST a part of what our journey of bridging the polarization is about in our country?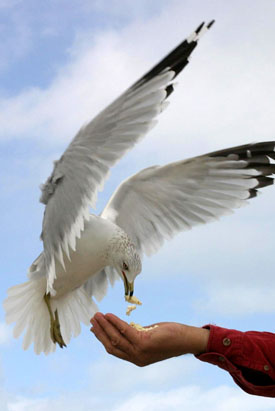 "Trust"
Bill is a retired United Methodist Minister.  Since his retirement, Bill and his wife, Betty, go to the beach everyday to feed their birds and hunt for shells.  They have been doing this for five years, and the same birds keep coming back!  Betty even has names for all the birds. 
We have kept in touch with Bill on occasion since our meeting in 2003.  When we were in Daytona Beach, we realized that New Smyrna was only about 20 minutes away.  We emailed Bill and asked if he would be at the beach on Friday.  He emailed right back and said they would be.  We met Betty and Bill around 2:30 and spent a delightful afternoon talking, sharing, and enjoying the beach.  Before we headed back to Daytona, we went to Bill & Betty's home for a viewing of Bill's incredible shell collection.  The photo of Bill with his shells is a great picture of Bill, but doesn't do his collection justice since there are dozens of pictures we could share with you, but trust us when we say, it's amazing!  We left their home with shells and some coffee they brought back from Hawaii.  Two of the special shells look like hearts.  When we took them, they said, "From our heart to yours."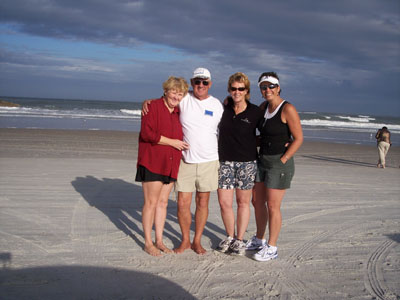 (L-R) Betty, Bill, Dotti and Roby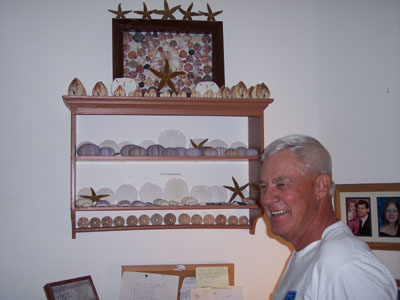 Bill with just a SMALL sampling of his shell collection
On Saturday, January 21st we went to a United Methodist Women's Retreat called, "Becoming Real."  Our friends, Fran & Val invited us to participate in the retreat that over 60 people, aged 14-90, attended. Fran was the organizer of the event.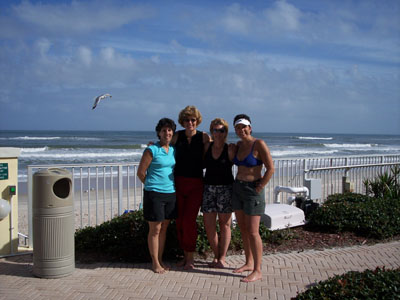 (L-R) Val, Fran, Dotti & Roby...We all went back to our place in Daytona Beach and spent the night after the retreat, sharing thoughts from the wonderful day.
We enjoyed meeting and conversing with some great women:  Heather, Marty, Joy, Lynn, Teresa, and Virginia. 

When Heather learned about our journey, she told Roby that she had done her Senior Exit Project on "Adoption for Same-Gender Couples" in Florida. Heather is 17 and wise beyond her years!  She is very interested in social justice issues and being actively involved.  Heather may even join us on some future Soulforce Actions!  Dotti then told Heather about having met Lisa Coons at the same time she met Fran Porter (when they all had been arrested at the Southern Baptist Convention in 2000 for an act of civil disobedience). Dotti shared with Heather about Lisa's website We2HaveParentalRights, and encouraged her to visit it. People like Heather encourage and inspire us!  We have named Heather our newest Stand UP Speak OUT Wind Changer honoree.  Our Stand UP Speak OUT Wind Changer Awards were created in honor of Lars Clausen, whose journey Straight Into Gay America, was the catalyst for our journey.  If you are interested in nominating someone, as well as reading about past recipients such as actress, Charlize Theron, please click here!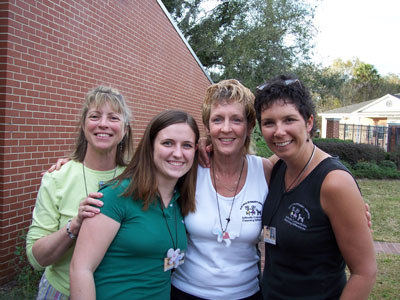 (L-R) Marti (the mother of Heather's boyfriend), Heather, Dotti & Roby
At one point, we broke up into small groups.  Within the small groups, we then paired up in twos for some sharing.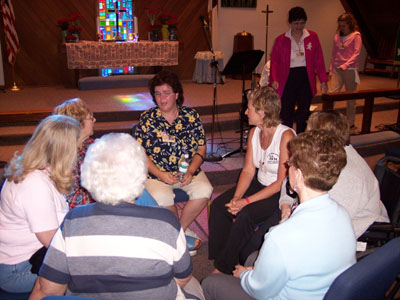 (L-R) Dotti's small group ... Joy, Nancy, Violet, Claudia, Shirley & Jennifer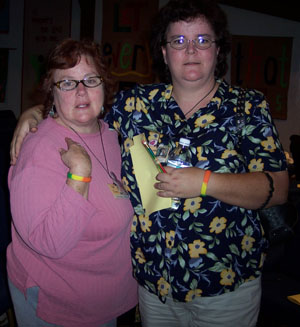 (L-R) Jennifer's mother-in-law & Jennifer (in Dotti's small group)
Shortly after we broke into small groups, Jennifer (see above) asked Dotti about her wristband.  Dotti shared what it meant and asked her if she would like to have it.  She said "yes!" Dotti then offered to get most rainbow wristbands during the lunch break, and give to each person in her small group.  Jennifer brought her mother-in-law over to meet Dotti during the break.  Her mother-in-law, as you can see, also accepted a rainbow wristband, and Jennifer asked Dotti to explain about our journey to her.  Allies unite!  We continue to have people write and say, "How do I purchase those rainbow wristbands?"  Click here!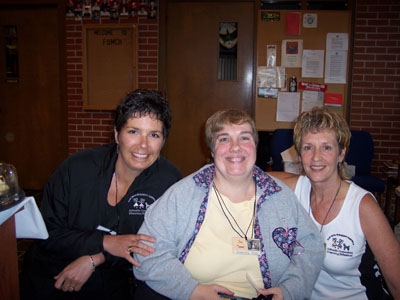 (L-R) Roby, Joy and Dotti


In Roby's small group, Theresa came over and paired up with her.  Theresa asked about our journey.  (Fran had announced at the beginning that her two friends from Washington State were here, and that we were on a yearlong journey across the United States.)  Theresa then told Roby that her brother is gay.  She admitted that she doesn't understand homosexuality, and that she believes the Bible clearly condemns same-gender relationships.  Roby explained to her that the Bible, when read and studied in a historical-critical manner (versus literal reading), doesn't address committed, monogamous, loving, same-gender relationships. 

Theresa prayed throughout the course of her conversation with Roby, that God would help her to know the truth.  Roby asked, "Does your family accept your brother?"  Theresa replied, "Yes, we love him and accept him."  Roby said, "Does he feel supported and celebrated by your family?"  Theresa paused and said, "No, I don't think so."  Roby gave her a gayintostraightamerica.com card and encouraged her to visit our website if she would like to learn more about the Bible and homosexuality, especially pointing out the writing by Rev. Dr. Lisa Davison of Lexington Theological Seminary in KY.  Theresa said that she's not sure she's open to reading anything, but she appreciated Roby's openness and willingness to talk.  Roby also explained to Theresa that the Bible has been used and misused for centuries to oppress, discriminate and separate.  The Bible was used to support slavery.  It was also used to oppress and discriminate against people of color & women.  This doesn't make the Bible wrong, it simply brings to light the disadvantages of literal interpretation.

In a book Roby is currently reading, What the Bible Really Says About Homosexuality, Daniel A. Helminiak, Ph.D. writes: 

"The literal reading [of Scripture] claims to take the text simply for what it says.  This is the approach of Biblical Fundamentalism.  It claims not to be interpreting the text but merely to be reading it as it stands.  Clearly, however, even Fundamentalism follows a rule of interpretation, a simple and easy rule.  The rule is that a text means whatever it means to somebody reading it today. 

Compare the other approach, the historical-critical reading.  The rule here is that a text means whatever it meant to the people who wrote it long ago.  To say what a biblical text teaches us today, you first have to understand the text in its original situation and then apply the meaning to the present situation. 

Historical-critical study of the Bible oftentimes reverses some long-standing interpretations and raises very serious questions about religion and society. No wonder the churches are hesitant.  They are sometimes left wondering what to teach.  No wonder Biblical Fundamentalism has taken a harder line.  The new historical input can leave the older understanding of religion dissolving before our eyes."

Why then, are people still using the literal approach to interpreting the Bible?  Dr. Helminiak says, "Because it's easy.  It has no elaborate guidelines.  It appeals to common sense and requires no detailed study.  All this is clearly an advantage—at least in the short run—because it makes religion simple.  But the literal reading also has disadvantages.  Since this approach has no elaborate guidelines, different people can arrive at different meanings for any text they consider.  All can claim that the text means what it means to them."   Click here to order Dr. Helminiak's book What the Bible Really Says About Homosexuality. 

In the January 25th copy of the USA Today, Roby read an article called "Public schools looking at Bible literacy class."  Here's an interesting statement:  "Conn [spokesman for the Bible Literacy Project] says the textbook paints the Bible's influence mostly in a positive light. However, Chuck Stetson, founder of the Bible Literacy Project, says the textbook does examine the Bible's negative impact. As an example, he cites a boxed feature in the book that he says shows the Bible was used "to justify and even encourage anti-Semitism."   Click here to read the short article.



A Case of Mistaken Identity… Two weeks ago, when we were at Jupiter Beach the first time, we wrote about meeting Jennifer and Scotty and their dog, Sol.  Well, we were delighted to see Jennifer & Sol again today (Tuesday), while playing on Jupiter Beach.  Roby asked, "Where is Scotty?"  Jennifer replied, "He was just down here for vacation, and so he's back home now."  Roby said, "Oh you don't live together?"  Jennifer said, "Of course not."  Roby said, "Aren't you and Scotty married?"  After Jennifer stopped laughing, she said, "No, Scotty is gay, and I'm lesbian, and my partner is Kim!"  Jennifer then said, "Roby, your gay-dar is terrible!" hee-hee

Jennifer and Scotty went to school together while growing up in Wisconsin, and have been close friends for about 23 years.  Kim and Jennifer have been together for four years, and had a commitment ceremony in Key West.  They are both educators. 

We had a great time chatting while playing with all the dogs on the beach, then ended our day over pizza with Jennifer.  We're happy to say that we've learned a few new signs after spending some time with Jennifer.  We now know how to sign "where," "toilet," "brother," "sister," "hurricane," "transgender," "spicy," "ally," and "almost."  OK, OK… so that would make for a really short and confusing conversation, but Jennifer is AMAZING at lip-reading, so it's very easy and fun to converse with her.  At the time of this writing, we are planning to meet Jennifer and Kim on Wednesday evening for ice cream. 

Rylee and Dotti both get haircuts!  Yes, it was that time again.  Rylee's hair was too long for the hot weather so she got her "beach" cut!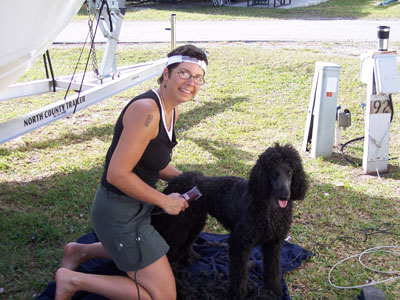 Rylee loses her winter coat (hope it grows back before we reach the cold weather)
We felt grateful when our January Science of Mind magazine was in the mail that Wendy, our neighbor, sent to us and that they had named Bono "Spiritual Hero of the Year."  Bono has that rare ability to maintain credibility with both traditionalist and progressive believers. They noted that "finding the good" in people is perhaps his greatest asset.  The article says, "Bono appears to intrinsically understand, even to exemplify, the spiritual ethic:  Others appear to us as we see them."  Bono says, "When dealing with our adversaries, find the light in them, because that will further your cause.  And I've held onto that very tightly, that lesson."  He also recognizes that counting on people comes with a risk.  "If you trust people, you are going to be burnt 10 percent of the time."  But, "You're also gonna find yourself in very good situations that you wouldn't have, unless you took the risk."
This so perfectly describes what Roby and I feel continues to happen each day of our journey, as we find ourselves in very good situations that we wouldn't have, unless we had taken the risk to embark of this journey.
On the back of the Science of Mind magazine, I noticed their ad for their annual community gathering. The theme couldn't be more perfect…"Bridging all peoples, cultures, nations, and faiths."  Our world is transforming each moment, and so are we!
Speaking of human rights and having other appear to us as we see them…If you are not familiar with the set of stamps called "To Form a more perfect union…Seeking equal Rights for African Americans," we highly recommend them.  In the middle of the sheet of stamps is this quote:
"For in a real sense, America is essentially A DREAM.  A DREAM As YET UNFULFILLED.  It is a Dream of a land where men of all races, of all nationalities and of all creeds can live together as brothers."  Martin Luther King, Jr. 
Let's keep adding to this dream where we welcome and include those of diverse sexual orientations and gender identity/gender expression…together, we can make all of this a reality!
Dotti: One of my clients sent a note, saying "I saw this mission and declared values statement in a book I was reading, and thought of you two."
We give to all of life as life has given us.
We honor all relationships.
Trust and Stewardship are integral to fulfilling dreams.
Collaboration is Essential to Create Miracles.
Creativity and Aesthetics nourish the soul.
Unlimited thinking is fundamental.
Living your Passion is vital.
Joy and Humor open our hearts to growth.
It is important to remind ourselves of Love.
Marriage in Washington…the Washington Supreme Court was thought to be close to issuing a ruling several weeks ago, and we were, as you know, considering flying home.  We then heard that the ruling probably won't be issued until the end of this legislative session.  We filled out the survey for Equal Rights Washington to be considered as one of the couples they will have marry on the Sunday after the ruling is issued on a Thursday.  They asked us how many friends and family members might attend with a 3 day notice.  Ok, folks, we told them that 50 friends would attend in Seattle!  If you read this and feel that you would be willing to do that, email us and let us know!  Stay tuned.  We also told them that 5 family members would attend.  Hey, we have to aim high!  Consider this...perhaps Roby's Mom and Dad will decide not to miss her wedding this time!   
Also, click here see what is happening in Maryland. A Baltimore judge ruled on Friday, January 20, that Maryland's law banning same-sex marriage is discriminatory and "cannot withstand constitutional challenge," throwing open the possibility of a bruising legislative battle over a constitutional amendment. Another article shows how those who are running for public office are beginning to "shift" their views and state their stand about equal marriage rights for same gender couples.  In that one, leading Maryland Senate candidate Kweisi Mfume supports equal marriage rights for gay couples.
Check out this website:   Jim in Bold is a documentary about Jim Wheeler, a gay High School student in Lebanon, Pennsylvania, who committed suicide in 1997 because of constant harassment at school. Jimmy Wheeler had hopes and dreams. He was a gifted poet and painter who understood the power of words. He had a loving family who supported and cared for him. But for Jimmy Wheeler, growing up gay in rural Pennsylvania was too much to take. He was abused regularly at school. He was called awful names. In 1997, alone in a cold room, Jimmy Wheeler took his own life.
"Jim in Bold" was awarded "Best in Festival" at the 2003 Indianapolis LGBT film fest, and Best Documentary at the similar fests in 2003 at Long Island, Ft Worth and Tampa.
Jim Wheeler said … and if I believe in a Christian God, then I believe God said to me,  "It's better to be hated for who you are, than to be loved for who you are not."
We believe this quote is one of the most important that our GLBT community can embrace.  Also visit the website that Jim's family and friends have put together and maintained:  www.JimWheeler.org
Each of us must consider standing up and speaking out so that we don't continue losing the "Jims," for they are the "gems" of our world, our youth who hold the freedom torch for tomorrow!
The light in us honors the light in you!
Dotti, Roby and Rylee Joy