You can't hate someone whose story you know.
Dare to know the story of those who are different.

"The tiniest story in your life can deeply touch another. You cannot know the effect your story might have."--Sark
People…diversity…connections…happening easily and naturally. Do you believe that is possible?  We do!


Dotti: Last week as I worked on our newsletter at Starbucks, a woman sat down next to me.  Though I was diligently working to get it out in time for the weekly PFLAG Alert that comes out on Thursdays, a person who is interested in asking questions and talking is always a priority.  After all, without interactions with people, there is no GISA newsletter.  Engaging with people around the country is the essence of our country.
Linda, whose husband, John, later joined us, asked, "What does your shirt say?"  I was wearing one of our embroidered sleeveless tops.   As the conversation moved forward, I asked her our #1 question, "Do you know a gay, lesbian, bisexual or transgender person?" Nodding "yes," Linda told me about her male cousin who has been with his partner for 13 years.  She continued, sharing that the cousin has a twin, who has been married for 10 years and has two children.  Her next comment revealed that the married cousin has just come out of the closet.  She admitted that was curious and asked her cousin if he just became aware of his sexual orientation.  He replied, "No, I thought I needed to carry on the family name, and I knew my brother wouldn't be able to be with a woman."  He had denied his true self to his gay twin brother, who had supported him through the years, even through his homophobic remarks. My heart went out to this man, a person I have never personally met.  Though the specifics of his story are new, the denial of his authentic self ring a familiar bell.
 
Linda is now sporting a rainbow band!  I almost forgot to put it on before we left, as it was hanging on a hook in the trailer. 
Several reminders pop up for me from this story. Keep wearing our GISA apparel (it invites people to approach us). Always wear a rainbow wristband (it offers us a way to invite others to join us in creating authentic connections and having deeper conversations, in whatever way that works for them in their lives). Ask the #1 question (it often leads to further conversation with people at a deeper level).  Engaging with people is our priority (don't get so focused on "a newsletter going out" that we miss any opportunity to engage with another human being).


Last week's interview with Beth Derenne at KOPN in Columbia, Missouri was another great opportunity. We hope that you were able to download the podcast if you have an MP3 player. Our intention was to have one question answered by Dotti and then the next by Roby.  Much like the interview with Candace Challew-Hodges back in December (click here for her website), where Roby ended up doing the entire interview as Dotti was on the phone with a client, this radio interview was flowing in such a way that Roby kept saying "No, you keep doing it," Though Dotti was motioning for Roby to take the next question,   Roby kept telling her to keep talking!"  Imagine that! (:  Curing the live interview, Dotti said "I am going to listen to my spouse and do what she is asking." 
This is another example of not being attached to a specific outcome, but being in the moment of allowing a situation to evolve as the path takes us.  It was still a team effort, with Roby writing notes on a piece of paper regarding specific points she wanted Dotti to include in the conversation with Beth. 
Speaking about podcasts, Beth emailed, saying that the initial interview she did in December is now available via podcast.  If you are interested in downloading that, you can click here.  Then paste the link into your Podcast player.

For those of you, who missed last week's newsletter, click here for the link for downloading the podcast of last week's interview with Beth. Again, paste the link from the browser's address bar into your Podcast player.
We previously mentioned that we will be speaking during PRIDE week-end at our home, Bellingham, WA.  Click here for details of our speaking engagement on Saturday, June 3, called "PRIDE Across the Country."

We will also speak at the PRIDE Event on Sunday, June 4, as well as have a table.  If any of you are in the area, please come by and visit with us!
PRIDE Events are coming up soon all over the country.  It is great for us to hear about each one as we travel, and we wish we could be in many places at one time. The 23rd Long Beach Pride event has a great theme.   "I am.  I belong."  The more we accept ourselves, the more we believe this. Accepting this motto causes a ripple effect into our universe, making it safer for each person in our community and creating the opportunity for justice and equality for all.  "I am.  I belong" happens "easily and naturally" when we feel our fears, but choose to move beyond them, rather than allowing them to immobilize us, and keep us from fully and authentically experiencing life.


We finally saw Transamerica!  We never did find it at a movie theatre that coincided with our travels, but viewed it at the Westin in LA, where Nan and Loren had a room.  What a great movie!  We feel it did a great job depicting the emotions and feelings of a person going through transition, from our experience of talking with transsexual friends.  More than that, however, we feel that the movie allowed us to identify and find the commonality in our connectedness through that process.  Who could watch that movie and not find something with which to identify? 


People…diversity…connections…happening easily and naturally.


Like Panera Bread is our "office away from home," the RV park where we stayed in LA for a few days became like our "hood," our neighborhood away from home.  We had such a great time on the beach, meeting people, having conversations, walking, relaxing and reading.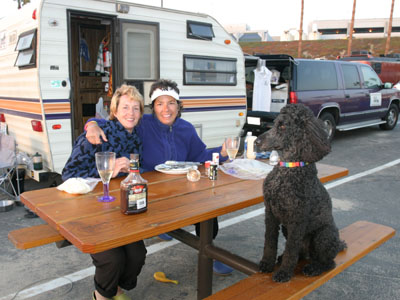 Dotti and Roby at their 'home in the hood,' their neighborhood at LA RV park
On one side, there was our neighbor, Mike, who we talked about meeting in last week's newsletter.  Mike moved out, going home for the week-end. 
Two new neighbors moved into that spot. When we got back from our walk, they had already set up their RV, and were inside eating dinner.  Roby could see inside their RV, and noted they were two women.  She said to Dotti, "We've got lesbians next door!" How do two lesbians just "happen" to get the spot next to "two lesbians" when there are 60+ lots in the RV area? (:
 
We all laughed later about this. Roby, interested in confirming that they were lesbians, walked over by their truck, only to discover no rainbow stickers on their vehicle!  We don't like to make assumptions; however, Roby felt strongly that she was correct in her assessment!  Here are the facts that Roby did observe. They were two women with a truck and a dog (a Shiba Inu named Miko.)  OK, OK… so Roby was stereotyping, which we really try not to do, but every once in awhile, it's accurate. (smile)


When they stepped outside after dinner, we attempted to welcome them to the "hood," but they seemed a little hesitant to reciprocate.  The next morning we met them. We ended up having the most delightful time being neighbors! 

They admitted later that when they pulled up to the RV site to which they were assigned, and saw the Purple Suburban with "Gay Into Straight America" signs, they said, "Oh great… with all the open spaces in this RV Park, we would have to be placed next to these crazy women!"  (paraphrased and embellished).  When Dotti asked them if they wondered if we were trying to make "gay people into straight people" (as a few about asked), they admitted that it did go through their mind.  They shared that they basically answered their own question when they saw the "two women and a poodle" underneath the website, saw us, and realized that was not the intention! On Saturday evening, they went into town and brought back Mexican food for dinner for all of us, and we enjoyed good conversation around the fire pit on into the night.   
One grew up Jehovah's Witness, and one grew up Pentecostal.  They shared stories of how toxic religion has affected them.  They admit that they have thrown the baby out with the bath water, even questioning the existence of "God."  They shared that the old tapes are often like loop tapes that keep popping up in their heads. 

Our experience has been that this questioning process is a very important one.  It isn't something that is often spoken about openly in our society.  Imagine that! (:  Becoming comfortable sitting with "questions," and allowing them to ferment and bring forth new awareness, can offer a wonderful opportunity for spiritual growth and evolution.  Religions often give the impression that "all is well" all the time once you accept their particular version of "the truth."  Our experience has been that we each have a part of the truth, leading to our interconnectedness as humans, and weaving together a tapestry of our unique differences.  Dotti often says, "I have simply become comfortable with my discomfort," explaining how she continues to shift through old beliefs, as she holds onto those that work and discards those that no longer apply and empower her life.


Though we only spent a day and a half getting to know these wonderful ladies, we felt a connection, and felt sad watching them pull away on Sunday morning. 

Across from us were brothers Kevin and Sheridan.  Amazing men.  Two single fathers, bringing their kids to the RV park at the beach.  It was their first time to RV. They both now don rainbow wristbands.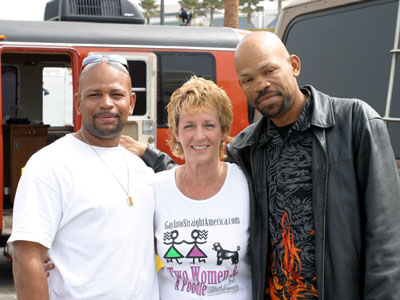 (L-R) Kevin, Dotti & Sheridan
Sheridan offered some interesting insights in regard to immigrants and how they could make an impact. He advised a different approach.  His exact words were, "Don't choke the nation.  Feed the nation."  He advocated spending $2 for every $1, meaning he wanted to encourage people to show what economic clout they really do have.


Further down the row was Lori.  I saw her stopped at the front of the rig, staring at our signs.  When I caught her eye, she asked about them, leading to a conversation.  Sandy & Rich, who live outside of Las Vegas, stopped by.  Rylee Joy was the connector.  They had small dogs with them, one being a chocolate poodle. They invited us to visit their RV and meet "their children."  Heading down there one night, we ended up in a conversation with Stephanie and her sister, meeting Stephanie little boy, Ben.  We then proceeded.  Sitting with Sandy and Rich, we discovered that Sandy's boss is lesbian and has a partner.  They said they would love to introduce us to them, giving us their address and phone along with an invitation to visit them in the future.  Sandy says her boss is the best one she ever had!  What wonderful people we met!


People…diversity…connections…happening easily and naturally.


Venturing into town one day for some supplies, we stopped at Target. We met Carlos, offering a petition to save the children.  We stopped to question him, hoping it wasn't the petition we had head about recently.  That petition attempts to keep children from learn about diversity in schools.  Fortunately, Carlos was involved with something that will truly help children, in the area of gangs.  Our discussion led to us talking about the importance of getting past the differences that separate us.  Great guy!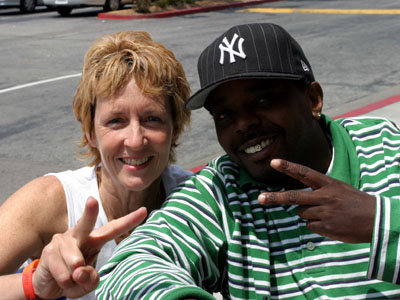 Dottii & Carlos
People…diversity…connections…happening easily and naturally.
We like what our friend, Regina Stooops, says when people ask, "How can you stay in the Catholic church?"  Her reply?   "I don't quit being an American just because I don't believe in what George Bush is doing."  Check. Good point, Regina.  Regina and Diane, as we previously mentioned, are in a welcoming Catholic parish that celebrates them, and their children.  They were our most recent Stand UP Speak OUT Wind Changer honorees.  Click here if you missed reading about them, and others.
People…diversity…connections…happening easily and naturally.

We have mentioned about having "Streets and Trips," a great software program for our computer, that also came with GPS. Thank you again, Lucie and Pat, for that amazing gift!  Dotti named "the voice" on the GPS "Zelda," in honor of the woman on Doby Gillis, one of her favorite programs from years ago.  It was so long ago that Roby didn't know about Zelda!  Dotti forgot that "Zelda" is now a senator, Sheila Kuehl, in California. 


Chris Haais, a wonderful transman activist in California, who put together our meetings with several politicians and speaking engagements, contacted Sheila.  He was once on her TV show, "Get Used To It."  Unfortunately, we weren't able to work out the timing of that.  We were going to at least meet Shelia, but that didn't work out either, as she is now in Sacramento with the legislature.  We still appreciate his efforts!  Sheila is making a big impact with legislation in California.  To read more about her, click here. 


There was an article about our journey in a magazine, In Los Angeles.  It covers primarily LA, but also Palm Springs, Long Beach, and San Diego.  To check out the magazine, click here.  The funny part is that there was an article on Senator Kuehl just about ours!  (:  Yes, Zelda leads us everywhere we go, even in the In LA magazine!


People…diversity…connections…happening easily and naturally.
(L-R) Dotti, Roby & Chris
We had a meeting with San Diego Council member, Toni Atkins, this last week.  We found a parking place on the street several blocks away.  Parking our rig is often a challenge in downtown situations. As we were getting into the trailer, two men approached Dotti.  They asked about our journey, and we met Sonny, and his partner, Michael.  They thanks us for what we are doing.  We reminded them that they are also a part of our journey.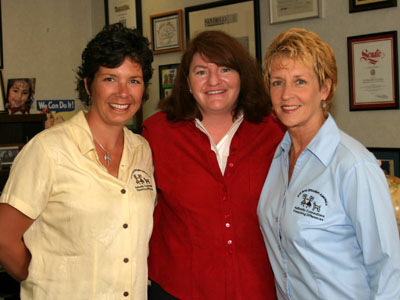 (L-R) Roby, Toni & Dotti
Toni, an openly lesbian politician, was acting mayor during four months last year, and is very instrumental in promoting fairness, equality and justice for gay, lesbian, bisexual and transgender persons.  We had a delightful conversation with Toni and her Administrative Assistant, George Biagi, a gay man who has been with his partner, Michael, for 17 years!  We honored both Toni and George for the great work they are doing to create positive change in the world. Visit Toni's website.


People…diversity…connections…happening easily and naturally.


After our meeting with Toni Atkins, we walked another way back to our rig.  Timing is everything.  Right there before our eyes were about a 100 new Yamaha motorcyles.  Since selling ours to get our mortgage for our home, Roby has dreamed of having another one.  Why do they often make you get rid of the toys before giving you a mortgage? (: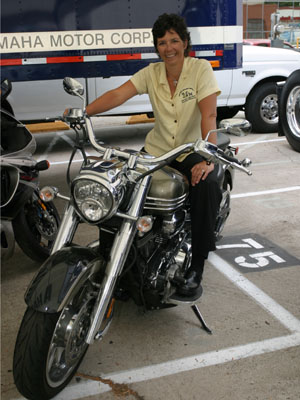 Doesn't she look great on this bike?  Ah...for another time in our lives!
It's not in the budget!
We then headed to the home of Mary Jane and Roger.  How did we know them?  We didn't.  Our friend, Diana Westbrook, who Dotti originally met in 1999 with the first Soulforce vigil, emailed us and encouraged us to call her "Aunt Mary Jane and Uncle Roger," who have been active in PFLAG.  They invited Dave Roberts, a gay man who is a council member in Solana Beach, CA.  He has been with his partner, Wally, for over 9 years.  They have adopted two children, who are now 10 and 5.  We talked A-Z over the course of the evening.  What a wonderful couple and hospitable people!  Rylee Joy also enjoyed playing with Body and Jake.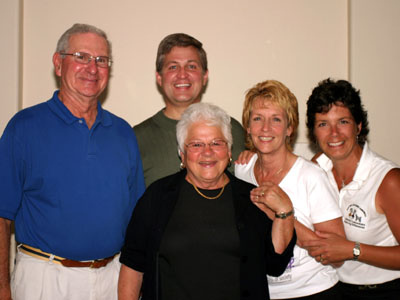 (L-R in back) Roger, Dave, Dotti & Roby with Mary Jane in front
People…diversity…connections…happening easily and naturally.
We left the home of Mary Jane and Roger, heading to Long Beach to speak at PFLAG.  On the way, we stopped in Laguna Hills, CA, to meet for lunch with Lucile Wheatley. Our friends, Judith Nelson and Carol White, who Dotti met through Soulforce and live in Colorado, called and left us a message with Lucille's phone number, encouraging us to contact her.  Dotti has heard about Lucile and Melvin Wheatley for years, and we were excited to call her and see if she was available.  The timing was perfect!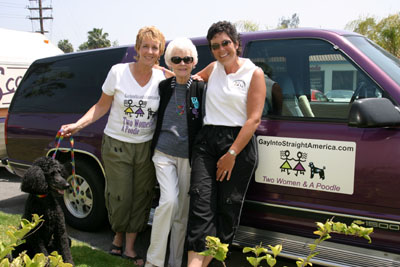 (L-R) Dotti, Lucile, & Roby with Rylee Joy sitting like a queen!

We hope that we are living as dynamically and fully at the age of 89 as is Lucille.  What an engaging woman!  Her husband, Melvin, is not in good health and is at a wonderful care facility where only six people are cared for at a time.  Melvin stirred the fires in the United Methodist Church as a bishop.  He was brought to church trial on "heresy charges," in 1982 for speaking out for inclusion of gay persons in the church.  Lucile reminded us that his words are carried on many of the PFLAG brochures.  We are going to give you the gist of those comments, since we may not have it exactly correct.  Lucile, please accept our paraphrasing of what you shared.


We may not have been wise enough to ask for a gay child, but thank God, we were wise enough to accept the gift when it was given to us.   
– Melvin Wheatley
What would we do without people in the church like Melvin & Lucile Wheatley? They have paved the way for the inclusion of our GLBT community today.  Thanks from the bottom of our hearts to both of them!  Next time, someone you know says they are "too old" to come to a new understanding, tell them about Melvin and Lucile Wheatley.  We have not found age, nor any other difference, to be a barrier to favoring equality and justice for all people.

People…diversity…connections…happening easily and naturally.

As we prepared to pull away from Coco's, where we had met Lucile Wheatley for lunch, a woman pulled up in her truck.  She wanted to let us know how much we liked out trailer.  Roby asked her if she would like to see it.  She parked that truck so fast you wouldn't believe it!  She explained that she and her husband are moving to Texas to be closer to family, and that she wants a small trailer.  We noticed a couple of things about her truck when she parked.  One was a Christian symbol, and the other was a sign on the back window that said "Custom Embroidery."  With Dotti having been in the promotional products industry for years, and still offering clients those services for embroidered apparel, the sign caught her eye.  We met a wonderful woman named Jeannine.  We engaged in a wonderfully authentic conversation about her faith, as well as about inclusion of GLBT persons in the church.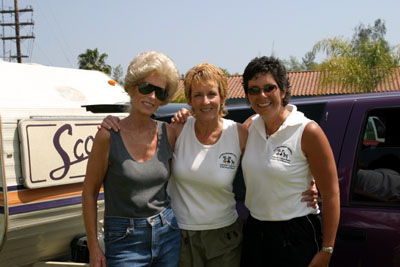 (L-R) Jeannine, Dotti & Roby
For a few moments, we thought we had encountered our very first person to say "No" when asked the #1 question, "Do you know a GLBT person?"  Initially, Jeannine said she didn't know anyone.  When Dotti said "Well, now you know two," she thought a little longer and realized she had known a lesbian from work. 
Jeannine's church, Calvary Chapel, is evangelical and has many different branches. Jeannine felt that they would be inclusive.  Roby's experience with Calvary Chapel led her to question Jeannine about this.


Jeannine left with website information on how to find out more about Scotty trailers, and donning a rainbow wristband.  She also committed to speaking to her church about their stance regarding our inclusion, and communicating back to us.  What a delightful lady!    


People…diversity…connections…happening easily and naturally.


Roby tells people that we constantly receive gestures from people on the road when they see our big purple suburban with signs saying, "Gay Into Straight America.com…Two Women & a Poodle." She then pauses, and they often say, "Oh, I can only imagine."  They automatically assume that the gestures are negative ones. Roby then replies, "Yes, every day, someone is giving us the thumbs up sign." 


A person shouted to us from his car in Laguna Beach.  We looked over, as they flew by, saying, "I love your trailer!"


People…diversity…connections…happening easily and naturally.


We had an energizing meeting with the great people of PLFAG Long Beach on Wednesday night, May 10.  We continue to meet magnificent people who are making a difference with their family and friends, and making a difference in our society. 


We thank Bill and Karen, who were instrumental in bringing us in and provided such a warm welcome!  We also appreciate the generous financial support, without which, we could not continue the work we are doing. 
Just before the meeting started, we were delightfully surprised when our new friends, Donna & Robin, walked through the door!  This was their first PFLAG meeting!  After the meeting, they took us downtown and treated us to dinner at one of their favorite places.  Rylee Joy also got to join us, since there was outdoor seating, where dogs are allowed!  We felt like we were in Europe. During dinner, discussing directions to the nearest Wal-Mart, the girls invited us to just come stay the night with them.  Being able to wake up at their home, where they had wireless internet, also allowed us to get our newsletter out.  Rather than searching for a place to work, we had a relaxed atmosphere in a beautiful home with lots of loving energy.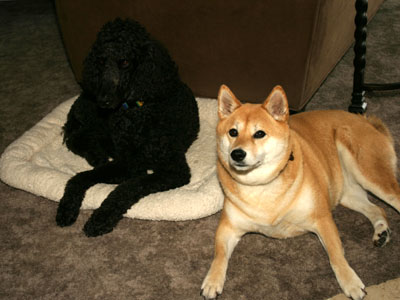 Miko sharing her bed with Rylee Joy
We were up till 1:30 talking and sharing with Donna, Robin and Robin's daughter, Ally, whom they affectionately call "the activist in the family!"  Ally is a dynamic young lady, who is very active in social justice issues at her college, and standing on the front lines for change!  It's young people like Ally, who give us great hope, not only for these times, but for our future.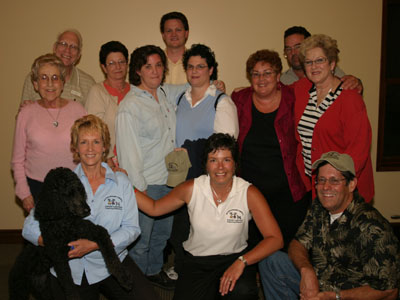 Here are some of our new friends from PFLAG Long Beach
Notice Donna & Robin (with cap in hand) standing behind us. 
If you saw the picture of the four of us from the RV park at the beach, where we intially met them, I think you will agree that we all clean up pretty good! (:
Our discussion at PFLAG and into our time with Robin, Donna and Ally included our encouragement for the opportunity available when we decide not to ask more of others than we ask of ourselves.  We feel this invitation offers a new level for extraordinary change in our society, with our own shift creating an opening for others to move toward a greater understanding, ending with voting for laws that offer equality and justice for all.

It reminds us of some comments Jody Huckaby, Executive Director or PFLAG, wrote in his weekly alert after meeting with us in Washington D.C.


"The PFLAG National staff was honored with a visit this week from Dotti Berry, Roby Sapp and Rylee Joy at our office here in DC. This incredible couple and their wonderful standard poodle have embarked on a remarkable journey called "Gay Into Straight America."


What we thought would be a quick lunch meeting turned into a three-hour conversation with them about their extraordinary yet simple journey to "engage hearts and minds, create authentic connections, and dissolve differences that separate us." They have taken their purple, sign-covered SUV across the country on a year-long mission, making stops in hundreds of towns to engage people in honest conversations. They want these conversations – whether at rest-stops, restaurants, meeting halls or shopping malls – to help create a better understanding about GLBT people from their unique perspectives as loving, faith-filled, family- focused people who have taken up a line from their marriage vows – "We vow to change the world through the expression of our love" – as their motto.


Dotti, Roby and Rylee have visited over 25 PFLAG chapters since their journey began and they have been creating quite a buzz. Of course, PFLAGers know the power of telling personal stories. Our members truly understand how hearts can be moved and minds can be enlightened when we share honestly about who we are, about our GLBT loved ones, and why our own journeys will be less complete until full equality for all people becomes a reality.


This trio, however, also offers a challenge: How can we ask others to take risks we are unwilling to take ourselves? How can we ask policy makers, for example, to champion our issues if we are afraid or unwilling to champion them among our families, neighbors and friends? Their point is that we are all responsible for bringing about the change we want to see in the world and it starts with our own circle of relationships – and working past our fears to have those authentic connections by sharing our personal truths. It is a simple but profound challenge."
Thank you Jody, and PFLAGers at national, as well as all over the country, for your continued support and for inspiring us.
Life is an adventure…enjoy the ride!
From the real and true adventures of two women and a poodle, Changing the world…one person at a time.

The light in us honors the light in you,
Dotti, Roby & Rylee Joy