Thanksgiving gave us lots of reasons for being thankful.  One of those is that you all are following our journey and supporting us in such a variety of ways.  From emotional and spiritual support, to financial support, in-kind gifts support, we are truly blessed.  We made it to Albuquerque on Thanksgiving, encountered unexpected snow in Santa Fe, headed to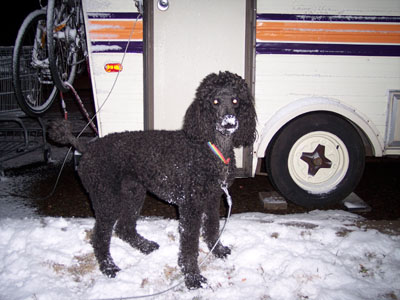 Amarillo,TX just to spend the night.  We stopped in Burleson, Texas, where we were treated to dinner with our friend, Jill, then parked our Scotty outside the home of Susan's (Jill's partner) folks, Odessa & John. We will have dinner with a couple of Soulforce friends, Paul Dodd and Jeff Lutes, tomorrow evening. We are hoping that Jeff's partner, Gary, and their son, Nikko, will be able to join us. 
Roby celebrates her 40th birthday this week on Saturday, December 3.  Her birthday week-end will be punctuated with our speaking at PFLAG Houston on December 4.
Click here to read some of our "musings" of what happened since last week, and about our Thanksgiving.  The daily interactions that happen continue to transform our hearts and minds, helping us to realize how many people are interested in equality and justice for all.  Don't miss how we met two nuns who are now wearing our rainbow wristbands!  We are saving some of these interactions to form a composite "day in the life of two women and a poodle." That will be included in our newsletter next week.
No matter if you are a person of faith or not, various upcoming holidays are being celebrated.  This holiday season, give the best present you can give anyone ... the presence of your authentic self!  You can't put a value on your personal conversations with co-workers, friends and family that plant the seeds for acceptance and change in our culture.  Stand UP and Speak OUT now, not later, when it may be too late.  You cannot hate those whose stories you know…this works both ways!
We just finished The Kite Runner, recommended by Rosalind & Rev. Bernie Turner (who married us in Portland). Although a novel, the book reminds us how damaging secrets are to our lives.  One of the profound statements from the book that stuck with us is, "When you tell a lie, you steal someone's right to the truth."  Dotti's version of that is in the form of a question, "When you conceal your authentic self and identity, have you considered that you are keeping from another person their greatest opportunity to grow and evolve?"  The book is a great read in our opinion.  Click here to read about and purchase, Blink, by Malcolm Gladwell, author of The Tipping Point, a book that is also one of Dotti's favorites.
Dotti:  Great news last week!  Remember during September when I was at Southern Comfort, the transgender conference in Atlanta? It was my first opportunity to talk to my mom face-to-face and tell her about our journey since we live 3000 miles from one another. When I shared our plans to head east across the United States, speaking as we travel, arriving in Atlanta just in time for the holidays, my mom looked at me and said, "I don't want a purple suburban in my driveway."  And, she didn't yet know about the 3 magnetic signs on the vehicle saying "Gay Into Straight America...Two Women & a Poodle!"  (:  I continued, "Does that mean you don't want us here for the holidays?"   She then said, "Let's not talk about it any more tonight."  She expressed (paraphrased) that she didn't know why I was doing this to her.  I said, "Oh, no, Mom, you misunderstood.  You aren't taking the journey.  Roby and I are!" (:   Ok, you must be thinking, "Where is the great news in that, when your Mom couldn't say you are welcome for the holidays?" 
NEWS FLASH...NEWS FLASH...NEWS FLASH
Well, here is the great news!  Mom and I talked recently, and I told her that PFLAG Atlanta had contacted us, asking us to speak on December 18, and that I would love for her to attend the meeting and hear us speak (it would be my Mom's first PFLAG meeting).  Can you believe the synchronicity of this opportunity to speak at the Atlanta PFLAG chapter?  We jumped at the opportunity, even though we are speaking at PFLAG Little Rock on December 17, and it is an 11 hour drive.  I immediately wrote Karen, president of PFLAG Atlanta, and said, "We will be there!"  You see, I haven't been allowed to spend the holidays at my home, with a partner, for 25 years.  So, this Christmas will be special to Roby and me.  Why did my mother hesitate, when she has come far in the 3 years since my father died?  I feel that this is the reason, plain and simple.  She doesn't know what to do with the situation relative to my brother and sister, who are both Southern Baptist, and who do not agree with our marriage that took place in Oregon (before being voided), as well as our spiritual ceremony.  The teachings of their church have kept them imprisoned in their thinking, causing them to verbally attack us, calling us perverted, and saying "God will never condone your relationship."   For 25 years, I have said to my family, "If we all had to agree, in order to be in the same room together for the holidays, we would always have a holiday party of one.  Let's simply be together, and enjoy our time." 

What I would like to share with you is that when I made that decision 25 years ago to be my authentic self, I also made the decision to never give up on my family. The greatest act of violence a person can commit against another human being is to give up hope.  Dr. King modeled that for us by never giving up hope on George Wallace.  If there is someone in your life who seems "hopeless," regarding his or her acceptance of you for any reason, don't give up! If you believe they have hurt you with their rejection, refuse to allow them to steal your hope from you.  That does not mean you don't draw healthy boundaries if they are abusive.  Even in those situations, however, you can still refuse to give up hope on them.  Giving up hope puts you in a state of fear and steals your energy, in addition to your ability to be truly compassionate and loving.

Click here to read a story about the journey with my family.  I feel that my "presence" is the best "present" I can give my family, and vice versa. 

The teachings of the church are at the root of my family's pain and misunderstanding, and it has influenced their perception about God's acceptance of me as a gay person.  While Soulforce has been leading the way in confronting the spiritual violence of religious institutions since 1999, I feel it is also important to acknowledge that there are many theologians and clergy who are supportive. The shrill pitch of the minority, however, often drowns out those who believe otherwise.  That is why it is important for each of us to Stand UP and Speak OUT at this time in history.  Not since the civil rights era have we, as a nation, had an opportunity to define the course of history in our country in the area of equality and justice for ALL people.
What Soulforce has done, and continues to do, is so important. Their mission is "Freedom for lesbian, gay, bisexual, and transgender persons from religious and political oppression through the practices of relentless non-violence."  They have led the way in pointing out that the teachings of many religious institutions are at the root of the oppression against GLBT persons.  Click here to read our "thread" that is a weekly update for the Soulforce website.
PFLAG and HRC understand this impact as well, and have recently begun to implement programs.  I applaud these top national organizations as they have accepted the impact of faith in this arena of GLBT issues, and are now responding with action.

PFLAG says:

Faith Training Session

In recognition of the important intersection of Faith and Homosexuality, the national staff is currently working on developing a training program to deal specifically with faith issues.  While the training is still in its early development phases, it will help train chapters on strategies to use to educate about faith based issues and how best to respond to the arguments of the religious right and other opposition groups. This training will be added to the list of trainings that are currently available to our chapters.

Click here to see what Harry Knox, HRC's Director of Religion and Faith Program says.

And, if you question "who" can make the biggest impact, and offer the best opportunity for opening hearts and minds, closing the 12 inch gap between the two, read what one Devout Christian says:

"It seems to me that coming out of the closet is the greatest weapon that gays and lesbians have. If my own brother had never come out, my family would never have been forced to confront the deep-seated prejudices were raised with...My husband and I joined HRC because we believe it's time for heterosexual Christians with gay and lesbian family and friends to stand up and make our voices heard in support of our brothers and sisters. " Click here for the rest of her story.

As we continue to encounter situations with many GLBTA (yes, allies too) who have been negatively impacted in one way or another by the teachings of many (not all) religious institutions, we feel it is important to heed the words of this lady.  It is time for our GLBT community to understand that the key to our freedom is in our own back pocket.  We must dare to reach back there, grab it, and unlock the prison doors and walk free.  We cannot depend on others to magically hand us the key any more than Rosa Parks could depend on others to invite her to the front of the bus to sit with them.  When she changed and said "No more," the course of history changed because it had to.  We, along with our allies, must become empowered in this manner.  Rosa Parks showed us the way, and the power of one. 
For more on the effects of religious teachings, click here to learn about us going inside James Dobson's Focus on the Family's "Love Won Out" Conference in Seattle in June 2005.  We attended in order to offer a loving presence.  Read about our experience, as Roby's mother disclosed that she was attending when Roby told her we would be there. The synopsis offers Dotti's reflections regarding the events of the day.  We are including this link because some people at the PFLAG LA meeting wanted to hear more about that particular situation, and we said "That would take up our entire speaking time by itself, so please read our account on our website."
Now, back to "great news."  Dotti:  My Mom hasn't given a definite "yes" to attending the Atlanta PFLAG meeting, but let's leave that opportunity to next week's call (yes, I call her every week-end.)  I am requesting that each of you put your positive energy toward visualizing my Mom choosing that opportunity.  I know I am providing her another great avenue for growing and evolving, even at the ripe age of 80 years old!
Never underestimate what a difference PFLAG makes in our lives! 
If you read our musings about Thanksgiving, you know how important the financial contributions have been to our journey, particuarly when "unforeseen" situations occur, as they invariably will.  Since we wrote our Thanksgiving musings, we encountered more situations.  We left Santa Fe with a Walmart in Amarillo as our target for the night's stay.  Before we arrived, our car began making a terrible noise.  Since it was almost 11 at night with few places to stop, much less an auto repair shop, we struggled to make it to Amarillo, committed to finding a place the next morning.  Fortunately, Meineke Car Care Center was next door to Walmart! We discovered that our tail pipe had fallen off the muffler.  As well, the motor to our blower that makes the heat/AC work, needed replacing.  $250 later we were on our way.  If you want to donate to our journey, click here.
FUNNY PICS!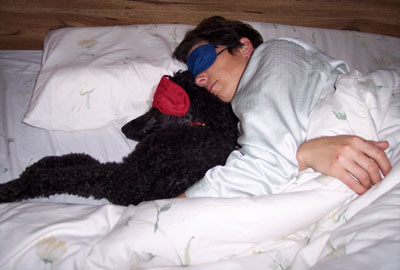 Rylee Joy & Roby in their eye masks.  The suns comes through the windows of the trailer early.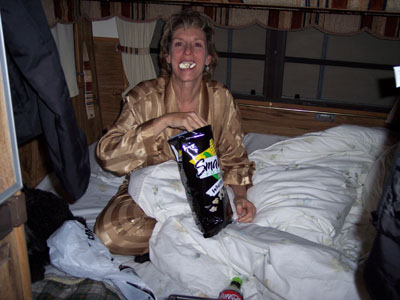 Popcorn night in the Scotty!

Stay tuned for the adventures of two women and a poodle!
The light in us honors the light in you!  Dotti, Roby & Rylee Joy