You can't hate someone whose story you know.
Dare to know the story of those who are different.

"The tiniest story in your life can deeply touch another. You cannot know the effect your story might have."--Sark
Kathy Kiefer has put together a short video clip.  Click here for Gay Into Straight America 6 minute video clip, speaking at PFLAG NW Conference. Thanks Kathy.  Great job! 
One definition for "Pride," in the dictionary rings true for us, "A sense of one's own proper dignity or value; self-respect."
PRIDE festivals, celebrating the GLBT community, take place during different weeks in various areas around the world.  But this definition is one which can benefit anyone.  Notice that the definition does not say, "A sense of one's own proper dignity or value, realized through what others think; respect from others."
What would "pride" look like if we truly walked our talk?  You would give the gift that never quits giving…YOUR AUTHENTIC SELF!  So if you are a GLBT person, consider giving the gift that you, the best gift you could give your friends, family and others, during PRIDE. 
Laura, one of the T gals from Esprit, sent us the words to a song this week.  The version she likes is sung by Linda Eder.  The title is, "I am What I am!" 
Here are the words, a salute to each who is daring to live life with pride!  We feel it is worth sharing.
I am, what I am,
I am my OWN Special creation,
So come take a look, give me the hook or the ovation, It's my world that I want to have a little pride in, It's my world, not a place I have to Hide in, Life's not worth a DAMN, till you can say -- HEY WORLD, I AM , WHAT I AM
I am, what I am,
I don't want praise.  I don't what pitty, I bang my own drum, some think it's noise, I think it's pretty, And SO WHAT, if I like the sparkle and the spangle, WHY NOT, try to see things from a different angle, Your life's just a SHAM, till you can Shout, out loud -- I AM, WHAT I AM
I am what I am, and what I am needs NO EXCUSES, I deal my own deck -- sometimes the ace, sometime the deuces, Just ONE LIFE, and there's no return and no deposit, ONE LIFE, so it's TIME YO OPEN UP YOUR CLOSET, Life's not worth a DAMN, till you can SHOUT -- HEY WORLD, I AM, WHAT I AM!
Thanks Laura for sharing this with us!
We encourage you to...
Live with pride, in addition to talking about it.
Live with pride, in addition to marching about it.
As we headed home, we continued building life-long connections…
Several months ago, we received an email from Janelle in Everett, WA.  She happened upon our website, and contacted us.  She also read about Tom Overlie in Rochester, MN, who was a graduate of Dordt College, in Sioux Center, IA.  Janelle wrote again and shared that it was very encouraging for her to have read about Tom and the fact that he was a person of faith, a graduate of her alma mater (Dordt College), and a gay man.  When you have lived in a very conservative environment, it's easy to think that maybe you're the only one!  Roby, having lived in Lynden, WA for several years, and having attended a Christian Reformed Church, was very familiar with Dordt College. 
We finally had the joy of meeting Janelle, her partner, Jessica, and her daughter, Kendra, while driving through Everett last week on our way back to Blaine.  We happened to arrive on Kendra's 13th birthday, so we sang to her and enjoyed birthday ice cream cake with them.  Tyler, Janelle's son, was not home, so we were not able to meet him.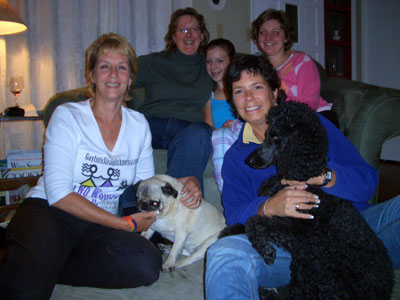 (L-R on back row) Janelle, Kendra & Jessica
(L-R front row) Dotti (with their dog Joey), Roby & Rylee Joy
We were inspired by how Janelle and Jessica are handling their challenging situation, and how they are providing a loving, stable home life for the teen-age kids.  Their situation is "challenging" because both Jessica and Janelle were once Christian School teachers, and were fired because they are lesbian.  They now face ostracism and rejection from some members of the community.  This is why we continue to Stand UP and Speak OUT!  Too many GLBTQ people are facing this same ostracism and rejection from some (not all) religious institutions and this religion-based oppression must end.
If you are a person of faith, does your faith community not only accept GLBTQ people, but CELEBRATE us?  If not, dare to speak your truth in love to the leaders of your faith community.  Change is less likely to happen if we fail to have the authentic conversations that are necessary!  "Your silence will not protect you." Audre Lorde
Did any of you find yourself thinking, after last week's newsletter, that other people, besides the SO (significant other) of the transgender person, might have this question regarding male-to-females, "Does that mean they are gay?" You are right!
In fact, 13-year-old Kendra asked us the same question.  If you missed this information, here it is again.
One of the first questions that SO's (significant others) of M-F cross dressers often ask their male husband or boyfriend, is "Does this mean you are gay?"  That is when the journey to education begins.  By the way, the answer is "no."  Their current journey is one of gender variance, not exploration of sexual orientation.  Click here to read about the second question the SO usually asks, as well as additional information.


Upon returning home, we were blessed with visits from several of our wonderful neighbors, who wanted to come over and welcome us home!  We also had a balloon & pinwheel in the yard that said, "WELCOME HOME" from our dear friends, Shelly, Cathy & Ronna!  The first thing we did when we came into the house was do a walk through, and then head out to the back yard.  We were overwhelmed at the sight – a proper JUNGLE!  Our neighbors had been caring for our home, watering plants, collecting mail and mowing the lawn.  We didn't expect them to pull weeds, although some of them did at times, for which we are grateful!  The yard looks great now, and those TEN 32-gallon bags of weeds have found their place at the dump!
Ryan and Michalea, our next door neighbors to the south, promptly climbed up onto their playhouse and greeted us with excitement.  What a joy that was.  Then they proceeded to say, "Remember when we roasted marshmallows over the fire that time?  Can we do that again?  And with chocolate?  And graham crackers?"  We promised them a proper fire to make s'mores, and invited the other neighbors with kids.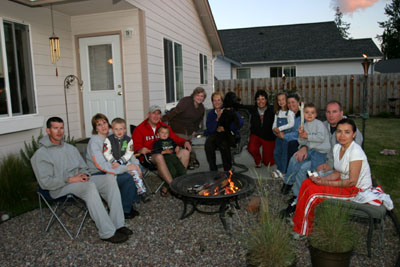 Some of our wonderful neighbors
(L-R) Steve & Tara (holding Jackson), Justin (holding Ryan), Wendy, Dotti, Rylee Joy, Roby, Michelle (holding Michalea), Rich (holding Andy) & Rebecca.
We had such a wonderful time in our back yard, fire blazing, laughter all around, catching up on each other's lives, sharing stories, and just enjoying one another's company while the kids romped and played with Rylee in the yard.  We've missed our neighbors.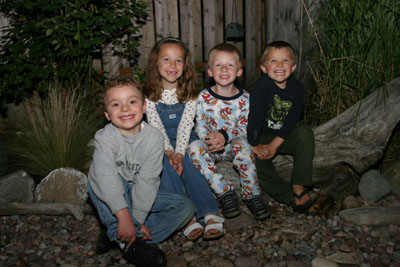 The neighborhood kids! 
(L-R) Andy, Michalea, Jackson, & Ryan

 

HOT OFF THE PRESS... Bellingham Herald Article: On Tuesday, we had an interview with Mary Gallagher, the Quality of Life reporter at the Bellingham Herald.  Mary has covered other articles about us in the paper, and has done a beautiful job.  This particular article is about the Bellingham Pride Festival and about our Gay Into Straight America Journey.  Click here to read the article.

 

On Wednesday, Phil, the photojournalist from the Bellingham Herald came and spent three hours following us around taking photographs as we did our usual daily tasks.  We had a really neat connection with him, since he is an ELCA Lutheran and attends Christ the Servant Lutheran Church in Bellingham.  That is significant because our friend, Sarah Satre, is in leadership there, and we met their former minister, Gary GrafWallner while we were visiting Lars & Anne Clausen at Holden Village back in the summer of 2005, before leaving for our journey. 

 

HRC sent out an announcement this week saying,
"Before President Bush announces his renewed support for the FMA, call the White House and let him know that discrimination has no place in the U.S. Constitution. You can reach the White House comment line at (202) 456-1111."

 

Victor Hugo said, "There is nothing more powerful than an idea whose time has come."

 

 

We agree what HRC suggests is a good idea, but let's take it a step further. Here's our idea:

 

"Before President Bush announces his renewed support for the Federal Marriage Amendment, call all your friends and family and share the gift that you are and let them know that discrimination has no place in the U.S. Constitution, particularly against you, their "son, daughter, mother, father, friend, etc."  And then call the White House comment line at 202-456-1111, and ask your family/friends to do the same."

 

Folks, it is time to Stand UP & Speak OUT! 

 

"There is nothing more powerful than an idea whose time has come." - Victor Hugo

 

We did some checking to see what the AP is doing new in terms of updated language regarding our community.  Check out this press release from GLAAD.

 

GLAAD Applauds New Associated Press Stylebook Gay and Transgender References

 

The updated 2006 entry reads:

gay Used to describe men and women attracted to the same sex, though lesbian is the more common term for women. Preferred over homosexual except in clinical contexts or references to sexual activity.


Include sexual orientation only when it is pertinent to a story, and avoid references to "sexual preference" or to a gay or alternative "lifestyle."

The 2006 edition also relocates the sex changes entry under the more accurate and inclusive term transgender. The transsexuals entry, which used to direct readers to the entry for sex changes, now also points to transgender:

transgender  Use the pronoun preferred by the individuals who have acquired the physical characteristics of the opposite sex or present themselves in a way that does not correspond with their sex at birth.


If that preference is not expressed, use the pronoun consistent with the way the individuals live publicly.

Click here for more info from the AP.  We sent an email to GLAAD, encouraging them to advocate in the future for the following to be added to the Associated Press Stylebook under the transgender reference:  "Include gender variance only when it is pertinent to a story, and avoid references to an alternative 'lifestyle.' "

 

We are staying true to blogging more!  Look up at the icon at the top left and click on "Blog" to see some of our entries from this past week.

 

Thanks again to Janelle for bringing to our attention that people couldn't write comments unless they had a blog.  We had an incorrect setting, and have now corrected that!  ANYONE can now comment!  So, bring 'em on!  If you recently tried to "comment," and it wouldn't let you, try again!  Help us spread the word about Gay Into Straight America! 

 

Also, we finally got some more info onto our My Space page.  Check it out.

What's the best antidote to the anti-gay minority?  ALL of US being the gift that we are!

 

Read some comments by Rick Cronk, who takes over as president of the 96-year-old Boys Scouts of America.  One question to him was "The BSA has been criticized for not allowing gays and atheists to participate.  Do you agree with these policies?"


"You have to distinguish between members and leadership standards.  Scouting has its own values, and you teach and train kids to be courteous of kids who have different values.  We don't expect everyone to agree with GSA, but we are proud of what we do.  When it comes to standards we use as identifying leadership and mentors, we don't quiz anybody.  But if somebody – and these are virtually always adult leaders in Scouting – avows publicly a gay lifestyle, we say to that leader, "It violates our standards, and we prefer you offer your services to some other organization." 


Once again, Rick and the Boys Scouts are endorsing a"don't ask, don't tell" policy.  And it's wrong.  Once again, a person in a position of authority in an organization uses the phrase "gay lifestyle" to  demean and denigrate.


 

Helen Keller was once asked, "What would be worst than being blind?
She replied, "Having good eyesight and no vision." 

We feel that Rick Cronk has no real vision when it comes to understanding diversity.

 

Yet, sometimes, even those in our own community of GLBTA (yes, allies too are part of our community) erroneously use this word, "lifestyle."  Click here if you have missed what Dotti wrote about this subject. 

We read a great piece by Nicole Brodeur, a columnist for the Seattle Times.  The title of the column? 73 Seniors stand up for Gays.  A group of Christian Seniors in Lacey, WA (near Olympia) created and signed a petition opposing Tim Eyman's Referendum 65, which seek to repeal a new anti-discrimination law that protects gays and lesbians.

We have written Jim Smucker, the 85 year old vice president of the group, to offer to speak to their group when we head to a Washington town on the border of Oregon.  First we want to personally thank them and honor their group as our most recent Stand UP Speak OUT Wind Changers.  They represent what we have been saying, "We have not seen age to be a barrier to being accepting and understanding and celebrating of GLBT persons."  Secondly, we want to help him understand why the use of the word, "lifestyle" needs to be dropped.  Actually, we feel that part of a reporter's job is to educate someone in that instance regarding the AP guidelines.  We feel certain that, because Jim is such a huge ally, that he will want to revisit his use of the word.  In the column, he was quoted as saying, "People assume that most old people would be biased against homosexuality as a legitimate lifestyle.  But there's a lot of hidden support that doesn't come out unless you give people a chance."  Jim is on target with his statements.  You might think "Why bother? His intent and support are so great!"  Good question.  I am going to give the best reason I know.  The term is being used against us by the anti-gay minority, but a minority with a loud voice and strong financial backing, want to keep us from having equality and justice, and are the ones putting pressure on President Bush.  

Congratulations to the 73 Seniors who are our newest Stand Up Speak OUT Wind Changers.  Click here to read the article about them.

To better understand how the vocal minority are using language and why we need to be particular about ours, click here to read what the group, Concerned Women for America, have put together.

In this document, they list, "Correct terminology for Debating Homosexual Issues,"  listing words "You should say" and words "You should not say."  It further states,

"Our choice of words can be influential to a reader or listener.  We are called to be savvy in our use of language in order to be effective. In Matthew 10:16, Jesus tells us to be 'wise as serpents and harmless as doves.'  Choose words carefully when communicating the truth in love."

It lists "Homosexual lifestyle" (versus "gay" or "lesbian") as words to use, stating that "Lifestyle signifies one has choice in their behavior."  They also tell people to use "sexual preference" versus "sexual orientation" since the former indicates choice and the latter suggests that behavior is innate and inborn.

We agree with them on one part.  Yes,words are important!  And...it is important to understand how the word "lifestyle" continues to be used to diminish us.

While we are looking at important information to consider as the Federal Marriage Amendment is being debated, important support is coming from outside of America for same-sex partnerships.  From The Advocate:

 

May 31, 2006

Anglican bishop says same-sex partnerships supported by Bible


One of Britain's most senior bishops has reignited the Church of England row over homosexuality by claiming that same-sex partnerships are supported by the Bible. London's Daily Telegraph quotes the Right Reverend Richard Harries, the Bishop of Oxford, as saying that traditionalists in the church need to be "converted" to see that gay and lesbian unions are confirmed by the scriptures.

He also reaffirmed his controversial belief that an openly gay man should be allowed to be appointed a bishop.

His remarks have angered traditionalists and are set to rekindle the debate on same-sex marriage, which has left the church's House of Bishops deeply divided following the introduction of the Civil Partnership Act last year. (Sirius OutQ News)

 

We are encouraging friends to consider joining us at the Soulforce 1000 Watt March, Vigil & Concert in July.  Lars Clausen, the Lutheran minister who journey, Straight Into Gay America, was the catalyst for us, emailed that he will be going, unicycle and all!  Remember to check out the link to his website and sign up for some free chapters of his book! Here's some basic info about the Soulforce event ...

 
The Soulforce 1000 Watt March, Vigil & Concert
Families and Friends From Across America March with a Powerful Message for Focus on the Family: "Dr. Dobson - Learn From History. End Religion-Based Discrimination

Against Our Families."
Register today to attend or sponsor a family in the march.

July 22, 2006
Colorado Springs, Colorado

Featuring Actor Chad Allen, Broadway Star Billy Porter, and Judy Shepard, executive director of the Matthew Shepard Foundation!

Location: Rampart Park
8270 Lexington Drive; Colorado Springs, Colorado
6:00 pm

Soulforce is pleased to announce that

Judy Shepard

, the Executive Director of the Matthew Shepard Foundation (

www.matthewshepard.org

) will be joining actor and activist Chad Allen in leading the crowd!
Click here to read about actor Chad Allen, who was in the movie, End of the Spear.  It exemplifies the importance of people getting to know one another, as he plays a part in a story about "love and forgiveness."

For the latest information on the 1000 Watt March, Vigil, and Concert, click here.
As you take pride, and share the gift that you are, even with those who you feel will possibly reject you due to religious teachings, we want to offer you some additional websites to share with them. Faith in America is one we have mentioned previously; however, we want to draw your attention to a particular link.  In this video, you will meet Brent Childers, who resides in the Cajah Mountain community in western North Carolina, and  serves as creative director for Faith In America Inc.'s ad campaign.  The ads are geared toward people like himself, or rather who he was two years ago, an anti-gay man whose beliefs have since changed.  Click on this link to see the ads that Brent has developed.

As well, watch the video of Jimmy Creech, Executive Director of Faith in America, and an ordained minister in the United Methodist Church, whose credentials were revoked for performing holy unions of gay persons.      
In light of the many diverse connections we have made