News
Keep informed about our journey, Gay Into Straight America!  Each week, we send out a newsletter.  Below are links to the ones we have sent since the beginning of our year long journey, which began September 11, 2005.  The most current one is at the top.  Note:  The last newsletter for this journey will be the December, 2006 newsletter, since our year long journey will be over; however, Stand UP Speak OUT, Inc. will continue with other projects.  Gay Into Straight America was its initial one.  Click here and sign up to receive our newsletter that will come from Stand UP Speak OUT in 2007.  Those who have already been receiving this newsletter will automatically receive our Stand UP Speak OUT...Live Authentic newsletter.

Sign up today for our FREE e-newsletter.
Rylee Joy attends PFLAG Tampa

Jan 12, 2006

As we continue our journey, this New Year continues to offer a time for renewal and transformation.  Now is the time to be the observer of behaviors which are not empowering us, and bring our consciousness to a new level of awakening.  We recognize that the only way to create change is to step out of our old ways of thinking.  The movable middle we are encountering knows that denying people equal rights is wrong.  Their fear is that they don't know who stands with them, therefore often remain silent.  Once they understand that others are with them, they feel a freedom to do the right thing.  We encourage each of us to motivate people to do what they know in their hearts is the right thing to do.  We must give them a reason to stand with us.  It was not the efforts of the free world that toppled the Berlin Wall (an event that many in my generation never thought they would live to see happen).  It was the inner shift of a group of people who stood up, and cried out, "No more!"  We, too, can create a similar change in our culture regarding equal rights for everyone, including, but not limited to, GLBT persons.
We received a wonderful email from writer, Michelle Deakin:
Dear Robynne and Dotti,
I read about you both today in HRC's Equality Magazine. Congratulations! What a tremendous quest you're on!
I wanted to send you a copy of my new book, "Gay Marriage, Real Life: 10 Stories of Love and Family."
If you would send along your mailing address, I'll be sure to send you a copy. It profiles 10 couples from around the country (including two men in Washington who are plaintiffs in the Freedom to Marry" lawsuit there).
I'm hopeful you will enjoy the book. A woman I know recently read it (she's a staunch, straight Catholic), and she told me it completely changed the way she thought about gay marriage. Hilary Goodridge, lead plaintiff in the Massachusetts Freedom to Marry case, called said "I dare anyone to read this book and still try to argue against marriage equality."
So please let me know where to mail it if you'd like a copy. 
Good luck to you in your speaking and your travels.
Best,
Michelle Deakin
How could we have forgotten to mention (in our last newsletter) meeting Carrie and Chris in Atlanta on Christmas Day?  Having planned to join our new friend, Karen, for dinner, we discovered very few places open, and ended up at Hooter's.  Roby had never been to a Hooter's before and it was an experience!  Our server was a delightful gal named Carrie.  She is a Catholic person of faith, and when we told her our story, she welled up with tears and expressed her support of us.  Carrie is from Atlanta, but actually lives and works as a professional dancer in West Hollywood, CA.  She introduced us to her co-worker, Chris, a charming young gay man.  We shared stories and made an authentic connection, receiving warm hugs from both before leaving that night.  Carrie asked us to look her up when we are in California in the spring. 
Also, on New Year's Eve, we talked with our friends, Rachel and Tammy, as well as Rachel's Mom and Dad, Kathy and Robert Reim (Kathy is state PFLAG chair in Washington).  Rachel and Tammy expressed their desire to have Dotti officiate at their wedding July 4th, and booked Roby as their wedding photographer!  We can't wait…what an honor!  
We finished out our "vacation" at Lib & Randy's on Lake Lanier in Gainesville, GA, and made our way to Orlando, FL.  We arrived Friday night, January 6, and met Lisa, Carol, Doris & Muriel for a great dinner to celebrate Lisa and Doris' birthdays.  We spent the night at the home of Lisa and Carol on Friday and Saturday night.
Lisa and Dotti first met when they were arrested together in an act of civil disobedience at the Southern Baptist Convention in Orlando in 2000, while standing vigil with Soulforce.  They discovered they both had roots in Kentucky.  It was sitting together after their arrest when Dotti first heard about Lisa's experience of losing visitation rights with her child, Savannah.  When Lisa's former partner left her, she initially allowed Lisa to see Savannah, before later deciding differently.  It has now been five years since Lisa has been allowed to see Savannah.  She pursued visitation rights through the court system in Texas, before exhausting that legal process.  She now hopes that when Savannah is old enough, Savannah will seek to locate her.  
Out of meeting one another, Dotti donated development of a website for Lisa, www.We2HaveParentalRights.com.  The purpose is to help create awareness of this situation, and others like it.  Unfortunately, our community has often sought legal recognition and protections and rights for our relationships, while simultaneously using the system to alienate children from the non-biological parent. Throughout that process, Lisa learned lots about how the legal system works in ways that don't favor GLBT persons, and is considering a run for the Florida legislature.  Lisa is going to a training meeting with the Victory Fund in Kentucky in March.  Hopefully, like Kathy Webb in Little Rock, Lisa will be endorsed by the Victory Fund and run for public office.  We need more people like Lisa and Kathy, who are committed to equality for all people.
We experienced more computer problems in Orlando, and ended up making an emergency run to Best Buy on Saturday.  Unfortunately, the Geek Squad could not even look at the computer for three days.  We walked out of the store and Roby melted into a puddle of tears.  It's been very challenging with all the repair costs and inconveniences.  As we left for Jupiter, Lisa shared with us that she was making a generous donation to our journey.  We continue to feel great appreciation for people's support.
We left Sunday morning for Jupiter, where we had arranged to connect with Laura.  She is our dear friend from Richmond, BC, who is President of International Pacific Sales, the largest food distributorship in Canada.  A convention in Florida created the perfect opportunity for us to meet.  We enjoyed an afternoon in the sun, sharing a meal and good conversation at Jupiter Beach Resort.  Laura surprised us with a very generous gift over lunch. She thanked us again for the journey we are taking, and reiterated the support she and her partner, Linda, have for what we are doing.   Thank you, Laura & Linda, for your friendship, your endless generosity, and for believing in us. 
After Laura left to head back to Ft. Lauderdale to catch a flight home in the morning, we drove around scoping out places to camp.  We found that there were literally hundreds of parking spots right along the beach, and, best of all… no signs indicating that overnight parking was not allowed!  Hooray!  We found a nice spot where we could see the ocean through the grass, and we set up camp.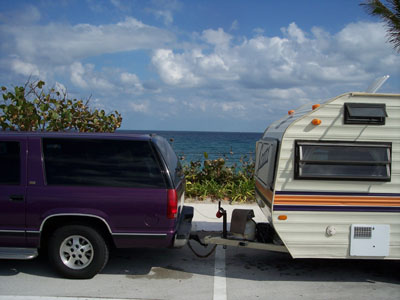 This is where we were parked at Jupter Beach, with numerous people walking by and taking the time to stop and ask us, "What is GayIntoStraightAmerica.com?"
It may be Florida, but it's been cool in the evening and downright cold at night.  Thankfully, we had our Buddy Heater, which served as a portable fire to keep us warm as we sat outside our trailer enjoying the sound of the surf. 
While Roby was preparing the trailer for sleeping on Sunday evening, an inquisitive man named Avner walked by and noticed the signs on the Suburban.  He approached Dotti and asked what we are doing, saying, "What is this GayIntoStraightAmerica.com?"  Dotti then spent about 30 minutes having a very interesting dialogue with Avner about marriage.  Avner, a Professor of Finance at Cornell University, insisted that we should just say, "To hell with them" to people who don't agree with us."  He continued, "What does it matter what others think?"  I replied, "It doesn't matter what others think about our relationship.  Our love and commitment is intact.  What matters are the rights, privileges and protections that a civil marriage license offers."  Avner said that we were not affected financially and otherwise by these "missing" 1200 legal rights and protections unless we had lots of money. He continued by asking why we didn't "fight" for something we could win.  We explained that we aren't "fighting" and don't see what we are doing as "a battle to win."   He asked why we didn't do something that would make a difference, such as some action regarding the situation in Africa or Iraq.  We explained that our journey is not really about us, or about being GLBT persons and allies.  As we often explain, our journey is beyond all of the labels that separate us, and that indeed, as we are creating authentic connections with each person we encounter, we are making a difference in Africa and Iraq, believing that all of these issues and situations are connected in a deeper sense. 
The bottom line is that Avner is actually supportive of our relationship, and in agreement that we should have the same rights and protections; however, he believes that "marriage" is for heterosexual persons, and that if we want to be united, it should be called something else.  I asked him, "Why?"  He said "Because it is different."  I asked, "How?"  He said,  "Men and women can have children."  I asked, "Do you want people who are unable to have children, or people who don't want children, to then be under the 'other' title with us?"  He was perplexed, realizing he had backed himself into a corner.  I said to him, "When only white males had voting rights, they didn't eventually create "another category" to call "voting rights" when white women, and then people of color (both men and women), finally were able to go to the polls.  Why do the equal protections of  "marriage' need to be accorded us, but called something else?  Before leaving, he finally said, "I will bring my wife, Sara, to meet you tomorrow.  She agrees with you 110%!"  
Before tucking in for the night on Sunday, we stopped at a Publix.  In the lot, a nice young man name Matt helped direct Roby into a parking spot.  When she got out, Roby and Matt walked up to the entrance of the store together, talking about living in Jupiter, Matt's family, cars, work, and all of the gay family members Matt has.  When Roby asked, Matt said, "Oh yes, my entire family is very supportive and affirming… it's wonderful."
Before we left for the open road, our friend, Loren Dokke spent a weekend with us (the Kick-Off Benefit Concert Weekend).  In the course of conversation, he offered to bring us home anytime we need to do so.  Loren works for Alaska Airlines.  On Monday, we phoned Loren, and made arrangements to fly home Wednesday evening (Jan. 11), hoping that the Washington State Supreme Court would issue a positive ruling in favor of us having the right to obtain a civil marriage license.  However, after speaking with Loren, we spoke with a representative from Equal Rights Washington, who indicated that since the Legislative Session just began, there is some talk that the ruling on marriage may not be till the end of Session, which is in 60 days.  After some thought, we decided not to come home this week.  The truth is nobody really knows what day the ruling will be issued.  We felt, however, after having receiving the feedback from ERW, that we should wait and hope that we will be able to come home when the ruling is issued.  You may be interested to know that Dotti did get down on one knee on the beach today and asked Roby to marry her… AGAIN. J  Hey, who said one couple can't have three weddings? J 
One thing we discovered on Monday is that if we park the rig at the beach where people walk by, we have an automatic line of people waiting/wanting to talk!  You won't believe the day we had, but here's the story!  Each conversation led to discovering more about each person and a natural sharing of our journey.  We felt like we had won the lottery, richly embraced and blessed by the connections we made, as we passed out our GISA business cards and offered rainbow wristbands. We even discussed the possibility of always traveling with signs on our car!  Hey, a lifetime journey of creating authentic connections is a dream come true.
As we tumbled out of bed and opened the door of the Scotty to a beautiful view of the Atlantic Ocean, two people stopped.  Carol and Dennis excitedly asked us if we were from Washington (seeing our license plate).  We replied, "Yes," and discovered that they had moved from Bellvue, Washington.  They thought our journey was amazing.
Barbara and Doralee approached us next.  They stopped and began talking to us after thy saw our signs.  After a few minutes, Barbara shared that she has a gay son in Tampa, and how she feels that education is the key to people's understanding.  Doralee is an ally as well, and both nodded in agreement as we shared  about our journey.
As we were finishing our conversation with Barbara and Doralee, Avner approached, introducing Sara to us.  As we talked, they mentioned that they have friends, a male couple, who had been together for 20+ years when they met them.  One was a priest who left the priesthood, and they have now been together an additional 20+ years.   This former priest and his partner recently had a civil union in Vermont so that they could have the financial protections (the very thing that Avner said didn't affect us the evening I first met him).   As they told us about this couple, I began to understand why Avner was so "in favor" of rights and protections for us, while simultaneously wanting our unions to have a different name.  The priest says that "marriage" is for heterosexual couples. The four of us stood talking as the surf rolled in, talking about life and our faith.  Avner and Sara are Jewish, and split their time between Florida, New York and France.  They have become involved in the synagogue in Florida more as a way of connecting with people who are Jewish, saying that in Israel, being Jewish is both a cultural and religious connection.  That led to a discussion of the potential changes Sharone's health could create.
Esther & Jennie then dropped by.  A Chocolate Standard Poodle, Cocoa, was immediately noticed by Rylee, until Dan, walking his Westie, stopped by for a talk.  That led into discussions about transgender persons, with him acknowledging that many people are afraid when people see so "different" until they get to know them.
Ty Lund & Barbara Carpenter came along next, walking Barb's toy poodle.  They were so interested in what we are doing and Ty gave us her phone number and offered an invitation to get together next time we are in town.
Later on the beach, we had the honor of meeting and chatting with Jennifer, Scotty & their Yellow Lab, Sol.  Jennifer and Scotty are non-hearing people, who read lips impeccably, and who are able to speak audibly some, even though they cannot hear the sounds.  They were so patient as Roby tried her best to sign with them with what limited ASL she knows… in fact, it's barely more than the alphabet, but we think Jennifer and Scotty appreciated her efforts.  Roby told them that we are married, and that we are traveling around the USA.  We then gave them our card and Jennifer said, "GayIntoStraightAmerica.com… What is that?"  Roby said with her fingers, "Educating people."  Jennifer got it.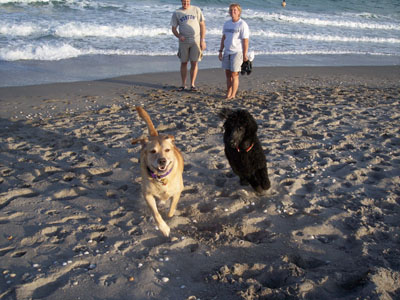 Scotty & Jennifer watch Sol and Rylee run together!
Rylee and some of her new Standard Poodle friends
Roby also met Laura and her three kids on Jupiter Beach.

 

Laura has been married to her husband for 19 years.

 

They have a home in Jupiter, Switzerland and a condo in London.

 

 

Laura, an evangelical Christian, expressed her confusion over homosexuality, stating, "Don't you think it's a choice?"

 

Roby explained that yes, being in relationship with Dotti is her choice, but being lesbian is innately who she is, just like being heterosexual is innately who Laura is.

 

Roby and Laura enjoyed a stimulating conversation about life, relationship, love, and faith in God.

 

Authentic Connections…Dissolving Differences.
In the afternoon, we met Ann Marie, and her black Standard Poodle, Becky. The conversation eventually took its natural course to "Where are you from?" which leads people to comment, "Wow, you are a long way from home."  That leads to why we are there, which leads to us sharing our journey.  She explained that many older people choose to live together, but not marry, due to not being able to risk losing their current health insurance, and for other financial reasons.  For people who are so wealthy the insurance factor is not a determining one, they can choose to legally marry.  "Families" of all kinds exist today, and the laws of our country are not keeping up with them.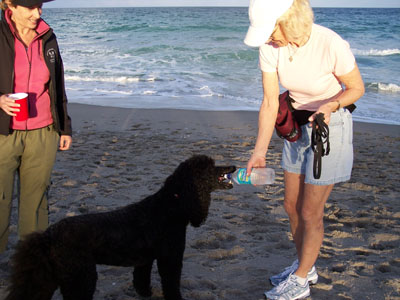 Standard Poodle, Becky, drinking water from Ann Marie's bottle
Amber was our server at Carrabba's that evening, where we treated ourselves to a pizza.  Her family moved from Idaho to Jensen, FL (just north of Jupiter) six years ago.  She shared that she is engaged to be married to her boyfriend of five years, and we shared about our marriage/marriages! (:  We also gave her the rundown on the status of the potential ruling from the Washington State Supreme .
Monday, at 9:36 pm, the Jupiter Police came by where we were parked for the night, and informed us that we couldn't spend the night here.  Even though there are no signs posted that overnight parking is forbidden, we were asked to leave.  The officer said that it is a "city ordinance," and signs indicating such are not necessary.  So… we packed up, hooked up and drove to the nearest Walmart (that would allow overnight parking), discovering it at 12:30 a.m.  It's been about a month since we paid the Wal-Mart family a visit, but even still, they were there to welcome us with open arms.  One film we want to see at some point is "The High Cost of Low Price."  Don't misunderstand us.  We are not proponents of Wal-Mart philosophies, but we do appreciate the kindness of the employees and the safe and free RV parking they provide. 
On Tuesday, we proceeded to a spot on Jensen Beach, about five miles from where we spent the night.  We wanted to find a spot to run Rylee on the beach while Dotti used the "Scotty office trailer" for a coaching session with a client in Washington. Just before the session began we took Rylee down to the beach and encountered Edd, a retired pharmacist, sitting on the rail.  He proudly showed us where he had etched "Edd's Palace" on the rail in 1986.  He sits there daily and chats with everyone who comes along. 
Speaking at PFLAG Tampa on Tuesday, January 10, along with connecting with a variety of people the day before as we traveled through central Florida, provided the perfect beginning to our week.
It was a treat to meet with PFLAG Tampa president, Donna, and her husband Dennis, along with a group of wonderful and engaging people.  The advantage of a smaller group, combined with an extended time to speak and/or answer questions, is the opportunity of hearing about others' lives and engaging on a more intimate level, which is always a joy for us.
Rylee Joy got to attend PFLAG Tampa meeting!
(L-R) Willy Emerson, Donna Blaha, Carl StMeyer, Dennis Blaha, Dotti, Rylee Joy, Susan Torge, Roby, Tom Torge, Martin Sicard, and Roberto Mata
Roberto, a wonderful young man orignally from Venezuela, attended.  He works with Citibank, and is working toward establishing a Pride Network there.  The Pride Network is a valuable part of many Citibanks.  Roberto talked to us about speaking and perhaps about having Dotti do some diversity training for Citibank in Tampa in the future, once the Pride Network is established. For those who are unaware of Dotti's experience in diversity and nonviolent training, click here.  And call her if you need her services!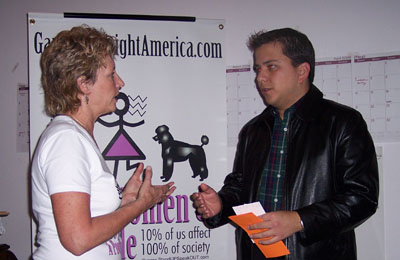 Dotti & Roberto speaking about possibilities of speaking to the
Pride Network at Citibank in Tampa
After the Tampa PFLAG meeting on January 10, we proceeded to St. Petersburg, where we are staying for a couple of days with our friend, Bill Carpenter, who Dotti first met in Lynchburg in 1999 with Soulforce.   We are once again thankful for Jerry Falwell and James Dobson, whose anti-gay rhetoric has united so many GLBTA people in friendship!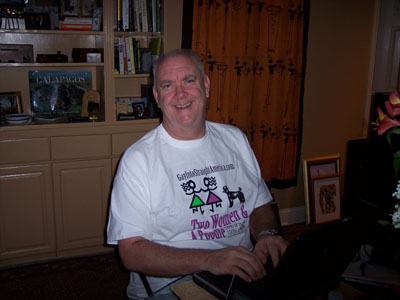 Here's what we say about our friend, Bill Carpenter.
Real men wear "Two women and a Poodle" T-shirts!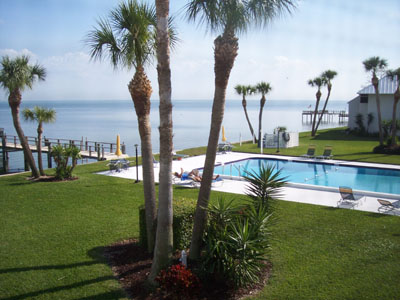 The view out Bill's B & B is fantastic, as it overlooks Tampa Bay
On Wednesday, while Roby was taking Rylee out to potty, Margie came by to say hello.  Margie and her husband live in Ohio, and spend a couple of months here in Florida each winter in the condo of her high school friend.  Margie lost her Beagle, Sam, this last December, from what they think may have been a brain tumor.  She was happy to see Rylee in the condo complex, since she is missing Sam.  When Margie asked what we were doing here in Florida, Roby explained our journey to her.  Margie replied, "I believe in live and let live." 
On Wednesday, we paid our weekly visit to Best Buy in St. Petersburg.  When asked by one of the agents of the Geek Squad, "Can I help you?"  Roby replied, "If you can, you will make me the happiest girl in St. Pete."   BJ turned on the computer, looked at the scary blue screen with a bad error message on it, and said, "Oh… this isn't good.  I could take your computer and put it in line with all the others to be diagnosed and worked on, but this is the busiest Best Buy in Florida, so it could take 5 days or so."  Instead, BJ (Bobby Joe) gave us some instructions as to how we could possibly fix the problem at home.  BJ, you are a miracle worker!  After months of problems and visits to seven Best Buy stores across the country, the error message is not showing up anymore!  Hooray!  BJ expressed his support and affirmation of who we are and of our journey, and then introduced us to Joseph, a gay man in the Geek Squad.  Joseph eagerly donned a rainbow wrist band and we gave both men our card so they could check out our website.  Thank you, BJ and Joseph for your help.  It was a pleasure to meet you and engage with you!
We just received an email from Donna at PFLAG Tampa saying, "We absolutely loved meeting you and hearing about your journey. You were very inspirational. Thank YOU so much for your journey which will mean a great deal to many people and the GLBT community as a whole!  Everyone absolutely fell in love with you both (and Rylee). We all felt like one big happy family. Do come back to town."
Our response?  We will!! We know, once again, that we have made new friends, and that each person is a part of the journey, Gay Into Straight America, moving forward in new ways to engage hearts and minds, create authentic connections, and dissolve differences that separate us.
  

From the adventures of two women and a poodle,

Dotti, Roby & Rylee Joy 
<< Back