News
Keep informed about our journey, Gay Into Straight America!  Each week, we send out a newsletter.  Below are links to the ones we have sent since the beginning of our year long journey, which began September 11, 2005.  The most current one is at the top.  Note:  The last newsletter for this journey will be the December, 2006 newsletter, since our year long journey will be over; however, Stand UP Speak OUT, Inc. will continue with other projects.  Gay Into Straight America was its initial one.  Click here and sign up to receive our newsletter that will come from Stand UP Speak OUT in 2007.  Those who have already been receiving this newsletter will automatically receive our Stand UP Speak OUT...Live Authentic newsletter.

Sign up today for our FREE e-newsletter.
Sharing our Lives...creating authentic connections

Mar 9, 2006

You can't hate someone whose story you know. Dare to know the story of those who are different.

"The tiniest story in your life can deeply touch another.  You cannot know the effect your story might have."  --Sark
Can we talk?  When people KNOW us, really KNOW us, it causes them to have to think about how laws and/or situations affect our gay, lesbian, bisexual, transgender, queer and questioning community.  That is, it causes them to think "when and if"  we take the time to explain the discrimination to them.  We give others the gift of a new lens for their camera when we take this risk.  The new picture can be pretty exciting as they see details they never before saw, details that make them recognize the commonalities of humanity, commitment and love, and the desire to connect that exist in both their relationships and our relationships.  Love of any kind changes people.  It changes those who offer love and it changes those who receive love.
Our experience with people on our journey has been one of overwhelming openness, inclusiveness, acceptance, affirmation, and in many cases, even celebration of who we are as people when exposed to the truth of who we are through KNOWING us.  Robbing anyone of the gift of awareness steals from them the opportunity to shift and grow and evolve.  It keeps the same from us if we don't take the risk. 
In our next newsletter, we are going to share some examples.  Here's some feedback from people along our journey.
From Louisville PFLAG parents Debbie & Gary Traggesor …
"Dotti, you will be happy to know we came out to the rest of Gary's family about Dan.  They took it all very well and one sister, whom he has always been very special to, started to cry.  She said she was crying, not because he's gay, but because she said didn't want anyone to ever say or do anything to hurt him.  'He's my boy,' she said.  So it went very well and we are relieved.  Should have done it sooner. Oh, and the conversation started because of your wrist bands."
From David Keyes, minister at Unitarian Church in Atlanta (visited there on Christmas Day, 2005…his remarks were relative to email I sent sharing some thoughts on including gender identity and gender expression to the 'group of everyone who is welcome regardless of…' in their church)
"We will soon be printing a welcome to persons of all sexual orientations and identities in our weekly order of service bulletin. I'll keep in mind that other ways should also be examined to be as welcoming as possible. Thanks for the suggestion."
The above is happening over and over in diverse situations.
And speaking of ministers, here's some feedback from Jim Mulholland.  He wrote after our last newsletter when we commented that the argument of nature/nurture…chosen/not chosen is interesting, but it often creates the wrong question. We said, "Discrimination is wrong…period."  Jim Mulholland wrote and said,
"I couldn't agree more.  There was a time when I thought the argument of orientation important - "if God made me this way, you should accept me."  Why should acceptance be tied to biology?  We should accept one another because we are all children of God endowed with the freedom to make real and significant choices.  If you're choice is life affirming and love creating, I should celebrate it.  If not, I should be ready - when you discover this - to offer my encouragement for a better choice.  Whenever we argue from biological necessity, we rob one another of the joy of making good choices.  I choose to celebrate your relationship - not because biology requires it - but because I sensed how life affirming and love creating it is!"
Speaking of nature/nuture and new information regarding sexual orientation, Dr. Cynthia Chappell, a Houston PFLAG Mom who has a gay son and is a professor at the University of Texas, does a fantastic job and pulling together the latest research, and presenting it in an understandable fashion for everyday people. Click here for her video, A Biological Explanation for Human Sexual Orientation.  We mentioned in a past newsletter that we met Cynthia at the PFLAG meeting in Houston.  They have responsible for making this wonderful DVD available, and you can contact PFLAG Houston to purchase a copy of the DVD.
On Friday, March 3rd, our close friend, Patti Hall, hosted a "meet & greet, share our journey" fundraiser for our Gay Into Straight America tour.  Patti is involved in many different activities and organizations in her city of Louisville, KY, and has a huge circle of friends.  Not only did we have a fantastic time enjoying good food, drink and conversations, we were utterly overjoyed and grateful to have received a total of $940 in donations from these wonderful, generous people!  Thank you, Patti, for everything you did to make this happen, from the invitations to buying all of the food and drink, as well as your generous donation.  And thanks, to each and every one who attended the party, and so generously gave in support of our mission to engage hearts & minds, create authentic connections, and dissolve differences that separate us, thus evolving to a more loving and accepting world for all of us.  Thank you for being a part of our GISA team!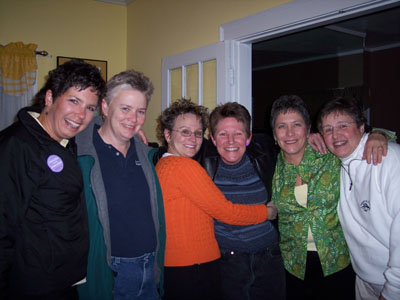 Folks at Louisville fundraiser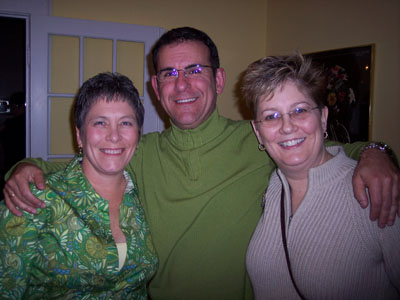 (L-R) Patti, our host for Louisville "Meet/Greet/Share our journey" Fundraiser
with Michael and another "Patti"
Leaving Louisville, we began making our way toward North Carolina, with an intention to be in Lynchburg, Virginia on March 9, for the kick-off of the Equality Ride on March 10.

 
The Soulforce Equality Ride is taking about 40 young adults on a seven-week bus tour to confront numerous religious and/or military colleges that ban the enrollment of GLBT students. At each stop along the journey the members of the Equality Ride will present a powerful case for GLBT equality.

 

Liberty University is their first stop, as Rev. Jerry Farwell continues to create spiritually violate many with his remarks.
Our first stop as we proceeded to North Carolina was outside Knoxville, TN.  Dotti recently received word that her college sorority, Delta Zeta, plans to have a reunion in Atlanta April 22.  Dotti will be unable to make it because we will be speaking at PFLAG Northwest Conference in Portland, Oregon that week-end.  She discovered, however, that one sorority sister, Cathy Loyd, lives outside of Knoxville.  Since our journey was taking us near their home, Cathy and Kelly Loyd, invited us to spend the night.  Re-connecting takes many forms on this journey! Spending time with Cathy gave us the opportunity to have conversations that never took place in college.  Many things were left unsaid during those years.  As well, it was after college when Dotti awakened to an understanding about her own sexual orientation.  We spent a wonderful evening and morning at their home on the lake, and had the opportunity to meet Cami, one of their neighbors.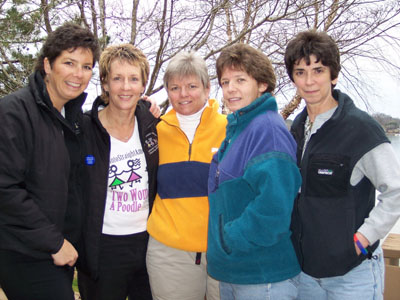 (L-R) Roby, Dotti, Cathy and Kelly Loyd, Cami
While in Indianapolis a couple of weeks ago, we received an email from Jess & Pat, in Asheville, NC.  They are a couple who own a beautiful home and rent out the downstairs guest suite to women.  They invited us to stay with them as their guest.  Jess read about our GISA journey in the Lesbian Connection and felt inspired to write and invite us over if/when we were ever in Asheville. If you have heard, "Timing is everything," it rang true for this situation.  One week later, we were there, enjoying their home and hospitality.  Jess is a wonderful writer, whose articles continue to educate about our transgender community.  (We hope to have a link to that article in next week's newsletter).  Pat was a former missionary with Wycliff, in Papua, New Guinea.  Click here to read her story that was included in Roberta Kreider's latest book, The Cost of Truth: Faith Stories of Mennonite and Brethren Leaders and Those Who Might Have Been. 
What a small world!  Dotti initially met Roberta and Harold Kreider at a week-end celebrating GLBT persons in 1999 at Central Baptist Church in Philadelphia.  She became friends with them, and developed their website to help promote their reaching out to the GLBT community, particularly the faith community, as well as promoting all three of Roberta's books.  Click here to read Roberta's "Fifteen Reasons Why I Have Changed my Mind."  It will give anyone hope that those who claim to have "more wisdom" can still learn.  It will also help debunk the myth that age is a factor in determining people's level of openness and acceptance.  Our experience is that people often hide behind that reason to keep from having to confront their own internal homophobia.  It isn't necessarily "those older people" who can't accept us...it is "us" who can't bring ourselves to share our truth, perhaps giving them a special gift, their last great opportunity to stretch and grow.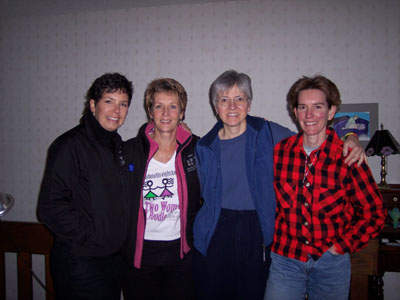 Roby, Dotti, Pat & Jess
Leaving Asheville, NC, the four of us stopped to have lunch with Holly Boswell, a wonderful transgender woman who Dotti initially met at Southern Comfort (a transgender conference in Atlanta).  Ironically, Holly is the same woman who Jess interviewed for a recent article.  Like we said, it is a small world!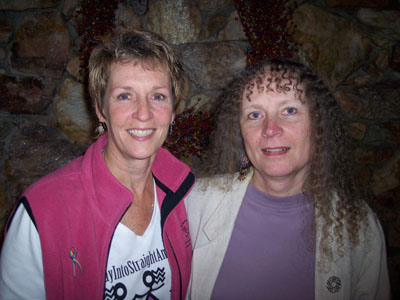 Dotti & Holly
In the Summer 2005 edition of the Human Rights Campaign magazine, we saw the photo and article about two men, Frank & Gary, in Winston-Salem, NC.  They are spending their retirement years speaking in churches and colleges throughout the southeast, about the history of the gay and lesbian community, about their life and  relationship of 42 years, and about marriage equality.  We were inspired by their work, and emailed them about spending some time together at some point in our journey.  After many months of emailing, we finally had the privilege and honor of meeting and spending the night with Frank & Gary.  These men are eloquent speakers, very knowledgeable, and passionate about GLBT equality, not to mention, they are really fun to be with!  Frank and Gary even had their own billboard.  Click here to read more about these wonderful men, and email them and invite them to come speak at your church, school or organization.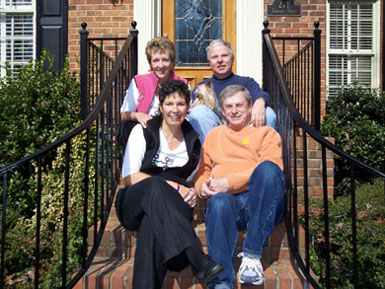 (L-R Back Row) Dotti & Frank, holding Abigail; (L-R Front Row) Roby & Gary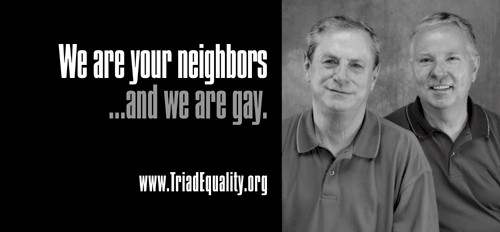 Gary & Frank
Some of you may or may not know, but Roby worked in the medical field from 1986 to 2005.  For the last ten years, she was the Director of Clinical Research at Bellingham Asthma, Allergy & Immunology Clinic.  During that time, she worked with many different Contract Research Organizations, Clinical Research Associates, and pharmaceutical companies, many of which are headquartered in North Carolina. 
One of Roby's favorite Monitors during those ten years of doing research was Gena Boyd.  Gena and her husband, Jimmy, live in a beautiful log home on five wooded acres in Pittsboro, just outside of Raleigh.  We enjoyed staying with them for one night.  Rylee and their Rotweiler, Nikki, had a great time romping and playing.  Rylee got a taste of what it's like to be the smaller dog, since Nikki is about 140 pounds and Rylee is 40!  Nevertheless, Nikki is as gentle and sweet as they come, and Rylee loved her.  Gena and Jimmy also have a beautiful bird named "Blue."  He has brilliant blue under his wings, hence his name.  Blue has a 300-word vocabulary! 
Jimmy Boyd is the owner of Engine Experts.  They specialize in engine replacement.  As a gift to us, Jimmy gave us a free oil change, and checked & greased the bearings in the trailer wheels.  Thank you, Jimmy!  You're the best!  Check them out.
Most of you know that we treasure those "nuggets" of unscripted, unplanned interaction.  Standing at the counter of Jimmy's business, Dotti had one of those.  After hugging Jimmy, thanking him profusely, we headed out the door.  As Roby got in the car, Dotti remembered that we wanted to ask about the nearest Panera Bread, our "home office away from home."  Jimmy was no longer at the counter, but a customer was standing there.  Dotti asked him if he could tell her the location of the nearest Panera Bread.  He then asked Dotti what we were doing, as Jimmy had wished us well on our continued journey.  After a few moments, the man's silence and lack of any type of response, caused Dotti to realize that she had encountered someone who might be on a different wave length with their understanding.  She inquired with our connecting threads question, "Do you know a gay, lesbian, bisexual or transgender person?"  He replied, "No."  Dotti continued, "Wow, that is really interesting.  You are the first person we have met in our journey across the United States that doesn't know anyone."  He then said, "Could you repeat that?"  After hearing it a second time, he replied, "Oh, yes I do.  I thought you meant all of the ones you mentioned."  (He missed the "or").  Dotti: "I might contribute it to my accent, but since we are in the south, I guess not!"  Wayne then shared that he knew some gay people at work.  Dotti then asked him about his understanding regarding GLBT persons.  He proceeded to share his thoughts, as well as his Pentecostal background saying, "The Bible absolutely condemns homosexuality."  Suffice it to say that as the "engaging of hearts and minds" continued, Wayne decided he wanted our business card so that he could look at some of the resources on our website, including Rev. Dr. Lisa Davison's "What the Bible Says/Doesn't Say about Homosexuality." 
Before heading off in search of Panera Bread, we drove to Research Triangle Park. Having done many clinical research studies with GlaxoSmithKline, Roby had a real interest in seeing the GSK headquarters located there.  We drove through the GSK park and were awed by the enormity.  Roby even saw one of the medical directors (Dr. Frank Barnart) from one of the COPD studies she worked on.
Driving to the mall in search of the Panera Bread, we spotted the Carolina Ale House in Raleigh, and splitting a burger was too much to pass up!   Catherine, our sever, was excellent.  She was raised in the United Church of Christ.  She shared with us that her father is gay, and has been with his partner for 18 years.  He attended seminary to become a minister, but due to his discovery (or coming to acceptance of himself), he did not continue along the path of ministry.  Catherine's God-Father, (her father's best friend), is a minister and a gay man.  Catherine donned two rainbow wristbands—one for her daughter, and one for herself.  Thank you, Catherine, for standing up and speaking out on behalf of your Dad, and all of us! 
While out in the parking lot, taking photos of Catherine for the website, we met two delightful guys—John, the General Manager of Carolina Ale House, who came to the United States from Greece in the 80's to attend University, and Tyson, who works at the Ale House and attends Med School in Raleigh.  As John and Tyson went on their way, they wished us luck and safe travels.  If you're ever in Raleigh, pay a visit to our friends at Carolina Ale House.  You'll love it.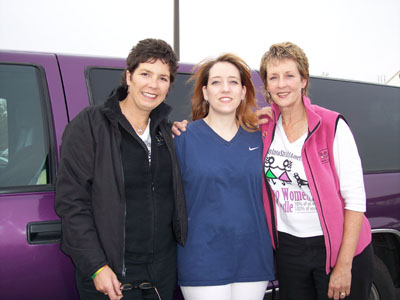 Roby, Catherine, and Dotti
We had the honor of spending time with our friends, Jimmy & Chris Creech, in Raleigh.  Their home is not just physically beautiful, but the energy embraces you in its warmth the moment you walk through the door. Jimmy is a former United Methodist minister who was defrocked for performing unions between same-gender couples.  Jimmy is currently the Director of Faith in America.  He continues to work tirelessly for justice and equality, and to end religious-based bigotry in our country.  Click here to listen to the video about "The Trials of Jimmy Creech."  Jimmy and Chris treated us to a delicious dinner at their favorite restaurant in Raleigh, called "Fraziers," and then Jimmy cooked up a scrumptious breakfast of eggs, bacon and cheese grits in the morning.  Jimmy and Chris have a gorgeous English Sheepdog named Dickens, who Rylee had lots of fun playing with!  Rylee thinks this journey is about "A Poodle & Two Women!"  Who are we kidding if we think it's not?! 
Stay tuned for more information on Faith in America in a future newsletter.  Their website is under construction but soon to be released.  Additionally, we hope to have an interview with Jimmy on our website in the near future.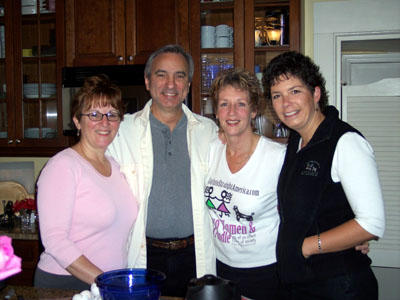 Chris and Jimmy Creech, Dotti and Roby
Two women and a poodle are heading for Lynchburg to support the young Soulforce Equality Riders as they embark on their journey.   Dotti supplied the apparel for the Equality Ride and is excited about seeing everyone!  We will attend a service for them at First Christian Church in Lynchburg at 7 p.m. tonight.  Guess we better hit the road soon as we head from Raleigh!
From the adventures of two women and a poodle, Dotti, Roby & Rylee JOY
The light in us honors the light in each of you!
<< Back