As you know from our past two newsletters, this segment of our journey, heading from the Pacific Northwest onward toward California, was laced with "challenging opportunities."  Finally, with the trailer completely sealed and watertight (thanks to Roby), and Rylee Joy back to normal with all tests negative, we are on the road again.

Just before leaving, we walked next door to say good-bye, and go over some last minute communications with Michelle and Justin.  As we walked in the door of their home, their little girl, Makaila, ran to her room and came back with her rainbow wristband, waving it wildly in the air.  She and their son, Ryan, gave us hugs. 

A site we will never forget is the one of the four of them, standing in their doorway, waving their hands as we pulled away.  It brought tears to our eyes, and reminded us how much we will miss our neighborhood.  The time since September 11, when we kicked off Gay Into Straight America, has been busy with travels and talks throughout Washington and Oregon, but we came home several times to finish final preparations with the trailer.  This time, the remaining time of our yearlong journey will be spent in other states, traveling in our purple suburban and living in our Scotty.

As we traveled south on I-5, we made a stop in Bothell, Washington. Linda Baker, our good friend, made a special gift for us. She is the daughter of Rev. Bernie & Rosalind Turner, (the Baptist minister who married us).  We met in the parking lot of a Wal-Mart just off the interstate, and sat in our trailer, as she presented us with a beautiful blanket she had made for our journey. 
Next, we made a quick stop at the apartment of our friend, Judy Osborne, who lives on Capitol Hill, but is moving to another area of Seattle.  We sat in our Scotty, eating artichoke dip and crackers, saying good-bye.  Her place has been like a "home away from home" when we are in Seattle.

Remember how we share about the authentic connections that continue to happen on our journey?  Our trip to California immediately presented a typical scenario of how that happens easily and naturally. By sleeping in our 13.5 Scotty trailer in the parking lot of Camping World in Fife, Washington, our intention was to be there when the doors opened to pick up the materials we needed.  A door was flying open because the latch wasn't working, a drawer was mising on the inside door of the refrigerator, and we needed a hose to refill our water tank. Our thoughts were, "We will pick up the items we need, and be back on the road bright and early Thursday morning." Wrong, but oh so right! 

Roby:   I returned to our Suburban in the parking lot for a moment, and when I returned, Dotti was nowhere in sight.  Vivienne, the store greeter, asked, "Can I help you find something?"  I replied, "Yes, my spouse!"  Vivienne said, "Where did she go?" Vivienne said she noticed our jackets (which are embroidered with our Gay Into Straight America logo), prompting her to ask about our journey.  We engaged in good conversation about everything from being a Christian, to love, marriage, sexuality and dogs!   When we left, Vivienne said she honors what we are doing, and that she would be praying for us on our journey.

Dotti:  Roby couldn't find me because I was talking with the warehouse manager, Kelly, who was very helpful.  She ordered a shelf for our refrigerator, which they didn't have in stock, and arranged to have it sent to the Los Angeles store.   We talked about the intention of our journey when Roby walked up.  Kelly said that her daughter likes the wristbands, so we gave her two.  THANK YOU Camping World for your generous hospitality.  Vivienne, Kelly, and everyone were great!  Go by and see them!  And they are dog friendly.  Rylee Joy shook hands with everyone she met.

Before we left Camping World, I had to go back out to our rig.  As I was standing there, a man approached, opening the door to his beautiful 38 foot RV.  I said, "Nice RV, and I also like your dog in the window."  We chatted about our dogs for a moment and he looked at Rylee in the trailer.  Animals are such wonderful "bridge connectors."  Rylee is our ace in the hole!  Then he said he liked the color of our suburban, a beautiful purple.  I thanked him and told him that it, along with the trailer, was donated for our journey.  He inquired about our journey, and we then engaged in a wonderful conversation.  He shared with me that he is a Christian.  I explained that both Roby and I grew up in Christian homes, so I could certainly understand his wrestling with his own understanding.  He said he had not really studied in depth the Scriptures on people like us, and therefore, couldn't really say anymore than he has heard or been taught.  I thought it was courageous of him to admit that.  I asked his named and introduced myself. His wife, Tammy, then walked us and joined in our conversation.  When we parted, I offered Lance and his wife a rainbow wristband, explaining that they represent a commitment to have authentic connections, and engage in deeper conversations, just like we had, in order to dissolve the differences between us. 

Before walking out the door of Camping World, there was a group offering information about K/M Resorts of America, an organization that includes membership in Coast-to-Coast Classic campgrounds.  K/M Resorts is a great group and Bob Petty was the gentleman who told us all about what is available.  And…we got a $50 gas card just for listening.  Hey, when you are on a shoestring budget, every dime helps. Which reminds me, we splurged on a Starbucks coffee this morning since we didn't have any coffee for our coffee pot, and found two quarters, a dime and two pennies by the Starbucks drive-through window. Guess where we are going to be looking every day! (:

While there, we put in a request to K/M Resorts to sponsor our journey.  We believe it would be a great deal for them and for us.  We are going to be talking to a lot of people as we travel during this next year.  We told Bob all about our journey, and we owned that personal experience is often our teacher, and helps give us insight on a variety of what happens in life. Bob shared that his daughter's husband had just returned from Iraq, and how difficult it was for his son-in-law.

The connecting threads theory remains intact. Every single person that we met that day knew a gay person, and yet for some, it was unspoken.  For others, it was an experience that matched the myth, perpetuating a particular stereotype they already believed.  For others, we presented a "face" they did not know, people who are gay and people of faith.    In the past, this might have been considered an oxymoron.  Today, our GLBTA (yes, allies too), are coming out of our closets to claim the truth of who we are, and also claim our faith traditions if we are so inclined.  As most of you know, this is creating a situation where religious institutions have to "wrestle" with their understanding of us.  They can no longer sweep us under a rug with a "Don't ask, don't tell" policy.   More on that next week! 
Camping in the parking lots at Wal-Mart, which is free, makes sense when you are on a budget!  Eventually, however, we run out of water and need to fill our tank, as well as taking care of other necessities.  Our neighbors, Justin & Michelle, told us about their home area of Medford, Oregon and suggested we visit the town of Ashland, Oregon area.
While in Ashland, on Saturday, November 12th, we decided to "splurge" and split a meal at the town favorite "Pasta Piatti." (www.pastapiatti.com)  We received excellent service by everyone at Pasta Piatti, especially our server, Brianna Nelson.   In the course of conversation with Brianna, she told us that her Grandma, Markie Nelson, an Interior Designer in Seattle, did the design for Resort Semiahmoo, which is about 8 miles from our home in Birch Bay, WA, and where we celebrated our spiritual wedding ceremony on July 31, 2004.   Brianna was excited to know that we were married in the place her Grandmother designed!  We offered Brianna a rainbow wristband, and she graciously accepted and donned the band.  Within a few minutes, Elise Baggese, another server, came over and said that Brianna told her about our journey, and asked if we had another rainbow wristband she could have.  We did and gave it to her.  She eagerly placed the band around her wrist and thanked us for doing what we are doing.
Mark Nelson, Brianna's Dad, is the wine steward at the Heathman Hotel in Portland, and her Mom & Dad are part owners of Abella, an Italian restaurant, in Wilsonville, OR.  Brianna encouraged us to go visit her parents when we're in the Portland area next, and "they'll take good care of you." J
We spent Saturday night at an RV park outside of Ashland to "fill & dump."  Sunday morning, we set out for Sally Oldham's in Los Banos, California.  A trip that should have taken about 7 hours, actually took us 10, due to a loss in our trailer brakes coming down the Siskiyou mountain pass, and making a wrong turn once we got within 6 miles of Sally's, which took us over the Pacheco Pass.  We may have enjoyed this famous scenic (yet treacherous) route if only it were daytime, if only we had trailer brakes, and if only weren't running out of gas, and unable to find a gas station!  Sally directed us by cell phone to the next gas station on the pass, and the only place to turn around, which was 25 miles after we made our wrong turn!  It was hair-raising to say the least, but thankfully, everything turned out fine. 
Our two days at Sally's have been very nice and relaxing.  We visited the family ranch, Bennett Ranches, Inc., where they commercially grow tomatoes, cotton, garlic, and grapes.  In addition to that, we have been enjoying Sally's delicious cooking and warm hospitality.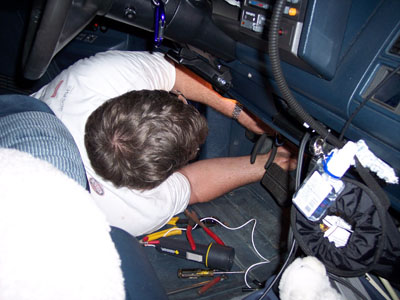 We are very grateful for Chuck Preimsberg, Sally's brother-in-law, who was so kind to fix the trailer brakes.  This gift kept us from having to take the rig to an RV place, and pay for repairs!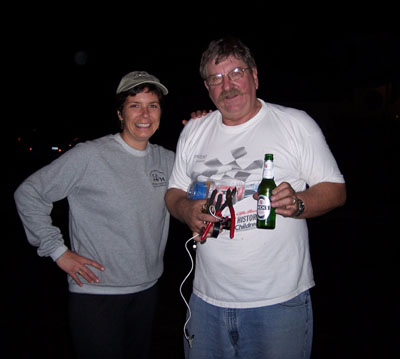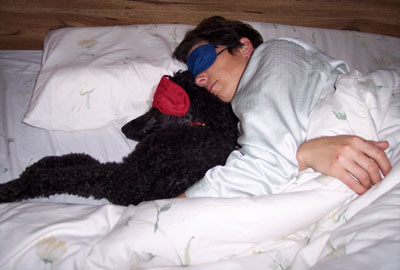 Rylee has been a good teacher for us on this journey.  In these days of [sometimes] stressful situations, mixed with living in such small quarters, it's easy to become irritable and impatient.  If our voices carry a tone that is less than loving and honoring, Rylee reminds us to live in love,
not fear, by getting out of her bed, and climbing into the front seat of the Suburban and into Dotti's lap.  She will not leave until all is well.  Rylee is our gift. 


Rylee & Roby in their eye masks.  The sun comes
through the windows of the trailer early! 
Tonight, we speak at PFLAG Los Angeles, and will report on that next week.