You can't hate someone whose story you know.
Dare to know the story of those who are different.


"The tiniest story in your life can deeply touch another. You cannot know the effect your story might have."--Sark
Dotti:  This was a difficult newsletter to get out, and not just because the lightning knocked out the electricity where we are staying at the home of Donna Rose in Scottsdale, Arizona.  To reiterate, the paradox of experiencing discomfort in order to discover and create comfort is not easily understood until the reward of it is lived. It was one of those weeks when I wasn't sure I could write what I was feeling.  Staying with the feeling of being "stuck" and re-reading Billy Porter's first person account in The Advocate, pushed me through to the other side, as Roby selected and sized pictures, and wrote some of the details to help.
For a greater understanding on what it means to be transgender, click on Donna Rose's website. Her book, Wrapped in Blue:  A Journey of Discovery, is a must read.  Next week we will have pics of us with Donna.  She arrives home from Los Angeles late tonight. 

Remember that we expressed our sympathy to wonderful PFLAG parents Bob & Betty Dorr, whose gay son, Michael, recently died?  We received this note...
Dotti/Roby,

I just came from the funeral service for PFLAG's Bob & Betty Dorr's son. Not less than 4 people came up to me and told me that they "held their partner's hand in the park," "kissed their partner at Home Depot," "hugged in a restaurant"----because of the question I asked you and the answer you gave me during your visit here at The Reading Grounds. People listened and are putting into practice ways of being their authentic selves. I thought you'd be pleased to know that not only did we all hear you, but that we are incorporating what we've learned into our daily lives. I thought these comments I received from these people were great.

 

Cindy, The Reading Grounds
Sometimes, we are just like other parents...we can't risist showing cute pictures of our child, Rylee Joy! Ok, so we are in a couple of the pics too, but please focus on Rylee, the joy of our life!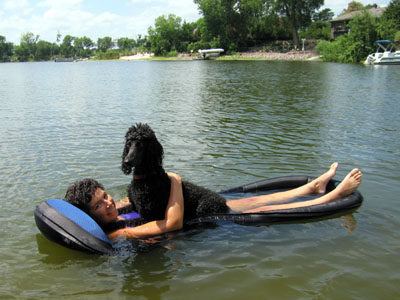 We love showing pics of Rylee Joy!!  This is how we got her out in the water,
ready to work on her swimming!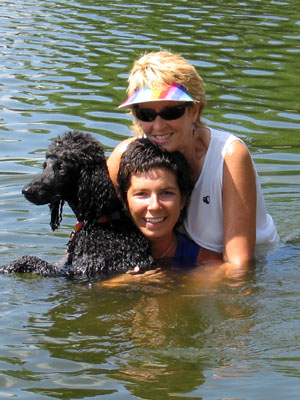 Rylee Joy, Roby & Dotti, helping Rylee learn to swim at the lake where Carrie Spencer's parents live in Omaha, Nebraska.  Carrie's Mom attended her first PFLAG meeting when we spoke!
 Rylee Joy with her noodle at the lake!  She thought it was some kind of big stick!
This little light of mine, I'm gonna let it shine.  Rylee, in her joy, acts like this each and every day.  Click here for her Lesson # 9 that she wrote this week.

This simple, yet profound song, is one that we often sing when we vigil with Soulforce.  Our recent time in Colorado Springs was no exception.  Broadway star Billy Porter, whose concert took place outside Focus on the Family, offered his first person account about letting his light shine.
Years ago after I sang my song in church, the minister spoke…

"Brother Porter, I want to talk to you. Won't you stand up for me?" 
I stood. 

"The Lord spoke to me, and I have a word from Him. He told me to tell you that every time you come into the house of the Lord, you need to sit in the front pew. Because if you sit in the front pew every time you come into the house of the Lord, it'll keep you straight." 

There were audible gasps. I took the walk of shame to the front pew as the multiple thousands in the congregation glared in pious silence. Pastor Meyer proceeded to dive into her sermon and skillfully pull out some Bible verse that swirled her public outing of me into some message about living on the "straight and narrow." My light was officially out.

Click here to read the full article, as Billy shares how he regained that "little light" of his.

Billy Porter discovered the essence of the following text, found by Allied troops in 1945. It was written on the wall of a basement in Cologne, Germany, presumably by someone hiding from the Gestapo. In its simplicity, it is a profound statement of faith in the midst of adversity.
Thanks, Billy Porter, for standing up and speaking out.  There are times when people didn't, and society paid a heavy price.
When they came for the Communists, I did not stand up, because I was not a Communist. When they came for the Jews, I did not stand up, because I was not Jewish. When they came for the Catholics, I did not stand up, because I was not a Catholic. When they came for me, there was no one left to stand up~Martin Niemol

Lets not repeat history. If you are a GLBT person reading this, we encourage you to stand up and speak out, and let your light shine.  Do not snuff out your own light, nor allow it to be snuffed out by others who would have you think that who you are is not OK.  The gift that you are is amazing. 

Whether you are GLBT or not, click here for Ten Empowering Principles for Awakening to the gift that you are!

Click here for some ideas on how to live out relationship as the gift that you are. 

This song has had personal significance in our own lives during the month on the road since we left Colorado Springs.  Every day is an opportunity to allow our "little light" to shine, as we refuse to let any person or any circumstances diminish our inner light.

If you, like Billy Porter, have had a minister attempt to diminish your little light, read this newest interview.

Does the Bible Condemn Homosexuality … Dr Reverend Cheri DiNovo 



The quote, "Everybody dies, but few truly live…unknown author" reminds us that the only way to truly live is to allow our "little light" to shine.  When we do, our little light becomes a big light, a beacon unto our world.   That is what we hope our journey continues to inspire others to do…allow their light to shine.

Dotti:  As I approach my 53rd birthday on September 8, I am in awe of how I continue to be offered the daily opportunity to either let my light shine brightly, or to let it flicker like a bulb going out.  I have never been as personally challenged by events as I have in this last month.  The opportunities to grow and evolve to new levels of personal relationship with Roby have been nothing short of phenomenal.  Notice I didn't say they have been comfortable.  What I have discovered is that the ability to feel discomfort, staying with it and breathing through it, as I allow its effect of the discomfort to diminish and finally dissolve, offers me the gift of emotional connection, rather than emotional distance.  My self experience, as well as my experience of observing others, is that we humans often will do ANYTHING (and I mean anything) to create/build a barrier which inhibits the very thing we most want…authentic connection and emotional intimacy.  Fear acts like a rock that is tied to our ankles, taking us to the bottom of an ocean where we cannot escape death  Only love releases the shackles that binds us, allowing us to float back to the top of the water and gasp for air, transforming us and giving us what we want, authentic connection. 

What I know is that emotional suicide occurs when I choose to keep shackles of fear upon my heart…love is the key that opens the shackles and releases, allowing me freedom.  Yes, everybody dies, but few truly live.  I want to live, and I want to encourage others to live, so that this saying is no longer true in our society.  This journey continues to teach me to live, but in ways that I never dreamed I would experience.  Unattached to a specific outcome, I breath deeply, and allow the circumstances to guide me to a new understanding and a new joy for life, an authentic connection with Roby that is beyond what I have previously experienced.
 Taking time for ourselves and smelling the roses at a small cafe in Las Pinos, NM
Dotti:  How I LOVE this woman!
At our wedding, we made a commitment to one another with a pledge, "We vow to change the world through the expression of our love."
  This joint commitment doesn't allow either one of us off the hook at any time, even if one of us does something unloving.  It is not contingent upon how we treat one another, or upon  how others treat us.  It is an individual and personal commitment, though jointly made, to change the world through the expression of our love.  If any person or situation feels unloving to us, either of us has the opportunity to see the fear in another as a call for love.  When that fear occurs, we can then choose to love that person, for it is through that expressed loving action that we change ourselves and our world.  Love truly transforms, while fear truly steals the opportunity for loving action to take place.
Sometimes we can throw a love life raft to someone, but their flailing and fear of drowning doesn't allow them to realize that the rope is sitting on their arm, or they see the rope, think it is a snake, and fearful of snakes, throw it back into the water.
That is how it is in personal relationship sometimes…that is how it is sometimes as we travel the country, talking with some who disagree with us.  The metaphor above describes us when we are "uninformable," in personal relationship, as well as those in the "uninformable" category regarding their understanding of GLBT persons.  In either case, choosing to ignore the lifeline, clinging to ways of being that keep us separated, refusing to live rather than die to who we are so that we can be transformed, is the real journey.  Only our recognition and awareness gives us the opportunity to change any situation and take a different path in our journey.  That is the supreme gift which we have been offered recently.  We are dying to the image of ourselves as individuals, and ourselves as a couple, so that we can continue to break through to being new individuals, capable of creating a new way of being as a couple.
The words of C.S. Lewis resonate…

"If you look for truth, you may find comfort in the end: If you look for comfort you will not get either comfort or truth - only soft soap and wishful thinking to begin with and, in the end, despair."
We are committed to looking for truth, even knowing that discomfort sometimes accompanies truth finding missions.  It doesn't feel so much that we have "chosen" to experience our pain, as much as it has chosen us.  Our pain refuses to let us go until we quit denying it, and we are embracing it like a friend who has lots to teach us.  It has a vice grip on us, refusing to let us retreat into la-la land of denial, knowing that through
experiencing discomfort
, we will
discover comfort
in the end, rather than that despair that clutches at our throat and heart when we don't speak truth.
If "no way out," anchors itself in our souls as we feel the deepest of our pain, we also recognize, respect and welcome that there is no where to run.  How far can we run in a suburban and 13 foot trailer?  We must stand and face one another, sharing our pain, dissolving our pain, and moving through the tunnel to a place of light and love.

The words of thich Nhat Hanh comfort us…

And once we have the condition of peace and joy in us, we can afford to be in any situation. Even in the situation of hell, we will be able to contribute our peace and serenity. The most important thing is for each of us to have some freedom in our heart, some stability in our heart, some peace in our heart. Only then will we be able to relieve the suffering around us.  

CORRECTION:  In last week's news update, we mentioned Roby's experience with Torchbearer Bible School.  Roby wrote:  "I have written several emails to staff people with whom I worked while in Sweden with Torchbearer Bible School. Thus far, I have received no response once I have shared my truth."
We received an email from dear friends, Stu & Sue Harris saying,
"Hi Roby, I have been able to follow some of your travels over this past year on the web site.  Sounds like it has been quite a year.  In the last newletter I was interested in your visit to Ravencrest and where you shared your experiences at Holsby.  Although I must admit I was a little confused by this line: 'I have written several emails to staff people with whom I worked while in Sweden with Torchbearer Bible School. Thus far, I have received no response once I have shared my truth.' No doubt there may be many who did not respond to you, but I can think of at least one or two :-).  In any case, I hope your travels continue to go well.  Say 'Hi' to Dotti from us!   Blessings, Stu"
Roby inadverdently forgot to mention their support as they were peer staff, and she was thinking in regard to the administrative staff who she has written (who are still with Torchbearer Bible School) and who have not written back to her. 
When Roby wrote back to Stu apologizing for neglecting to remember them and their unconditional love, warmth and support, he wrote and said, "No offense taken." 

She copied Sue on this email.  Sue then emailed saying:
"Hi, Roby- Just wanted to chime in that there's no offense taken by me, either.  :-)  I'm sorry that you've gotten distant responses & been cut off.  That can't feel good, even when you have a good idea of why it's happening.  Nobody likes being rejected.  Take care & say hello to Dotti for me.  Love, Sue"
Sue and Stu Harris were the first [Torchbearer] friends with whom I shared my truth.  I had been in fairly close contact with Sue and Stu (who live on Mercer Island, WA) after having returned from Sweden, where we all worked on staff together in 1991-1992.  Over the years, however, I erected walls and eventually lost contact with them; not because of anything they did, but because of my fear that if they were too close, they would discover my truth--that I am lesbian, and they would, in turn, reject me.  I was so fearful back then, that I erected walls in many of my relationships.  I was so afraid I would lose my friendships... and lose everything if I was honest about who I was, so I lived a lie for 18 years, until it nearly destroyed me.  My fear caused just what I was afraid of... distance from friends and the loss of some relationships. 
To my surprise and delight, I discovered that when I told my truth, and shared my authentic self with the people in my life, most of them embraced me and said, "Roby, we love you no matter what.  We've known you were lesbian for years... we were just waiting for you to be OK with yourself, knowing that when you came to that point, you would share your truth with us."  Sue and Stu were no exception.  I wish I could pull up that first email I got back from Stu, when I wrote and shared my truth.  I was on my lunch break at work when I sent the email to Stu.  I sat at my desk, with the cursor on the "SEND" button for a long time before I finally mustered up the courage to click on it.  Once I hit "SEND," I broke out into a cold sweat.  There was a sense of relief, in the fact that I finally shared my truth with these dear people, but there was also a sense of panic.  I was fearful that I would receive an email back that contained those words of rejection that I feared most.
Minutes later, Stu replied by saying "Congratulations on your marriage... we are happy for you... we look forward to meeting Dotti. Please call us and come see us when you are in our area."  (paraphrased)  I cannot tell you what joy I felt after having read Stu's reply.  Shortly thereafter, Dotti and I did go down to Mercer Island and visit the Harris family.  The first time we went, we spent the night.  We were so touched, and moved to tears, when Sue showed us to our room, and there, on the dresser were flowers, a "congratulations on your wedding" balloon, and a wedding card.  Dotti and I sat on the bed for a few minutes, tears streaming down our faces, letting this love from Sue and Stu sink in. 
While at Sue and Stu's place, we had the joy of meeting their twin children, Katie and Nick.  We were so impressed by their parenting style, when Sue confided in us, saying that she had a conversation with Katie and Nick before we arrived.  She wanted the kids to know about us.  She told them that we were married, "just like Daddy and I are married."
Sue and Stu were very honest with me from the very beginning, saying, "We really don't know how we feel about homosexuality and the Bible, but what we do know is that we love you and honor you."  (paraphrased)  I so respect and honor that kind of communication.  Thank you, Sue & Stu, for loving and accepting me, regardless of any potential differences we may have.  Thank you, also, for loving and embracing my spouse, Dotti.  Your unconditional love and your example of CHRIST will never be forgotten.  Our prayer is that one day, all people will come to the place you are... the place of love, respect, and acceptance, regardless of our differences, if there are any.  That is the essence of our journey... engaging hearts and minds, creating authentic connections, and dissolving differences that separate us. 
I tell people at every talk we give, "Having come from a Christian background, I don't NEED the affirmation and support of ministers... but I'll tell you what, it really feels good when it's there!"  As with Sue and Stu... there may be areas in which we are not in total alignment on this issue, but what I do know is that Sue and Stu love me and they love Dotti and they have demonstrated the Christ-likeness that is what being a Christian is all about.  We love you, Sue, Stu, Katie and Nick Harris!

At the end of July, during our stay at Sweetwater Creek Ranch along the Arkansas River, our neighbors, Tonya & Gary told us about Silver City, NM.  Based upon their descriptions, we were looking forward to our visit.  Now we understand why they so enjoyed the area.
We left Albuquerque on Thursday, August 17th in what we thought would be plenty of time to reach Silver City for the PFLAG picnic at 6pm.  Before leaving Albuquerque, we had not one, not two, but three people caution us about the drive over the mountains, saying, "It looks shorter, but it'll take you just as long with all the hairpin turns and hills."  Taking their advice, we went the "long way around," avoiding the treacherous mountain range.  The "long way around" ended up taking approximately 6 hours versus the 4 hours we had planned on.  We arrived in Silver City just in time for our presentation at 7pm.  What an engaged group of folks!
 Some of the great folks from PFLAG Silver City
We did miss the picnic, but enjoyed some delicious cake after we spoke.  Our hosts, Tyler and Rob Connoley, bought this cake to welcome us to town… and they even included Rylee! They even spelled each name correctly!

Tyler and Rob Connoley aretwo amazing men who were married August 12, 2000.  Click here to check out their inspiring virtual wedding.

Roby wrote to Tyler and Rob, "What a joy to view your 'virtual wedding.'  It brought tears to my eyes as I read your vows, and it reminded me of our own wedding, two years ago.  You guys are an amazing couple, and a wonderful example of real love. Thanks for showing that love to the world, and to us.  We are blessed to know you.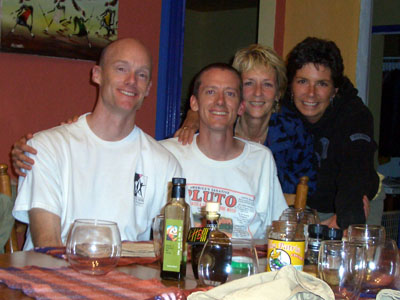 (L-R) Rob, Tyler, Dotti & Roby
Rob has his PhD in Sports Psychology and Kinesiology, and currently manages a Meth Clinic.  He grew up Catholic. He is also a FABULOUS cook.  He says the real reason to have a great meal is to have an oustanding dessert!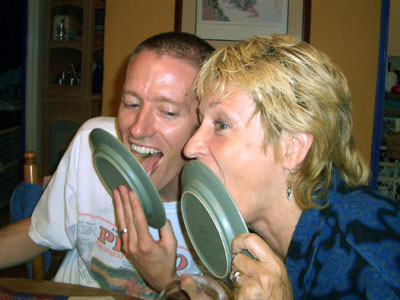 As you can see, Rob's desserts are good enough to make a person lick their plate, without apology!
Tyler is an interim minister at two UCC churches in Silver City, New Mexico...Valley Community Church and Hurley Community Church.  Tyler is the son of Wesleyan missionaries. He spent most of his childhood years in Zambia, Africa, and has lived in Korea, the Philippines, and all of the West Coast states.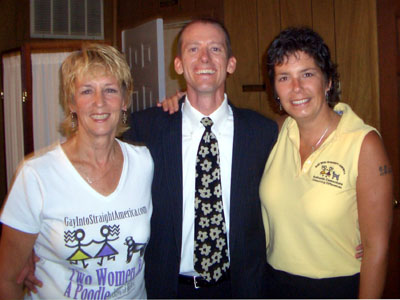 (L-R) Dotti, Tyler, & Roby (Tyler looks a little different than when
he was licking his plate!)


Tyler came out to himself in 1991, while attending Indiana Wesleyan University, and has since sought to live a life that integrates his deep faith in God with his sexuality. While working on his book, The Children Are Free, which he co-wrote with Indianapolis Jesus MCC pastor, Jeff Minor, he completed his M.A. in Biblical studies at Earlham School of Religion in Richmond, Indiana.  Click here to order his book (scroll down until you see it on our page).

Click here for Tylers Turn, a website with thoughtful and provocative essays, as well as his blog. 

In addition to their regular jobs, Rob and Tyler own and operate an international and gourmet grocery called "The Curious Kumquat."  Click here to see what they have to offer.   With Rob offering cooking classes, how can they go wrong? Next month, they move into their own building. Their tag line?  "Life's a banquet."  Amen, it is!  Metophorically, we want to taste all of the food that we desire!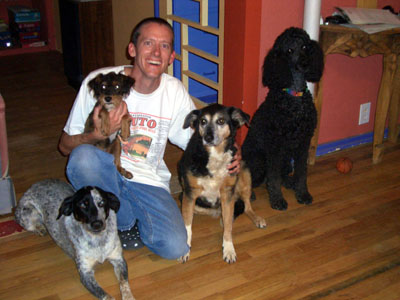 Tyler with Rylee Joy and her new friends, (l-r) Lexie, Luchia, and Ruth Ann
In addition to Tyler and Rob, we met some other delightful people during our stay in Silver City.  One of them was Bethany.  Bethany, her husband Adam, and their son, Simon, were at the PFLAG picnic.  Afterward, Bethany invited us to have lunch with her the next day.  We did just that, and discovered some connections.  Bethany is from Grand Rapids, MI, and graduated from Calvin College (Christian Reformed).  Her father is from Lynden, WA, and she has many relatives still living in Lynden, including an aunt and uncle who attend Sonlight Community Christian Reformed Church, where Roby attended for five years, from 1996 to the end of 2001.  Bethany is living out her Christianity in real and profound ways, reaching out to the GLBT community with overwhelming love, support and celebration.  Bethany is unafraid to Stand UP and Speak OUT for equality, justice and inclusion for her gay, lesbian, bisexual and transgender friends.  Thanks, Bethany, for doing your part to make this world a more loving place, and for your radical Christ-like life.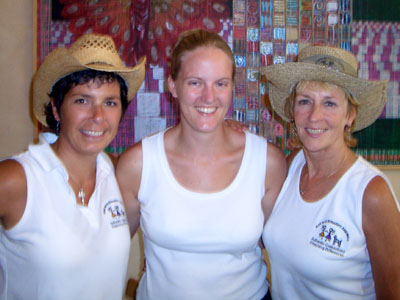 (L-R) Roby, Bethany, & Dotti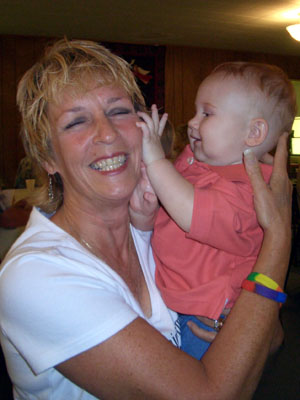 Dotti with Simon after church...Simon loved Dotti's earrings
Silver City is a small town, of about 11,000 residents.  We love small towns.  One of the things we love the most is the opportunity to meet the locals and make authentic connections.  One afternoon, we heard there was going to be a party at the local wine bar called The Twisted Vine. The party was an annual "thank you, Silver City celebration" from the NPR station, KRWG-FM 90.7 in Las Cruces, carried through New Mexico state University.  We met Carrie Hamblen, the Morning Edition host. Roby also met two ladies who are interested in bringing us back into Las Cruces to speak at the university.
We also had the pleasure of getting to know Ruth and Richard.  They came to our PFLAG presentation, and then we saw them at the Twisted Vine party. Richard & Ruth are involved in a Restorative Justice Program.  While talking at the wine party, Ruth told us the story of how she came up with a heart-ribbon design and the words, "Remember Love."  She had buttons made, as well as some globe paperweights with "Remember Love" inscribed on the top.  Ruth wanted us to have two, so she invited us to their home to pick them up the next day.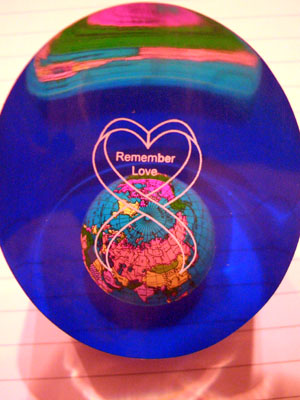 Remember Love...wouldn't that change everything in this present moment?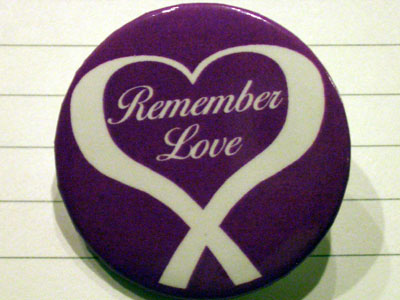 We will be passiong these out when we speak...Ruth donated a bag.
 We had a great time sitting on their porch enjoying good conversation about live, love, spirituality and relationship.
 (L-R) Roby, Ruth, Richard, Dotti & Rylee Joy
Richard has a lesbian daughter, and when we were at their home visiting, Richard said, "you know, my daughter is lesbian, but it's not even something that I think about… it's just so natural and normal."  Wow… what a comment, coming from a parent. 
While at the dog park one day, we met Tad van der Weele   On Sunday, after church, we went to see Tad's gallery, Weele Arts.  Tad used to live in Seattle, and currently shows some of his work at a gallery in Gig Harbor. 
Allen is one of the first guys we met at the PFLAG event.  We had the pleasure of seeing him several times during our Silver City stay.  Allen attends the UCC where Tyler is the interim pastor.  After church on Sunday, we went out to brunch with Rob and Allen, while Tyler preached his second sermon of the day at Hurley Community Church.  The two churches are connected, sharing the same pastor, even though they are in different towns.  Although nationally, the UCC church has a policy of inclusion for GLBT persons, having gone on record as supporting marriage equality for same gender couples, individual churches still have the right to set their policy and make decisions about inclusion.  Unfortunately, Hurley Community Church is considering leaving the denomination due to their differences with the national church body of the UCC church regarding its stance.
We were interviewed by reporters from both local newspapers, Las Cruces Sun-News and the Silver City Daily Press.  As soon as we get copies of these stories, and will post them on our website. 
Although Silver City was nice, warm, friendly, and a fun place to visit, Roby had one problem… roaches!  Then when we got into Arizona, and pulled into a Travel America truck stop to get propane and spend the night, Roby got out of the Suburban only to find that she had to watch where she stepped, because there were huge stink bugs everywhere!  They even run so fast that you feel like they are chasing you!  Yikes!  It'll be nice to be back in the Pacific Northwest where the bugs are way smaller, and less in numbers! 
One reader's comments about Lars Clausen's recent book, Straight Into Gay America, shows why it is important to debunk myths about one another.

I finished the book this past weekend.  Finished it with tears of joy in my eyes!  Thank you for your depth, your questioning, your communications from the soul!  Growing up outside any organized religion, an outcast from that inclusionary world, I felt every pump of your legs on the journey...felt every shoulder with no room...every heart that reached out...and every heart that closed its door.
Until I finished the ride with you, I had underestimated you, just because of your connection to the church.  Shame on me!  Thank you for the connection, the awakening, and the ride!

Heading toward Scottsdale on 180 West and then picking up 78, we had to turn around because of flash floods.  We stopped one guy and he said that it is the 1000 year flood and that up ahead, the water was over the road and was 400 ft. wide.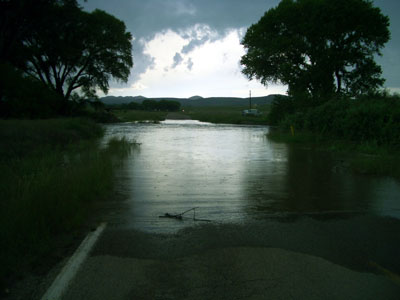 Flooded US 78...a lake in the midst of a road

Had we gone through the road, which was a river, our car would have died and the water was so high, the trailer would have been flooded.

We asked where the nearest gas station was since we were going to run out if we went back to Silver City.  Proceeding back on 78, and then turning north for about 30 miles, we finally got gas.  We then headed south and returned to Silver City, picking up Highway 90 until we reached Interstate I-10.  The terrain was amazing as we entered Arizona.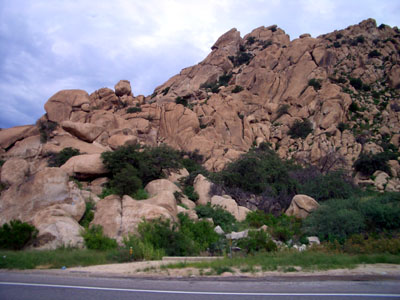 A view from the car as we headed along I-10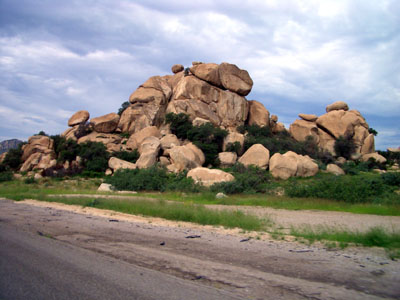 It's amazing what a small digital camera can catch while going 70 mph!
After hitting I-10, we were then home free all the way to Scottsdale, where gas is lower ($2.71 per gallon) and the temperature is higher (102 degrees at 7 pm).
As arriving in Scottsdale a half day early, arriving on Tuesday instead of Wednesday morning, in order to escape the flooding, we had the opportunity to have dinner on Wednesday with Richard Tollefson and Marc Kellenberger, an amazing couple who have been partners for 20 years.  These gay male couples amaze us!  They laughed and said they have blown their party budget for this year, as they have 250-300 people attend a 20 year anniversary party and as many attend Marc's 50th birthday celebration!  These guys have a BEAUTIFUL home.  We can only imagine the diverse party they threw...sorry we didn't know them so we could attend. ):  They admitted that the diverse group included everyone from politicians to drag queens.