Much happened in the last week, causing us to reflect on "life in general."  Approaching Valentine's Day, we are asking ourselves, "What is 'love?'  How can authentic love be best expressed?  Does love need to be defined and controlled by others?" Be prepared for this lengthy, soul sharing newsletter.  We believe that life at its best is the process of learning "how to think, ask questions, and examine our beliefs," rather than "what to think."
People and life situations which offered us insight:  Coretta Scott King's death… Sharing time with our German friends, Annette and Adele in Key West… Listening to feedback from GLBT persons regarding how they live their lives…Tragic loss of Bruno in Halle, Germany... Dotti's former partner's email saying, "I am a living example of what God can do in a person's life. I wish I could convey that to everyone held in bondage by Satan."  
We hope this newsletter will raise questions, inspire internal and external dialogue, and create a way to share ideas with one another via our blog.  At the end of reading our newsletter, as well as here, we will provide a link to our blog so that you can record your feedback.  
Dotti:  The passing of Coretta Scott King causes me to look back and reflect on the influence she and her husband, Dr. Martin Luther King, Jr., two people I never met face-to-face, have had on my life.  Without their influence, I would not be on this journey, Gay Into Straight America.  It reminds me that "one" can indeed make a difference for others, even when we don't realize it.  The connection for me is that the vision of Soulforce began in 1995 when the President and Founder, Rev. Dr. Mel White, received a phone call from Mrs. King's assistant, Lynn Cothren, introducing him to the principles of nonviolence taught and practiced by her husband, the Rev. Dr. Martin Luther King, Jr.  I became involved with Soulforce during its first vigil at Rev. Jerry Falwell's church in Lynchburg, Virginia.  Those non-violent principles enable me and Roby to fully embrace each person we meet on our journey, seeing the grace and divinity in each.  Click here to read what Soulforce says about her influence.
Lambda Legal had this to say,
Ms. King's contribution to our shared struggle for justice cannot be overstated. We feel a special debt of gratitude to this courageous leader. More eloquent than anything we can say are Ms. King's own words, spoken at Lambda Legal's 25th anniversary celebration in Chicago in 1998:
"I still hear people say that I should not be talking about the rights of lesbian and gay people and I should stick to the issue of racial justice.... But I hasten to remind them that Martin Luther King Jr. said, 'Injustice anywhere is a threat to justice everywhere.' I appeal to everyone who believes in Martin Luther King Jr.'s dream to make room at the table of brother- and sisterhood for lesbian and gay people..." Click here to read other remarks from Lambda Legal.
Evan Wolfson, whose book and website, Freedom to Marry, continue to inspire, says, "Dr. Martin Luther King used to talk about 'Praying with our feet.' He meant that every step on the march to justice is a leap of faith.
The death of Coretta Scott King, a long-time supporter of all people's equality and liberty, including our freedom to marry, reminds us to dig deep into our own resources of faith and keep marching forward despite painful defeats or losses." Click here to read what else Evan had to say and how to participate in Freedom to Marry.
Our experiences in Key West, Florida...
Initially, we had some problems finding Annette and Adele at Miami Airport last week. Our cell phones were not "speaking," and this kept us from being able to locate one another. Once we did, however, we caravanned south and after about five hours, arrived in Key West about 1 a.m.  Driving the Keys at night is a bit of a "white-knuckle" sort of thing, since there are Key Deer (small, dog-sized, protected deer) that sometimes get on the road, so the speed limit goes down to 35.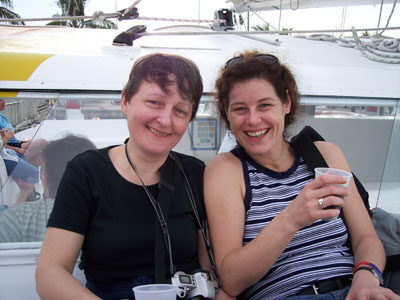 Adele & Annett

Traveling to Key West and enjoying a relaxing stay "at" and "near" a women's only bed and breakfast, Pearl's Rainbow, was a first for us and our friends.  

We say "at" and "near" because although Adele & Annett stayed at Pearl's Rainbow for 5 nights, we stayed only one [glorious] night, and the other 4 nights we were in our Scotty.  We were very fortunate to have found an awesome parking spot just a block away from Pearl's Rainbow, where we didn't have to feed a meter, nor did we have to worry about being towed.  It couldn't have been more perfect. 

We were thinking of boarding Rylee while in Key West, but we're glad we didn't have to.  She was welcome on the patios of Pearl's and on the patios of café's and restaurants in Key West.  We also were able to take her on the beach in certain areas, so she had a great time in Key West, too, and made lots of friends. 

 

Time with Annett and Adele is always invigorating, offering deep and soulful conversations between two avowed atheists and two avowed people of faith. Many times, after peeling back the layers, we discover that our commonalities are greater than the differences that might separate us.   

This leaves us pondering the following… Believing in God doesn't guarantee God's existence, and denying God existence doesn't guarantee God's non-existence.  What our friendship does lead us to acknowledge is that, in much the same way that people's beliefs shift when they become friends with gay, lesbian, bisexual or transgender persons, we have shifted in our understanding by becoming friends with people who are atheists.  We have discovered that atheists are not people who are indifferent to life.  To the contrary, Annett and Adele have a deep sense of love and compassion for ALL of life.  These two women traveled from Germany to attend our wedding, crying throughout the ceremony, while personally having no belief in the institution of marriage, or the personal desire for a ceremony. 

Creating a greater understanding evolves from both sides of the coin.  Annett and Adele had never witnessed remarks from ministers such as they heard at our wedding.  They were so enthralled that the video of our wedding, specifically the words of these ministers, were requested for viewing at a talk we presented at the Women's Center in Halle, Germany, when we visited this past July.  Why did they request the showing of this clip of our wedding video?  These ministers, Rev. Dr. Lisa Davison and Rev. Dr. Bill Stayton, defied what Annett and Adele had been taught about Christian ministers.  This is an example of how engaging hearts and minds and creating authentic connections helps to dissolve differences that separate us. Again, we have learned much from these dear two friends, atheists who grew up under Communism, defying yet more myths for us about people who are different.

One day, as we were waiting for a shuttle bus in front of Pearl's, Melissa approached us and said, "I know about you… your dog is Rylee, right?"  We were quite shocked, and said, "Why, yes."  Melissa went on to say, "I'm sorry… I don't remember your names, but I do remember Rylee, and I know all about your Gay Into Straight America Journey!"  She said one day she was surfing the web and happened upon our blog, where she read all about us and what we are doing.  We were privileged to be able to meet her partner, Gwen, and share good times and conversations with both of them.  They are both ER Nurses in Arkansas.  In addition, they breed and raise Egyptian Arabian Horses.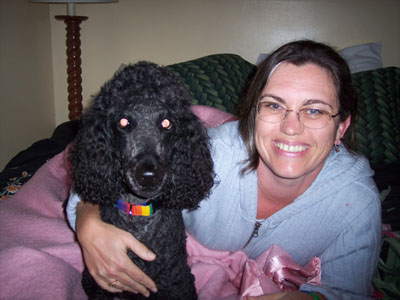 Rylee Joy & Melissa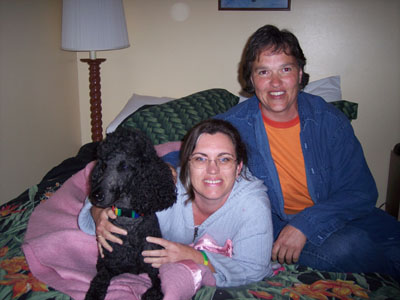 Rylee Joy, Melissa & Gwen
We were also honored to have made friends with Mary and Teresa, from Cincinnati, OH.  We enjoyed interesting & inspiring conversation with them on several occasions during the week.  Teresa and Mary run an Inspirational Cookie Company called www.AngelWhispersCookie.com  Check out their website, and support them!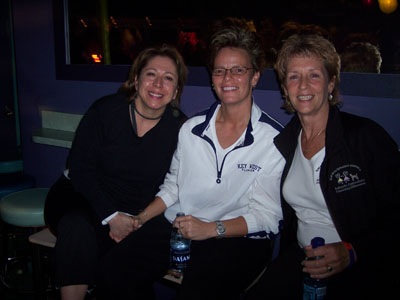 Teresa, Mary & Dotti
We met various townspeople in the shops as well.  There was "Fairy Larry."  Yep, that what he called himself. 
He ran a gift shop, and said that it would help us remember his name.  He was excited about our journey, and bought a T-shirt which we delivered the day after we met him. 
As well, we met Robin at an art gallery in town.  While viewing this beautiful art piece, we shared with her about our journey.  She invited us back later that evening to a showing by a German artist, Sissy.  When we arrived, Mary, who also worked at the gallery, shared with Roby that Robin had told her about our journey.  She said, "Consider this home.  You are welcome anytime.  Next time you visit, we will arrange for accomodations for you.  Thank you for what you are doing!"
Robin Munn at the Luis Sottile Gallery at 716 Duval St. in Key West, Florida
Notice the rainbow wristband she is wearing? (:

We would like to pay tribute to Bruno.  Bruno is the beloved dog of Vera & Regina, Adele & Annett's close friends in Halle, Germany.  We enjoyed playing with Bruno when we were in Halle in July 2005. 
While we were at the beach on Sunday, Feb. 5th, Adele & Annett got a text message from Germany.  It was through that text message that we got the horrible news that Bruno lost his life in a tragic accident earlier that Sunday, while out walking and playing with his moms along the River Salle.  The temperature has been below freezing in Halle, and the river is frozen.  Bruno evidently caught the scent of a beaver, and went out onto the ice.  To Vera & Regina's horror, the ice broke and Bruno fell through.  They called the fire department but even they could not rescue him.  The sad news left all of us grief-stricken and teary-eyed for the remainder of the day.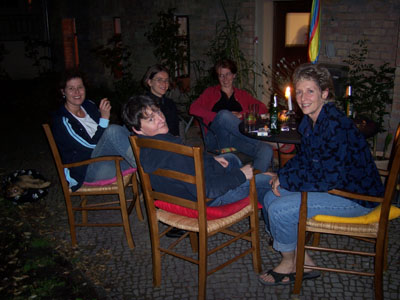 This photo was taken in Halle, Germany, on July 9th, 2005 at the home of Vera, Regina, and Bruno.  There's Bruno, relaxing on his bed in the left corner of the photo.  Bruno, you were loved, and you will be missed. 
(L-R) Beginning with Annett (who is closet to Bruno), Vera, Regina, Dotti & Adele 
As we left Key West, our car battery was dead.  Thanks Brian for the use of your jumper cables!  You helped us out when we most needed it!
Key West is the southern most point in the United States of America!  Cuba is only 90-miles away!  We can't get any further from home and remain in the USA.  From this point, Blaine, WA is thousands of miles away, and yet, interestingly enough, we feel at home wherever we go!   
What is "Home?"  We have experienced an interesting feeling of "being home" wherever we are on this journey.  People often ask us, "Do you miss home?"  And when we really think about it, sure, we miss our home, our yard, and our neighbors, and our friends...but we ARE home!  We have realized that the saying, "Home is where the heart is," really is true. 
Our Scotty trailer and our Purple Suburban have become our familiar surroundings, and no matter where we park them, we're home.  We have gained a new sense of space, necessities, and material belongings as well.  While a spacious home, conveniences, comforts, luxuries and storage space are all nice and good, we have found that there is so much we don't really need. 
We will be happy to be back in our home in Blaine, WA when the time comes for us to return, but until then, we are quite content and comfortable in our home away from home.  We liken it to Rylee feeling so content and comfortable in her crate.  She loves the boundaries her crate provides.  We love the comfort and coziness our 13 ft. Scotty trailer provides!  OK, OK… maybe a few extra feet would be nice, and maybe we wouldn't bump into each other so much, but we have everything we need:  toilet, shower, stove, fridge, closet, kitchen sink, running water, heat, a bed and lots of love.  Now that's home! Our Scotty even got to see where she was born...Ocala, Florida!
Roby:  I have been thinking about life lately.  A few weeks ago, while at the street jazz concert in Lauderdale-By-The Sea, we experienced a joyful young lady dancing her heart out to the lively music.  Watching her dance, her face lit up with delight, left me with tears streaming down my face.  Why did this young woman touch my heart so?  She was in a wheelchair, obviously challenged with Cerebral Palsy.  Despite her challenges, however, she was uninhibited, loving life and experiencing true joy. 
Yesterday, on our way north through Florida, we stopped one last time to allow Rylee the "joy" of playing on Jupiter Beach. I was again brought to tears.  This time, it was a beautiful Visela running and romping with joy with his other doggie pals.  Perhaps this sweet pooch didn't even realize he only had three legs, because he could run just as fast as the other dogs, and he was HAPPY!  I then encountered a woman who introduced herself as Jo Anne Bock.  She said she first saw the signs on our car when we were previously in Jupiter, and visited our website.  She was really impressed and excited about what we are doing, and had hoped we were speaking in Jupiter.
We also saw Carol Armon on the beach.  Her dog, Clifford, a white standard poodle, was with her.  Last time we met, we didn't get a picture so I went to the rig to grab the camera and a GISA card.  We got so many good pics of the dogs that we are burning a CD and mailing to Carol.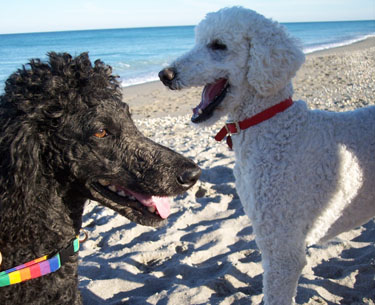 Rylee Joy and Clifford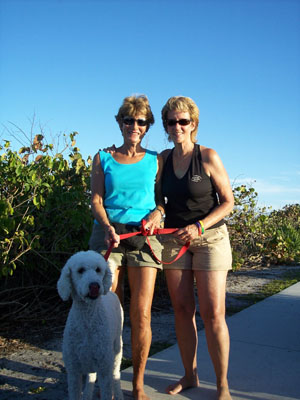 Clifford, Carol & Dotti
These, and other experiences like these, have left me with the reminder to seize each day, live with passion, love recklessly, play, laugh, have fun, and DANCE no matter how inhibited I may feel, no matter how different I may appear, or no matter who may be looking!  Why should I do otherwise?   Carpe Diem! 
Remember the show from years ago called "To Tell the Truth?"
Three people on a panel were asked questions, with the goal being to discover the identity of the real person.
At the end of the show, they were asked, "Will the real 'Mary Brown/Harold Johnson' please stand up?"
The viewing audience was always intrigued with whether or not they had correctly guessed the true identity of the person. Here is a question to ponder, "If people had to determine your true identity, would 'how you live your life' lead them to guessing correctly?"
Or, would they be totally off base and guess you to be someone you are not?
Whether GLBT or an ally, do you offer "smoke and mirrors" as a cover-up for your true identity and beliefs?
The contestants on "To Tell the Truth" bore no long-terms wounds for the "game" that was played.
Unlike the show, however, our lives are not a game.
Do you bear emotional or spiritual wounds from creating a false persona in order to be liked and accepted in our society or by your church?
We say to those who are attempting to "present" who/what they believe society will find acceptable, "Will the real 'you' please stand up?"
On that note, we sometimes feel that people's claim of possessing "God's one and only truth" makes us want to say, "Will the real God please stand up? 
Dotti:  Following are two different people's experiences.  One is an email regarding our journey that I received from Barbara, my former partner of 15 years.  The other is from my spouse, Robynne. 
Barb's email:
Dotti
I have been thinking about your mother asking you to remove the sign on your van and you saying no because some child might see it and help them not commit suicide. Here are some thoughts that I have on that.
As you know my life is completely different than when we lived together. That doesn't minimize some of the incredible times we had, but there was never any internal peace in my soul. The reason for that unrest in my soul was that those desires I had were in total conflict with God's teachings. And when you are one of his children he will never leave you alone. (I have been his child since I was 9 years old and accepted him as my one and only Savior). The Holy Spirit is always nudging and tugging. So ten years ago (hard to believe it's been that long) I started on a journey that has totally changed my desires and brought the most incredible peace I never thought possible. There is nothing like being in the center of his will. Which is the only way to have peace.
I believe that people who say those desires cannot be changed are telling a lie. They are a tool of Satan. Gay children do not commit suicide because they are not accepted by society, and that they can never change, but they commit suicide because they are told they can never live in the center of God's will – that there is no hope – that they can never change. Belief in Satan's lie is what causes suicide. I am a living example of what God can do in a person's life. I wish I could convey that to everyone held in bondage by Satan.
This is not to minimize how much I love you.
Love, Barbara
Here is my response to Barb:
Dear Barb,
I appreciate you taking the time to write and express your thoughts.  I feel sad that you never experienced any internal peace in your soul, and were unable to reconcile your sexual orientation with your spirituality.  Not being able to accept that God loves you, exactly as you are, does have the potential of rendering a person incapable of experiencing peace.  
When you say, "The reason for that unrest in my soul was that those desires I had were in total conflict with God's teachings," I can appreciate and honor your experience; however, it is not my experience.  As well, many theologians do not agree that same gender desires are in total conflict with God's teachings.  
I am ecstatic that you have come to a place of feeling happy and content.   I celebrate that for you, and feel it is good that you have followed your true desires.  I appreciate your choice and do not find it necessary to call your desires a "tool of Satan."  I don't think that anyone has called me to place judgment regarding what you have chosen for your life.  Certainly, I, like mixed gender couples, could choose to live outside our desires.  I do not make that choice, and neither do most mixed gender couples that I know.  Although mixed gender couples are divorcing at the rate of 52% in our country, this does not mean that they need to control their desires, and start being in relationship with same gender persons simply because they might not be experiencing internal peace.
I do not believe that anyone can determine what being in the center of God's will is for another human being.  That is why people often refer to this as a personal relationship with God.   Perhaps the "lie" (if there is such) is that the gender mix of the relationship determines whether or not someone is in the center of God's will. These type of teachings, inferring that one is "held in bondage by Satan" if they are gay (and have internal peace in their soul and are  happy in their lives) are not only inaccurate, but represent the spiritual violence perpetuated by many religious teachings, and are at the very root of the suicide of many of our GLBT persons.  Claiming one's own happiness, peace, and contentment in one's relationship with God, does not make it necessary to demonize others by claiming that they are held in bondage by Satan.
In our account of visiting Focus on the Family headquarters in May, 2005, we shared about meeting with Cindy, the administrative assistant for Melissa Fryear, their Director of ex-gay ministries and "gender issues specialist."  One of the first things we said to Cindy was as follows:
"Cindy, we would appreciate if you would deliver a message to Melissa for us.  We would like you to tell her that we are very happy for her and we honor her and celebrate who she is."  (We did not say that she was not in the center of God's will, nor did we suggest that she might be held in bondage by Satan for no longer choosing to love another woman)
We went on to say, "In the newspaper, Melissa stated, 'We love homosexuals, we just want to give them options."   
I proceeded, "Cindy, we would like for Focus on the Family to know that we are one of those options.  Just as Melissa chose what was best for her, let people know that people of faith like us exist and that we have stable, committed relationships.  We are one of your options." 
Some people discover that their same gender desires can be "controlled;" if that is what they choose.  The data and research, however, show overwhelmingly that this is most often not the case.  Again, my only desire for you is that you are happy and content and free of your internal struggle.  I celebrate you in that regard.
As I am happy for the peace you have discovered and your feeling that you are in the center of God's will, I hope that you can re-consider that others who are different than you can also be in the center of God's will. 
I know that I am in the arms of God's unconditional love, connected to the oneness of all of humanity.  To be gay for me is to simply say, "Thank you God" for your trust in who I am and the life I am manifesting. 
I trust that the difference between how we see our life perspective life situations will not negatively impact our friendship of 26 years.  I see you in your complete wholeness, inspired by your relationship with God. 
With love and affection, Dotti
Roby's experience:
I grew up in a Christian family and attended Torch Bearer Bible School in Sweden. Due to the teachings of the church, my family has experienced difficulty with the knowledge that their daughter is lesbian. In fact, those teachings created a deeply internal struggle in me regardless God's acceptance of me.  Even though I have suffered spiritual violence in our culture in various ways, I feel that overcoming my own internal homophobia and allowing people to personally know the truth about me, has been the key to others' acceptance. When I no longer acted ashamed of whom I am, the majority of the people I know were able to respond accordingly. When I was fearful, others were also fearful. Others' responses have mirrored my own inner healing.
Back in March, 2001, I was contemplating the option of suicide unless I was able to come to the complete and clear understanding that I am loved and accepted by God as I am.  I was put in touch with Rev. Bernie Turner, the father of my close friend, Linda Baker -- the first person to whom I ever "came out of the closet" and said "I am gay." 
Rev. Bernie Turner is an American Baptist Minister, who has meticulously studied the Hebrew and Greek texts regarding the scriptures that are often used as "clobber passages" against gay, lesbian, bisexual and transgender persons. After his exhaustive study, he concluded that the Scriptures have been grossly misinterpreted relative to homoeroticism ("homosexuality" was a term which came into our language in 1892, just a little over 100 years ago, and was followed by the invention of the term "heterosexuality" about 10 years later). 
When Rev. Turner married Dotti and me, with tears in my eyes, I thanked him for having provided that life line for me when I first spoke with him several years ago. Bernie was the first minister, a person of "scriptural authority," to assure me that I am OK, exactly as I am! Although I had never met Rev. Bernie "face-to-face" until he married us (we had only previously emailed), that initial encounter provided me the impetus to take my journey, leading to me choosing to stand before God saying, "I do," as Dotti and I took one another as spouses for life, making a commitment to continue loving and honoring one another.
Five years ago I started on a journey of authenticity that has totally changed my life and brought the most incredible peace, a peace I never thought possible.
Dotti: Isn't it possible that the "real God" did stand up and is speaking to both Barbara and Roby?  Why is it, however, that one person insists that their experience of what God has done in their life represents the truth for other people as well?  While Barb says she wrestled with being gay, and eventually discovered peace in one way, Roby shares that she wrestled, not so much with being gay, but with being told she was not OK with God by being gay, and discovered peace in another way.  I want to celebrate the peace they have both discovered!
The following is an informative overview of some of the parameters of Christians' and some churches' experience as they encounter reactionary forces within the Church as they seek to affirm and fully include GLBT persons.  Click here to read.
Whether you are a person a faith or an atheist (or don't subscribe to any label at all!) please write us with a story regarding "How being GLBTA has positively affected and empowered my life." Notice that we put GLBT"A" because allies have positive stories too!  In one month, we will include a link in one of our newsletters, and share those email letters with our newsletter subscribers, as well as add a new section to our website for chronicling these stories ongoing. All stories will be included as long as you include your name, address, email and phone number in case we need to contact you. Claiming our worth is our best response when messages are received that once again attempt to tell us that we are "held in bondage by Satan."  May we record our stories, while simultaneously acknowledging Barb for having discovered God's plan for her life.  Speak your truth…allow your story to be heard. Click here to email us your story and put "My story for GISA" in the subject line.
Speaking of recording one's story…we recently read an article in the Miami Herald about StoryCorps.  The Story Corps Airstream trailer, outfitted with a sound studio, was parked at the Miami Herald, and was inviting people to "record their story." We called, getting the only open appointment for the day we were to be in Miami to pick up Adele & Annett at the airport.  Jonah Engle, the facilitator who recorded our story, was wonderful, asking us questions afterwards about our GISA journey. We left with an audio CD, with a duplicate sent to the American Folklife Center at the Library of Congress.  Excerpts of some recordings will be aired by the Herald's news partner, SLRN-91.3, or, perhaps, by StoryCorps sponsor National Public Radio. StoryCorps is the brainchild of Dave Isay, a radio documentary producer.  He says, "We want to become part of the fabric of American culture, to have this experience make us a more thoughtful and compassionate nation, a nation that is better at listening." Click here to visit their website and get instructions for producing your own recording.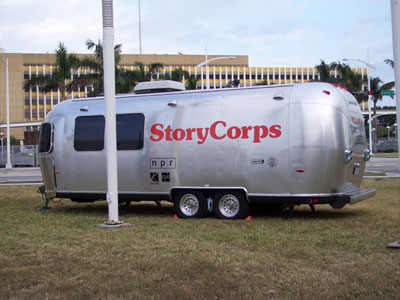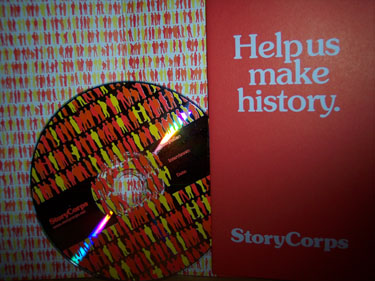 What a great experience!  Visit Story Corps.
The diverse assortment of emails we receive show how differently people can view us. Back in December, we received a email from Ann, one of the hospitality directors at Koinonia, an intentional Christian community in Americus, Georgia that derives its name from the ancient Greek, usually translated as fellowship or community.  Part of her email follows: 
"Our community does not discriminate on the basis of age, gender, race, religion, sexual orientation, beliefs or any other difference that has been used to prevent people from coming together and sharing their lives. We have a pretty amazing history. However, although we welcome everyone, I know that our members have different levels of understanding and opinions on LGBT people and their rights. We are everything from Baptist to African Methodist Episcopal to Quaker to atheist to Messianic Jew, from ages 4 to 81, black and white, formally educated and street educated, from wealth and from poverty. So our diversity of belief is not surprising. I think that a visit might spark some interesting discussions and, as you say, "wrestling" with the issues... which seems to be what you're all about. I think you would probably also have a wonderful time here."
Click here to read Ann's entire email, as well as a brief description and history of this amazing community.


Based on their invitation, we are headed there to stay at Koinonia for a couple of days before continuing to Columbia, South Carolina, where we speak on Feb. 12. 
Remember to go to our blog and give us your feedback and comments and parts of our newsletter that "struck a chord" with you.

More on marriage equality for both same gender couples and mixed gender couples as Valentine's Day approaches!
CONSEQUENCES OF MARRIAGE EXCLUSION

·  Effects of Constitutional Amendments on marriage
Truth or Consequences: Adverse effects
We look forward to sharing our journey again next week!
The light in us honors the light in you!
Two women and a Poodle...Dotti, Roby & Rylee Joy