You can't hate someone whose story you know.
Dare to know the story of those who are different.


"The tiniest story in your life can deeply touch another. You cannot know the effect your story might have."--Sark
Connections from the Esprit Conference in Portland Angeles, a gathering of transgender persons from all over America, and even Europe!

Dotti: What a wonderfully engaging time we had!  We love how all the Trans gals have their own cards with pictures to share with one another, allowing them to stay in touch after the conference  They usually have a one line saying on their card.  An example?  "I am who I am!"  We could all learn from that statement! 

I am privileged to facilitate the groups for SO's (significant others) and transgender couples at Esprit.  I still say that this beautiful community is God's greatest gift to me.  THANK YOU ESPRIT!  It was great to get together with Karen Wood, who is spearheading a future documentary on the amazing synergy between the town of Port Angeles and Esprit.  The 17 year journey of partnership between the two is one that epitomizes the essence of our journey, highlighting that authentic connections move us beyond differences that separate us.  It was great to have our friend, Kathy Keifer, attend Esprit for the first time, and meet with Karen about working on the documentary.  Karen, who helped start Esprit 17 years ago, and her partner, Wyn, sent greetings after our week together, saying, "Thanks so much for your helpful and uplifting sessions, we are both grateful for the further insight it gave us both."
We asked our friends if we could share some of our experiences, as well as some pics.  Thank you, Esprit friends, for allowing us to share "who you are" with people around the country. 
Roby: It was a joy to spend a week with so many beautiful people in the transgender community.   I had the honor and privilege of taking portraits during the week, which granted me some special times of sharing with several of the gals.  It gave me great joy to capture the essence of these beautiful women in photographs.  One woman, while fixing her hair in the mirror in preparation for the photograph, tears welling up in her eyes, said, "I can't believe this is me… I really am beautiful!"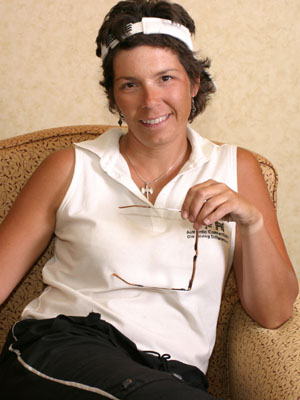 Roby, testing the lighting before setting up portraits of the gals at Esprit
Roby: I feel so privileged to be involved with and active in the transgender community.  I also have a sense of sadness that so many people haven't a clue what they are missing out on by not getting to know transgender people.  
How would I describe Esprit and the transgender community?  With these words:  fun, love, joy, acceptance, authentic connections, understanding, compassion, tenderness and uninhibited intimacy.   Esprit is a week where people come together to celebrate life, love and being real.   Esprit is a place where human connection takes place.  Esprit is a place where people move beyond societal expectations and gender roles to celebrate who they are.  At Esprit, people feel the freedom to be real – a contrast to living in a society that doesn't always encourage that.  I am always so touched on the last day of Esprit, when the gals are saying their goodbyes.  Tears are not held back, nor are expressions of affection, as women, (many of whom are heterosexual male cross-dressers) hold each other in long embraces, trying to hang onto every last bit of this meaningful week, and the deep connections made.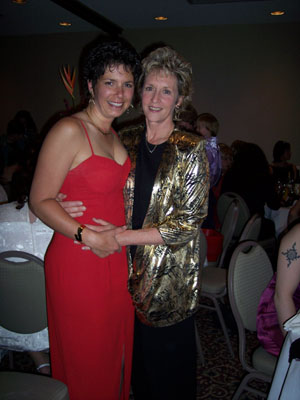 Hey, we both clean up pretty good!  This was at the Saturday night gala...
the dinner and dance!
One of the transgender ladies we both got to know was Amy, and her wife, Elouise.  Amy is a retired Presbyterian minister in Gig Harbor, WA.  Although she is retired, she still guest preaches in different churches in the area on occasion.  Over the years, Amy & Elouise have been very involved with overseas missions on many different levels, and have some amazing and touching stories.  The most touching story she told me, however, was that even in all her years in the ministry, she feels more peace, more joy, more connected to God, more loved, more accepted, and more celebrated since she has chosen to live an authentic life and become active in the transgender community.   Doesn't that sound ironic?  Church should be a place of refuge and a place where we feel loved, accepted and celebrated.  Unfortunately, that is often not the case.  Thankfully, Amy and people like her have found a community that honors and celebrates her for who she is!  On her card it says this:  "It's great to be me!"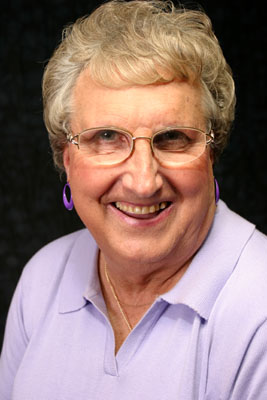 Amy
Below is one of our favorite pics. Why?  The beautiful children, who are learning at an early age to accept people (they do it so easily and naturally), are an inspiration to us.  Lorraine, the grandmother, is shown with Haley (rounder face and purple shoes) and holding her blanket, along with Hannah (longer face and pink shoes).  Lorraine's partner is Stephani, a wonderful transgender person who is a photographer.  Their grandchildren, Haley and Hannah, have attended Esprit with them for the last two years.  They are three years old.  As we stood in the parking lot at the end of the week, preparing to take a picture with all of us as they donned their rainbow wristbands, Lorraine spoke wistfully of how our childhoods might have been different if we had been given the opportunity to "see past differences" at such an early age.  What a benefit these children are receiving, without yet being aware of the gift. Haley and Hannah kept calling, "Rylee...Rylee...Rylee."  Rylee Joy loves everyone, but particuarly children.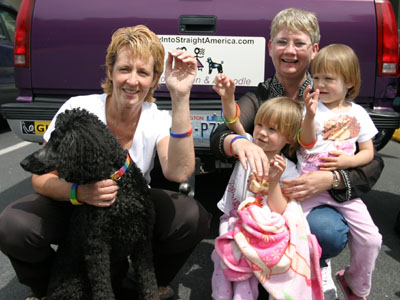 Dotti & Roby, Lorraine with Haley & Hannah (L-R),
all sporting their rainbow wristbands 
Here's a pic of Dotti with Judy, the person who first introduced her to the transgender community.  They met through Soulforce.  We stayed at Judy's new home in west Seattle on Monday after we left Esprit.  You might remember Dotti talking about going to Thailand when Judy has her gender reassignment surgery.  Also in the picture is Willa.  She and her spouse, Lola, are great people we met through Esprit.  We stayed in their home this past Tuesday on our way to Bellingham to have the car fixed and speak at PRIDE in our home town. The other person in the picture is Kathy Kiefer, who we mentioned was in Portland to do some video for our documentary.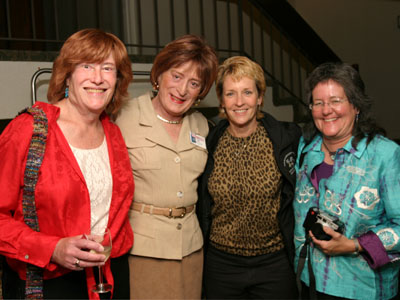 (L-R) Judy, Willa, Dotti & Kathy
We called this pic "Dotti and her gals!"  Marci and Nicole were both at our wedding in July, 2004, and participated in the "Lifting in the chairs" of us, honoring Jewish tradition.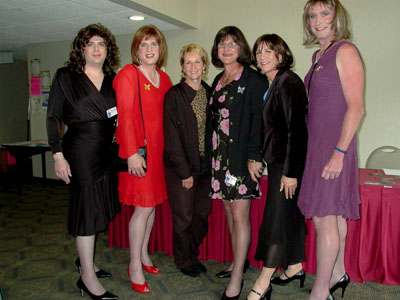 (L-R) Elisabeth, Marci, Dotti, Nicole, Stacey, & Brit
We shared in our previous newsletters about Simone and Barb.  Barb accompanied Simone to Thailand for her recent surgery.  There's more good news. They are getting married, and Dotti has been asked to officiate!  It will be her first officiating for the marriage of a transgender couple!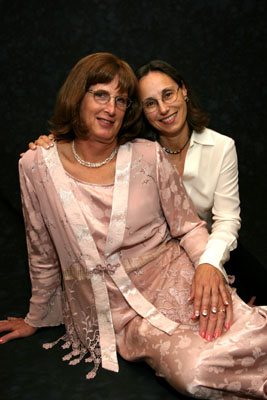 (L-R) Simone & Barb
Here is a picture of Stephene, who is transsexual, living full time as a female.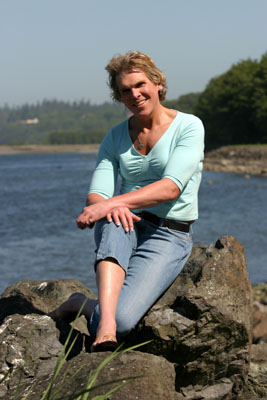 Stephene
Rylee thought Esprit was ALL ABOUT HER, and reveled in the notion that all these beautiful people had come together for a week of playing with her!  Every morning, Rylee couldn't wait to get up and go out into the hallway of the hotel to see who, among her friends, would be out there waiting for her. She had invitation to walk in the morning.  Rylee spent a lot of time visiting some of the Esprit vendors:  The nail lady, Aunt Debbie, and the make-up & wig ladies, Rose & Christina.  One day, to celebrate Rylee's queen status, Christina & Rose adorned Rylee with a beautiful tiara.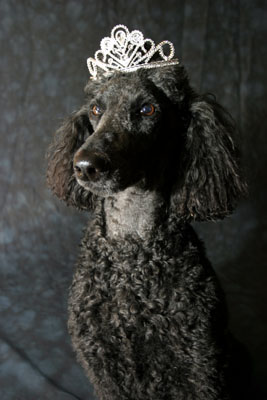 Queen Rylee Joy 
It wasn't all fun and games for Rylee at Esprit… at one point, Roby found a tick on her thigh!  We're sure the tick latched onto Rylee while in Ashland, Oregon, when we took her down by the stream.  Uncle Mike, (the nail lady's son) was kind enough to help us remove the tick.  Aside from a slight residual lump, all is well now. 
More connections! As we prepared to leave California for Port Angeles, WA, we read in the Advocate online about Jennifer, a writer, lesbian, and single soccer mom of four.  She left on April 8th, 2006, embarking upon "A Walk for Togetherness," a 500 mile walk up the coast of California. Her journey launched from San Diego and ends in San Francisco on Saturday, June 3rd.   After reading about Jennifer, we then received an email about her from our friend, Heidi Green, who knew we would be interested. We are definitely in sync with Jennifer and her approach to connecting with people. 

On a typical day, Jennifer will walk a certain number of miles joined by local supporters and/or a growing number of longer distance participants. People from all sections of the community, whether friends or family, gay or heterosexual, will also gather at planned stops to share, learn and come together.
After emailing Jennifer, this is what she wrote back.

Hi Dotti and Roby!
I posted your website on my blog as soon as I heard about you!  Thanks for the link on yours.  I will tell my media man to add your link to ours!  I will also mention your amazing journey again tomorrow in the blog (tonight I'm focusing on what brought me to fast today --I'm out here in John Steinbeck's old digs.)
I love that one of you is named "Dotti" because I'm always talking about how work like ours --and the many who came before us-- is about connecting the dots of support and acceptance (aka "togetherness"), person to person to person (and poodle.)
Many, many blessings to you, also!  I really hope we meet someday!  And I'm glad that you are standing with our transgender brothers and sisters. Those who know me know that if I'm wearing one button, it's my "No Transphobia" button!
In togetherness, Jennifer

Jennifer cites the following as "The Need and Purpose of the Walk."

All Americans, whether they realize it or not, have a lesbian, gay, bisexual, or transgender person in their families, workplace or circle of friends. As sons and daughters, sisters and brothers, mothers and fathers, many have suffered and too many families and communities have been torn apart.

I am walking for these eight weeks to highlight the fact that all of us are interconnected. Therefore, any discussions or debates that use the words "we" and "they" to polarize communities are erroneous and destructive.

Looking at my family, for example, in order to define "us" and "them," along lines of gay/straight, two in my nuclear family would be an "us" and three would be "them." In order to define "us" and "them" along lines of hispanic/anglo, I guess I would be an "us" and all my children would be a "them." Or would my children be "us" and me "them?" I'm trying to point out the absurdity of dividing our families and communities, then watching as "we" debate "their" rights.

Every one of us is affected when we feel we cannot talk about, acknowledge or celebrate members of our families and communities because of the fear of judgment. The time has come for the discussion to evolve: no longer should our familial and social discourse about our lesbian, gay, bisexual, and/or transgender family and friends be couched in terms of "we" vs. "they" and "us" vs. "them."
Another goal is to help focus on my personal story as a lesbian "soccer mom" and daughter of straight parents. I'm hoping that by committing to this difficult, but positive, and sustained action of walking 500 miles, I can help family and friends to start acknowledging the lesbian, gay, bisexual and transgender people in their lives. Perhaps there will be less stress in talking about family members if folks can point to my efforts and say, "Well, there's that lesbian walking 500 miles. Maybe I can bring up my gay son or transgender daughter."

I'm hoping that when folks hear my story, they will see that I'm no hero, but I'm trying to do something heroic, to encourage others to do whatever is heroic for them. For someone out there, the heroic act might be to finally say "my gay son," to a neighbor, or to finally acknowledge that the "roommate" who has been coming to Christmas dinner for years is a beloved family member's beloved spouse or life-partner. For someone else, heroic might be to finally call a transgender family member, for example a child born genetically male who has claimed her female nature and lives as such, by the pronoun "she."

What my walk boils down to is this: let's talk to one another about who we are and who makes up our families. We needn't fear what we'll find, because we will be the same people we were before, without the stress of hiding from one another. As more of us stop pretending that there is an "us" and a "them," it will become easier and easier to let go of assumptions and bigotry. Then, free of the shackles of shame and fear, we can work, play, and live in togetherness.
Click here to visit her website, Walk For Togetherness.

We have chosen Jennifer as our newest Stand UP Speak OUT Wind Changer.  The words of Robert F. Kennedy ring true when we think about her.
Each time a person stands up for an ideal, or acts to improve the lot of others, he sends forth a tiny ripple of hope, and crossing each other from a million different centers of energy and daring, those ripples build on a current that can sweep down the mightiest walls of oppression and resistance.
In response to Robert Kennedy's words, we say, "Yes, she does send forth a ripple of hope!" 
Kennedy's words also highlight the opportunity that allies and each person in our community have to make a difference.   As we get closer to June, when the U.S. Senate will vote "Yes" or "No" on writing discrimination into the constitution through the Federal Marriage Amendment, we need every person who believes this is wrong to Stand UP and Speak OUT.
The voices who want to write discrimination into our constitution are daily committed to being in the media, and we hear more people erroneously using the term "lifestyle" in reference to sexual orientation and gender variance.
Dotti: On two different occasions this week, I have written to people regarding the use of this term in media situations.  The first time was to Andrew Binion, who did a great job with an article about Esprit and the transgender community in the Peninsula Daily News in Port Angeles.  Andrew has written great articles in the past, even going so far as to experience what being transgender might be like by cross-dressing as a woman for a day to more fully understand the dynamics.
Here is the email I sent to Andrew.
Thanks for the wonderful article on Esprit that was in the paper.  I am a presenter at Esprit.  For four years, I have been facilitating the groups for SO's (significant others) and the transgender couples.
 
I would like to offer one suggestion regarding the term "lifestyle" which was used.  The headline at the top of the front page said "Lifestyle exploration.  Esprit Gala gathering back in Port Angeles."
 
In your article, you quoted Tori as saying, "It's not what we choose, it's what we are."  So true!    Lifestyle choices, such as the "lifestyles of the rich and famous," or a "genteel lifestyle" are indeed choices, reflecting a way of life or style of living that reflects the attitudes and values of a person or group.
 
I have attached a piece which I use in corporate training, as well as with groups such as non-profits and churches, to help them better understanding why gender variance and sexual orientation are not "lifestyles." 
 
I hope that this is useful for you as well.  The media is extremely important in educating the readers.  I realize that you probably did not choose that headline, but this information might be helpful for the future!
 
Thank you again for your wonderful article.   Well done!
I just heard back from Andy. As I suspected, he did not choose the headline, saying,

"You are correct, though. Lifestyle is not a great word choice. In fact, the AP discourages its use when talking about gay and lesbian people.  Although transgenders don't fit that bill, it really isn't a good idea to use it."
Andy is correct in the sense that being transgender is not about being gay or lesbian, which is what the AP, thus far, covers.  Gender identity is often confused by many in our society with sexual orientation. 
For example, at a conference like Esprit, where most are M-F crossdressers or transsexuals, one of the first questions SO's (significant others) often ask their male husband or boyfriend, is "Does this mean you are gay?"  That is when the journey to education begins.  By the way, the answer is "no."  Their current journey is one of gender variance, not exploration of sexual orientation.  Click here to read about the second question the SO usually asks, as well as additional information.


Back to the media situation. The reality is that our understanding of transgender persons and gender variance is about 10-15 years behind our understanding and gay and lesbian persons.  For that reason, the Associated Press has not yet updated their information, helping media persons better understand why "lifestyle" is not an appropriate term to use, whether in reference to sexual orientation or gender variance. Perhaps Andy will be a part of changing that.
The second time I offered some information to media this week was when I sent an email to Ken Schram and John Carlson, the commentators on KOMO 1000 in Seattle.  Ken Schram is a gay man who favors the recent passing of legislation in Washington that offers protections to GLBT persons.  Additionally, Ken favors the Washington State Supreme Court voting affirmatively to offer marriage equality to our community.  Ken & John, coming from different viewpoints, create a lively radio show through offering their diverse opinions on topics.  On Wednesday, May 24, 2006, they were commenting on various aspects of the efforts by some to repeal the state gay-rights law, as it gathers momentum from the pulpit.  They interviewed Gary Randall, part of a group called Faith & Freedom, advertising itself as "Advancing Judeo-Christian Values Across America."  Gary repeatedly used the word "lifestyle" to describe homosexual persons.  I wrote to Ken, offering a link to this information that I often share with corporations groups and churches to create a better understanding about how "lifestyle," in reference to sexual orientation and gender variance, is a misnomer.  Ken did not use the term, but neither did he offer to educate Gary when he used erroneously used this term. 
Please click here to read.  This is a recently edited version of my previous writing on this terminology.
On a national level, listen closely between now and the vote in June, when U.S. Senators will decide whether or not to write discrimination into our constitution.  In order to hear how people use the term "lifestyle" to separate "us from them," and denigrate who we are, you will need to tune into every anti-gay media that you can.  You may say "Ugh, I don't want to do that!"  Perhaps it is time to reconsider.  Why?

Listening to those who disagree with us helps in several ways:

1) It helps us see how they are positioning themselves to discriminate against us
2) It offers us first hand information, rather than inaccurate statements from fourth generation information we often receive through email
3) It allows us to feel the pain of these statements. Avoiding the pain often creates situations where it later erupts in inappropriate ways.
4) It allows us to positively decide how we are going to engage with those who disagree with us, rather than getting mired in defending ourselves.
Practicing engaging the hearts and minds of those we encounter, and creating authentic connections, is an opportunity.  This opportunity masks itself as a challenge when we are fearful of these interactions, whether they are with strangers, co-workers, friends or family.  The fear usually escalates when we encounter those who are closest to us.  One of the best ways to re-script how we respond in these situations is to listen to those who disagree with us, practice speaking in ways that empower us rather than create fear, and do this unattached to a specific outcome.
HRC has put together a video that illustrates how far people are willing to go to write discrimination into our Constitution, making GLBT persons second class citizens.  Notice the number of times that people in the video, who are against equality for GLBT persons, use the word "lifestyle" in a negative manner.  Let's Stand UP and Speak OUT and stop this action. Click here to view the video. 
When you click on that link, HRC also gives three actions you can take to help! 
The "dots of connections" that continued to happen at Esprit...

One night we were at a hospitality room, when a young woman walked up to the open door.  A sign saying "Go to Room 10" had been left hanging at the unattended registration desk.  That encounter allowed us to meet Kendall Phillips.   We asked Kendall where she was from and she replied, "Wisconsin."  A few minutes later, she was talking about the University of Tennessee and her work there.  It turns out that she works with the men's basketball program, and also knows Pat Head Summit, head coach of the women's program, as well as Holly Warlick, who is her assistant coach.  Since Dotti formerly coached at the University of Kentucky, it offered an instant connection.  Kendall went back down the hall and brought Kevin Neal with her.  Kendall had flown into Seattle, where Kevin lives, and they had decided to travel to Port Angeles for the week-end. 
What gracious individuals!  Our meeting Kendall and Kevin led to sharing about our journey, as they inquired as to why we were in Port Angeles.  Unfortunately, we didn't have our camera with us to get a pic.  Roby had left her professional camera set up in the room where she was doing portraits for the transgender women.  Although we now have a charger & picture transmitter for the small Casio that was gifted to us by Sue Schantz when our car was broken into and our camera was stolen, we had to order a charger.  When it arrived, there was no cord.  We discovered that has to be ordered separately.
Great news!  Remember us mentioning Kathy Webb in one of our December newsletters?  She was running for State Legislature in Arkansas.  We met her when we spoke at the PFLAG meeting, held at the restaurant, Lily's Dim Sum, owned by Kathy and her partner, Nancy.

Dave, who gives us a weekly call to encourage us on our journey, called to give us the good news that she won! Congratulations, Kathy!  In that newsletter, we said, "Running as who she is, with lesbian being part of that whole person, her sexual orientation has become a non-issue because she has not been afraid to be who she is.  Check out The Victory Fund… Kathy is one of 12 GLBT persons to be backed by this group.  You can also visit her website."  Kathy is proof of that we are still "electable" (if our other qualifications suit voters) even when we refuse to be silent about the gift that we are.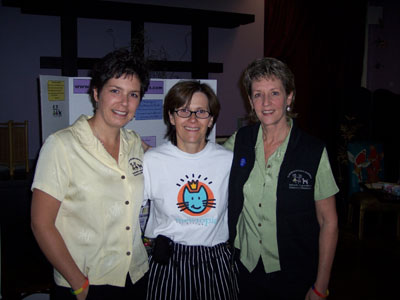 Roby and Dotti with Kathy Webb
Life is an adventure…enjoy the ride!
From the real and true adventures of two women and a poodle, Changing the world…one person at a time.

The light in us honors the light in you,
Dotti, Roby & Rylee Joy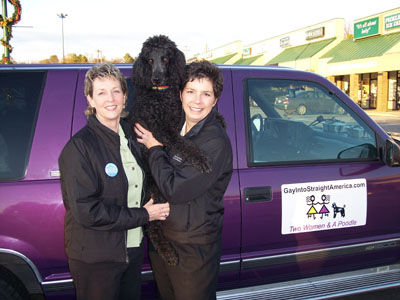 Help keep Gay Into Straight America on the road!  What we need is for every person who receives our newsletter to consider giving $20-$100, or more if you are able.  Consider giving a set amount on a monthly basis. Click here to email us what amount you choose, along with what day you want us to bill you, and you will receive a monthly notice through Pay Pal.   Forward this newsletter to your friends, letting them know about our website. They can click on this link to read any of our past weekly newsletters if they want to know more about our journey.  We encourage you and/or your friends to donate through our Levels of Giving program, through our Support Raising eBoard, or through Rylee Joy's Support Board.  You and/or your friends can also click here to purchase some of our t-shirts, caps, or rainbow wristbands!  Yes, caps are now available! 

Please ask people to click on our blog.   We have an updated look.  It is cleaner and sleeker.  You can actually go to our website and click on the "BLOG" icon any time you have feedback. When you have comments you want to share about our newsletter, or other ideas, we would like to request that you "blog those comments" rather than emailing them to us.  That allows your comments to be shared with our readers and supporters. That will also get our blog more active, which in turn will draw in more people who can learn about our journey.