WHATEVER IT TAKES continues to be our motto and Roby's personal commitment, as we celebrated our second anniversay! 

We said that we would share pics of our "Two Women & a Poodle" tattoos this week.  Well, here they are, as well as one that Roby got over her heart, saying, WHATEVER IT TAKES.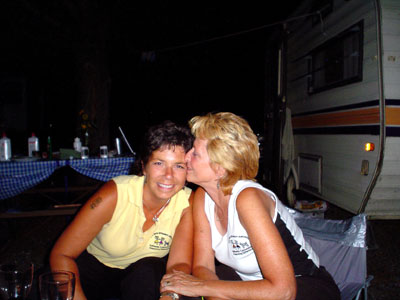 Celebrating life!
A week is like us.  Sometimes, we fail to realize what a difference it can make.  The truth is we often fail to realize the difference that even one moment in our lives can make.  That is what we appreciate about this past week.  It has truly made a difference for us in ways that we would not have realized.
 
If ever a setting were made to nurture us, it was the one we experienced last week at Sweetwater Creek Ranch.  As Roby expressed, "It was the hardest week of our lives, and yet the best, as we talked, cried, processed, and healed."   We stayed at Sweetwater Creek Ranch the remainder of the week after we sent our last newsletter, leaving on Monday as we headed to Trinidad, Colorado.
Remember that Tonya was fearful of wearing her rainbow wristband, saying that her husband, Gary, did not want her to wear it, so she put it in her special cigar box.  If you recall, she communicated that Gary felt uncomfortable with us, though Roby had not officially met him. 
On Tuesday morning, Dotti saw Tonya and Gary standing outside their RV.  She went over and looked at Gary, saying, "Would you and Tonya like to come over tonight?  We thought we would make a fire and have a glass of wine."  To Tonya's surprise, Gary replied that they would.  Dotti then asked them what type of wine they liked, as we were going into town to visit The Winery at Holy Cross Abbey.  Formerly a place where monks lived, it has a long history and tradition, though the monks no longer live there and it is now a winery. You can visit the original quarters and worship area.  Gary and Tonya told us that a rose' wine or something slightly sweet would be good.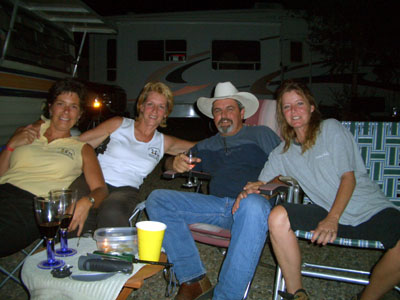 (L-R) Roby, Dotti, Gary & Tonya
That evening turned into several evenings together, as well as traveling to Westcliffe one day in their convertible PT cruiser.  Roby drove, loving every moment.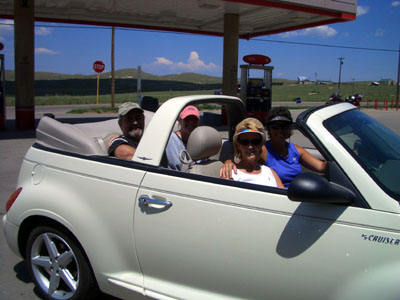 Gary & Tonya in back... Dotti and Roby in front
What did we learn from our experience with Gary?  We could have taken on the fear that Tonya shared with us about how Gary felt.  Rather than do that, however, we decided to go directly to Gary.  When Tonya joined us the previous times to talk, and she said that Gary didn't want to join us, perhaps it was because he didn't receive a specific invitation from us.   We decided we would give him the opportunity, face-to-face, to accept or decline.  Unattached to a specific outcome, we were transformed through our time with both Gary and Tonya, as we got confirmation once again that you can't hate someone whose story you know.
Dotti:  I decided to offer Tonya a Two Women and a Poodle T-shirt and Gary a Two Women and a Poodle Cap that first night when Gary agreed to come over, joining Tonya this time.  Roby said it would be a waste of a cap because he probably won't wear it.  I said that whether or not he accepted was not the point.  The action for me was to risk offering him one of our caps, not knowing whether or not he would accept.  Well, guess what?  Gary did accept!  In fact when we all jumped in the car to head to Westcliffe, guess what hat he was wearing?  The Two Women and a Poodle cap!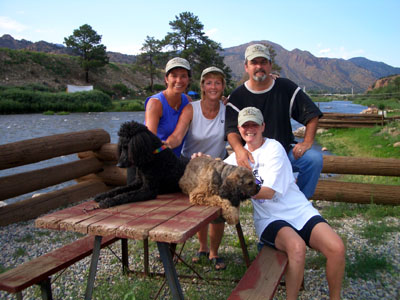 (L-R) Back Row:  Roby, Dotti, & Gary
(L-R) Front Row:  Rylee Joy, Gus & Tonya
Our week of transformation continued as Gary looked at our wedding photo album.  The highlight was when we all sat in their RV, watching the video of our wedding ceremony, celebrating our second anniversary on July 31st.  
Although July 31st was our 2nd wedding anniversary, we decided to do something exciting last Saturday, celebrating a little early.  We wanted to something out of the ordinary that we had never done before.  The first decision was "what to do?"  We decided on white water rafting!  The area near Canon City, Colorado (The Arkansas River), is known for some of the best white water rafting in the world.
The second decision was "which rafting company to choose?"  We had many choices, but we took the advice of Marcia and Mark (the owners of Sweetwater Creek) who said "Vessels for Honor" had the best value for the money, not to mention, they were only 2 minutes down the road. 
Mark did tell us before we made our reservations, that the owner of Vessels for Honor is an accountant at Focus on the Family in Colorado Springs.  He said, "I don't know… maybe you wouldn't want to go with them just out of principle."  On the contrary, once we learned of the FOTF connection, that sealed our decision as to which company to select for our rafting trip. After all, as we begin each newsletter saying, "You can't hate someone whose story you know.  Dare to know the story of those who are different." That is what we chose to do.
We had a delightful 14-mile ride down the Arkansas River with our Guide, Jeremy, who is one of the owner's sons (sitting at the back of the raft in the picture below). He is a great guy, very personable.  We told him that we had wanted to do something exciting for our second wedding anniversary, but that we hoped he would bring us back safe!  He did.  When we finished, we told him we would return next year to ride the rapids on the Gorge run. We're ready now!   
Roby had to lift her paddle at the last minute to keep from hitting the rock
The ride was sometimes smooth and calm and sometimes wild, wet and rough… both of which we loved.  One time, in a completely calm spot, Roby tried pulling her feet out of the "braces," and since they were jammed in there so tightly, when they did come out, the force propelled Roby's entire body backward, and she nearly fell out of the raft!  Not that it would have been funny, but at least if she fell out of the raft in the rapids, there would have been a good reason!
After the raft trip, we returned to the offices of Vessels for Honor.  We made a point to thank the owners, Sandy and Dwight (Focus accountant), for the fun day.  In addition, we shared with them that we are married, and that we came rafting for our anniversary celebration (they had not been around when we told Jeremy).  We told Dwight and Sandy that we had just been in Colorado Springs, visiting Focus on the Family, and that we wanted Dr. Dobson and everyone at Focus to understand that what they say about us is simply not true, and it is separating families, and destroying lives.  We shared with them that we were brought up in the Christian faith, and continue to consider our faith the cornerstone of our lives and relationship. 
Roby was able to share with Dwight and Sandy about her journey from the confines of the closet, to discovering the truth that God loves her and that the Bible does not condemn homosexuality, as she had been taught.  Roby told them that it was the teachings of Dr. Dobson, and others like him, that led to her considering suicide as an option, unless she could reconcile her spirituality and her sexuality.  Thankfully, Roby found some amazing ministers and Bible scholars who helped Roby understand the truth, and who were influential in saving her life. 
Sandy and Dwight thanked us for coming, and Sandy said (several times) "just keep seeking the truth. God will reveal it to you… and the truth will set you free."  We replied, "Yes, indeed… the truth has set us free!" 

It seemed obvious to us that Sandy was insinuating that we had not discovered the truth, for if we had, then we surely wouldn't be gay.  It was also quite obvious that Sandy and Dwight are of the understanding that their truth is the only truth; therefore, all others are wrong.  While we can appreciate and respect that Dwight and Sandy have their beliefs, we find it nothing short of arrogant when people say that they have the one and only truth, and anything else is wrong. 
Having said, this, however, we enjoyed a stimulating and warm conversation with Dwight and Sandy, much like we have enjoyed many other conversations across America, with people who are different from us.  Let us all dare to have deeper conversations and authentic connections with those who differ from us. In doing so, we believe that the differences that separate us will dissolve, and make us more connected as individuals with the opportunity to live in a more peaceful world.  
It is ironic that literally days after sharing with Dwight and Sandy about the detrimental effects of the teachings of James Dobson and Focus on the Family, we received an email from a woman in Lexington, Kentucky (of all places since Dotti lived there for 22 years) who had experienced first hand the sometimes negative and harmful counseling by Melissa Fryrear (called a gender analyst for Focus on the Family). 

We explained to Sandy and Dwight that we have nothing but honor, respect, acceptance, and celebration for those, like Melissa, who desire to live heterosexually and thus choose to deny their sexual orienation, and are happy living that way.  Our main contention is that both are possible...them being happy as they are and us being happy as we are.   We maintain that we both can be in God's will, and be in a solid and empowering relationship with God. "Why is it not possible to honor both ways of being?" was our question to them.
The email we received from Katrina Presko says it all, and confirms what we were expressing to Dwight and Sandy, as well as the people inside Focus on the Family who we visited, such as Den Patterson, and Diane and Diane, regarding the damage that their teachings are creating for some people... 
I had to write you guys after reading your website. My story is long, but by the grace of God, He got me to your site. I used to counsel under Melissa Fryrear (Love one Out Lesbian Speaker) when she lived here in Lexington, KY. She directed a reparative thearpy program called Crossover Ministries, a chapter ministry under the Exodus umbrella. My mind and life have been severely traumatized by these people and Love Won Out, etc. I need help trying to seek peace and know that I am not going to go to hell for being gay. They are destroying America and our faith. My Dad is a pastor. They say I'm going to hell...you know, the whole works. Please email me, pleaseeee   I want to support you guys and help out. I am currently in seminary for Social Work and am an addictions counselor by trade. Love Jesus and my partner. Happiest I have ever been. Can't imagine why God would create me, only to ask me to change, Ya know? I need as much material as I can get my hands on. Please help.

 

Dotti didn't just write back to her...she picked up the phone and called her immediately, having to leave a message.  Feeling that Katrina's words were relevant to our recent conversations and communication with Focus on the Family folks, Dotti asked if we might use her words in our newsletter. 

 

Dotti then emailed her, letting her know that she had lived in Lexington for 22 years.  She shared various resources with Katrina, and  also gave her contact info for people in Lexington, such as Rev. Dr. Lisa Davison, as well as Jamie McDaniel (head of Soulforce Lexington) as well as linking her to our Spiritual Advisors page on our website, encouraging her to contact Rev. Bernie Turner as well.   We received the following email before Katrinia received our email detailing resources and people fthat could be helpful or her (the email was stuck in our out box).

 

I'd love for you to pass on my info to everyone and anyone.

Thanks for your message that I got via cell phone. I had read the article on "Focus on the Family" trip before I had called ya. So that is why I emailed mostly. Far as I am aware, you all are about the only resource that I am aware of that I feel could help me.  I"m sure you have heard of Southland Christian Church in Lexington..But to give  you a short background, my Dad is a pastor there and that's how I was raised. I am struggling so hard yet have such a passion for God and want to help society. I just was named 2006 volunteer of the year for a local Le organization. I have so many gifts, but I feel so oppressed. I still am struggling "will I go to hell for being gay."  It is preached every where I turn, so it's hard for me. I'm still trying to find peace. I struggled to the point of guilt in 2002 and went to Crossover Ministries, where Mellissa Fryrear was the director at the time. I spent the next few years trying to "change," applying reformative therapy. I have every book that Exodus has put out. They are the ones who designed the cirriculum for "Love Won Out." I honestly feel that Love has WON me out by me finding who the true me is. That is a happy, God fearing, Gay woman. My whole family has told me I cant be around their kids anymore cause I"m gay. Down to I can't bring my loving partner there either. So I am trying to build a family that accepts me. Well anyway, if you wnat to talk, feel free to call me again. I don't want to overwhelm you. Regardless what happens between us communicating, I want to help you all and volunteer. Way to go for standing up with Channel 36 news. The interview was great. Way to go.
Throughout our week at Sweetwater Creek Ranch, various people approached us, inquiring about our signs on our car.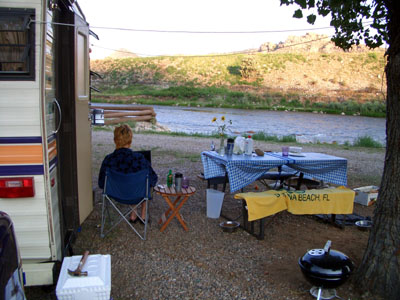 View from our site
The morning we were leaving, a woman name Marie, approached Dotti and said, "I have been wondering what your sign means."  They engaged with one another and Marie shared her support for us.
You can see the swinging bridge in the background from our campsite
Another couple, Larry and Donna, arrived a few days after us.  They had a Honda Gold Wing, and we learned that Larry is a motorcycle drag racer.  The day we were leaving, Donna came over to talk as we were packing up.  She expressed her support for us.  Larry then joined us.  As the conversation continued, we shared our feelings about the disappointing news from Washington, with the state supreme court having upheld "one man one woman" for marriage.  We continued, however, to say that we are still married, because our spiritual marriage is the essence of our relationship.  It was then that Larry let us know that God would never bless our marriage.  Our conversation continued, with Larry expressing that one could do anything in life, but that only by being born again and accepting Jesus Christ as Savior could anyone escape "hell."  Larry and Donna were a study in contrasts.  Several times during our conversation, with frustration in her voice, she said "Larry…stop it…you are pissing me off…you are just trying to argue."   When he would want to debate scripture, Dotti would say that she felt no need to defend her relationship with God.  We acknowledged Larry for sharing, but also expressed that what he shared was his truth, not our truth.  He would continuously reply that there was only "one truth." 

Interestingly enough, Larry said several times, "I don't have a problem with you being gay."  Although Larry sincerely believes that the Bible condemns homosexuality, he says, "I don't worry about sin anymore... as long as you're born again, that's all that matters."
We inquired as to how they had stayed married for 34 years with such divergent views and beliefs.  The interesting part is that neither attend religious services, sharing that "She won't go to my church," and "He won't go to my church."  Donna grew up Southern Baptist and Larry grew up in the Assembly of God denomination with a father who is a minister.  They have learned to agree to disagree, with Donna being very supportive of us, saying that we are all God's children, while Larry is adamant that his truth is "the" truth.  We conveyed that we feel each of us has a piece of the truth.
Before we parted, Donna asked for our card, inviting us to come and stay with them if we were ever in the Dallas, Texas area again.  Larry was then the first to move to reach out and give Roby a hug. We all hugged before leaving, energized by our conversation.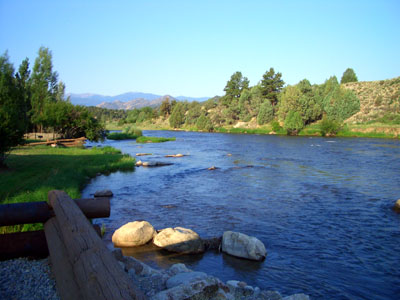 Sweetwater Creek Ranch RV Park by the Arkansas River...we'll be back each year!
On another evening, Mark (the owner along with his wife, Marcia) drove by and let us know that a group from New Orleans was cooking a fish fry up by the office, and that we were invited.  Originally, Gary had invited us to their place for hot dogs on the grill, but when he went to the small store down the street, they were out of everything we needed for a cook-out.  We had already decided to do the hot dog roast the following evening when Mark made the offer.  Gary, Tonya, Dotti and Roby walked up to join the crowd for the fish fry.
Cathy Angell asked Roby to promise she would eat cat fish at a Cracker Barrel before she returned home.  Cathy, the good news is that Roby finally ate cat fish, though not at the Cracker Barrel.  The bad news is that Roby said it tasted like dirt!  Roby found out that they are bottom feeders, and then felt justified in her assessment.  In addition, Roby wasn't the only one who thought the catfish tasted like dirt! And Andrea (who we had just met) agreed with Roby, so that sealed the deal!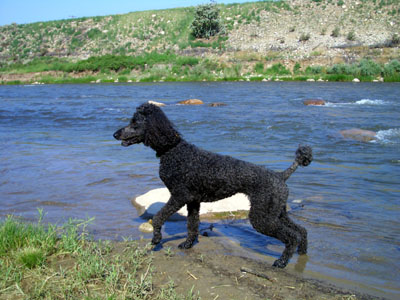 Rylee Joy by the Arkansas River
While at the fish fry, we met a wonderful couple from Denver, Brian and Andrea Grave, and their fury child, Ike.  We discovered that Brian  is a retired police officer, though he still does training occasionally.  As we talked about our journey, he told us that he had been in Montana in June to do training.  He was there to work with police officers on how to create a safer environment, particularly regarding the GLBT community.  Three officers in the back of the room said that all they would do is arrest the people.  Brian explained that wasn't ok, and encouraged the officers to consider the positive impact of a GSA (Gay/Straight Alliance) at schools.  The three ended up giving him a bad evaluation, saying that he was promoting sodomy.  The good part is that this group represented only 3 out of 38 people taking the training, with many being open and inquisitive regarding how they can truly make it safer for our community.  Before they left, they both were wearing rainbow wristbands, and they had our cards in their hands. Andrea is also a busy ally where she works. This couple is truly making a difference for all of us.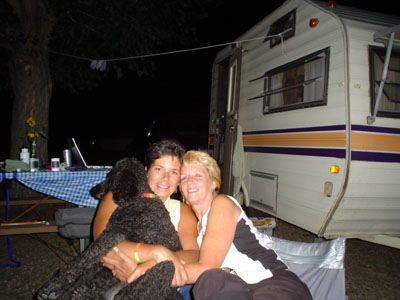 Our family, snuggling at our campsite
On Monday, we headed to Trinidad, Colorado.  Dotti had to sign papers in order to observe GRS  (Gender Reassignment surgery) with Dr. Marci Bowers on Tuesday.  We then headed for the local Wal-Mart, where we pulled in and spent our second wedding anniversary.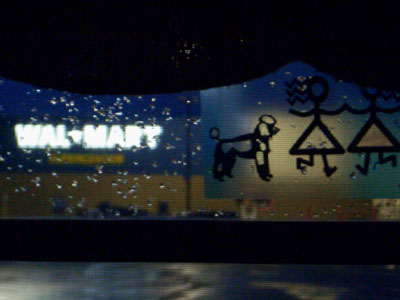 As the rain poured down, Roby took a neat pic from inside our Scotty trailer
Since Roby did most of the cooking the week before, Dotti cooked an "equisite" meal of leftover grilled chicken, combined with fresh vegetables, plus everything but the kitchen sink.  As we sat in our Scotty, listening to the rain on the metal roof, we decided that it just doesn't get much better than this...unless we are sitting by the river! (: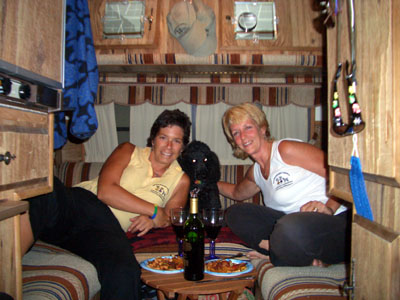 Rylee Joy enjoyed our anniversary
The truth is you can be in a $2000 per night room and still be lonely in relationship.  Conversely, you can be in a 13 ft. trailer and be connected in relationship.  As Roby pointed out, it wouldn't be a bad deal, however, to be in a $2000 per night room and be connected!  Good point! (: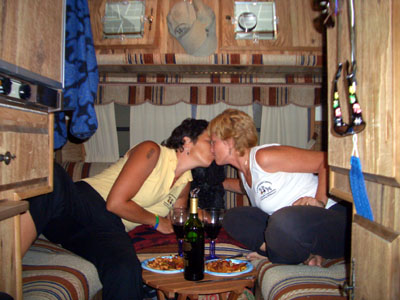 An anniversary kiss
Dotti spent all day Tuesday in the operating room with Dr. Marci Bowers, observing two ladies who were having GRS.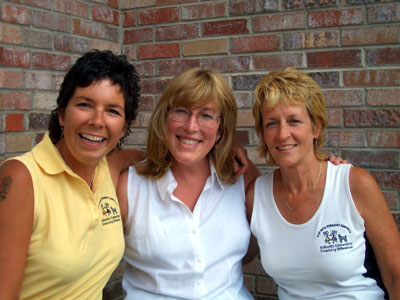 Roby, Dr. Marci Bowers, & Dotti
Dr. Bowers is the only woman performing GRS 
As Dotti put on her scrubs and stood facing the woman who would have surgery, she introduced herself and thanked the woman for allowing her to observe.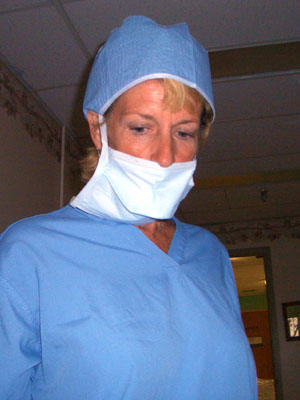 Roby titled this one "Dr. Berry"
I think she is looking forward to me finally finishing school! 
There were two other women standing next to her bed, talking with her and stroking her arm and head.  Dotti asked them if they were related.  That is when one woman introduced herself as Sarah, saying that Alaina (the one who would have surgery) is her partner.  The other woman introduced herself as Krista, as woman who had known Alaina for 10 years.  They were all from Toronto. 

Krista has a book that will be published in the fall. It is called TransForming Feminisms, and will be published by Sumach Press in October.  Click here for more information.  

They asked Dotti why she was observing.  Dotti explained that she is working on her doctorate in Human Sexuality and that she has a passion for the transgender community, presenting at about five transgender conferences each year.  She went on to say that with their journey, Gay Into Straight America, she arranged to make a stop in Trinidad to observe surgery. At that point, Sarah exclaimed, "You spoke at my MCC church in Columbia, SC."  Dotti said, "Yes, I preached a sermon and we shared about our journey as your church was transitioning to a UCC church."  That led to a conversation about how she and Alaina had met.  Sarah shared that she had moved to Toronto about two months ago.  Small world, huh?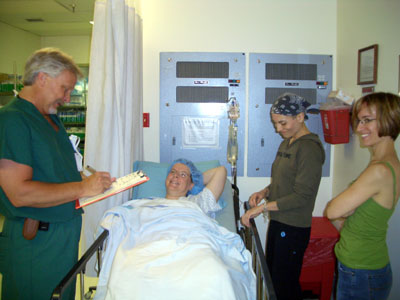 (L-R) The anthesiologist, Alaina, Sarah (Alaina's partner), Krista
Notice that we call them ladies or women, because that is who they already are.  If you are ever in doubt as how to refer to a transgender person, refer to them as they are presenting (either male or female) and use the appropriate pronouns that match their presentation.
They have been living full time for a minimum of a year before surgery, presenting as the female they know themselves to be.  Surgery is an option, but not a necessity to living one's life as a woman.  Some exercise that option, and some don't.  Thee reasons for not doing so vary among individuals. 
If you originally get to know a person as a cross dresser (for example, a male who cross dresses as female), and later are around that person as their male self, just ask them how they would like you to address them.  Our experience is that the majority ask us to refer to them as their female name, even when they are presenting male, if their female presentation is how we originally met them.  Sometimes, however, they will just say, "Well, since I have a beard right now, just call me Mark."  The point is that if you are in doubt as to how to address a person, simply ask them.  They will let you know, and will appreciate your genuine interest and question.
After surgery, we went to dinner with Marci and her partner, Carol.  We also met Marci's son, Tom.  What a great job Marci has done in parenting him.  He is polite and friendly.  Only 10 years old, he made sure we had a nice CD to listen to as they showed us to our bedroom in their home.  The next morning, he offered us breakfast that Marci had laid out before leaving for a hair appointment.  When we left, he said it was nice to have met us.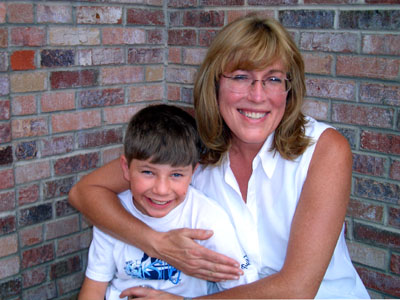 Tom & Marci
On Wednesday as we left Marci's, a man came from across the street where a new home was being built.  He was interested because he saw our Washington tags, and his brother owns a Mexican restaurant, Tequilas, in Wenatchee.  We told him that Wenatchee was the first place we spoke on our year long journey.  We discovered that Manuel owns Tequilas in Trinidad, and he invited us to visit, saying he would love to buy us a Margarita.  Sounded good to us.  We left for the restaurant, where we later were sent two Margaritas by a gentleman behind the bar.  Manuel told him to take the drinks to Gay Into Straight America.  Dotti was not at the table at the time.  He approached Roby with the drinks, placing them on the table, saying "Are you gay?" to which Roby asked, "Yes, are you?"  With a surprised look on his way, he replied, "No."  We later found out that was one of Manuel's sons.  Manuel came over and we talked for a while.  That is when more questions about our journey arose.  Manuel invited us to come again to his restaurant.  What a great guy! 
While we sat in Tequilas, a light rain showered down. As we walked out the door, Roby said, "There should be a rainbow."  As we got into the car and looked up, a full rainbow, end to end, arched over the top of the restaurant.  We looked at one another and smiled.  We had already decided that we would go take a picture of the sign on the intersstate that says, "Welcome to Trinidad."  When we did, we caught the most beautiful part of the rainbow over the top of the sign.