You can't hate someone whose story you know.
Dare to know the story of those who are different.
 
"The tiniest story in your life can deeply touch another.
You cannot know the effect your story might have."--Sark
People often think that "bridging the divide" means allowing ANY situation into our life, even ones that harm us.  That is not love.  Sometimes, we have to love ourselves enough to let go of situations, and yes, sometimes even people, who do not empower us.
A bumper sticker on the car of Rev. Katherine Hart, pastor of Scottsdale Congregational United Church of Christ (where we spoke on Sunday) said, "I'm for the separation of church and hate." Yes, that, too, is what Love has to do with it!
As we approach Labor Day, we hope that you take a day to relax and enjoy the fruits of your labor, opening your heart in new ways to embrace yourself and others.  We know we are!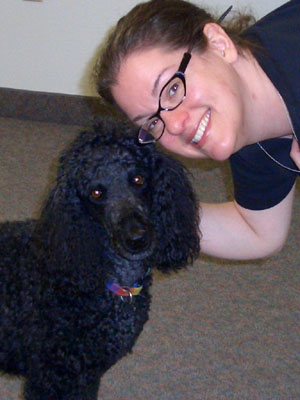 Rylee sharing love with a PFLAGer at Sun City, Arizona 
We often hear that "Change is inevitable...Growth is optional."  In some ways, that may be true.  For those who want to truly be Stand UP Speak OUT Wind Changers, however, embracing growth is not an option.  It is an imperative.
Our last "official" speaking engagement for our year long journey,
Gay Into Straight America, will be on September 20. 
How apropos that it will take place in Chelan, Washington, the home of Lars Clausen, the Lutheran minister whose journey, Straight Into Gay America, inspired us!  Lars sent out an intial release...see "Click here" below for all the details, and come and join us if you can!  Chelan is a beautiful small town in Eastern Washington, located on a beautiful lake. 
Epic Journey spends final night in Chelan. Dotti Berry and Roby Sapp finish their one year Gay Into Straight America tour at Riverwalk Books on September 20th at 7 p.m. Friends of Lars and Anne -- Come make them your friends, too. Click here for the complete story.

Thanks for passing word about Dotti Berry and Roby Sapp coming to Riverwalk Books. Thanks for coming to hear them. It's going to be a rich and wonderful evening and I want you to share in the blessing of it. I hope September 20th is still open on your calendar.
Roby: It seems hard to believe that we are into the last month of our journey!  As we stood on the beach near our home in Blaine, WA, last September, Dotti snapped her fingers, looked into my eyes, and said, "Do you know what that means?"  I then asked her and she said, "It will be that fast before we are standing on this beach again, so let's be present to each moment, and make the most of this opportunity."

On September 21, we will stand on that same beach, look at one another and snap our fingers, rejoicing in what this experience of a year on the road has taught us. We somehow sense that "being on the road" might be an ongoing lifestyle for us for a portion of each year.  Stay tuned for our ideas.

First, however, we want to share a few comments from people along our way…
Here's one regarding last week's newsletter, titled "This little light of mine, I'm going to let it shine," where we noted that a simple song says it all, urging us to remember that we are the ones who choose to believe/not believe what others say about us.
Dotti,
 
So very true. For the last two weeks in my little town, I have become the item of conversation. I know what some are saying but I know who I am. The hard part is reassuring the kids that they will be ok too. My 11 yr old turned and said that he would be fine because he said he was very proud of me and that I was being who I am. The weekly newsletters are great!
 
Cindy Batchelder
And from Wayne, who recently interviewed us for his podcast…
Hey Dotti and Robynne,

Wanted to share a part of an email I got from a fellow podcaster who lives in England. He hosts the Clever Little Pod and is quite funny and super cool.

"I've just listened to your latest and really enjoyed it. It's good to hear a podcast with well-prepared, intelligent content - there aren't that many out there. I particularly enjoyed the interview with Dotti and Robynne and their amazing experience with the guy at the gas station. I'm gay myself and experienced some prejudice at work last year so I know how important it is to challenge small-mindedness where it occurs. What they're doing is incredibly brave."

Just wanted to share. Hope all is well.  Cheers, Wayne

Wayne then wrote again later, saying:

By the way, I have gotten more feedback from your intervew than any other show. from both gay and straight friends. Couple from the UK! A friend of mine in a band said they loved the story Robynne gave and they listened to it on the road while they were on tour on their iPod.
There was no reprieve from the hot weather while we were in Scottsdale.  Each day was over 100 degrees, but the good news is that there was a pool at Donna Rose's condominiums.  What an experience we had.  We discovered how much we enjoy floating, and pulling one another around the pool in all directions.  Closing our eyes, it was an exercise in trust and allowing.  It was like healing in slow motion. We remembered back to our time in Germany last summer, when we were unable to get our flight out of Berlin.  Annett and Adele came to the airport and whisked us away to a day at the salt bath spa as a celebration for our first anniversary on July 31.

A new link makes it easier to access some of our opinion editorials we have previously shared in our newsletters.  Hey, there is a reason our non-profit (pending) corporation is called Stand UP Speak OUT. 
Speaking of opinions, one person, our friend Donna Rose, has some great ones, and she isn't afraid to share them.  That is one reason we enjoy her company.  You don't need a crystal ball when you when you communicate with her.  Donna is forthright, honest, and direct, qualities that are in short supply in our culture. She is willing to take the inevitable hits from daring to have an opinion. 
Click here
and check out the Op/Ed link on her homepage.  In particular,
click here and read her most recent opinion piece
,
"Prejudice by Any Other Name." 
Donna's opinion is a response to the most recent flap regarding The Michigan Womyn's Music Festival, a popular annual all-women's event featuring well-known women musicians and performers from around the world.  This festival is also known for its long-standing policy of refusing to admit trans-women.  We will be talking more about situations like this later in this newsletter, noting that our own prejudices often continue to disempower ourselves, as well as others.  When our intention on this journey is to bridge the divide of polarization, we cannot turn a deaf ear to situations within our own community.  We must address these issues.  Once again, we must learn from history.
Now for the history of what first happened in 1991 when Nancy Burkholder, a 9-year-postoperative transsexual woman, was denied the opportunity to experience the event.  Thanks to Janis Walworth & Michele Kammerer (who gifted us with the purple suburban for our journey) for sending the text of the handout they used at the 1992 Michigan's Women's Music Festival to explain what happened in 1991 and served as the basis for the policy.  Janis and Michele run a great group in Bellingham area called "Salon Q," which is an ongoing discussion group to explore topics of relevance to lesbian, gay, bisexual, transgendered, intersex and queer folks and our allies. Meetings are open to anyone who wants to discuss the topic in a respectful way. September's meeting topic is "Intersex," while October's meeting topic is "The Upcoming Elections."  Click here and email them for more information.  They are also the directors of the Center for Gender Sanity, a refuge from male/female dichotomies, sex-based stereotypes, and other gender madness.   Check out this Diagram of Sex & Gender as well as other info on their website.
Janis Walworth said,
In 1993, 4 transsexual women were expelled from the festival after setting up a table with literature to inform participants about trans issues. In 1994, there was a change in policy. Janis said, "I was told that trans people being in the festival was 'no longer a security issue.' " The festival remained an event for "womyn-born womyn," i.e. not transsexuals, and they asked everyone to respect this policy. However, trans women who asked to buy tickets would not be hassled, and once inside the festival would not be expelled. Several trans women who felt that they were womyn-born womyn then bought tickets and entered the festival without incident (it was the afternoon of the last day of the festival and they were only inside for 1-2 hours). From the Camp Trans press release, it sounds like in recent years women who announced that they were trans were refused tickets, whereas this year one was permitted to buy a ticket. The festival press release makes it clear that there was no change in policy. I suspect that women who were refused tickets happened to deal with transphobic women at the ticket booth and that that refusal was not in accord with stated policy.

Michele Kammerer added, "When do females become 'womyn-born-womyn' ? Is it the minute they are born? What about intersex babies? Their policy has essentially not changed since 1994 when they decided that transwomen were no longer considered a 'security issue.'"

Click here to read what happened to Nancy in 1991.  We were fortunate to have been at Janis and Michele's for dinner one night when Nancy was visiting, and sat in disbelief and horror as she personally shared her account of what, we feel, is a sad moment in lesbian history.  When we are threatened by the uniqueness of others around us, it is time to take a long look in the mirror, as we ask others to be accepting of us. Part of the story is this ...
Nancy was not expelled in 1991 for her behavior, or even her looks, but because she said something incriminating--she failed to conceal her transsexualism. The 1992 and 1993 MWMF brochures contained wording meant to exclude transsexual women: "MWMF is a gathering of mothers and daughters for all womyn-born womyn."

In a newspaper interview, festival producers said they would not attempt to hunt transsexuals down and throw them out once they were at MWMF. In other words, if you can pass and don't call attention to yourself, you can be at the festival. 

Does this scenario sound even vaguely familiar?  This is exactly what some in our society would prefer for our GLBT community.  Be quiet.  Don't call attention to yourself by claiming your relationships as valid ones.  Stay in the closet.  Be deceptive.  Tell lies.   From our journey, however, we want to share the "good news!" The majority of people in our country do not feel this way.  Our own community, however, has so often continued to believe the old tapes and old myths that formerly permeated the thinking of MOST in our society, that we have failed to noticed the MOST no longer feel this way.  We continue to operate from a belief system, however, that supports the old way of thinking and believing.  We have to change just as much as those we think need to change.  It is sad when those in our own community manipulate circumstances and policy to make it "appear" that there has been a change, when in reality, no change has occurred at all.  This shows why laws and policies never change people's minds...people engaging and knowing one another, connecting authentically, is what changes people, both "us and them" into a "we."
Back to Donna Rose.  An engaging woman in a myriad of ways, she ranges from
A-Z in conversation, as well as fun.  One night we caught the ending of Mr. & Mrs. Smith.  What can go wrong when you are watching Angelie Jolie in action? (:  Ok, so Brad Pitt is ok too. The next night it was Finding Nemo, before viewing The Matrix.  The next night it was Shrek.  Donna was in LA on business when we first arrived, but the first night she was home she took us to a transgender support meeting, allowing us to meet many of the wonderful transgender people in the area.
Add in punctuated energy because Donna isn't afraid to experience all aspects of herself, and what you have is one good time staying at her home.  Having been born a male, her journey to developing her authentic nature included a path that took her through GRS (gender reassignment surgery) and writing a book, Wrapped in Blue…A Journey of Discovery.  Donna's book is a fascinating personal account of her path to better understanding the gender aspect of her being, and her journey into self and wholeness.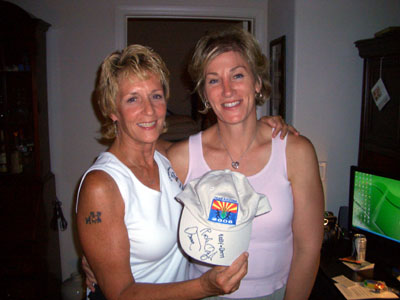 Signing the cap, "Rock On," Donna gives us the cap she was given
for her participation at the Gay Games
Donna doesn't feel compelled to discard every part of her male identity.  What do we mean by that?  Donna recently won a gold medal at the Gay Games in Chicago.  A champion wrestler in Canada as a young man, Donna, is a stunning woman when dressed to the nine's, but just as gorgeous when dressed down, even as a wrestler. We love the refrigerator magnet that Donna had, called Every Girl, Every Boy

Years have passed since Donna was a Canadian wrestler,
but one thing is clear...SHE is still a CHAMPION!
We have been promising podcasts
. We are now ready to deliver! Well, we thought we were.  It is completed, but we are having difficulty learning how to convert the file into a url with RSS feed that we can put into our Feedburner account.  Are you confused now?  Well, we have learned a lot recently, but apparently are missing one little piece that will allow us to post it.  We feel like we are a NASA space shuttle that is ready for lift-off and keeps being sent back to the hangar due to bad weather.  Ok, we have now gone back and updated this newsletter, because the difficulty has turned into success!
This initial interview represents the first in a series that we hope will inspire all of us to become "Stand UP Speak OUT Wind Changers." 
"Living Authentic Lives"
our Stand UP Speak OUT "Roadcasts"
from Gay Into Straight America,
the true adventures of Two Women and a Poodle,
Dotti Berry, Robynne Sapp & Rylee Joy.
Click here for this interview. 
You can also go to our blog and click on our podcast there.



This first "roadcast" could not be more meaningful, since Dotti interviewed Donna Rose in person while we were in Scottsdale, with Roby recording with the podcasting equipment.  No person personifies being a "Stand UP Speak OUT Wind Changer" more than Donna Rose.  We are pleased to announce that Donna is our newest "Stand UP Speak OUT Wind Changer" honoree.  Click here for past honorees.  This is a diverse group of people, from everyday to well known folks.  Each is making a difference...that is the common thread.
This first podcasting experience was indeed a divine one due to our good fortune of having hands-on help from  Rhonda Devine.  A transgender woman and former audio engineer, she was also staying at Donna's. The best part is that she is from "our neck of the woods," living in Seattle, so we will be seeing more of her.  What a giving and helpful woman and new friend.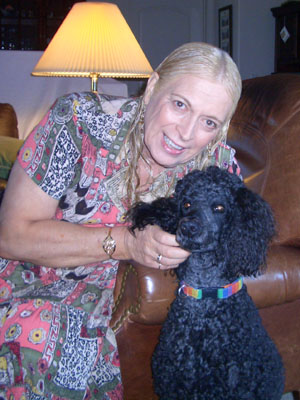 Rylee with Aunt Rhonda
Not only did Rhonda help us with our "roadcast," she also gave us a card with a generous donation to support our journey.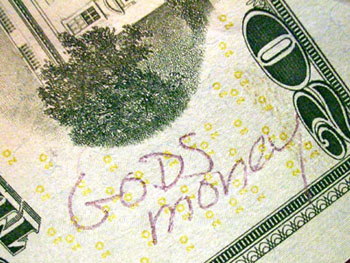 Rhonda has a unique way of contributing.  She writes "God's money" on some money that she puts aside to give when she feels compelled to do so. 
We received some from her...what a gift that was and so heartfelt!
Michael, whose podcasts you can catch at mikeypod.com, gave us our initial BIG support, sending us links about how to podcast, and putting us in touch with the certain websites that are critical to creating successful podcasts.  We met him (via phone) when he recently interviewed us.  Many thanks to Ms. Lucie Blue Tremblay for allowing us to use her music in our "roadcast."   Check out Lucie's website.
And last, but not least, one particular boost allowed us to have this opportunity to produce our "roadcasts." Dotti's client, Cindy Braunheim, gifted her with the equipment!  Talk about support for our journey.  Once we get back home, our goal is to begin putting the experiences from each of our newsletters into our "roadcast" format.
One person that Donna really wanted us to meet, whose support was instrumental for her when she was in the early stages of learning more about herself, is Dr. Becky.  Being the great hostess that she is, Donna arranged a dinner at a wonderful Italian restaurant, inviting Dr. Becky and several other magnificent transgender women to dinner.   We appreciate the support Dr. Becky offered us that night for our journey. Until you have spent time with some of the transgender community, many people in our society fail to recognize what a true gift they are, and how their unique path of having lived as both male/female or female/male positively impacts our world.  Bottom line is this...if you don't know any transgender persons, make a dedicated effort to get to know them.  How?  Contact your local transgender support group. Attend a PFLAG meeting, a welcoming and celebratory place for transgender people, as well as others, and a support group for parents and allies.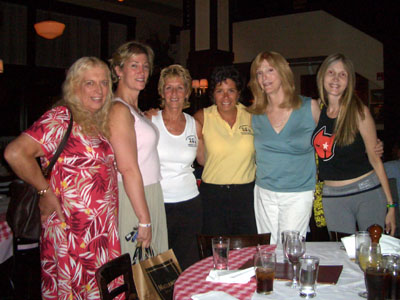 (L-R) Rhonda, Donna, Dotti, Roby, Becky & Marqeaux

At the top of Dr. Becky's website is the following:

Ani Ma'amin
(I Believe)

I believe in the sun
Even when it is not shining
I believe in love
Even when feeling it not.
I believe in God
Even when God is silent.
 
Dr. Becky's website also contained a question that I love from the book, Who Moved Your Cheese?

What would you do if you weren't afraid?

Our answers?  After sharing our feelings, we came up with the following that is important to both of us.
We would love without fear, unattached to past experiences and consequences, or future ones.  We would be completely transparent and open hearted to receiving and giving love without reservation. 

 
Having said that, we are choosing to live life, unafraid of discomfort that  surfaces.  We are intentional in using the discomfort as a healing tool as we maneuver through opportunities to move to the other side of fear and discomfort to embrace love and authentic connection.  We trust that we are capable of giving meaning and flight to our words through actions that support them.  Experiencing love through moving beyond fear is intoxicating in a good way.
Our personal journey during this year has given new meaning to "being unattached to a specific outcome." It has allowed us to move through discomfort and fears in ways we might never have imagined.  It has offered us an opportunity to realize that it is easy to love our partners (and others) when they are lovable.  It is an entirely new experience to love our partners (and others) when they have hurt us and have done things which are unlovable.
We spoke at the Scottsdale Congregational United Church of Christ.  It is an absolutely AMAZING group of people, with Rev. Katherine Harts serving as senior pastor, and Rev. Larry Bridge, Associate Pastor, while Dr. Eric Elnes, author of The Phoenix Affirmations, is leading the walkers in CrossWalkAmerica.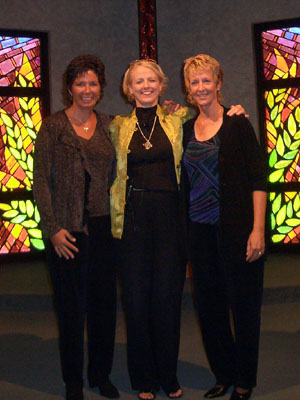 Dotti and Roby with Rev. Katherine Harts
On Sunday, September 3, Foundry United Methodist Church, will host CrossWalk America as they arrive at their final destination in Washington D.C. to celebrate the completion of the group's 2,500 mile walk across the United States to spread the overriding message of Jesus Christ – love of God, love of neighbor and love of self.  One of its core values on their homepage is "authentic inclusiveness of all people, including God's lesbian, gay, bisexual and transgender (lgbt) community. 
We wish that we were going to be in Scottsdale on September 17 to welcome home the walkers  We spoke with Katherine the next day, and they were absolutely thrilled with the response to our participation in the service by their congregation.  We discussed the possibility in the future of going back and doing some workshops, such as "Attracting Authentic Love," and "Creating Life through Non-violence."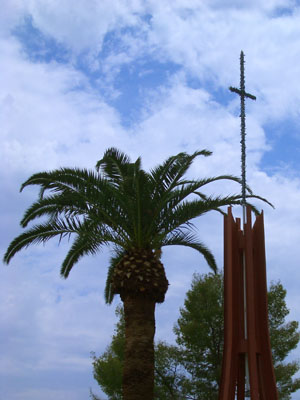 The front of Scottsdale Congregational United Church of Christ



In preparation for the service each Sunday, Rev. Katherine Harts and the staff do an incredible partnering to pull together the experience in words, scripture, and music. 

The beginning scripture for the service was Acts 9: 1-19.  Rev. Harts offered the following reflection, which is in line with our journey.
Reflection: (Paul's conversion or should I say call) We often talk about Paul's experience as a conversion experience but it was also a prophetic call.  He was transformed from one whose work was to persecute the early Christians to the work of being an apostle to the Gentiles. So here's another part of this story. As Saul, he matched fear with fear, power with power.  As Paul he found a way of humility and yet courage and boldness.

It is a call, which transformed his inner being and changed his work from an enforcer of the law to one who set others free.  There is hardly a thought in Paul's writing that is not tied up with his mission. Paul's prophetic call is a call to transform the world from slavery and bondage to freedom and justice. This is the good news we are to tell people about.  We all have this call. The call for all Christians and ultimately every person is a call to transform the world from slavery and bondage to freedom and justice.  This is our work of transformation. When word and work are returned to their source and origin, then all work is accomplished divinely in God. God has given me the power to change my ways.

In our experience, most of us have had "Saul to Paul" moments in our lives, whether or not we are Christian, or even a person of faith.  This "Saul to Paul" metaphor happens in various ways in each of our lives.  These moments are universal experiences, for they are about transcending who we have been to become more fully who we are.  They are reflective moments where our actions show us clearly who we are not so that we can fully embrace who we are.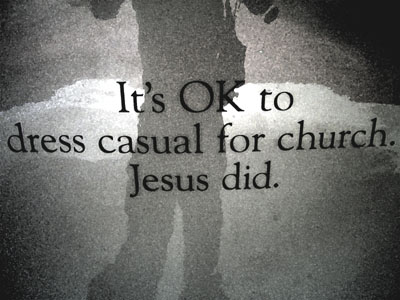 Out front of Scottsdale Congregational United Church of Christ
Do you see the shadow of Roby behind "Jesus"?
In our pre-meetings for the service, we decided to share about our open letter to James Dobson, where we spoke about the potential of his "Saul to Paul" moment. Click here for the full letter. The last part of that letter read as follows:

Jesus demonstrated forgiveness. We think that's what He had in mind when He told us to pray for our enemies. It is a transforming experience to pray sincerely for the person who we feel has injured us or wounded our feelings. When we pray for a healed relationship with you, Dr. Dobson, we can then commend you to God's loving care, allowing our anger to be transformed, dissipated, and defused into the greater experience of love. In that moment, we are then inspired to quietly call out "Forgive James Dobson, Father, for he knows not what he does."

In conclusion, Dr. Dobson, we pray that the Spirit of God will open your eyes, your ears, and your heart, so that the truth about us will be revealed to you. We trust that when you have your "Saul to Paul" experience, and God reveals to you a greater understanding, you will then go forth and spread this good news about who we are, promoting love, tolerance and acceptance for all.

We expressed in both our wedding invitation and our ceremony, "We vow to create change in the world through the expression of our love." That is all we have for you, Dr. Dobson... LOVE! This vow continues to offer a wonderful opportunity for us to daily witness the potential of spiritual congruency between what we say and what we do.
If you are/have been/want to be a person of faith, Rev. Harts offered some good insights. Katherine reminded us that we have to "grow up" in our faith.  We have to choose to see God in a different light than our "childhood" God if we are to have an adult relationship. 
We realize that this applies to relationship as well.  We have to grow up.  We have to be willing to use adult emotions and adult responses, rather than childish ones that no longer empower us and make our relationships strong. Rather than running from discomfort, we must learn to embrace the "dis"comfort, in order to leave behind the "dis" and move to the other side of comfort.   This allows us to leave behind "dis"connection and fear based behaviors.  That is a calling for each of us that mimics a "Saul to Paul" conversion.
Looking at Dr. Becky's website and using that line from Who Moved My Cheese, we added and adapted to create an interactive experience for the congregation.  Standing in groups of three, each person turned to the one next to them and asked the following five questions.  They went around the circle three times, allowing their connection to deepen each time.
What would you do if you weren't afraid?
How would you be if you weren't afraid?
And how would that affect you?
And how would that affect your immediate circle?
How would that affect society?

A 13 year old girl named Miranda Loeber, who was the lay reader for the day, offered incredible insight in her comments.  Roby and I were in her group, and we looked at one another in astonishment as we witnessed her responses. 

In another scripture reading, Matthew 5: 48, reads:
In a word, what I'm saying is, Grow up. You're kingdom subjects. Now live like it. Live out your God-created identity. Live generously and graciously toward others, the way God lives.
Rev. Harts offered another reflection, speaking about the infantile relationship with God in contrast to the grown up concept of co creating with God and  making conscious creative choices.  She called upon us to recognize the source of our creativity and our creative heritage. She reminded us that since we do not own our creativity, then letting go is part of it all.  Letting go is demanded as much of religious institutions as it is of individual believers. (Now, when is the last time you heard a pastor say something like this?) Our lives, she said, are works of art that spiral beauty back into the world, and if we let ourselves, we can become a Wind Changer.  

We then shared experiences and stories from our journey related to using the gift that we are to "become the wind," allowing us to shift the consciousness of those holding up their finger to test the wind, inquiring as to the direction it is blowing, before being who they are, or having an opinion.
Rev. Harts then asked people to imagine what's possible when you make the choice to overcome your fears or habitual reactions.( choice vs. not out of reaction, or limiting your life to those things you are not afraid ).  She ended the service by asking people to Make ONE choice.  Write down one positive action can you take to move beyond fear. 

Not only were Rev. Harts and Rev. Larry Bridge (Associate Pastor) engaging, the music was outstanding.  In the first service Larry Loeber, the church pianist, led the way.  In the late service, Sandy Champion tickled the keys, allowing the band to back up her tremendously rich voice. 
After the service, we heard from several in the congregation. We heard from both Mary Loeber (choir director) and Larry Loeber, the parents of Miranda Loeber who we mentioned earlier.  Larry sent us a beautiful note, sharing words from one of his favorite songs, called "Fill the World with Love" It's from the 1969 musical version of "Goodbye Mr. Chips". He said, "This song has become a very important message for me to live by, and with. I'm typing out the words for you here ---- of course it loses some impact without the music, but the words are very powerful on their own:"
"In the morning of my life I shall look to the sunrise,
At a moment in my life when the world is new.
And the blessing I shall ask is that God may grant me
To be brave and strong and true,
And to fill the world with love my whole life through.

In the evening of my life I shall look to the sunset,
At a moment in my life when the night is due,
And the question I shall ask only I can answer:
Was I brave, and strong, and true?
Did I fill the world with love my whole life through?"
Thank you, Mary and Larry, for the gift of your words and support.

From Craig Henderson, a member of the church:
Your participation in SCUCC worship this morning was inspiring! And our children, Blair, Greer, and Greta LOVED your dear Rylee Joy! As I promised, when you talked about catching the wind, I kept thinking of a line from my favorite poem by the metaphysical poet, John Donne, "Song": Go and catch a falling star, Get with child a mandrake root, Tell me where all past years are, Or who cleft the Devil's foot. Teach me to hear mermaids singing, or to keep off envy's stinging, And find what wind serves to advance an honest mind. I think you and Roby are helping us all "find what wind serves to advance an honest mind." Donne thought these things were impossibilities. Your journey tells us that we all must try! Bless you, all three.
We participated in both the early and late service at Scottsdale Congregational United Church of Christ.  One of the most unusual things we have ever witnessed happened at the last service.  Communion had just been served, with us having been asked to serve it with the pastors, and Roby was now holding Rylee Joy in her lap on the front pew.  All of a sudden, we saw the two pastors turn and look at one another and sprint back to where the bread was, with each pinching off a piece, and then sprinting to the front pew and serving Rylee Joy communion.  Yes, this was a first for her!
As soon as we finished greeting people after the last service, we headed to Sun City, Arizona, where we spoke at PFLAG.  They kindly had their announcements and support group first so that we would have until 2:30 to arrive to speak.  We barely made it, setting up quickly.  The group, as usual, was engaging with their thoughtful questions.  Thanks John for the invitation to speak! 
Sun City PFLAG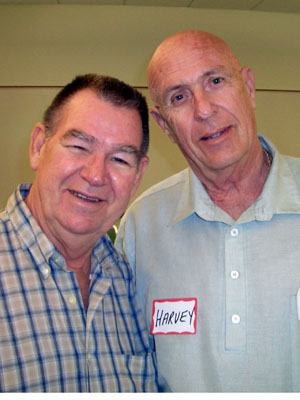 (L-R) Bill Walker & Harvey Mashburn...40 years together! 
We met them at Sun City PFLAG.
We noted that we would speak again in this newsletter about other situations where it might be important to transcend gender identity/gender expression and sexual orientation to bridge the divide.
A recent article, The trouble when Jane becomes Jack, continues to show how threatenend, unfortunately, some lesbian women are.  In one part, it says, "There are many people who look at what these young women are doing, and say to themselves, 'Hey, b