You can't hate someone whose story you know.
Dare to know the story of those who are different.
"The tiniest story in your life can deeply touch another. You cannot know the effect your story might have."--Sark
Greetings...we just arrived in Colorado Springs!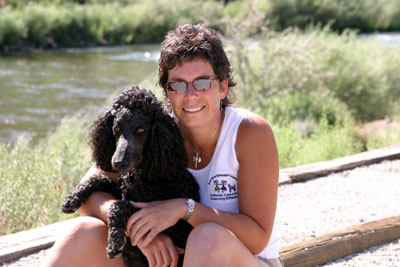 Rylee Joy & Roby by the Arkansas River in Colorado, where we spent one night enroute to Colorado Springs, Colorado
By the time some of you read this, we will either be in the middle of our walk on the 1000 Watt Soulforce Walk, or we will be finished!  Either way, next week we will have lots of pics and info to share with you about that experience, as well as about our speaking at PFLAG Boulder on Thursday evening.   
Dotti:  Many thanks to each of you who sent kind thoughts through email about my uncle's passing.  I told Aunt Dot about us sharing about Uncle John in our last newsletter.  Since she doesn't have a computer, she asked me to print her a copy.  I am also putting together everyone's comments for her to read, with me writing a note about each of you so that she will understand your importance in my life.

Granted, there were some recent setbacks for our GLBT community.  Click here to read Evan Wolfson's Bad News/Good News from his Freedom to Marry Newsletter. 
Since he has already covered the bad news, we will share some good news that he left out...
EXCITING NEWS!!!!!!!! 
Roby was working on pictures for the newsletter while Dotti was writing.  Suddenly, Dotti received a copy of an email sent by Roby's cousin, Harper Tasche.  Tasche is getting married to in September.  Tasche's email to us said,
Thought you might be interested in this -- just in from the Associated
Press:  "Supreme Court Justice Susan Owens said Wednesday [July 19] she believes the court's long-awaited ruling on the constitutionality of the state's gay marriage ban will be issued before this September's primary..."

Click here to read the whole article.


Who knows, maybe we'll be able have a legal marriage here at home after all!
Roby's email back to him said,
Ironic that we are sitting at Panera Bread, looking out the window onto the Focus on the Family Empire in Colorado Springs!  And as I just said to Dotti, "Honey, we just got an email from Tasche... And this is what it says..."  a nice couple - mother and son, sat down near us and listened to what I said, and then bowed their heads in prayer. :)  We're in the thick of it here! 

Thanks again for the good news!  Let's keep KNOWING a positive ruling!
More great news…Remember us visiting Kerry Pacer, Advocate Person of the Year for 2006?  Well, we just received an email from her mom, Savannah, and her dad, Bill. The Court says, "White County, Georgia School District must allow
Gay-Straight Alliance to meet." Congratulations to Kerry, her sister, Lindsay, and the rest of the GSA group who diligently worked to make this happen.  Click here to read all the details!
Journey details...
We were on our way to our next destination, Colorado Springs, when a new car issue popped up to stop us.  Roby's dad had installed a new catalytic converter.  We thought our car worries were behind us, and that we wouldn't be faced with a lack of power going up mountains.  Well, that was correct... we had more power but... as we were going up Snoqualmie Pass, WA, Roby noticed the car was still overheating.  A quick stop at a car repair in Ellensburg, WA revealed a plugged radiator.  It was Friday with no time to wait until Monday for them to order the part from a wholesaler so they could offer it to us at the normal cost.  They had to pick it up from a local retailer so they could install.  That quickly added up to twice as much as it would have cost.  He originally told us it would be around $300 plus $80 labor.  Turned out the whole cost was $650.  Ugh! (: 

We finally stopped at a Flying J for the night.  We headed out the next day, concerned because our refrigerator was now on the blink, and the meat was thawing in the freezer.  Traveling in 106 degree weather, we knew it was time to find an RV place that had electricity and plug in.  We stopped in Provo, Utah for the night.

The next day we headed back toward Salt Lake City, where there was a Camping World. Too bad we didn't realize it when we were going through the day before. We couldn't get anyone to answer at the store, but the phone recording said they were open.  Yes, they were open, but they had no one in the service department on Sunday.  Roby had unhitched the propane tank and taken it in, so we thought it had been a wasted trip in time and gas.  As she hooked it back up, she came inside the trailer to see if, by some miracle, the stove might light.  We were unprepared for what our eyes saw, since she had unhooked and hooked back up the propane tank a couple of times the day before.  This time, for whatever reason, the propane worked!  We wouldn't have realized it if we hadn't gone to the Camping World.  The moral of the story is:  Sometimes, when it appears that things cannot be fixed, they can! 

Just when we think we are traveling along and nothing in particular is happening, people suddenly pop up in engaging ways.  We arrived in Grand Junction, Colorado, on Sunday evening.  We had read about Two Rivers Winery in the USA Today.  The beautiful setting and buildings, also housing a bed and breakfast, enticed us.  We parked outside the fence and set up camp for the night since they were closed when we arrived. The next morning, we headed to town to have the oil changed and the car washed.  Rain the day before we left Seattle, combined with two days of bugs, created a nice mess!

As we headed back to pick up our trailer, a coffee shop, Traders Coffee and Tea, lured us.  As Dotti walked in, a man carrying 3 cups of coffee called out, "Great…diversity" as he glanced over at our rig.  He turned out to be Nick.  He said, "Two gay guys own the coffee shop.  Tell them what you are doing."  Inside, Dotti met Dee Coram, one owner.  Great guy almost 40 years old.  When we asked him if he had a partner, he replied, "No."  We told him we would be on the lookout as we travel the country! He laughed. We wish we had a picture of him.  He is both a handsome guy and a sweetheart of a person as well.  He encouraged us to take the picturesque route into Colorado Springs, saying that he had been stuck in traffic for 1 ½ hours the last time he traveled the interstate where they are fixing the road.  He also called his business partner, Phuong Nguyen, who runs Traders Coffee and Tea in Montrose.  He said, "You can park your rig in front of his house."  Unfortunately, we called Phuong, but got a recording.  Not waiting to assume we could park outside his house without talking to him, we decided to journey onto Paonia, just 30 minutes from Montrose.  More about that later...

Before leaving Traders Coffee and Tea, Dotti was approached by a woman who introduced herself.  Roby was busy paying bills online on the computer.  Dotti introduced herself, and Roby as her spouse.  We had noticed her and another woman talking to Dee at the counter. Sheila told us they were promoting the 2006 Out of the Darkness Community Walks by the American Foundation for Suicide Prevention.  Click here to read more about it.  The other woman had gone outside to get more T-shirts that she was handing out.  She returned and joined our conversation, offering two t-shirts to Roby and me.  Rebecca is working in the Denver area on the walk. 

We talked about how they need to pull in the support of the GLBT community in what they are doing since the suicide rate for GLBT teens is so high, sharing some statistics with them.  Sheila, thinking we were from Grand Junction, said, "Great, I am losing my gay board member.  Can you all help us in this area?"  We had to decline, explaining that we live in Blaine, Washington.  That led into us sharing with them about our journey.  They were really excited about partnering with GLBT groups.  We said, "Dee is the guy you need to get on board and have him get the GLBT community in this area involved."  Sheila and Rebecca agreed.  Support this important walk.  To get more information about these events or to register, visit the website for Out of the Darkness. 
Passing out cards and rainbow wristbands, we left Traders Coffee and Tea, and headed back to Two Rivers Winery to pick up our trailer.  Before leaving, we ventured inside since we had not seen inside since they were closed the day before. Sarah Hemmelman, whose husband, Rob, is a winemaker there, was offering the wine tasting.  We quickly discovered that she has returned to school to get her certification as a teacher.  She said she will be teaching middle school.  With encouragement by professors, she began to look at how she might want to prepare herself for being an ally for GLBT kids.  That led to her sharing about a book she had just read, Keeping You a Secret by Julie Anne Peters, and the project she did for class.  This book is a new one to us, and we are looking forward to purchasing it. You can do so by clicking here and ordering through our Amazon link. Upon reviewing this novel, I realized that fiction sometimes reads like truth.  This story could anybody's and everybody's story, as the character learns to live authentically as a lesbian.
 
Dotti: As we mentioned, our scenic route to Colorado Springs took us to Paonia, Colorado.  The stark contrast from dessert to lush greenery reminds me of the distinct line between the Amazon and Niger Rivers in Brazil.  One second it is one way, and the next second, the scenery has totally changed.  In this case, that includes the temperature as well.  The temperature difference between day and night can vary by 40-50 degrees.


The conversation about temperature has been funny as we travel this leg of our journey.  I said to Roby, "Would you rather have 1 degree in Columbia, Missouri or 106 degrees in Utah?"  It was hard for us to decide, because we so enjoyed the company of Dorothy and Charlie and all the great people in Columbia.  In Utah, we didn't many "people experiences" as we traveled through the state, but the temperature was on the opposite side of the spectrum from 1 degree in Columbia.

Think of the temperature variance we have experienced on this journey!  It matches some of the variances in responses to our journey that we have received along the way.  When we experience extremes in anything, whether it is weather, scenery, encounters, or relationships, we have a tendency to remember the extremes rather than the consistency.  Why is that?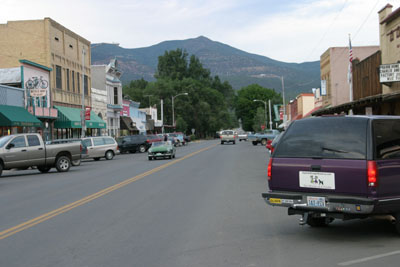 Downtown Paonia...we love these small towns and the folks there!
In Paonia, we met a great lady named Joan Mathewson.  She is the owner and vitner at Terror Creek Winery.  We wanted to go there because it is the highest elevation winery in the world.  We knew the view would be spectacular.  Joan and her husband lived in north Africa for many years.  Joan would travel to Switzerland, where she was certified in winemaking.  When they retired, they headed for Colorado, where she found the right combination of weather variance for growing the grapes.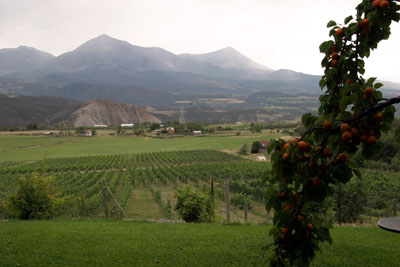 The view out the door of Terror Creek Winery
Joan voiced what many people tell us.  "It's nobody's business."  People mean well when they share these sentiments.  They are attempting to convey their support.  Our desire is to acknowledge their support, while also educating as to why our relationships are much more than "sex," which is what they are referring to when they say "it's nobody's business."  We would agree that people's sex lives, ours or theirs, is nobody's business, but having our relationships recognized through marriage equality, and having GLBT persons added to anti-discrimination laws, is not having private business.  Acknowledging who we are and our relationships is a way of removing the fear others having about us through knowing us.  Other people will then understand why, as allies, they must move to a new understanding and support beyond "it's nobody's business."  We must help them understand WHY they need to vote differently so that we have the same rights and privileges they have.


While in Paonia, we also visited with Rob, the owner of Black Bridge Winery.  He shared a great story with us.  He said two men came in and upon tasting the first wine, clinked their glasses together and said, "To the iceberg."  They never did that again when they tasted the other wines.  Rob's curiosity finally got the best of him.  He asked them why, with their first glass, and not the rest, they had said, "To the iceberg."  They explained that they are brothers, and that a couple of times a year, they take a fishing trip together, and visit a couple of wineries.  On their first wine tasting, they always say, "To the iceberg."  Here's why... Their grandmother was on the Titanic, but survived.  Her husband didn't.  She later remarried.  Need we say more?  Thus, they always toast, "To the iceberg," thankful they are alive to enjoy these moments together. 
 
We had asked Joan where we might get a pizza, since our trailer (with food) was back at the camp spot.  We left it several miles down the mountain because of the altitude.  It's a good thing we did.  The road to Terror Creek Winery was 1 1/2 miles of gravel! She recommended an Italian place called the Flying Fork.  We found it, but it was closed.  As usual, after finding another place for a pizza, we discovered why this scenario turned out great.  The woman who served our dinner is the only "out" lesbian in the whole town! Interestingly enough, Roby and Heather discovered something in common.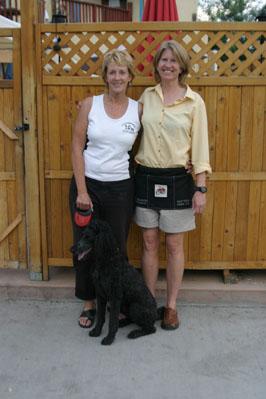 Dotti, Heather & Rylee Joy
Heather immediately commented on Roby's necklace since she has a tattoo of the same symbol.  The necklace is one given to Roby by our German friends for her 40th birthday. They told her that many lesbians in Europe wear it. It is an ancient double ax Amazon symbol, called labyrs, as well as sometimes also referred to as sagarus, halbryce, or labryis.  It stands for feminine strength.   Doing a little research, we discovered that in the early 1970s, women in the lesbian community adopted the Labyrs as a symbol for reclaiming the lost heritage of all women. The Labyrs represents the might and courage of the Amazon Warriors.  My sweetheart is a strong and magnificent woman!
Heather also has an amazing tattoo across her chest, We the People. She got it because she said that she has always been patriotic, and that she is angry that government and others have forgotten those first three words.  What a commitment to what she believes!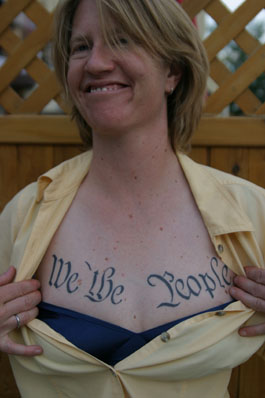 Heather's commitment to being an American!  Can you top this?

We traveled on from Paonia to Montrose, intent on meeting Phuong at Traders Coffee and Tea.  When we arrived, we discovered that Phuong had left earlier.  We left our card and a rainbow wristband, sorry that we had missed him.  As we continued, we headed toward Gunnison.  From there, we went through Salida and Canon City, Colorado.  The scenery along the Arkansas River was spectacular!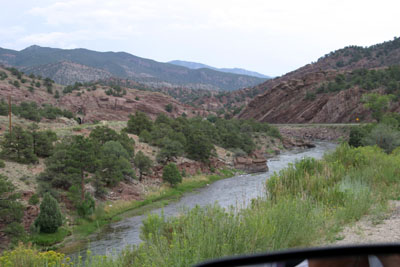 Arkansas River where we camped one night between Salida and Canon City, Colorado
We jumped out of our car and ran across the road so Roby could take pictures of the rafters coming down the river.
Like in Paonia, we didn't have cell phone service in these areas either.  It wasn't until we arrived just outside Colorado Springs that we had service and discovered that Phuong has left messages for us on both Monday and Tuesday.  We were bummed on having missed meeting him, but were glad we had made connection with Dee, Sheila, Rebecca, Joan, Rob, and Heather. 
The scenery through these areas on the way to Colorado Springs was breathtaking!  It took us through the Continental Divide.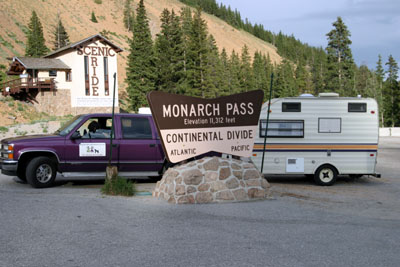 The Continental Divide
We are grateful that Dee recommended this route.  In Canon City, we discovered that over 100 years ago, the area was one of the richest in gold rush history.  I can hear people exclaiming, "There's gold in those hills" as they raced to pursue their fortune.  It makes me wonder if some were disappointed, unaware that mining for gold meant going down into the mine shafts, and taking risks to get the gold.


Mining gold reminds me of our personal journey over the last 9 months.  Traveling the road together allows our "relationship mirror" to get very close in ways that are not always comfortable, but always usable for moving to new levels of intimacy if we stay engaged, rather than retreat.  If you have never taken a journey like this with someone you love, I highly recommend it! Whatever issues exist, or you have tried to ignore, get magnified in new ways.  We continue to know, however, that the "gold" of relationship has to be mined.  It means going deep to discover that potential.  It means taking a vertical drop inward to reach our own inner shaft that leads to the gold mine.  Having been together for four years, we have that opportunity that all couples have, which is to move beyond being "close."  Reaching a deeper intimacy, we realize, can only be reached through living with an undefended heart.  For us, the personal journey of creating an authentic connection with one another is as much the opportunity of this journey as making the authentic connections with others.  One book continues to support and empower us in this journey.  That is why Undefended Love is our #1 recommended book on our website. Click here if you would be interested in learning more about it.  As always, Rylee Joy helps us monitor our expression with one another, coming up between the seats and putting her paw up on my arm and crawling into my lap whenever she senses an energy that is not to her liking.  We can't get away with anything unloving with Rylee around! (:  She calls us on anything and everything!  Her actions are an expression encouraging us to release fear, remain open and undefended, and remain unattached to a specific outcome.  Hmmm…where did that come from? (:  Well, if it is good enough to apply to our journey with others, it is certainly good enough to apply to ourseslves.  Besides, we know it works.  Why would we use a way of connecting with others, and not use it with ourselves?
This picture Roby took while we were in Paonia, is a good reminder to risk the pain.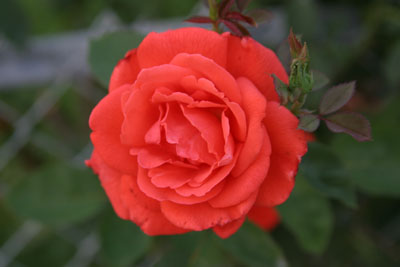 And the day came when the risk to remain tight in the bud
was more painful than the risk it took to blossom ~ Anais Nin
There are a couple of interesting articles regarding corporate diversity which we want to make our readers aware of.
One is about the growth in companies offering domestic-partner benefits.  In 1999, only 96 Fortune 500 companies offered domestic-partner benefits to same-sex employees. Today, that number is 253, a majority for the first time since they first were offered 24 years ago, according to the Human Rights Campaign (HRC).  Click here for the rest of that article!  Things are improving!


While the above is happening to move equality and justice forward, other individuals and/or organizations are simulatenously committed to dismantling the efforts. One of these organizations tried to dismantle affirmative-action programs at the country's colleges and universities, and is now taking aim at corporate America.  They have warned that it will vigilantly monitor companies' activities and report perceived discrimination to the Equal Employment Opportunity Commission (EEOC) and help employees take their cases to court.
 
Responsible for this latest strike against corporate-diversity programs is the Center for Equal Opportunity (CEO), a nonprofit think-tank based in Sterling, Va., founded by affirmative-action and bilingual-education opponent Linda Chavez, President Bush's failed Secretary of Labor nominee.
 
In remarks he planned to make at an EEOC meeting that was cancelled last month, CEO President and General Counsel Roger Clegg attacked corporate America for maintaining "discriminatory" policies in the name of diversity. Everything from tying executive compensation to diversity goals to creating internships for people of color comes under fire in a 26-page assault in which Clegg purports that the center supports diversity before attacking virtually all of leading companies' efforts to increase it.  Click here to read the details, as well as comments from corporations who stand behind their diversity policies and domestic-partner benefits.
 
We are excited to tell you that one of our favorite authors, Phillip Gulley (If Grace is True and If God is Love) has released his most recent Harmony book, Almost Friends.  It has just recently hit the stores.  You can order it through our website by clicking on the Amazon logo from this link. 

Please continue to ask people to click on our blog.   Roby's been doing some great blogging for us. You can also go to our website and click on the "BLOG" icon any time you have feedback. When you have comments you want to share about our newsletter, or other ideas, please "blog those comments." It is the best way to share them with others.  We want to be interactive with you, and you with us, and all of us with one another.  Blogging is the best way! That will also get our blog more active, which in turn will draw in more people who can learn about the journey of Gay Into Straight America, which is the journey of all of us.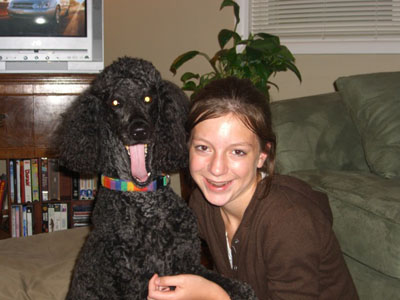 Rylee Joy & her friend, Kendra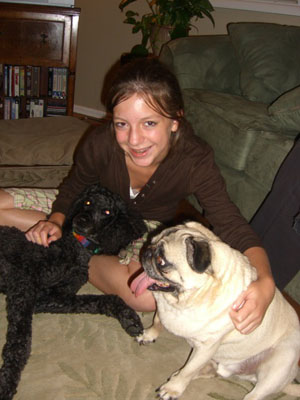 Rylee Joy, with her friends, Joey, and Kendra
Life is an adventure…enjoy the ride!

From the real and true adventures of two women and a poodle,
Changing the world…one person at a time.

The light in us honors the light in you,
Dotti, Roby & Rylee Joy